Having some water tank problems at home? If so, then you need a great plumber — well, worry no more because we've found you the best plumbers in Escondido for this article!
To help you find the most reliable plumber in Escondido, we've selected the longest-running service providers here. We picked the ones known for their quality solutions and affordable rates as well!
Take a look at our list below to find out more about their offered services.
1. 5 Star Plumbing, Heating, and Air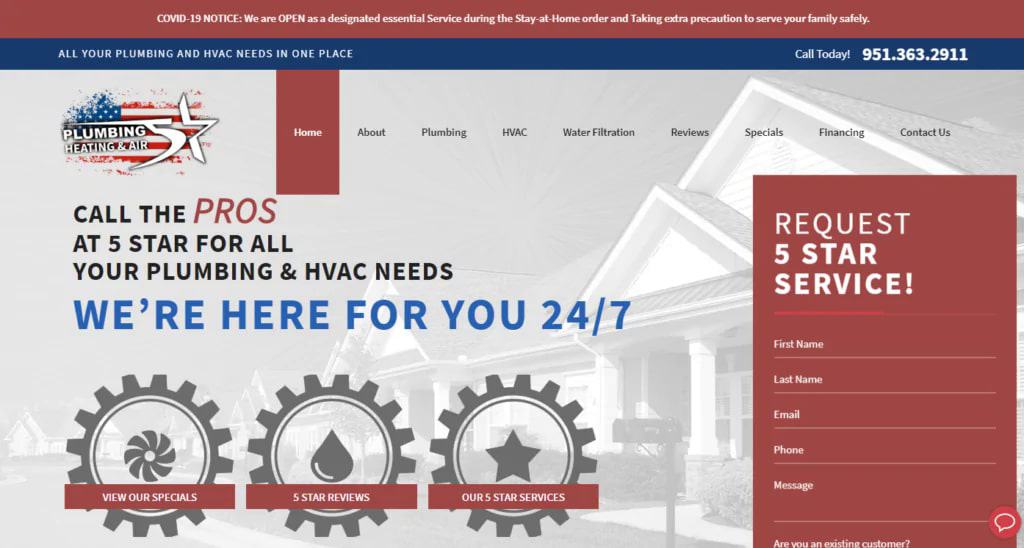 Even if you need to do some late-night inquiries because you're worried that leakage or any plumbing issue might get worse overnight, 5 Star Plumbing, Heating, and Air can always come to the rescue. They offer 24/7 services with their skilled and responsive staff.
They provide services for both residential and commercial properties. With several decades of experience, they've successfully served thousands of residents, making them some of the best plumbers in Escondido.
They're experts in installation, repair, replacement, and maintenance services. They help solve various plumbing concerns such as slab and pipe leaks as well as issues on sewer lines, water heaters, indoor air quality, and many more!
You can also have a transparent and detailed quote before the repair work starts. This way, you can plan and estimate the overall costs ahead.
Why Choose 5 Star Plumbing, Heating, and Air?
24-hour emergency assistance
Bilingual plumbers for Spanish-speaking customers
Special promotions
Cut-rate pricing options
2. Carroll Plumbing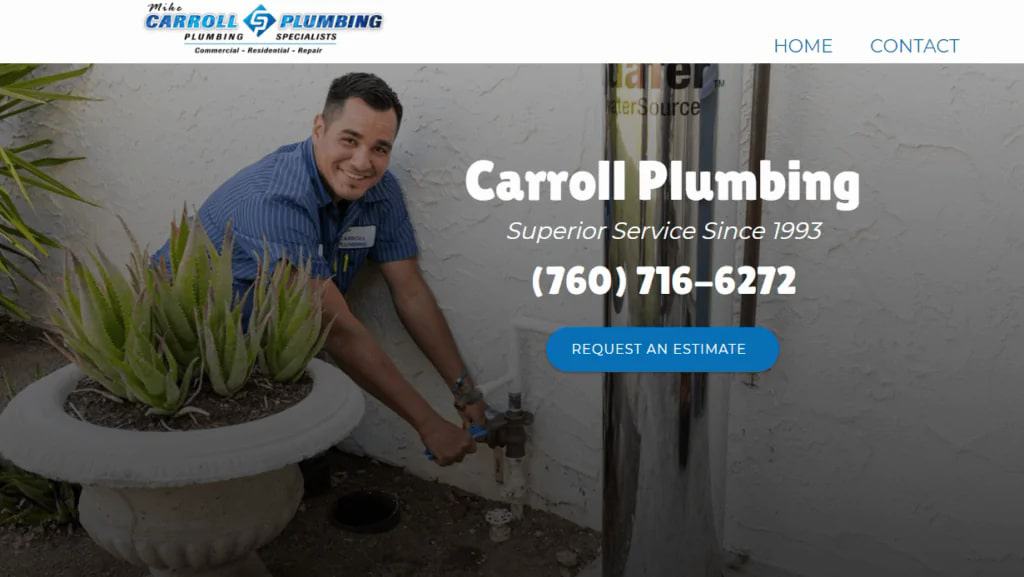 Carroll Plumbing has been in service for many decades and yet they've never failed to deliver excellent craftsmanship. Their experienced technicians are capable of providing a wide range of plumbing services.
This includes water leak detection, sewer line installations and repairs, water heater installation, drain cleaning, backflow valve testing, and more! They've also become the best plumber in Escondido for many locals because of their trustworthy and prompt professionals.
They always aim to give their customers personalised service to ensure effective and long-lasting solutions.
Why Carroll Plumbing?
Gas and water line installations and repairs
Electronic, gas, and water leak detection
Backflow valve installation
Insured services
3. Marklein Plumbing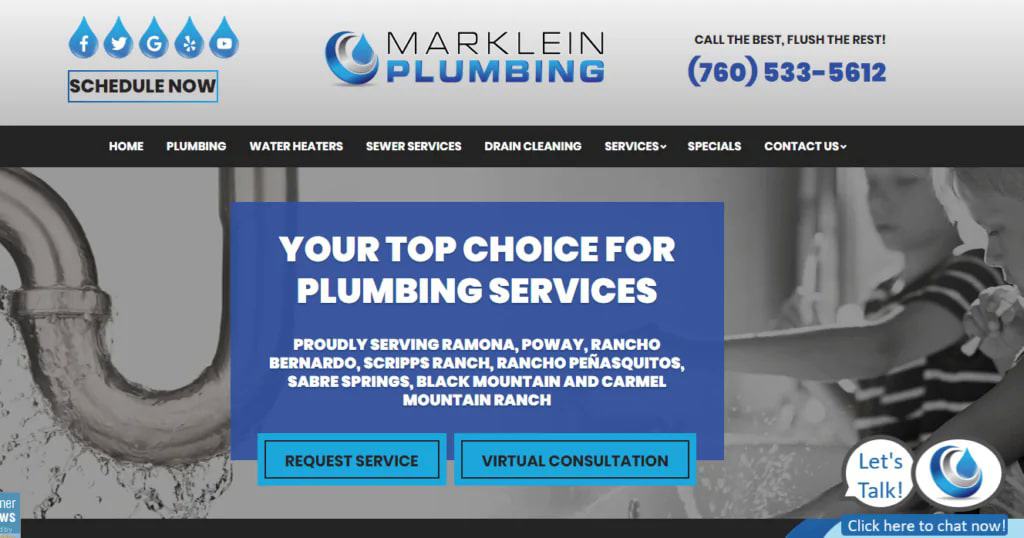 Marklein Plumbing has been recognised by many local residents due to their customer-centric services provided by trained staff. Their fully licensed and insured plumbers have years of experience with water filtration systems, water softeners, circulation pumps, and many more.
Aside from these, they also offer plumbing installation, maintenance, and repair services. They can also work with all kinds of water heaters and can even help you find the best one for your needs.
Moreover, they have special discounts for more accessible services. With their competent range and long-lasting solutions, they're indeed some of the best plumbers in Escondido.
Why Marklein Plumbing?
Licensed and insured plumbers
Detailed estimates
Special promotions
Tile installation and repair
Water main replacement
4. Proactive Plumbing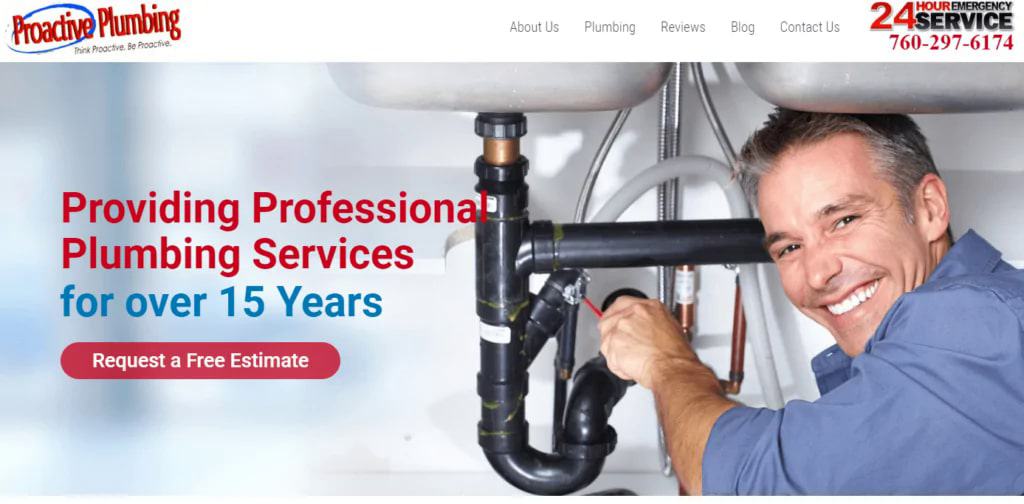 With Proactive Plumbing, you can set up a regular maintenance routine to immediately resolve and prevent plumbing issues. This way, you can avoid costly repairs and replacement expenses.
They're equipped with an advanced in-house leak detection system for efficiency and accuracy. Their professional plumbers can perform drain repairs, replace broken/unsafe pipes, install new fixtures, and many more.
Additional services include copper and metal pipe tracing, bathroom remodels, hydro jetting, and even plumbing for home remodelling.
They can also help you connect other appliances to your plumbing system and make sure that every installation is properly done for absolute safety.
Why Proactive Plumbing?
Emergency plumbing services
Plumbing for home remodelling
Bathroom remodels
Slab detection
Free estimates
5. Anderson Plumbing
Anderson Plumbing is a family-operated business that has been providing general plumbing services for several decades. This includes repairs, installations, routine maintenance and even emergency services!
They offer reliable solutions for drains or sewer line issues, faucets and fixtures repairs, water heater problems, and many more. They also do kitchen and bathroom plumbing, repipe and pipelining as well as camera inspections for effective prevention.
For immediate consultation, they provide free virtual assessment so you can be aware of the condition of your water heater or pipeline. Being an award-winning service provider, they've truly become the best plumber in Escondido.
Why Anderson Plumbing?
No emergency service fees
VIP membership perks and plans
Kitchen and bathroom plumbing
Camera inspections
Various payment options
6. All Star Plumbing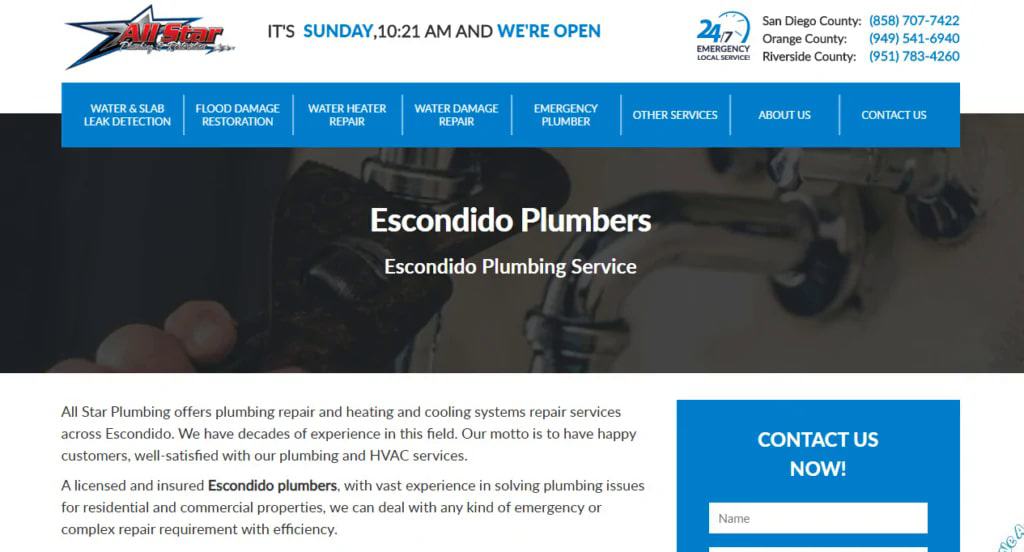 All Star Plumbing provides both residential and commercial plumbing services with emergency assistance. They have a large range of plumbing solutions including drain cleaning, pipe repair, water heater repair, water damage repair, and more.
They also do plumbing installation and appliance repair involving water filtration units, water softeners systems, dishwashers, etc. Their services are also highly accessible due to the discounted insurance and deductibles being included in the overall costs.
They even offer free consultation and estimation so you can plan ahead.
Why All Star Plumbing?
Water and slab leak detection
Water Damage repair
Emergency services
Wall and ceiling leak repair
And that's our list of the best plumbers in Escondido! Have you already found the one nearest your place? Tell us all about it!
And if you'd also like to see more options in other locations in California, see these best plumbers in Santa Monica!