We know exactly how valuable plumbing systems are. This is why we should only call the experts when something goes wrong. Relying on our own prowess isn't advisable.
If you're living in Boston, Massachusetts, we highly recommend the following plumbing service providers. These professionals have proven their expertise in the plumbing industry time and time again. They are the most credible names residents and business owners trust for years. Trusting them is the best thing you can do for your family's safety and comfort.
1. Roto-Rooter Plumber & Water Cleanup – Boston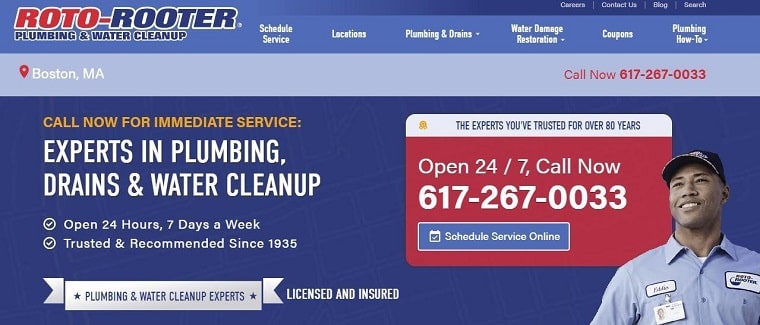 BEST FOR
Plumbing and cleanup services
SERVICES
Drain cleaning

Sewer lines

General plumbing

Emergency plumbing

Garbage disposal repair

Dishwasher installation

Basement flooding cleanup

Water removal

ADDRESS
Not available
CONTACT
Phone: (617) 267-0033
WEBSITE
https://www.rotorooter.com/boston/
Roto-Rooter in Boston specializes in plumbing and cleanup services. With the presence of older homes in the city, Boston sees its share of flooded basements—this is where Roto-Rooter helps out. The company offers first-rate drain and pump services. Roto-Rooter focuses on giving:
24/7 emergency services
No-hassle guarantees
Licensed and insured professional plumbers
Competitive rates with no extra charge for plumbing & drain services during the nights, holidays, and weekends
2. McMahon Plumbing & Heating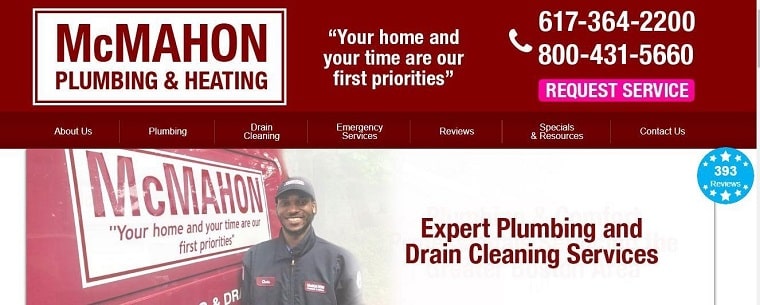 BEST FOR
Residential plumbing and drain cleaning services
SERVICES
Emergency services

Plumbing repairs

Tankless water heaters and water heaters

Garbage disposals

ADDRESS
1052 Hyde Park Ave, Hyde Park, MA 02136
CONTACT
Phone: (617) 364-2200 | (800) 431-5660 | 1-800-431-5660
WEBSITE
https://www.mcmahonplumbing.com/
McMahon Plumbing & Heating, a family-owned and locally-operated residential plumbing service provider, has been servicing the Greater Boston area since 1952. The company's goal is to help clients keep their homes comfortable and functional; hence, it provides topnotch plumbing services. McMahon's seasoned experts will always provide top-grade workmanship and professional customer service at every job or project they perform.
3. Boston Standard Company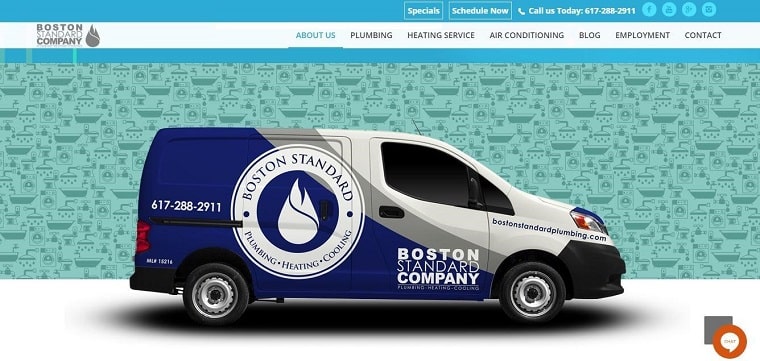 BEST FOR
Home improvement services
SERVICES
Plumbing repairs

Drain services

Emergency services

Commercial plumbing

Water heater services

ADDRESS
41 Hollingsworth Street, Mattapan, MA 02126
CONTACT
Phone: (617) 288-2911
WEBSITE
https://www.bostonstandardplumbing.com
Boston Standard Company values a long-term relationship with clients. For this reason, they never fail in providing superb workmanship and complete customer satisfaction. They also apply values such as honesty and integrity in every job they do. This is why it's no longer surprising that Boston Standard Company is one of the most trusted names in the plumbing industry in the Boston area.
4. Drain Flow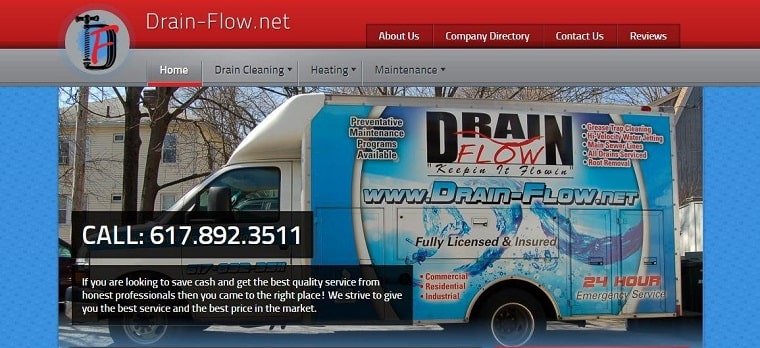 BEST FOR
Residential, commercial, and industrial plumbing services
SERVICES
Area floor drains

Drywells

Tub and shower drains

Sink lines

Hi-velocity water jetting

Bathroom sinks

Camera inspection

ADDRESS
Not available
CONTACT
Phone: (617) 892-3511

Email: [email protected]

WEBSITE
http://drain-flow.net/
If you're looking to save money yet get the best quality plumbing services, you can count on Drain Flow. The company concentrates on providing its clients with first-rate customer service experience and high-quality workmanship. Drain Flow also offers free estimates, flat rates, emergency services, senior citizen discounts, customer loyalty programs, and referral bonuses.
5. Akian Plumbing & Home Services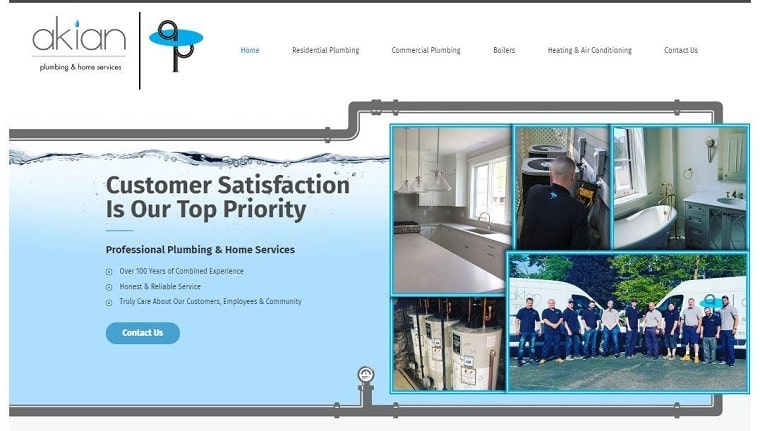 BEST FOR
Residential and commercial plumbing

HVAC services

SERVICES
Drain cleaning

Leak detection

Water heaters and meters

Water treatment filtration

ADDRESS
Watertown, Massachusetts
CONTACT
Phone: (617) 765-1778
WEBSITE
https://www.akianplumbing.com
Akian Plumbing & Home Services has over 100 years of combined experience, making sure that every client is given the best customer service experience. The company also works with the best brands in the industry to ensure that customers will have access to state-of-the-art home improvement equipment. Its team of professional technicians works tirelessly so that families will receive the most outstanding home service care.
6. Gomes Plumbing Heating and Cooling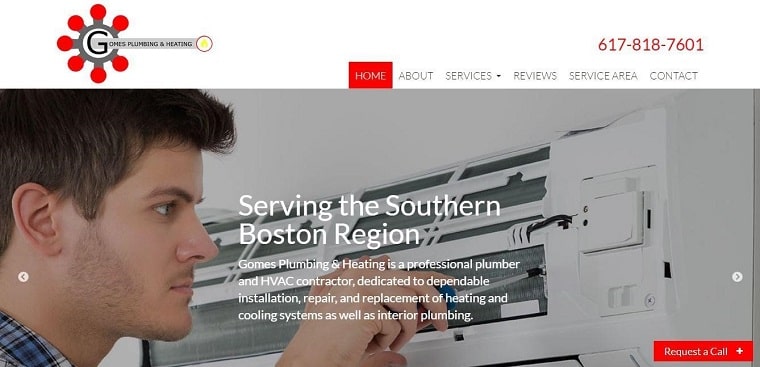 BEST FOR
Home improvement and care services
SERVICES
Water heater installation and repair

Bathroom fixtures

Preventive maintenance

Ruptured pipes

Emergency plumbing

Clogged drains

Backflow issues

ADDRESS
63 Hecla Street, Dorchester, MA 02122
CONTACT
Phone: (617) 818-7601
WEBSITE
https://gomesplumbingheatingandcooling.com/
Gomes Plumbing Heating and Cooling offers a complete plumbing package—installation, maintenance, repair, and replacement. It has been serving the South Boston metropolitan area including Quincy, Milton, Dorchester, West Roxbury, Roxbury, South Boston, Jamaica Plain, and Roslindale for more than 20 years. When it comes to home care and improvement services, Gomes has you covered.