There's always a possibility that plumbing issues will happen at the worst times, and during such instances, you need reliable solutions quickly. Doing the plumbing work on your own is not an option as you can just make things worse especially if you're not knowledgeable about the task. So, the most ideal choice you have is to hire an expert plumbing company.
They are staffed with only trained and experienced plumbers who can give you a hand and offer you the exact plumbing solutions you need. So, whatever the issue is, you can count on them to fix it right away. Perhaps this already convinced you to find a go-to plumber of your own. That being said, here are the best plumbers in Raleigh NC that you can choose from.
1. Michael & Son Services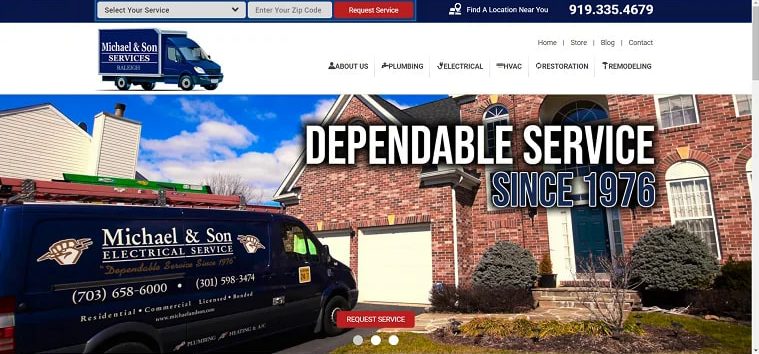 Best For
General Plumbing Services
Services Offered
Drain cleaning

Septic services

General plumbing and contracting work

Restoration and remodeling services

Electrical and HVAC work

Address
4001 Atlantic Avenue Raleigh, NC 27604
Contact Information
919.335.4679
Website
https://michaelandson.com/raleigh/
Michael & Son Services is the expert you're looking for if you are after a clean, prompt, and professional plumbing service. With the competitive rates they have, and the lifetime guarantee they offer to most plumbing repairs, many homes and businesses in Raleigh NC are trusting this company. They have a team that works around the clock, so you know you'll have experts by your side anytime plumbing troubles strike.
2. Pipetechs Plumbing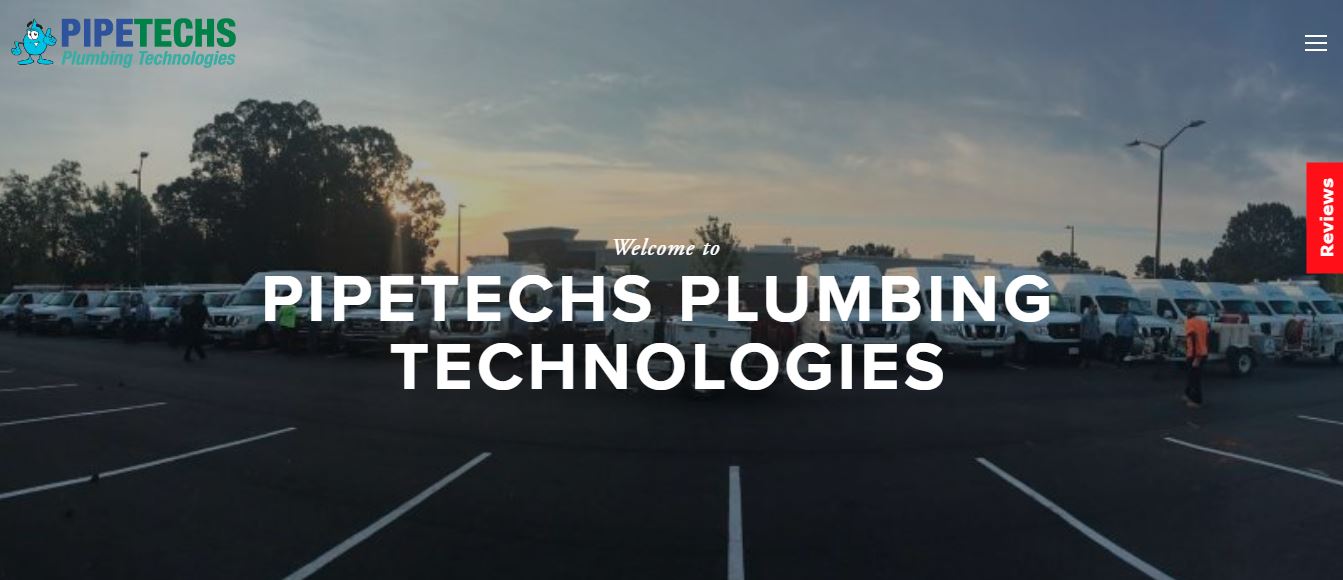 Best For
Certified Green Plumbers® Company
Services Offered
Backflow Testing
Troubleshooting Experts
Rapid Response
Water Heater Services
In-Line Video Inspection
Smoke Leak Locating
Water & Sewer Repair
Drain Cleaning
Hydro Jetting
Excavating Services
Burst Pipe Repair
Plumbing Repairs & Installations
Address
6600 Mt Herman Rd
Raleigh, NC 27617
Contact Information
(919) 293-1221
Website
https://www.pipetechsplumbing.com/
Pipetechs's mission is to maintain an exceptionally high level of quality in the plumbing services industry. They offer a quick, reliable service by a trained professional, as well as top-notch craftsmanship that they stand behind. This also includes providing a stable, productive work environment for their customers and staff.
3. CK's Plumbing & Backflow, LLC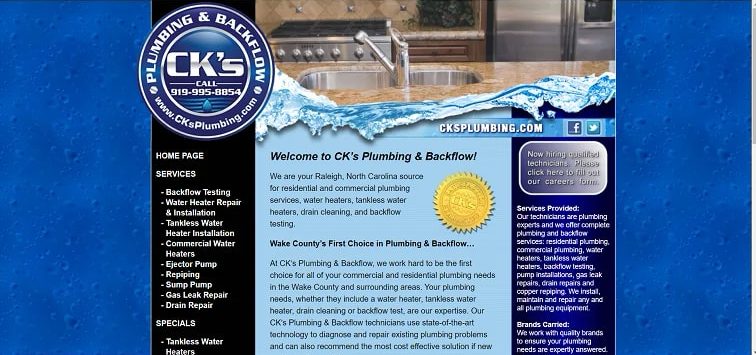 Best For
General Plumbing Work
Services Offered
Backflow testing

Water heater services

Repiping

Ejector and sump pumps

Gas leak and drain repairs

Address
3800 Greywood Dr.

Raleigh, NC 27604

Contact Information
(919) 995-8854
Website
https://www.cksplumbing.com/
Staffed with expert residential and commercial plumbers, CK's Plumbing & Backflow, LLC can handle any plumbing and backflow work in various types of establishments. They are proud of using advanced technology and quality materials in every work they do, and all of these enable them to provide exceptional service and complete satisfaction to customers. If you want to get in touch with their team, you may call (919) 995-8854.
4. Legacy Plumbing Company

Best For
Commercial and Residential Plumbing
Services Offered
Water heater services

Water filtration and softening

Plumbing service contracts

Gas pipe installation and repair

Property management services

Address
7416 Chapel Hill Rd. Raleigh, NC 27607
Contact Information
(919) 571-9146
Website
https://legacyplumbingnc.com/
Since its inception in 2004, Legacy Plumbing Company has maintained its great reputation in providing the best plumbing service possible. The fact that you can reach them 24/7 means they are always ready, willing, and able to help you find solutions to your plumbing issues. From water filtration, commercial and domestic plumbing, gas pipe installation to complete property management, they can do all of these for you excellently.
5. Progressive Service Company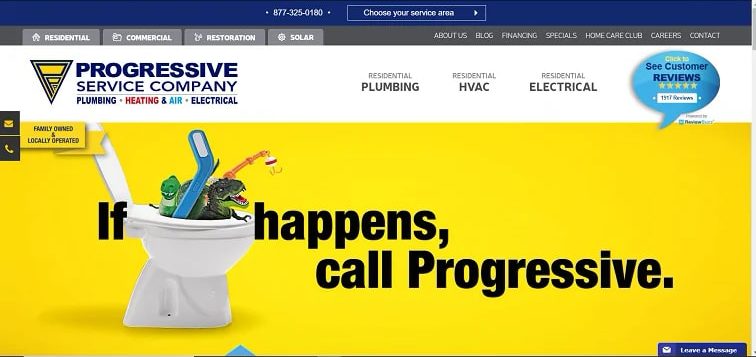 Best For
Residential Plumbing
Services Offered
Residential plumbing, HVAC, and electrical services

Restoration services

Crawlspace encapsulation

Emergency plumbing

General plumbing work

Address
110 Fortune Way

Raleigh, NC 27617

Contact Information
(877) 325-0180
Website
https://www.callprogressive.com/
Progressive Service Company has only one mission: to serve you in the most outstanding way. They give you the attention you need from start to finish, understanding all of your requirements and providing solutions fit to your budget. They proudly offer same-day service because they know they have the skills, experience, and capacity to fix your plumbing problems swiftly and right the first time. Call them on (877) 325-0180 today and be impressed with the services they have for you.
6. Midtown Plumbing, LLC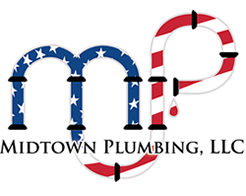 Best For
Residential Plumbing
Services Offered
Plumbing repairs and upgrades

Installation and inspections

Kitchen and bathroom remodeling/renovations

Drain and sewer cleaning

Address
3029 Stony Brook Drive, Suite 111

Raleigh, NC 27604

Contact Information
(919) 801-5987
Website
https://www.midtownplumbingllc.com/
If you're in need of a company that specializes in residential plumbing work, Midtown Plumbing, LLC is the one for you. Their main goal is to become the best plumber in Raleigh NC and each day, they make sure to achieve this by making customers happy and completely satisfied with their services. Hence, by hiring them, you can only expect a plumbing job that's done with 100% efficiency and accuracy.
7. Matthew's Plumbing Solutions

Best For
General Plumbing Work
Services Offered
Sewer and drain services

Water heater and gas line services

Remodeling and new construction work

Commercial plumbing

Backflow prevention

Address
515 S. New Hope Rd. Suite 105

Raleigh, NC 27610

Contact Information
919-977-1896
Website
https://matthewsplumbingsolutions.com/
Matthew's Plumbing Solutions is fully committed to helping all clients and this shows in every plumbing task they do, big or small. Their team has the capacity to provide quality and courteous service whether the job involves dealing with your sewer and drains, water heaters, gas lines, and other fixtures. Not yet convinced about the great work they do? Then you need to see the feedback from their past clients at https://matthewsplumbingsolutions.com/.