Imagine how a simple leaky pipe or faulty water heater can ruin your peace of mind.  You'll also be surprised—and frustrated!—when you see the increase in your monthly water and electricity bills.  So, would you continue to suck it up and let these simple damages bring in more drastic predicaments simply because you don't know who you can trust your home with?
If you're living in Atlanta and need expert plumbing services, know that there are world-class experts that are ready to take on the challenge.  Below are the leading plumbers you can find in Atlanta, Georgia:
1. Estes Services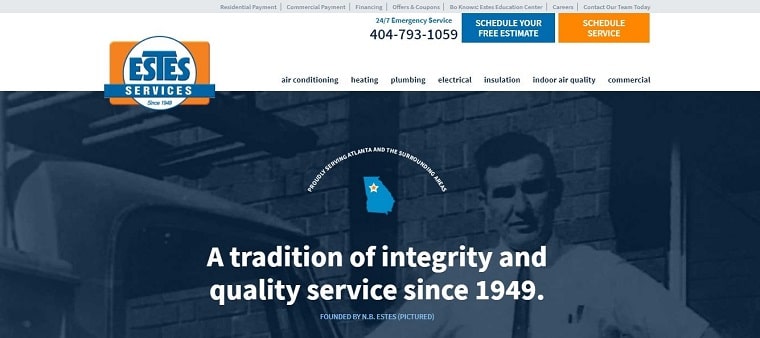 | | |
| --- | --- |
| BEST FOR | Repair, installation, and maintenance services |
| SERVICES | Plumbing, heating, air-conditioning, electrical, insulation, indoor air quality, and commercial services |
| ADDRESS | 3981 Tradeport Blvd, Atlanta, GA 30354, USA |
| CONTACT | Phone: (404) 793-1059 |
| WEBSITE | https://www.estesair.com/ |
Estes Services, a family-owned and operated business, has been providing quality service since 1949. It has supported Atlanta homeowners with comfort services.  Whether you're planning for a major renovation or simply want to replace an old water heater, Estes can do the job for you. Their plumbing services include:
Water heater services
Leak repairs
Sewer lines
Plumbing fixtures
Water filtration systems
Drain cleaning
Estes employs polite, highly trained, and licensed plumbers who can provide only the best service you deserve.  To schedule their service, just access this page.
2. Atlantis Plumbing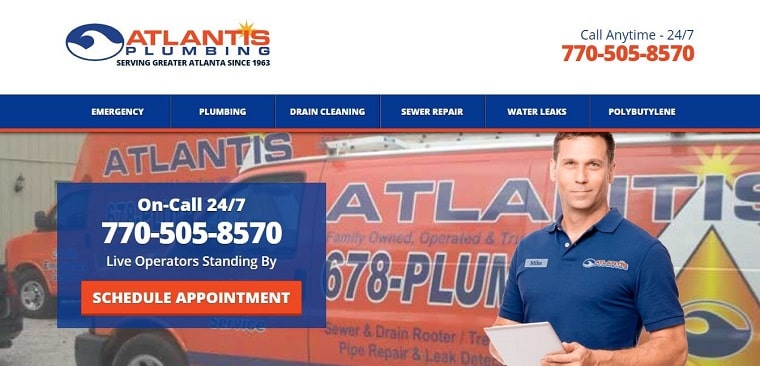 | | |
| --- | --- |
| BEST FOR | Residential, commercial, and property management |
| SERVICES | Emergency plumbing, general plumbing, drain cleaning, sewer repair, water leak repair, and polybutylene services |
| ADDRESS | 30 Clifton St NE, Atlanta, GA 30317, USA |
| CONTACT | Phone: (770) 505-8570 |
| WEBSITE | https://www.atlantisplumbing.com/ |
Atlantis Plumbing has been serving Atlanta for over 50 years.  It is a family-owned plumbing company that has catered to the needs of more than 70,000 satisfied customers in the greater Atlanta, Georgia area.  The company offers the best plumbing experience—with fast, friendly, affordable, traditional, and exceptional customer service.
Atlantis also boasts prestigious awards like the Angie's List Super Service Award (for seven consecutive years) and the Kudzu awards (for five years).  It also gained an A+ rating from the BBB (Better Business Bureau).
3. Roto-Rooter Plumbing & Water Cleanup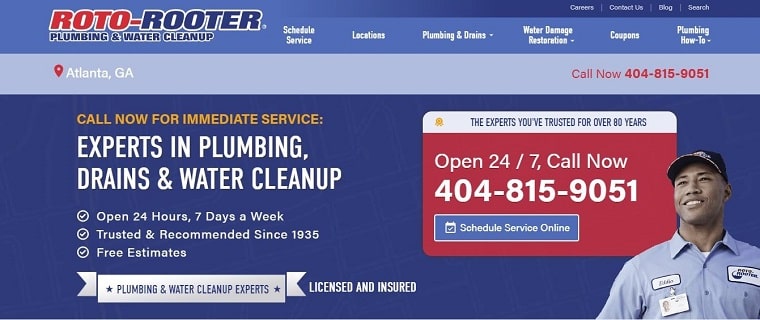 BEST FOR
Plumbing and drains & water cleanup services
SERVICES
Drain cleaning, sewer lines, video camera inspection, toilet repair, dishwasher installation, etc.

Water damage restoration

ADDRESS
225 Peachtree Street NE, Ste 1720, Atlanta, GA 30303
CONTACT
Phone: (404) 815-9051
WEBSITE
https://www.rotorooter.com/atlanta/
Roto-Rooter is an Atlanta-licensed plumber offering full-serving plumbing repair and maintenance 24/7.  The company's seasoned plumbers can perform a wide scope of plumbing services from drain cleaning, shower repair to commercial plumbing.  Moreover, Roto-Rooter can provide you with a free, accurate estimate to help you budget the expenses before the final bill arrives.  Best of all, the company will stand behind its estimates and workmanship.  Their professional experts will surely give you the plumbing repairs you need.
4. Plumbing Express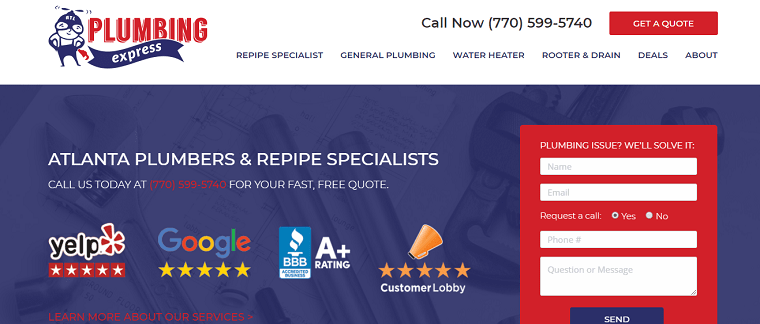 BEST FOR
Re-piping services
SERVICES
General plumbing services, water heating, rooter and drain, polybutylene replacement, and repiping
ADDRESS
3050 Presidential Dr #202, Atlanta, GA 30340, USA
CONTACT
Phone: (770) 467-3351

Email: [email protected]

WEBSITE
https://www.plumbingexpress.com/
Plumbing Express is one of the best plumbing companies in Atlanta that specializes in re-piping services.  There is no better plumbing company to utilize for galvanized, poly-pipe, and corroded copper leaking in the slab or wall of your home.  The company's plumbing experts travel all over Georgia just to provide you with the topnotch plumbing services.
The Plumbing Express team has been working together for over 15 years and comprises of highly-skilled employees who respect your time and home.  The company offers free estimates during regular business hours.  Give them a call and feel free to discuss your plumbing issue.
5. Northside Plumbing
Northside Plumbing is a Veteran-owned plumbing company run by Chad and Farah Mahaffey. They're a family-run business that's also  licensed and insured, with over 10 years of experience in Atlanta so they're definitely familiar with the area, supply houses, and fair market pricing.
6. AllGood Plumbing, Electric, Heating & Cooling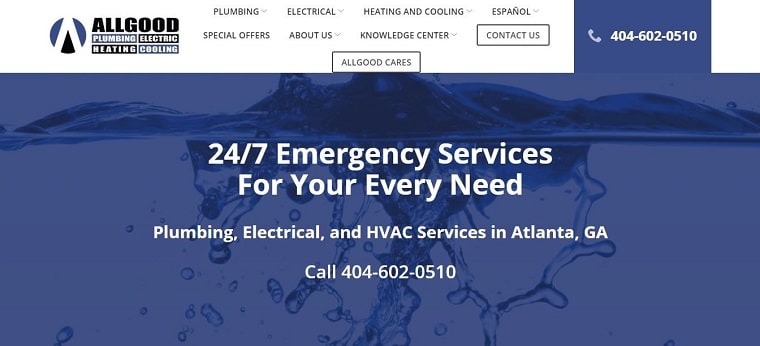 BEST FOR
Plumbing, electrical, and heating & cooling repair services
SERVICES
Showers & bathrooms, kitchen pipe repair, water heaters, water lines, home re-piping, emergency plumbing, and drain cleaning
ADDRESS
5328 Royal Woods Parkway Suite 190,

Tucker GA 30084

CONTACT
Phone: (404) 602-0510
WEBSITE
https://www.callallgood.com
AllGood has been offering Atlanta residents with high-quality plumbing services, A1 customer service, and affordable prices since 2005.  Aside from standard plumbing repairs and services, the company is also an Elite Rinnai Tankless Dealer and Installer.  AllGood is also known for its 24-hour emergency plumbing service.
7. Seagraves Plumbing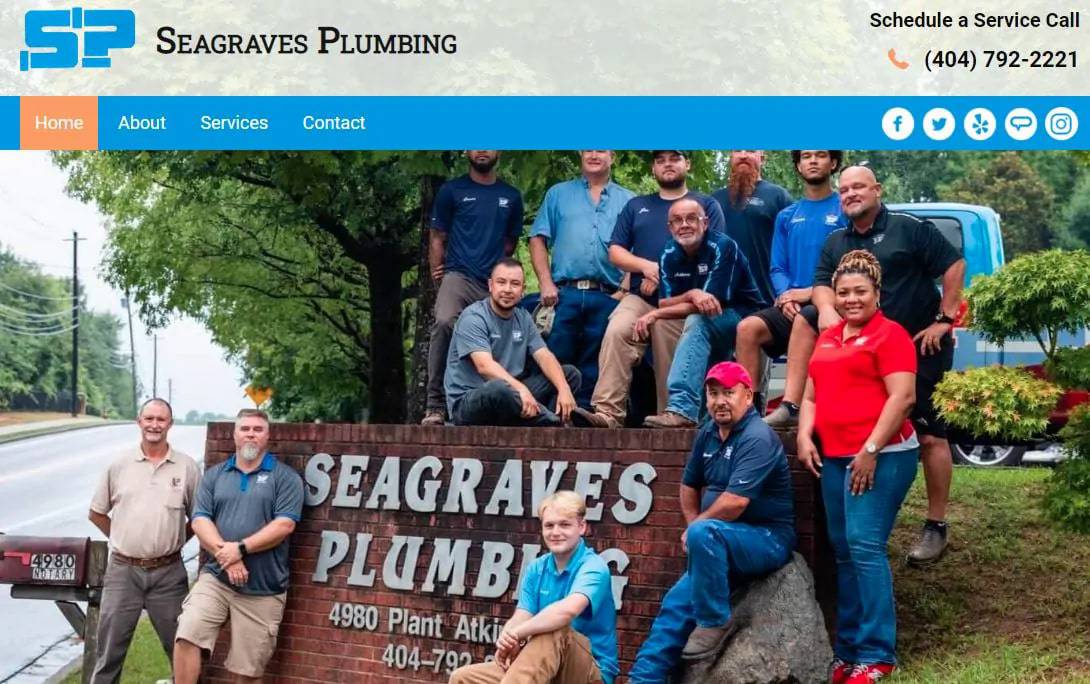 BEST FOR
General plumbing work
SERVICES

Service Plumbing

Sewer Line Repair

Septic Pumping

Septic Repair and Installation

Drain Cleaning/Clearing

ADDRESS
P.O. 723126
Atlanta, GA 31139
CONTACT
(404) 792-2221
[email protected]
WEBSITE
https://seagravesplumbing.com/
As the oldest and the most reliable plumbers in Atlanta, Seagraves Plumbing handles all the regular plumbing issues, including sewer inspection, plumbing contracts, faucet repair and more. Offering affordable and top-notch plumbing services since 1941, their licensed plumbing experts are always ready to serve with competitive and affordable pricing.
8. Georgia Plumbing Company LLC
BEST FOR
Plumbing, heating, air conditioning, and  electrical & insulation services
SERVICES
Plumbing, HVAC, duct cleaning, cleaning, insulation & weatherization, and commercial services
ADDRESS
2307 Copper Grove Ln, Buford, GA 30518, United States
CONTACT
[email protected]
770-773-0212
WEBSITE
https://gaplumbingcompany.com
Georgia Plumbing Company LLC is a highly rated plumbing company with prompt and professional services. Earning 4.5-rating from 17 Google reviews, here's a recommendation from one of their customers, Justin Spinks: "Hunter and his team were prompt, professional, and courteous and respectful. He addressed all of our concerns and provided same day service at 7PM in the evening. He will be the first person I call when I need any plumbing needs in the future!"
9. RS Andrews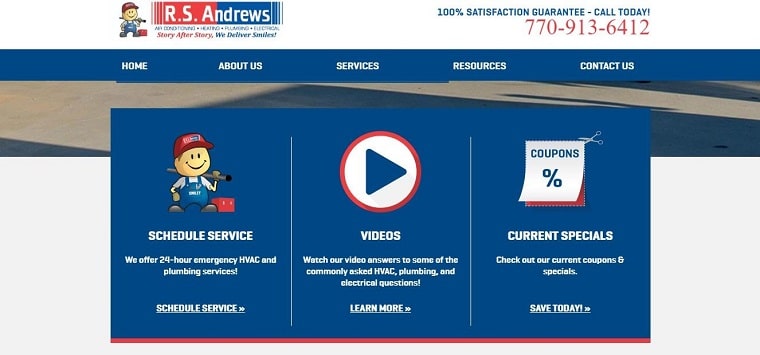 | | |
| --- | --- |
| BEST FOR | Plumbing, heating, air conditioning, and  electrical & insulation services |
| SERVICES | Plumbing, HVAC, duct cleaning, cleaning, insulation & weatherization, and commercial services |
| ADDRESS | 3617 Clearview Pkwy, Atlanta, GA 30340, USA |
| CONTACT | Phone: (770) 913-6412 |
| WEBSITE | https://www.rsandrews.com |
R.S. Andrews observes strict hiring practices when it comes to their employees since the company understands the value of its customers' trust.  Each technician holds N.A.T.E certification and has undergone rigorous pre-employment screening including background and drug testing.  The company believes that its Tech Team is comprised of the best in the business, both from standpoint and capability, as well as their levels of accountability, professionalism, class, and respect.  You can only expect hard-working and honest people who would treat your homes and properties with respect.