Pest control or management can be a tedious task especially if you have no knowledge about the right chemicals to use or how to begin the process of eradicating pest infestations. You should know though that there are experts in this kind of work: pest control companies.
In Perth, you'll find lots of pest control companies, so why not leave the job to them? Using their services, you need not worry about pests that may harm you or your loved ones. Consider these 6 best pest control options for a clean and pest-free property.
1. Ecofriendly Pest Control Perth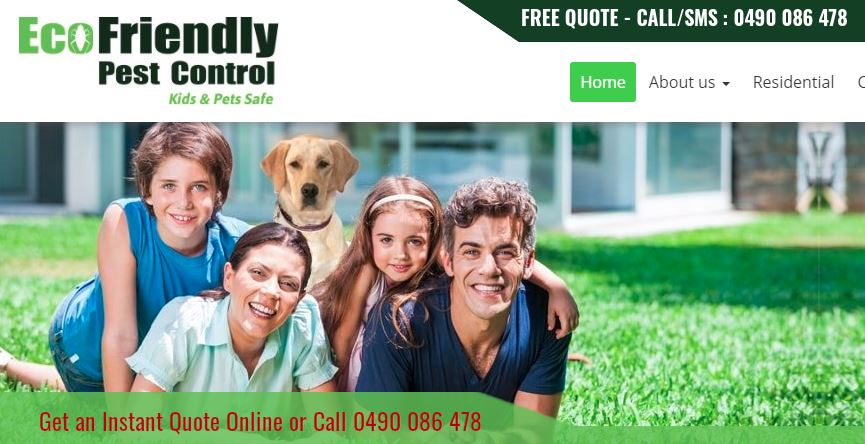 Best For
Pest Cert & Professional Member
Services Offered
General Pest Control Spray
Pre Purchase Termite Inspection
Pet Bond Back Flea SprayAnd other pest control servicesTermite treatments
Address
315 Bulwer Street Perth WA 6000
Contact Information

[email protected]


0490 086 478
Website
https://www.ecofriendlypestcontrol.com.au/
Ecofriendly Pest Control Perth provides 100% money back guarantee on top of their non-toxic pest control services which are certified to be kid and pet-friendly. They use odorless and stain-free natural products and also offer 12 months pest coverage with all their treatments.
2. Champion Pest Control

Best For
Termite Control
Services Offered
Treatments for common pests

Protection systems

Inspections

Termite solutions

Pre-construction termite management

Address
477 Charles St,

North Perth, WA 6006

Contact Information
08 9444 0550
Website
https://www.championpest.com.au/
Champion Pest Control is known as a diverse pest control company that has been servicing Perth since 1972. The valuable services they offer range from common pests and termite treatments, inspections, to protection systems. Because of their efficiency and extensive knowledge of pest control, more and more residential and commercial clients are trusting this company up to this day.
3. Allpest

Best For
Termite Control
Services Offered
Residential and commercial pest management

Fumigation services

Pre-construction termite treatments

Treatments for all pests

Address
503 Abernethy Road, Kewdale, Western Australia 6105
Contact Information
08 9416 0223
Website
https://www.allpest.com.au/
Looking for the highest standard of pest control services in Perth? Then you should consider getting in touch with Allpest! This company values reliability, sustainability, integrity, innovation and high performance, allowing them to provide premier services to both commercial and residential sectors. They also have a great reputation for offering effective termite solutions and can even give you a free termite assessment today. Visit their website, https://www.allpest.com.au/, to know more.
4. Budget Pest Control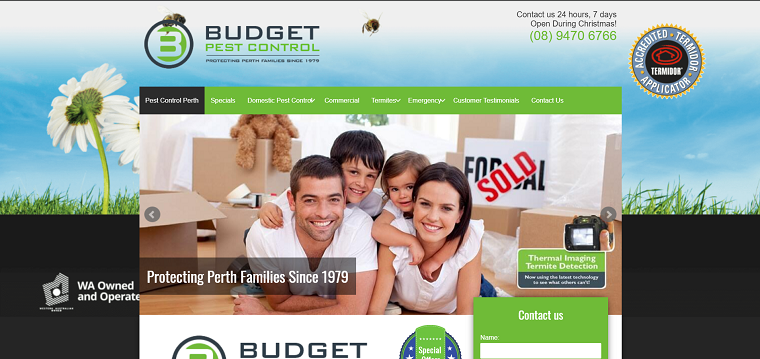 Best For
Residential Pest Control
Services Offered
General pest treatments

Residential and commercial pest control

Termite control

Emergency services

Address
Unit 1, 1736 Albany Highway

Kenwick WA 6107

Contact Information
(08) 9470 6766
Website
https://www.budgetpest.com.au/
You can always trust Budget Pest Control to ensure that your home is well cared for and pest-free. With over 38 years of experience in various pest control procedures, they know how to get rid of spiders, termites, rodents, and more, at your home. To completely satisfy every client, this company only utilize proven and effective techniques and the safest and latest products on the market.
5. Enviro Pest Control Perth

Best For
Residential and Commercial Pest Control
Services Offered
Pest inspections

General pest control

Termite treatments

Address
71 Hannaford Ave, Clarkson

Perth, Western Australia

Contact Information
08 6244 4277
Website
http://www.enviropestcontrol.com.au/
When in need of a pest control company that truly cares about your family and the environment, Enviro Pest Control Perth is a wise choice! Their pest control techniques are safe for pets, kids, and even plants, so you can have peace of mind that no one will be harmed as they carry out work. Additionally, they offer pest inspection services and treatments for both commercial and residential pests. With their help, no more repeated pest infestations in your property.
6. Termico Pest Management Services

Best For
Termite Control with Pest Control Warranties
Services Offered
Termite Inspections
Pest Control Services
Termite Treatments
Address
25 Resource Way,
Malaga, Perth WA. 6090
Contact Information
Fax: (08) 9443 9881
Email: [email protected]
Website
https://www.termicopestmanagement.com.au/
Termico has been protecting over 120,000 West Australian homes against termite damage. Leading in the business for over 23 years, their pest technicians are located all across Perth and the South West region covering areas such as Margaret River, Bunbury, Busselton, Mandurah, Baldivis, Midland, Wanneroo, Joondalup, Yanchep & Two Rocks.
7. Stewarts Pest Control
Best For
Termite Control
Services Offered
Termite barrier treatments and baiting

Visual termite inspections

Pre-purchase inspections

General pest treatments

Address
28 Military Road

Bellevue, Perth WA

Contact Information
08 9479 1111
Website
https://www.stewartspestcontrol.com.au/
Stewarts Pest Control guarantees to resolve any kind of pest infestation at any day! Since 1954, they have been committed to using the latest technology and providing the best solutions to property owners in Perth. As soon as you contact their friendly team, they will arrange a consultation with you, find the best treatment for your situation and provide you with aftercare service. With a three-month service agreement for every pest treatment they offer, their team promises to return if the pests come back in your premises.
8. PinPoint Property Inspections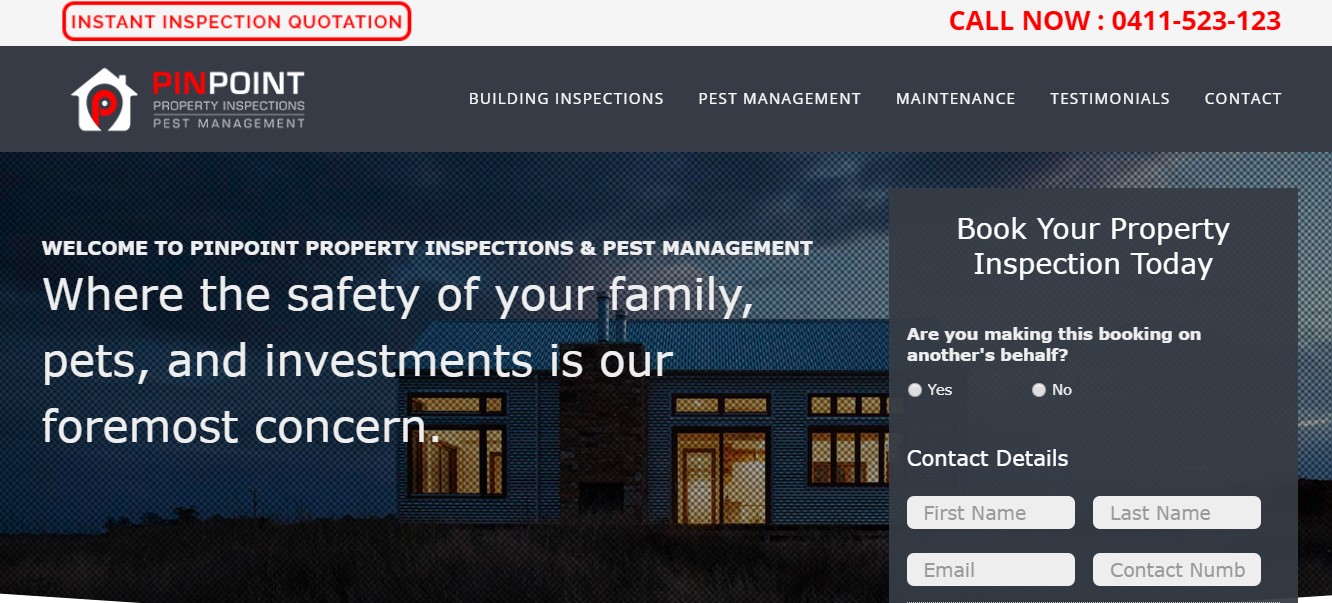 PinPoint Property Inspections will help you uncover hidden problems before they become dangerous, expensive obstacles through their building inspection and pest management services. They offer competitive pricing, a fast 24 to 48-hour turnaround on home inspections with a comprehensive building inspection report, as well as a 100% money back guarantee on property or structural inspections.
9. Cottesloe Pest Control

Best For
Pre-Purchase Timber Pest & Termite Inspections
Services Offered
Termite inspection

Timber inspection

Coastal brown ants

Spiders

Cockroaches

Wasps

And more

Address
Perth
Contact Information
08 9384 7870 | [email protected]
Website
https://www.cottesloepestcontrol.com/
Over the years, Cottesloe Pest Control has been serving residential and commercial clients. They offer everything from spider control to a thorough termite inspection in and around the Fremantle Suburbs, Perth and the Western Suburbs, including, Dalkeith, Cottesloe, Nedlands, Claremont, Mosman Park, Mount Claremont, Floreat, Wembley & Beyond.