In today's digital age full of how-to-guides and video tutorials, it's not surprising if you want to give DIY projects a try. But if we're talking about huge projects like house extensions, large-scale office renovations, shop fit-outs, and bespoke furniture creation, you know you need a professional to give you a hand.
Carpenters are the best people to seek help from any time you need help with complicated carpentry and building tasks. Apart from saving you time and energy doing these things, they also work with passion and quality, ensuring that every project carried out by them will be a success. Ready to hire carpenters today? If yes, then check out these 6 best options for carpenters in Perth – all ready to offer you excellent services.
1.     VLC Carpentry
Best For
General Carpentry and Construction Work
Services Offered
House extensions and renovations

Decks, pergolas, and roofing

Flooring and fencing

Commercial fit-outs

Address
44 Mayor Rd, Munster WA 6166
Contact Information
0411 319 223
Website
https://www.verticallimitconstruction.com/
Known for their capacity to deliver the best in carpentry and construction services, VLC Carpentry is the go-to company of many when it comes to extension projects, renovations, and fit-outs. Both commercial and residential clients have commended their innovative carpentry solutions and knowledge in architectural design, allowing them to turn visions into realities. With over a hundred of completed projects, you can count on VLC Carpentry to professionally complete any carpentry work.
2.     Perth Carpentry and Construction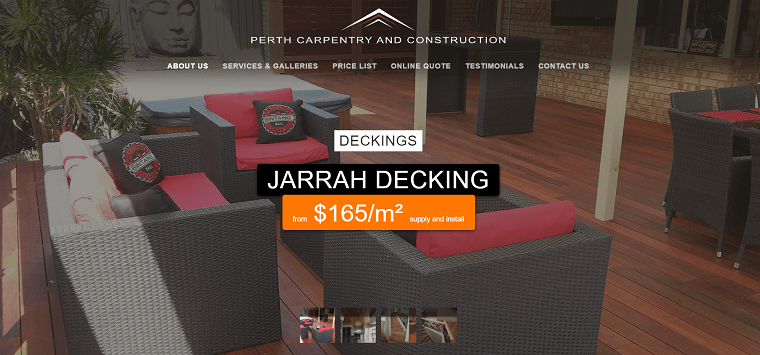 Best For
General Carpentry Work
Services Offered
Supply and installation of flooring

Decking and shelving

Skirting boards, doors, and flat pack kitchen assembly

Address
115 Shiraz Blvd,

Pearsall, Wa, 6065

Contact Information
0407631261
Website
https://perthcarpentry.com.au/
Perth Carpentry and Construction is a family-operated carpentry business with 10 years of professional experience. Their small team values reliability and quality next to customers, and this enables them to provide satisfying service and results at all times. Also, they make sure to keep costs at a minimum, so you will be advised about the price to pay for before any work begins. Some of the valuable services they offer include flooring installation, decking, shelving, kitchen assembly, and so much more.
3.     McIntyre Carpentry & Maintenance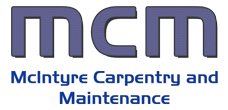 Best For
Residential Carpentry
Services Offered
Renovations and extensions

Alterations and repair work

Decks, fences, and kitchen work

Address
Hilton, WA
Contact Information
0420572474
Website
https://www.mcmcarpentry.com.au/
Want to improve the overall value and appeal of your home? There's no better company to seek help from than McIntyre Carpentry and Maintenance. Why? This company specializes in residential carpentry, staffed with people who are experts and experienced when it comes to renovations, extensions, repairs, and alterations. If you need a new fence, pergola, or kitchen, guaranteed that they can do it for you using quality materials that can stand the test of time.
4.     The Attic Man
Best For
Storage Solutions
Services Offered
Attic/loft ladders

Attic storage solutions

Attic accessories

Address
9 Aquarius Ramble,

Ocean Reef WA 6027

Contact Information
(08) 9300 8869; 0413 611 759
Website
http://www.atticman.com.au/
The Attic Man differs from the rest because they offer services focused on your attic. They have over 35 years of experience in providing attic ladders and storage solutions to numerous homeowners in Perth. Their attic ladders are available in aluminium, wood, and steel, giving you easy access to your roof space. On the other hand, their attic storage solutions are ideal for you if you want to maximize your living space and get rid of all the clutter around you. Get complete details about these offers by heading over to http://www.atticman.com.au/.
5.     Kalamunda Carpentry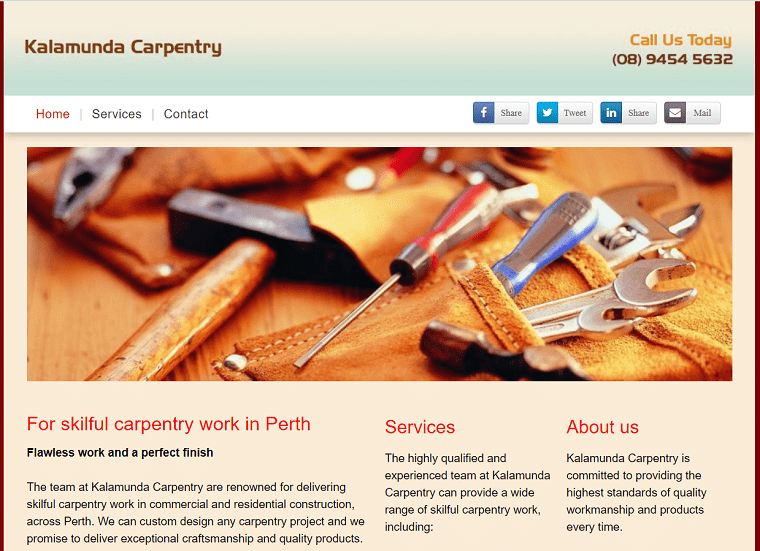 Best For
Residential and Commercial Carpentry
Services Offered
Home renovations and additions

Store renovations and fit-outs

Decks, verandas, and pergolas

Joinery installation and flooring work

Address
60 Kalamata Way Gooseberry Hill WA 6076
Contact Information
(08) 9454 5632; 0423389435
Website
https://www.kalamundacarpentry.com.au/
For skillful and 100% high-quality carpentry work, trust that Kalamunda Carpentry can deliver it. From beginning to end, they promise to help you in every way they can. Their team has the knowledge and skills to assist you in designing your custom carpentry project, sourcing the products you need, and completing the overall work. For house renovations, store fit-outs or flooring work, you can also rely on their team to provide amazing results.
6.     All Perth Carpentry and Roofing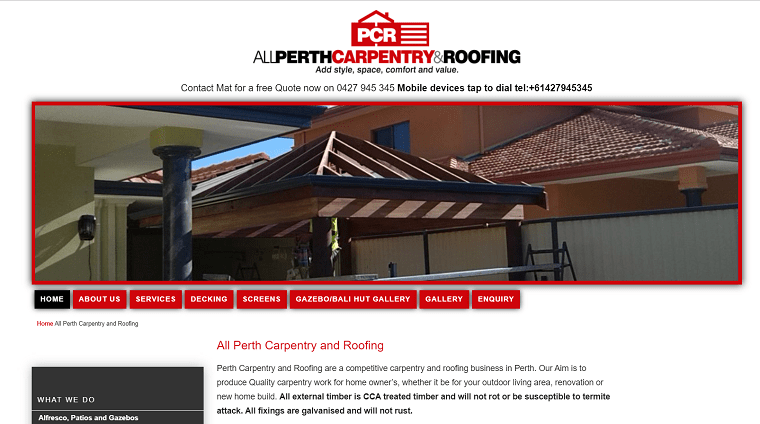 Best For
General Carpentry and Roofing Work
Services Offered
Decks, patios, and gazebos

Roof framing and cladding

Timber additions

Address
Ednah Street, Como, Western Australia 6052
Contact Information
+61427945345
Website
https://www.perthcarpentryandroofing.com.au/
All Perth Carpentry and Roofing is proud of their capability to complete all forms of carpentry work. From decking, roof cladding and framing, renovations to new home builds, nothing is too much trouble for their dedicated and hard-working team. They also have a high level of attention to detail and "can do" attitude, which means all of your expectations and needs will be met when you allow them to work on your project.
7.    AJ Carpentry Perth
Best For
Handling all aspects of carpentry & joinery
Services Offered
Timber & composite decking

Weatherboard cladding installation

Sand and re-seal timber floors

Supply & install internal and external doors

House renovations

Maintenance

Site supervision

Shopfitting

Patch paving

Address
East Victoria Park, WA
Contact Information
Tel: +61 414 216 683

Email : [email protected]

Website
https://www.ajcarpentryperth.com.au/
Founded in 2015, AJ Carpentry Perth handles all kinds of carpentry and joinery services. They are a fully qualified and fully insured company that specialises in designing and building all things related to carpentry. AJ Carpentry Perth also devotes themselves to providing clients high quality works and solutions to their every need.
Some of their projects include:
North Perth weatherboard project
Samson weatherboard works
Mount Richon spotted gum deck creation
Wedding arch / arbour creation