Living with a pest infestation can impose health risks and property damage.  If you want to avoid such a scenario, enlist the help of professional pest control.  They have the experience, expertise, eco-friendly products, and innovative methods… factors that will affect the quality of service you will receive.
If you're living in Manchester, here are your six best options for pest control that serves your area:
1. Manchester Exterminators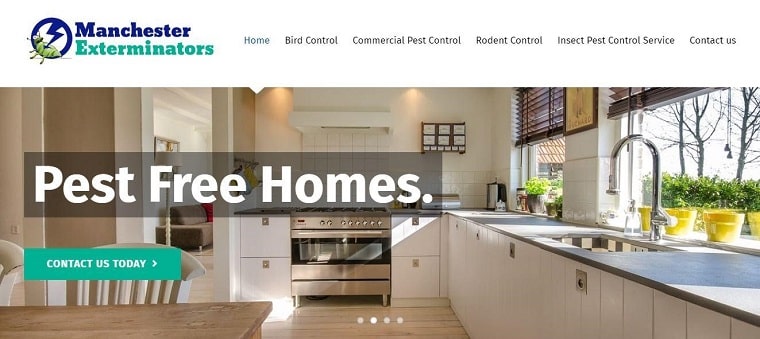 BEST FOR
Domestic and commercial pest management
SERVICES
Bird control

Rodent control

Insect and pest control

Bedbug control

Commercial solutions

ADDRESS
Unit 53, Cariocca Business Park, Hellidon Cl, Manchester M12 4AH
CONTACT
Phone: 0161- 637- 0339

Fax: 0161 -273- 6613

Email: [email protected]

WEBSITE
https://www.manchesterexterminators.co.uk
Manchester Exterminators offers excellent pest control solutions to both domestic and commercial clients throughout the Greater Manchester region.  It always strives to enhance the quality of life of its clients, community, and environment.   Manchester Exterminators provides one of the most advanced pest control methods in Manchester.
2. Pro-Kill Environmental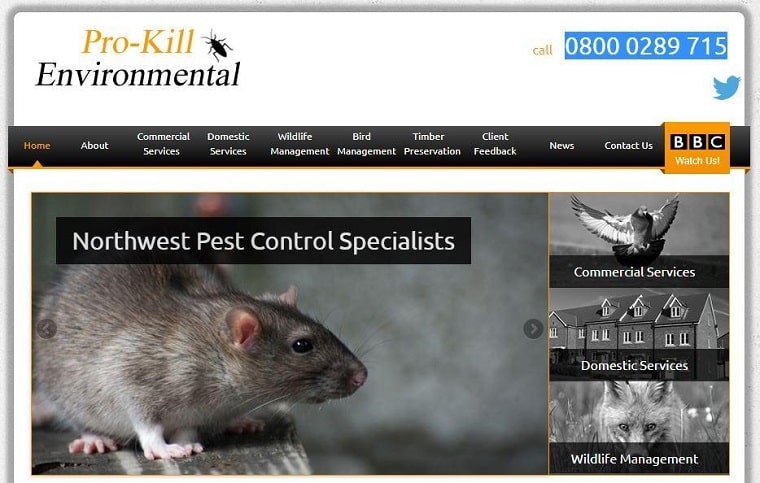 BEST FOR
Domestic and commercial pest management
SERVICES
Pest prevention

Pigeon control

Commercial services

Wildlife management

Bird management

Timber preservation

Wasp, flea, cockroach, bedbug, rat, squirrel, ant, and mole treatments

ADDRESS
174 Kirkway, Middleton, Manchester, M24 1LN
CONTACT
Phone: 0800- 0289- 715 | Mobile: 07931- 912866

Email: [email protected]

WEBSITE
http://www.pro-killenvironmental.co.uk/
Steve and Barry McGrail founded Pro-Kill Environmental in 1999.  The company runs an interdisciplinary team of pest control specialists who can deal with all your pest prevention, pest control, and pest management needs.  Pro-Kill Environmental is fully-insured to comply with the standards required by the British Pest Control Association and of which the company is a member.
3.   Youngs Pest Control

BEST FOR
Domestic, commercial, and agricultural pest management
SERVICES
Wasp treatments

Ant removal

Rodent control

Bee removal

Wildlife control

Insect control

Bird trapping

Bird decontaminator

ADDRESS
2 Grasmere Road, Manchester, M31 4PF
CONTACT
Phone: 0161- 776- 9832 | Mobile: 07845- 815- 261
WEBSITE
https://www.youngspestcontrol.co.uk/
Youngs Pest Control is a family-run company that has been serving residents and business owners in Manchester for over 20 years.  Why choose Young Pest Control?
24/7 emergency response
30 to 90-minute fast response
Professional and licensed specialists
NPTA member and BPCA member
Discreet and unmarked vans
Professional and long-term solutions
4.   Wasp Control Manchester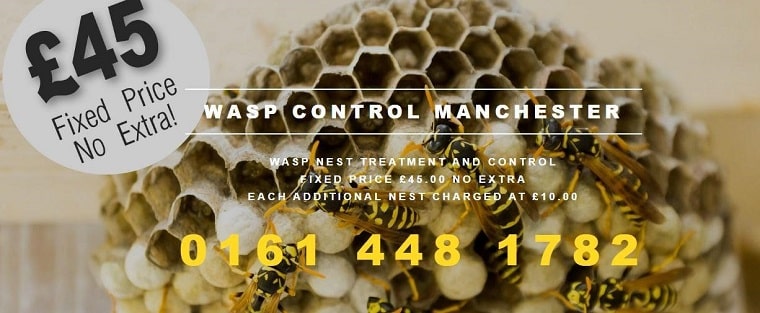 If you need a pest control specializing in wasp control, Wasp Control Manchester is the right one.  The company offers premium services in implementing wasp nest treatment and control services covering Cheshire and the Greater Manchester area.  Its wasp control services are 100% guaranteed so you will be worry-free.
5.    SMPC South Manchester Pest Control

SMPC provides the most up-to-date and high-quality pest control services at competitive rates.  Every single member of its team is highly trained and certified so that the company can provide you the best customer experience and satisfaction.
6.   Fantastic Pest Control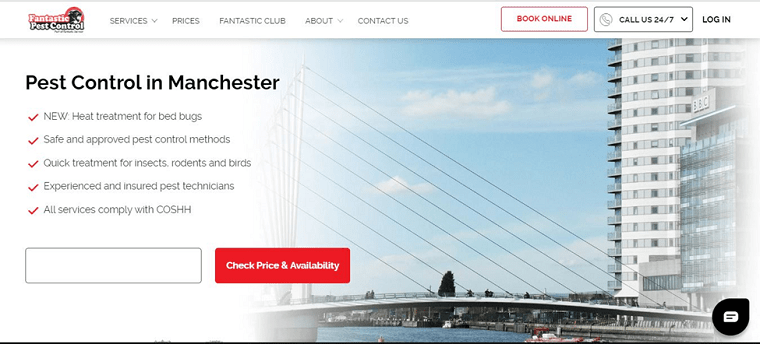 BEST FOR
Domestic and commercial pest management
SERVICES
Rodent control

Crawling pest control and treatment

Flying pest control and treatment

Heat treatment

Fogging service

Dead animal removal

Proofing and prevention

Commercial services

ADDRESS
Tooley Street, London SE1 2TH
CONTACT
Phone: 033- 0320- 0547
WEBSITE
https://www.fantasticpestcontrol.co.uk/manchester
Fantastic Pest Control's Manchester operation is now fully functional and ready to handle all kinds of pest infestations.  From inspecting your property premises to applying the most suitable treatment, Fantastic Pest control has you covered.  The company ensures that all its anti-pest treatments and implemented in compliance with health and safety regulations.