Not all property owners care about pest control or management until this matter gets out of hand. Pest infestations can negatively impact one's health and safety as roaches, flies, rodents, and the like usually carry various diseases.
Remember that you don't want the situation to become worse before you get a pest control service. So to guide you in your early search of the best company to hire, here are the best providers of pest control services that you can take into account.
Note: Due to the current pandemic outbreak, we've noted the relevant service changes for some of the shops listed below. Most services are still accepting online or phone orders as well as deliveries.
1. Pest Control Compared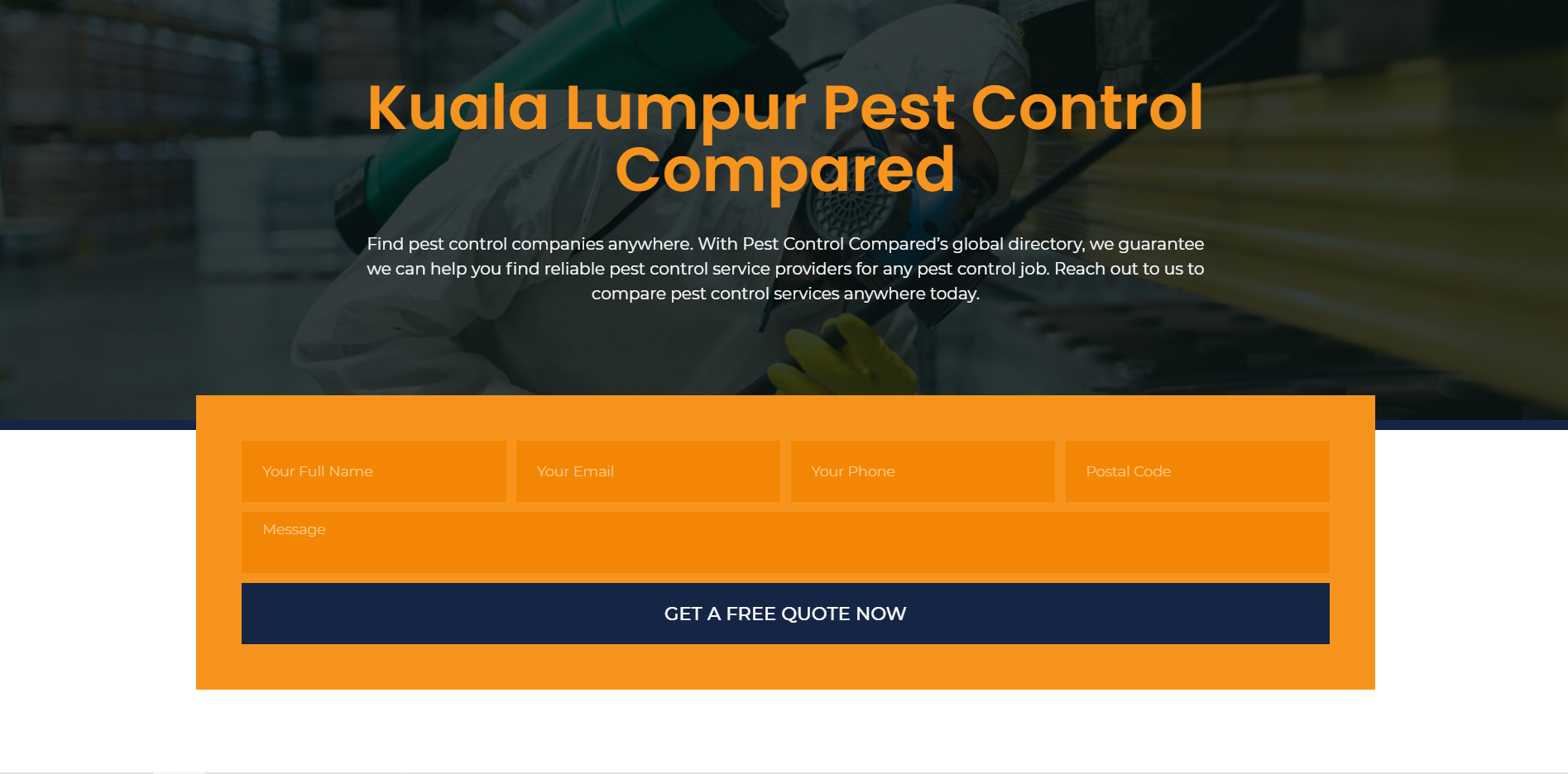 | | |
| --- | --- |
| Best For | Pest Control |
| Services Offered | Commercial and Residential Pest Control Services |
| Address | Kuala Lumpur, Malaysia |
| Contact Information | https://www.pestcontrolcompared.com/kuala-lumpur/#contact |
| Website | https://www.pestcontrolcompared.com/kuala-lumpur/ |
Find pest control companies anywhere. With Pest Control Compared's global directory, they guarantee that they can help you find reliable pest control service providers for any pest control job. Pest Control Compared's contacts are among the best and most experienced in the world.
They are dedicated to providing top-quality pest control services anywhere. Before taking on the pest control job, their generous pest control service providers come for a free inspection to check the infestations in your home. Then, they apply ultramodern pest control techniques that guarantee the total removal of the pests.
Their trusted pest control service providers also make sure that the area they have rid of pests does not become contaminated for the dwellers' safety. Not only do they get rid of pests, their reliable pest control contacts also take measures to prevent them from coming back, saving you money in the long run.
2. Ridpest Sdn Bhd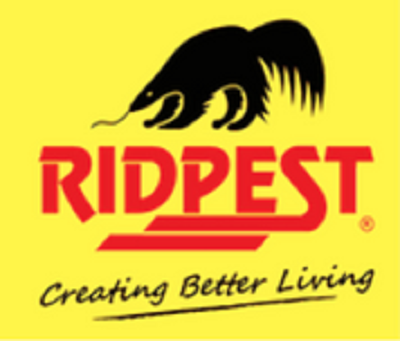 Best For
Termites
Services Offered
Termite baiting, monitoring, and inspection

Mosquito control

Treatments for ants, cockroaches, and rats

Address
No. 7, Jalan Wangsa Setia 1, Wangsa Melawati

53300 Kuala Lumpur, Malaysia

Contact Information
1800 88 1777 (Toll Free); 03-4143 1777
Website
https://www.ridpest.com/
Since 1985, Ridpest Sdn Bhd has been doing a great job in creating termite-free homes. They use cutting-edge technology and solutions, ensuring that termite nests in every home are properly eliminated. Ridpest Sdn Bhd is very confident that they can provide the best service because they offer not just 100% but 200% money back guarantee! If their termite baiting system doesn't work after the first feeding and within the first 150 days, then you will get a full refund. Learn more about this company at https://www.ridpest.com/.
3. Bio Pest & Hygiene Sdn Bhd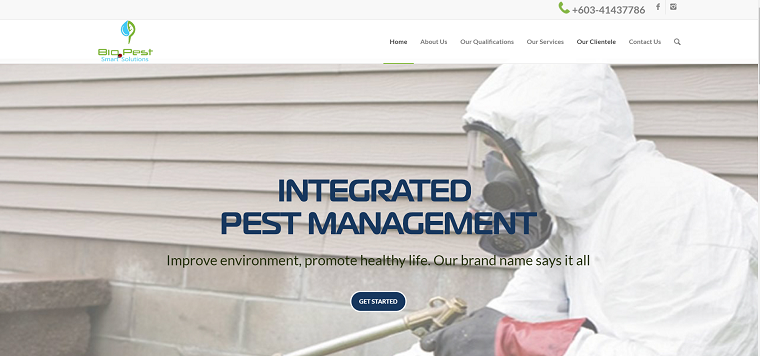 Best For
Termites and General Pest Control
Services Offered
Soil treatment

Post-construction treatment

Fumigation

Integrated pest management

Address
12A-1 , Jalan Wangsa Delima 10, D'Wangsa Maju, 53300 Kuala Lumpur
Contact Information
03-41437786
Website
http://www.biopest.com.my/
Ensuring the safety and health of their residential and commercial clients is the number one goal of Bio Pest & Hygiene Sdn Bhd. They have grown from working on apartments and condos and later on, expanded their client base as they specialise in all pest treatments using efficient chemicals and advanced equipment. From using fumigants, controlling termite infestations, and handling integrated pest management, Bio Pest & Hygiene Sdn Bhd can carry out all these with a high level of professionalism.
4. Punchout Pest Services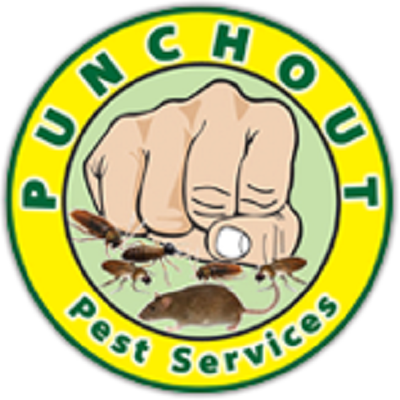 Best For
General Pest Control
Services Offered
Integrated pest management

Termite baiting system

Pre-construction soil treatment

Post construction soil treatment

Address
Wisma JCHS, 72-1 Jalan Jawa,

Taman Yarl, Old Klang Road 58200 KL.

Contact Information
03 7982 7551
Website
http://www.punchout-pest.com/
Whether at home or any commercial establishment, the team at Punchout Pest Services conducts their work in a discreet, safe and efficient manner. With their tagline "We will control what's bugging you," the company offers comprehensive pest management services for rats, houseflies, cockroaches, ants, and more. They also have innovative products like MozzTech Mosquito Trap, Terminator Tube, and Trap-A-Roach, which are proven helpful in resolving pest infestations.
5. Unity Termite & Pest Control Sdn. Bhd.
Best For
Residential and Commercial Pest Control
Services Offered
Termite Soultion • General Pest Control • Fogging
Address
AG-11, Jalan Mawar 17
Taman Mestika
56100 Kuala Lumpur
Contact Information
(M) 016-722 8562 / 016-906 0168
Website
http://www.unitypestcontrol.com/
Unity Pest Control offers safe, affordable and effective pest control solutions for both residential and commercial customers. Their pest management solutions effectively eliminates rodents, flies, termites, moths, cockroaches and mosquitoes are easily eradicated from their customer's home or office. You can call them for a free inspection, consultation and quote before you directly avail their service.
6. Syarikat Kilstant White Ants

Best For
Specialized in Termite Eradication since 1975
Services Offered
Termination and Prevention Service of Termites
Advance Termite Reticulation System Installers for New & Existing Buildings
Kapping System for Existing Buildings
Address
HQ:
No. 50 Jalan Tun Abdul Razak,
Taman Cherry,
30100 Ipoh
Perak Darul RidzuanBranch:
47-5-2
Bangsar Puteri CondominiumJalan Medang SeraiBukit Bandaraya, 59100Kuala Lumpur
Contact Information
[email protected] | +60176435634 / +60175724639 / +6055266464
Website
https://www.kilstant.my/
Syarikat Kilstant White Ants offers fully integrated, end-to-end Termite Management & Solutions for residential & commercial buildings. They're a family based business running since 1975, owning signature brands for termite control, such as The Kilstant Reticulation System ™ & The Kapping System ™.
7. Termibait Facility Services Sdn Bhd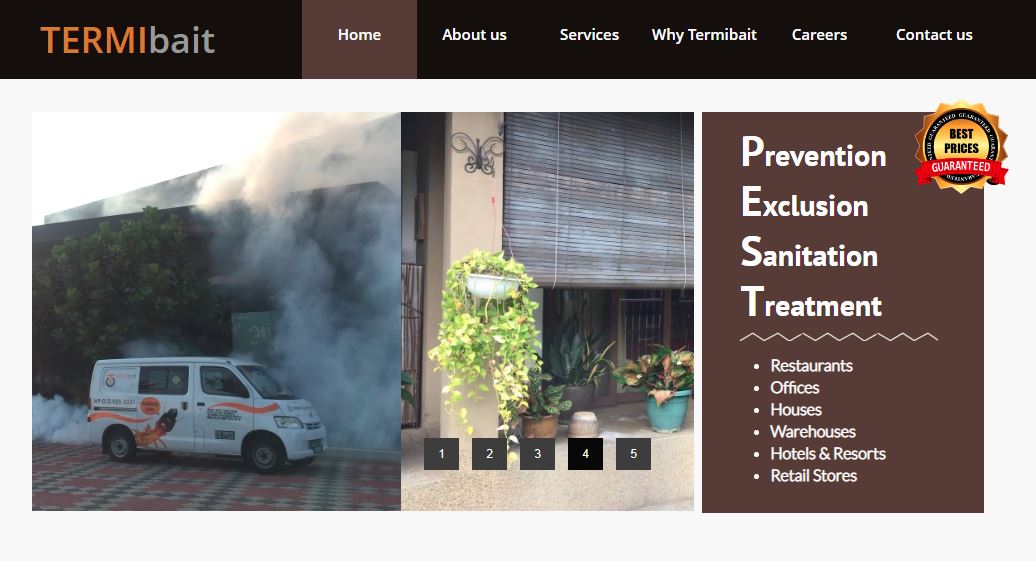 Best For
Pest + Cleaning Services; Certified Xterm Installer
Services Offered

Pest Control Services
Commercial Hygiene and Cleaning Services

Address
35-1, 1st Floor, Jalan USJ 1/1C,
Regalia Business Centre
Taman Subang Mewah,
47600 Subang Jaya, Selangor
Contact Information
+6012-925 3331 | [email protected]
Website
https://termibait.com.my/
Termibait Facility Services Sdn Bhd offers residential, commercial, industrial and hospitality spaces in Malaysia effective pest control, termite and management solutions since 2010. Termibait is also an authorised Xterm installer for more than 10 years and to complement their pest control solution, they also offer contract cleaning and hygiene services.
8. Chemico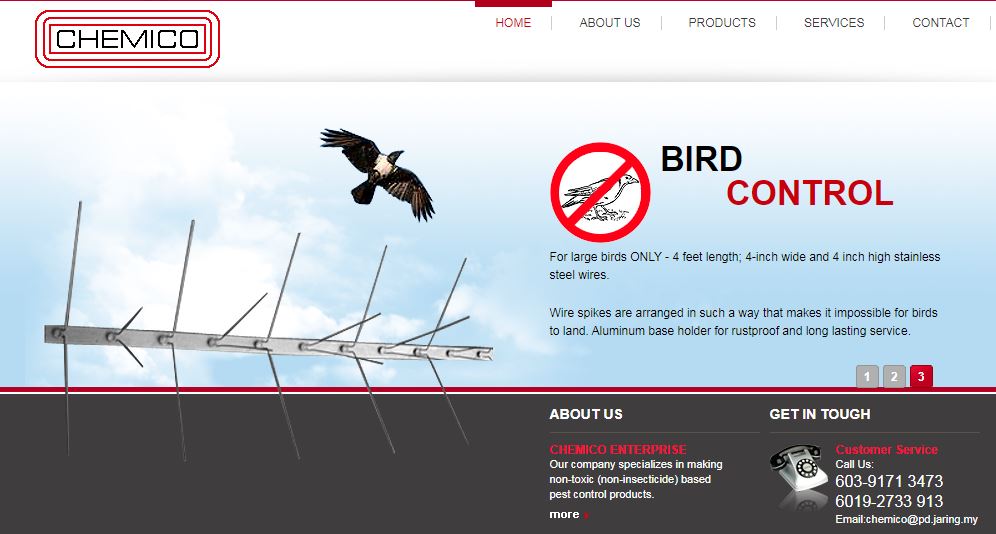 Best For
Making non-toxic (non-insecticide) based pest control products
Services Offered
Rodent Control
Bird Control
Bats Control
Crawling Insect Control
House Lizard (Geckos) Control
Insect Trap Systems
Address
12C, Jalan Wangsa 1/1, Taman Wangsa Cheras, 43200 Cheras, Selangor Darul Ehsan, Malaysia.
Contact Information
603-9171 3473
6019-2733 913
[email protected]
Website
http://chemico.com.my/
Chemico creates their own products starting from rodent adhesives to insect traps, bird control products , etc. and cater mainly to the professional (pest-control companies) markets. They also do their own Research and Development, and have so far developed products like house lizards (geckos) repellent, double reflector insect light traps, transparent sticky pads, etc.
9. Perfectional Pest Solution Sdn Bhd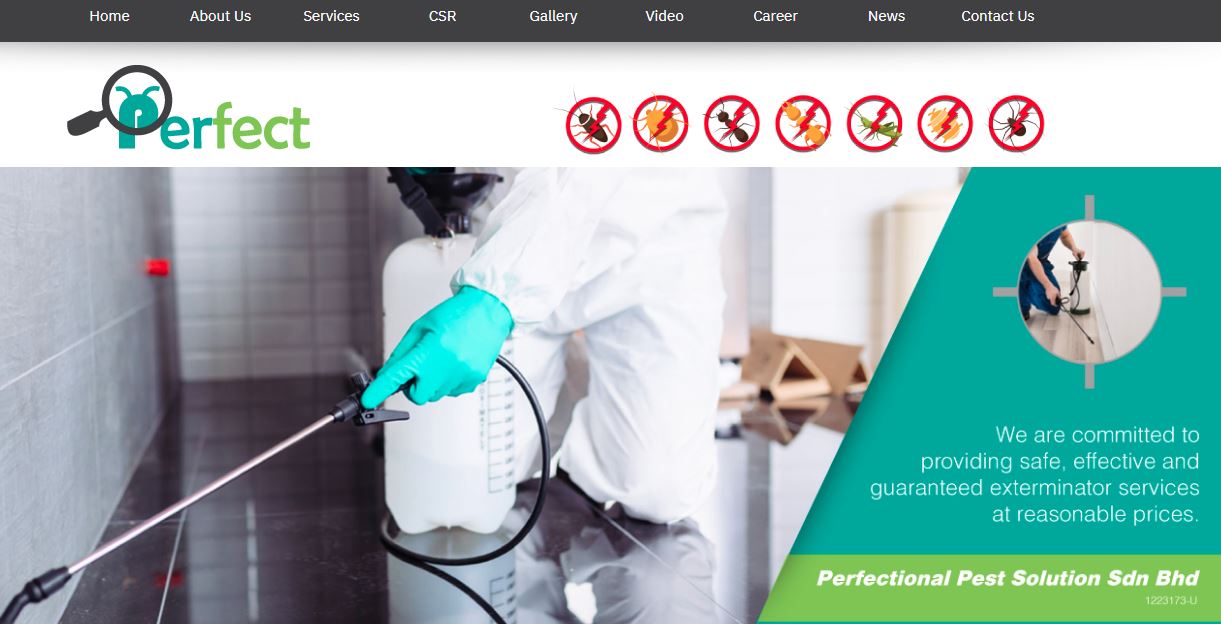 Best For
One-stop pest control company
Services Offered
Rodent Control
Bird Control
Bats Control
Crawling Insect Control
House Lizard (Geckos) Control
Insect Trap Systems
Address
56-1, Jalan BP1, Taman Bertam Perdana, 75200 Melaka, Malaysia
Contact Information
+6011-1666 8841

+606-334 7090

Website
https://www.perfectpest.com.my
Perfectional Pest Solution Sdn Bhd offers solutions to eliminate termite/white ants, rodents, flies, ants, stored product insects, birds, cockroaches, mosquitoes and bedbugs. They're registered and approved by the Malaysia Pesticide Board, Department of Agriculture, Malaysia to operate as a licensed Pest Control Operator (PCO) in compliance with the Pesticides Act 1975 (amended 2004).
10. Insepro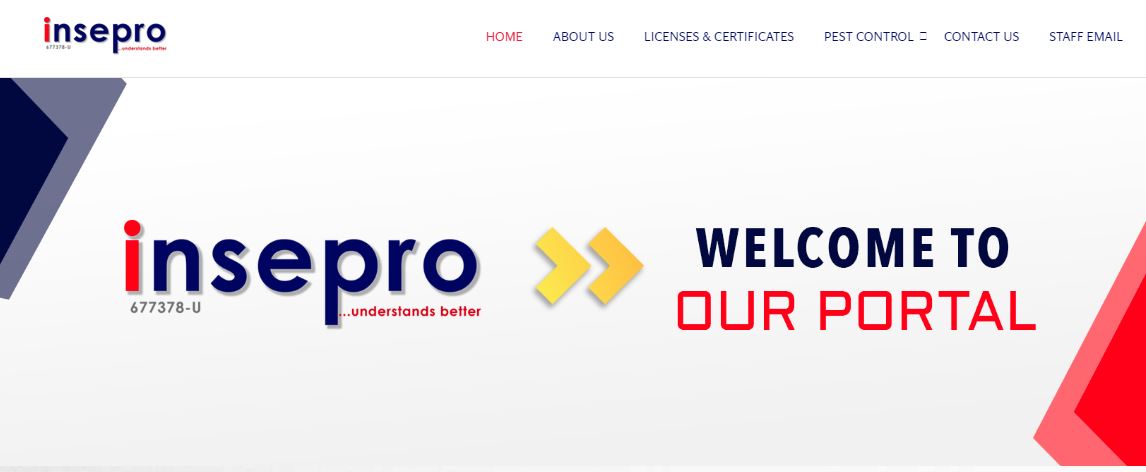 Best For
General pest management services for commercial and residential premises
Services Offered
1. Termite
1.1 Exterra (Product+Service)
1.2 Labyrinth (Product/Product+Service)
2. General Pest Control
2.1 Residual Spraying (Service)
2.2 Gel Bait (Service)
2.3 ULV Misting (Service)
3. Rats Control
3.1 Goodnature E2 (Product/Product+Service)
3.2 TRBS (Product+Service)
3.3 Rats Glue Trap (Service)
3.4 Trapping (Service)
4. Flying Insect Control
4.1 Vectothor Light Trap (Product/Product+Service)
4.2 Spraying (Service)
5. Mosquito Control
5.1 Thermal Fogging (Service)
5.2 Mosquito Treatment Zone @MTZ (Service)
Address
No. 2 – Ar, Jalan Kosas 1/5, Taman Kosas, Selangor, 68000 Ampang Jaya, Malaysia
Contact Information
+60 3-4295 2807
Website
http://www.insepro.com.my
Insepro Sdn. Bhd. offers a wide range of specialized pest and termite control. They're Authorized Installers of EXTERRA™, the termite interception and baiting technology from ENSYSTEX, USA, which is used worldwide in effectively eliminating subterranean termite colonies.
11. Empire Pest Control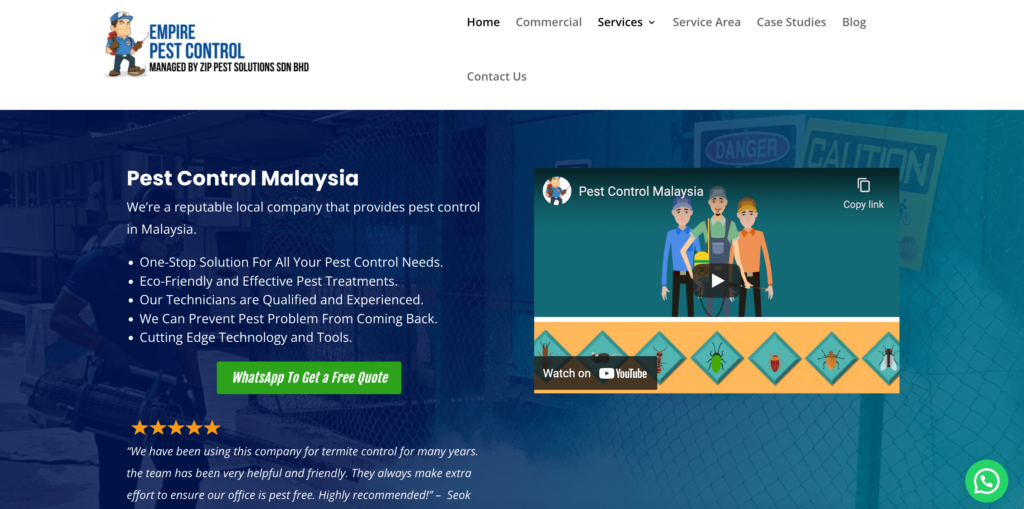 Best For
Commercial and Residential Pest Control
Services Offered
Termite Control
Ant Control
Rat Control
Cockroach Control
Mosquito Control
Bed Bug Control
Address
Kuala Lumpur
Contact Information
Visit this link to contact Empire Pest Control
Website
https://www.empirepestcontrol.my/
Empire Pest Control is a local pest control company based in Malaysia. What makes them unique is their commitment to providing effective and affordable pest control services. Their exterminator from Empire Pest Control will identify the type of pests that are affecting your property and give you a targeted solution.
They also use only natural methods to eliminate them, which means they're not just stopping bugs from coming back – they can also prevent new ones from moving in! With years of experience, they have the skills and know-how to handle a variety of pest control services. Their team is also fully trained on how to use all their equipment as well as access your property safely.
In addition, they have an extensive list of services that can help you out in various ways. Their experts are fully equipped to handle just about any kind of pest infestation, including termites, cockroaches, ants, and more! They offer both residential and commercial pest control services so no matter the size or type of property you have – their team will have you covered.