Thinking of having a patio built for your property? Then, look no further, as we collated a list of the best companies for patios in Brisbane for you to choose from!
Most of our featured companies can custom-make a patio for you, from a simple spot where you can dine al fresco to a large outdoor living space for the whole family.
However, you may be wondering how much this project would cost you. That is why we will shortly discuss the cost and the factors involved in building a patio first before showing you our list.
How Much Does Building a Patio Cost in Brisbane?
In Brisbane, patio building typically costs between $200 and $900 or above per square metre. The price is influenced by a few factors, such as the paving material used, the size of the work, and if you choose to add a roof and/or deck.
Some companies charge an hourly rate for the labour, which should be about $70 to $120 per hour. In this case, you'll spend more for larger projects because the crew will require more time and effort to complete them, and also for further addresses due to transportation costs.
You may also be given the option of either a prefabricated or custom patio design. Since the latter requires the builder to source specific materials and pavers, it will incur you a higher cost.
The Best Companies for Patios in Brisbane
Not all patio builders are reliable and trustworthy. For this reason, we assessed each company based on different service aspects to validate it as one of the best patio companies in Brisbane!
The factors we used to judge our listed companies are as follows:
Now that we've tackled them, you're ready to see our list of the very best patio builders in Brisbane. So here they are!
1) Pro Patios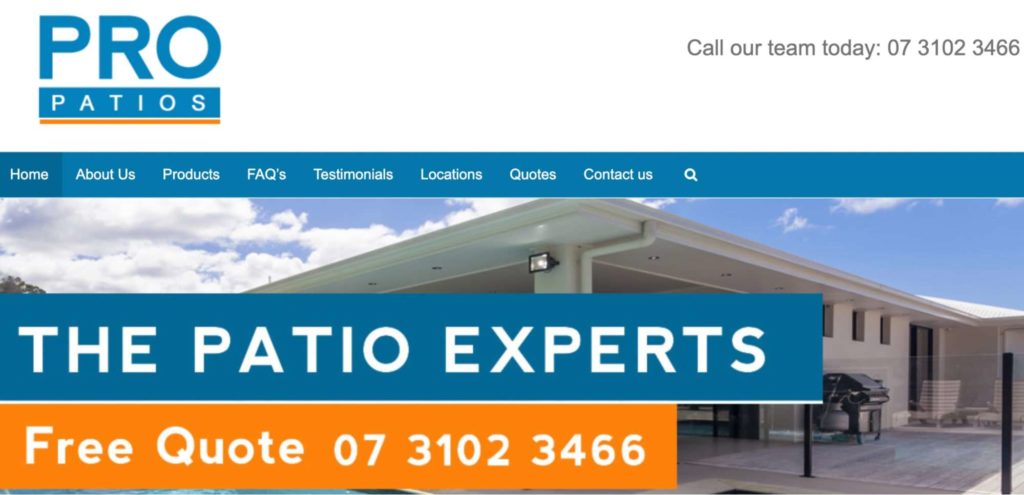 Pro Patios is a Brisbane-owned company that builds and decorates patios, carports, pergolas, and decks. They can be custom-built to match your home surroundings and design specifications.
Their knowledgeable team can guide you throughout the entire process from concept to tidy-up. And they have qualified and licensed builders with a combined experience of over 35 years.
Moreover, they are public liability-insured up to $20,000,000 and can cover for accidental damage caused.
Included with their service is council approval so that the patio is on par with Queensland's legal and building standards. And everything else like onsite quoting, consultation, and installation is free of charge.
Like all the best companies for patios in Brisbane, their services and materials are warrantied to ensure high-quality workmanship the first time out.
According to many clients, the patios the contractor built made their garden or backyard more beautiful and added value to their property.
Everything seems great with this company but it would've been nice if they also included a gallery page online.
Other than that, they are a superb company if you need a new patio made for your new build, renovation, or extension project. And for a seamless process, we highly recommend getting Pro Patios!
Licensed and insured builders
Seamless service process
Council approval included
Free onsite quotes
Free design and installation
Gives service and material warranties
No gallery online
Closed on a Sunday
Customer Reviews
Backyard patio looks amazing
"We worked with many construction companies in the last few years but this company is one of the best. Our backyard area looks amazing. It is wonderful coming back home everyday and enjoy our new outdoor patio. I'm very happy!" -Kathryn Simms
Impressed with the patio workmanship
"I would recommend their services. The patio just took our garden to the next level. Very impressed with the workmanship and the final impression of the property." -Santi Kirkwood
2) Homeshield Patios & Decks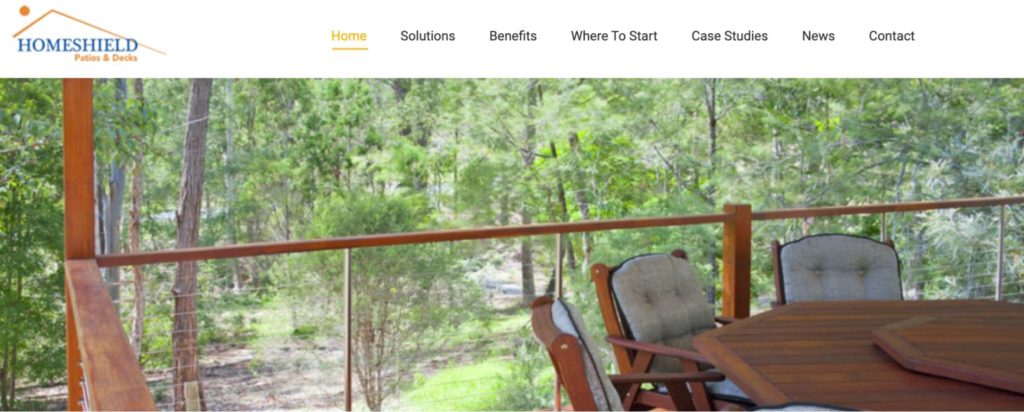 PRODUCTS & SERVICES
Patios
Decks
Carports
Hunter Douglas patio/deck roofs
Sunrooms
Privacy screening
Aluminium cladding
ADDRESS
Bald Hills, Brisbane 4036 QLD, Australia
CONTACT DETAILS
07 3216 2799


[email protected]

WEBSITE
https://www.homeshield.com.au/
No matter what style of patio you want, be it an urban oasis, a cosy outdoor haven, or a minimalist beauty, Homeshield Patios & Decks can pull it off.
It's a family business owned by Julian and Christine West. They aim to give clients a stress-free experience from beginning to end and have been commended for their friendliness and honesty by clients.
As they work in partnership with multiple suppliers, they can offer you many product options for your patio, roof, deck, or screens, unlike other builders. A lot of customers opted for their Hunter Douglas blinds and sunscreens for their patios, which gave them a classy finish.
Also, on their website, they have case studies and sample photos of projects built for past clients. So, you may want to check them out for some veranda design inspiration.
Another reason we chose this company is that all their quotes are itemised. This means that the staff will follow the quote to the letter and you won't pay extra costs that weren't made known to you.
Currently, though, they operate on shorter working hours between 9:30 AM and 2:30 PM from Monday to Friday. When working, they follow COVID-safety protocols including social distancing for everyone's safety.
For exceptional custom patio design, helpful and knowledgeable owners, and a transparent quote, Homeshield Patios and Decks is certainly one of our top companies for patios in Brisbane.
Personalised patio design
Simple patio-building process
Wide variety of products
Itemised quotes
Free e-Guide
No mention of warranties
Unavailable on the weekends
Early closing hours
Customer Reviews
Outstanding work and hassle-free experience
"Great experience from the start to finish. Very happy with quality of work done & highly recommend. Our Queenslander patio was a bit tricky but they helped come up with great solution to keep bugs out, it now looks amazing. Lovely people to deal with fabulous staff good communication & very kind to our dear George (Staffy) who wanted to follow them around all day. Thank your team cause we really appreciate the great job done ✅😊" -Jayne Maree
Extremely happy with the completed patio
"Highly recommend Homeshield. Our patio was completed on time and we are extremely happy with the result. The team were easy to deal with and very helpful through the whole process. Thanks Julian and Christine for doing such a great job." -Jodie Murphy
3) Lifestyle Patios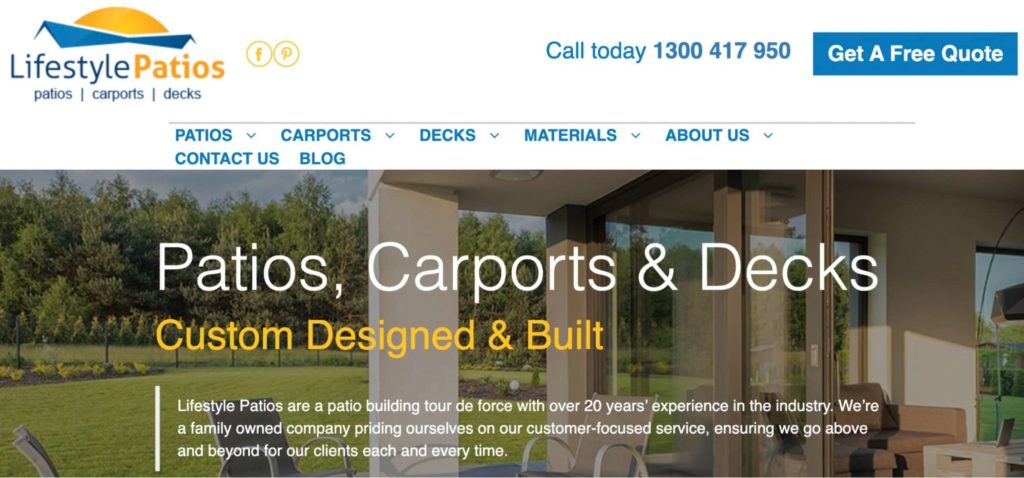 Having completed hundreds of projects over their 20 years of service, Lifestyle Patios can expertly construct a picture-perfect custom patio that fits your lifestyle and property.
The team is licensed by the Queensland Building and Construction Commission. They can walk you through the whole design-and-build process, all the while making it simple for you.
This starts with a consultation, followed by the making of a proposal, handling of paperwork, sourcing of materials, construction, and final inspection to catch any flaws or further decorate the patio.
They offer an extensive range of patios, carports, and decks. No matter how you want your patio to be—big or small, simple or complex—you can simply pitch your idea to them.
All the time, they strive to make their clients satisfied with their headache-free service and workmanship. They also boast about their passion and attention to detail on the website.
On Google, clients wrote of their great communication and efficient and friendly workers. Best of all, the patio building work had been top-notch which incredibly pleased them.
In case the job gets very expensive, you can apply for financing to break up the total into small, manageable payments. This is one of the advantages of picking them over other companies.
As for the cons, just a couple of clients complained of their final work and customer service. Furthermore, they aren't open on the weekends to assist you or build your patio.
If you want a proactive, efficient, and amiable team to complete your patio, we don't see why you shouldn't pick this company. By the way, they offer their services to clients in and around Brisbane.
Licensed builders
Extensive range of patio styles and materials
Efficient 7-step service process
Free consultation
Finance option available
Unavailable on the weekends
Complaints about final work and customer service
Customer Reviews
Efficient, professional, and friendly team
"We recently had the pleasure of engaging Lifestyle Patios to build our new patio. To Lee in the office, who kept us up to date with the progress of the application, Rick, who drew up the plans, Brendan, who made the final measurements etc and Gavin and Sarah who constructed the patio a big thank you. It was a pleasure to be involved with a efficient, professional and friendly team." -John Sallis
So happy with the patio result
"Had a patio installed a couple of years ago from these guys and we are so happy with the result. We got it as we wanted a bigger space for our solar panels and it was no issue with it, they have the brackets and also engineer the patio so it will hold up. I also love how they ran all the wires and holes for the lights. I would highly recommend to anyone." -C Mass
4) Just Patios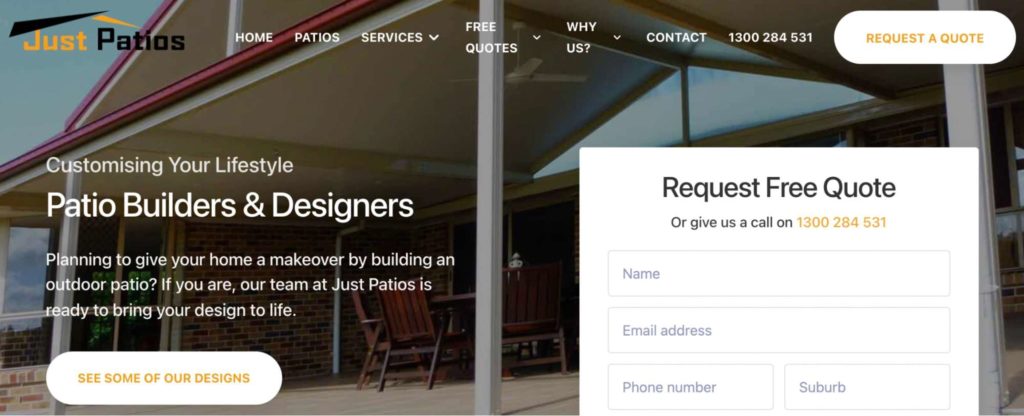 Formed in 2002, Just Patio is a residential and commercial builder of patios, carports, glass room enclosures, and roofing. It services Sunshine Coast and Brisbane areas on weekdays only.
It's one of the leading companies for patios in Brisbane owing to its certified and insured team. As well as being Master Builders, they're also registered with industry bodies like QBCC and QGBAS.
Not to mention, they have engineered thousands of patios ever since starting the business. And they're quite a perfectionist in terms of their workmanship and achieving clients' standards.
With them, you can select between a customised and standard veranda design. Their standard options include gable (the most stylish of the bunch), flyover, and insulated and non-insulated skillion.
If you're a builder yourself, you can just request and buy DIY kits from them. Then, you can just handle the rest.
They can navigate the client through the sophisticated process, including council approval and private certifications so all you have to do is direct and supervise the work to ensure it meets your expectations.
On top of all this, they offer a confidence-bringing 15-year product warranty. That means that the materials that will be used for your patio are all of high quality and can stand the test of time.
Having said that, there have been complaints regarding their expensive rates. You can, however, get a quote from them and other contractors and see which price will best suit your budget.
You can obtain a free quote via their contact form online. Their patio design and quote service are also free and will be conducted on your premises.
Fully licensed and insured contractors
DIY kits available
Gives a 15-year material warranty
Acquires building approvals
Offers a free design and quote
Covers both Brisbane and Sunshine Coast
Prices may be expensive here
Closed on weekends
Customer Reviews
Did a brilliant job in building an insulated patio
"Thank you Just Patios for my amazing new insulated outdoor patio. You guys were fantastic right from the get go and did a brilliant job. Highly recommend." -Leneen Swanson
Carried out everything very well and on time
"It was a great pleasure to deal with such an efficient company. Just Patios carried out everything extremely well and on time as quoted from the beginning to the end when we received sign off. We can thoroughly recommend this company to anyone contemplating putting up a patio." -Brenda Law
5) GW Patios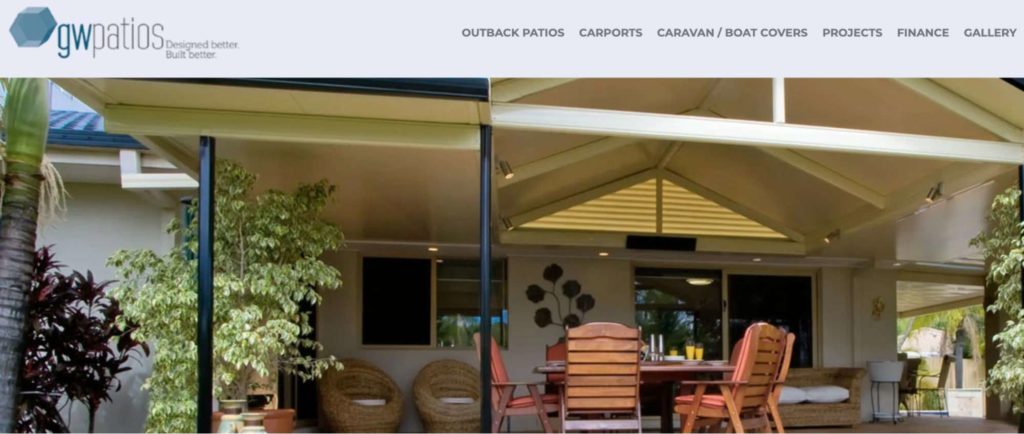 PRODUCTS & SERVICES
Outback patios
Carports
Caravan/boat covers
ADDRESS
893 Stanley St E, East Brisbane 4169 QLD, Australia
CONTACT DETAILS
+61 7 3393 1790/0408 828 486
WEBSITE
https://gwpatios.com.au/
If you are looking for a patio builder that gives professional work and a competitive quote, then GW Patios might be for you!
This business goes way back to 1966, with over 2,000 carports and patios built to date. As a Stratco distributor, they offer many styles and sizes of patios, carports, and boat and caravan covers.
To list them down, these include gable, skillion, curved, sunroof, heritage, pergola, flyover, freestanding, and house-attached patios—all with different functions and appearances.
If you need accurate and honest advice on what to pick, their team is ready to assist you. The great thing about them is they didn't upsell products that clients wouldn't need, as they can confirm.
Now, their team is made up of Master Builders to construct your patio and an accountant who will coordinate with you through to the completion of the project.
There's also a finance option so that you won't have to spend a large amount of money on one transaction. Also, you can check out their special offers page for more bang-for-your-buck opportunities.
A drawback of choosing them is that they don't do custom designs, unlike the other companies we've chosen here.
And although they give warranties for material and installation, one client had problems getting hold of them after the service to get them to correct the workmanship fault.
Nevertheless, we believe they're still one of the top companies for patios in Brisbane. To see some samples of their work, you can go to their website and click on their gallery or projects page.
Master Builders
Competitive price
Uses Stratco products
Gives material and installation warranties
Finance option available
Gives special offers
Doesn't build custom patios
Closed on weekends
Complaints about workmanship and warranty service
Customer Reviews
Exceptional workmanship and a competitive price
"We had our patio extended and now totally love our patio. The quote was competitive and the workmanship was exceptional. The work was done quickly and they left no mess. Thank you." -Susan Hanrahan
Quality work at the best price
"I would recommend GW Patios to anyone who wants professional, accurate advice and quality work at the best price. It's that simple." -Derren Buck
FAQs about the Top Companies for Patios in Brisbane
---
And those were the top companies for patios in Brisbane. If we missed a great patio builder that should've been on this list, you can message us and we will add it here if it's worthy.
Also, do you have any questions or comments about our picks? Kindly let us know and we'll get back to you at the soonest.
Other than that, if you live in Perth and need help with making a new outdoor patio, you can check out the best options for patios in Perth too!