Landscape architecture has the power to transform communities, cities, and nations.  Whether reshaping the outdoors to promote an active lifestyle or create a tranquil and peaceful ambiance to effect calmness and serenity can serve a focal point for a community or nation.
Dubai has a collection of wonderful and amazing landscapes, living pieces of evidence to show that no amount of sand can stop people's creativity from bringing life into arid places.  When before you can only imagine Arab countries with sand, camels, and thirsty travelers, today, a modern oasis can be everywhere especially in Dubai, which is a host to many great horticulturists, landscape designers, engineers, and architects. If you want to build your dream house or transform any open spaces, here are the 6 best options for landscaping companies in Dubai.
Note: Due to the current pandemic outbreak, we've noted the relevant service changes for some of the shops listed below. Where applicable, we've noted the policy or service changes.
1.     KCJ Landscaping LLC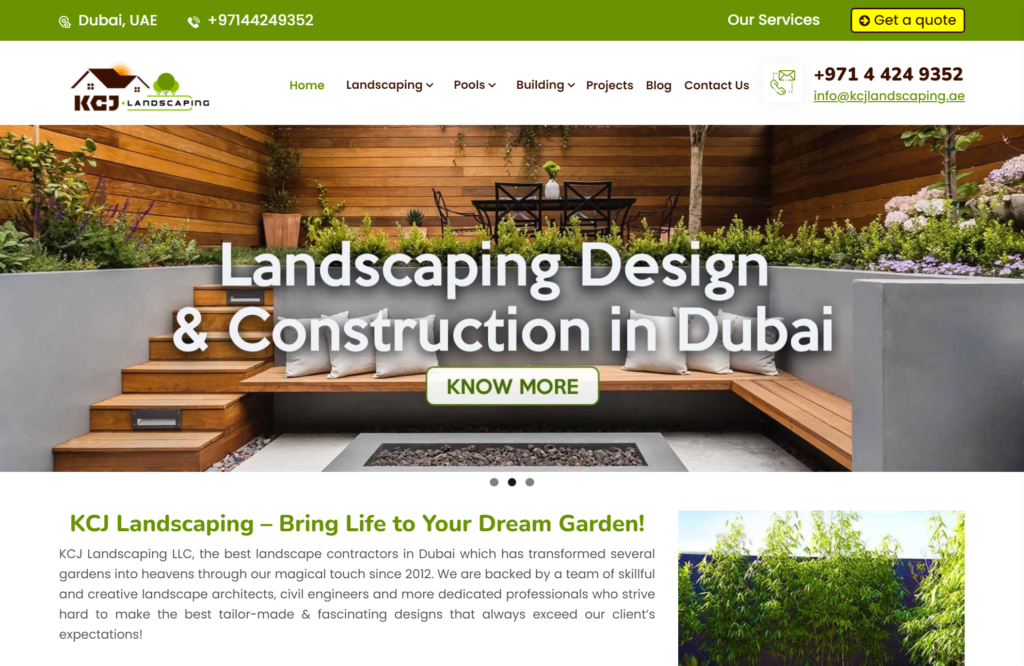 Best For

Landscaping, Swimming Pool & Water Features, Gazebos & Pergolas

Services Offered

Landscaping, Swimming Pool, Artificial Grass, Interlock Tiles, Soft Landscaping, Hard Landscaping, Gazebos & Pergolas, Indoor and outdoor water features, Building maintenance and renovation, Irrigation System, Tile Fixing

Address

Office No: 308, Diamond Business Center 2, Al Barsha, Dubai, UAE.

Website

www.kcjlandscaping.ae

Contact Info:

+971 4 424 9352, +971505478110
[email protected]
KCJ Landscaping LLC is one of best landscape contractors in Dubai that has transformed several gardens into heavens through our magical touch since 2012. They specialize in the design and build of all types of landscaping and swimming pool for both commercial and residential needs.
They are also backed by a team of skillful and creative landscape architects, civil engineers, and more dedicated professionals who strive hard to make the best tailor-made and fascinating designs that always exceed their client's expectations!
The first thing we noticed and appreciated about their service was their systemic work method. We liked the collaborative consultation, design, and execution of the project. 
This ensures that the design fits our ideas. Also, this collaborative experience guarantees us the quality of the project's outcome. 
Their services are exceptional bar none, and customers agree to this. Whether the project was small-scale or large-scale, you can expect the company to deliver. 
The customers also shared how they loved the staff and crew's professionalism, attention to detail, and flexibility in delivering the projects. They can provide accurate measurements and installations, a plus, particularly when dealing with installations. 
What they can improve on, however, is the delivery time for each project. They tend to exceed the original time of completion. 
Pros
Systemic approach to projects

Extensive landscaping, pool works, and masonry works services
Cons
Tend to exceed originally quoted time of completion
Customer Reviews
"KCJ team comprises of well qualified personnel who are very pleasant to work with.Very cooperative with our needs and flexible at every time.They are prompt in their scheduled time and very transparent.Overall it was excellent working with them and looking forward for more.Wish them all the very best." – Sebastin D.
"Would definitely recommend KCJ Landscaping LLC for swimming pool construction and maintenance.  They know their stuff and are very professional.Its one of the best swimming pool  company in UAE. Keep up the good work." – Rence D.
2.  Aswat Almadinah Landscaping Works LLC

Best For:
Landscaping
Services Offered
Landscaping, gardening, graveling, garden design, indoor and outdoor water features, wood work, stone work, paving, children's playgrounds, maintenance and renovation
Address:
France Cluster, Q-8, Shop-9, International City
Website:
http://aamlandscape.com/
Contact Info:
(971) 50 65 49 514/04 5847056


[email protected]
Their company, Aswat Almadinah Landscaping Works LLC, is one of the leading companies in UAE with many years of experience in the field. They have worked for all types of big and small clients.
Until now they are giving high quality to the customers to achieve their satisfaction. They will dazzle you with their excellent service.
3.    Green Vision Landscaping

Best For:
Soft Landscaping
Hard Landscaping
Gazebos & Pergolas
Swimming Pools maintenance
Automatic Irrigation
Water Features
Engineered Timber Elements
Landscape Illumination & Lighting
Fencing & Paneling
Flower Beds
Weed Control
Services Offered:
Soft landscaping, hard landscaping, gazebos and pergolas, automatic irrigation, swimming pools and water features, landscaping illumination and lighting, lawn care  service, and green walls
Address:
# M29, Mezzanine Floor, Al Hudaibah Building,Al Hudaibah Street, Al Satwa Al Zaabeel P.O.Box: 23742, Dubai
Website:
http://www.gvision.ae/
Contact Info:
+971 50 644 7178 – 0508700912
Email: 

[email protected]

–

[email protected]
Green Vision is one of Dubai's best landscaping companies specializing in the construction and maintenance of Green Walls that are vertically arranged beautiful collection of plants.  Their vision is to create lush gardens and offer innovative designs to turn you living green areas into dream gardens.  Call Green Vision and Go Green!
4.    Desert Group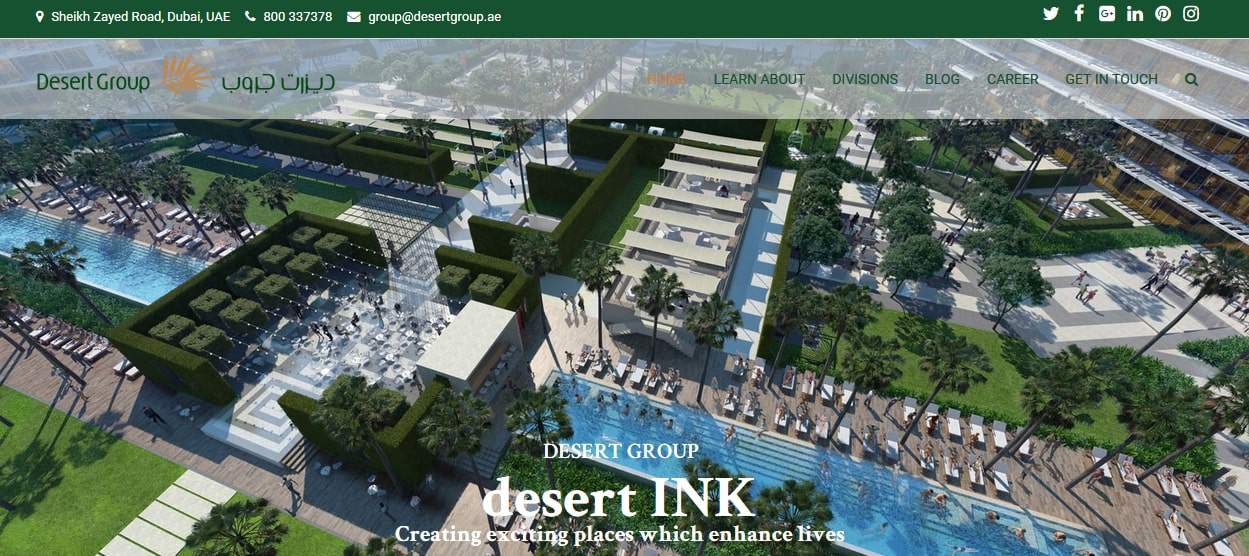 Best For:
Design and Architecture
Landscaping
Commercial and Residential Maintenance
Pools and Water Features
Services Offered
Design, landscaping, floristry, plant nurseries, indoor plants, furniture, hydroponics, golf, maintenance, garden centers, swimming pools, and R&D
Address:
Sheikh Zayed Road, Dubai, UAE
Website:
https://desertgroup.ae/
Contact Info:
800 337378/Email: 

[email protected]
Desert Group started in 1988 with the vision o0f drastically transforming the arid desert into a lush green landscape through the iinfusion of creative designs and technical expertise in agriculture.  Now the company is focused on reaching out globally in their quest to become the best lifestyle company with the ultimate goal of enhancing people's lives.
With a team who love what they do and committed to providing simple lifestyle solutions while creating a valuable and unforgettable experience to customers so that they continue to do business with them again and again, Desert Group is confident they will achieve the goal.  And with your help, they will.  Contact Desert Group today and see how you can help others as they help you build your amazing landscape.
5.    Cracknell Landscape Design LLC

Best For:
Urban Design and Planning
Irrigation and Horticulture
Lighting Design
Services Offered
Landscape design
Hardscape design
Water feature design
Lighting and post contract Site supervision
Landscape structure design
Plant selection
Material selection
Artwork and sculpture selection
Address:
3rd Floor, Building 6A, Dubai Design District, Dubai, United Arab Emirates
Website:
https://www.cracknell.com/en
Contact Info:
+971 4 510 6500/Email: 

[email protected]
Cracknell is on a mission to create a positive difference through inspired landscape design that prioritizes people and environment.  With a global team of more than 240 visionaries – horticulturist, landscape architects, designers, and engineers, the company is driven by the desire to create a positive difference in people's lives.  This creative workforce collaboration is woven into every part of the design journey as they work closely with clients.  Listening is part of their art to fully identify a client's objectives, challenges, and concerns which help the company established a strong collaborative presence in the global landscape design market.
6.  Azhar Al Madina Landscape
Best For:
Landscape Design
Landscape Architecture
Pool Construction
Services Offered
Swimming Pool Construction and Landscape Design
Landscape Maintenance
Residential/Commercial Landscape
Address:
Suite # – 204, 2nd Floor, Yes Business Centre – Dubai – United Arab Emirate
Website:
http://www.azharalmadina.ae/
Contact Info:
+971 55 9804287/+971 4 2778093
Email:

[email protected]
Azhar Al Madina Landscape is a leading landscape architect and gardening design company in Dubai that for many years has been working hard t maintain its commitment in providing quality and outstanding services much to the delight and satisfaction of their loyal customers.  The company takes pride in providing customized solutions in landscaping and gardening to different business segments and having dedicated staff and workers displaying exuberant skills in landscape designing and landscape architecture.  All these helped the business build an unparalleled reputation in understanding customers' requirements to its core, displaying a great emphasis on customer satisfaction.
7. Algebra Contracting LLC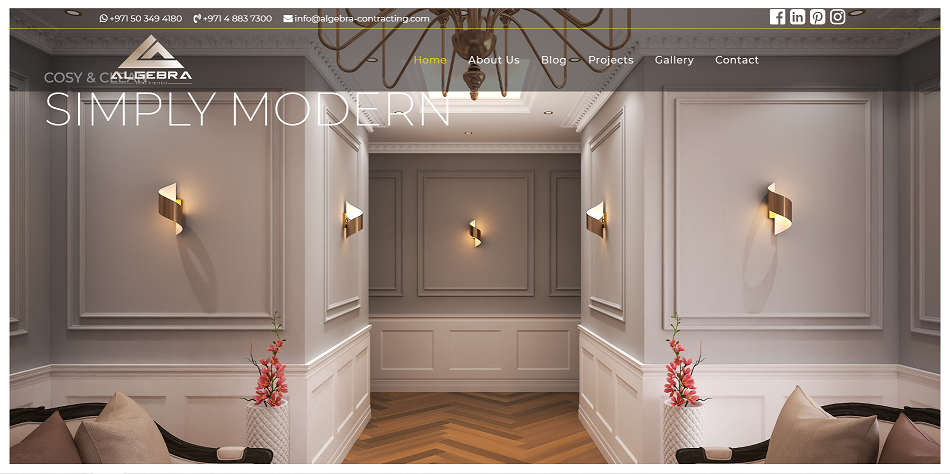 Best For
Interior Design
Services Offered
3D Design, Residential Design, Retail Design, Commercial Design, Authority Approvals
Address
Dubai Investment Park 2, Dubai, UAE
Website
https://800interior.com/
Contact Info
+971 (0)4 8837300 /

[email protected]
They offer a wide array of designs to different buildings such as Villas, Apartments, Offices, Shops, Hotels, Spas, Clubs, Clinics, and Warehouses. The company also has a reputation for complete customer satisfaction by serving a lot of known companies around UAE.
Clients also appraise the company for having a balance of work and listening skills as they work on each project as they also pay close attention to detail desired by the client. This is ideal for clients looking for edgy modern designs for their building while being in control of what the design is to turn out as well.