Featured Image Source from Junk Gone Today
Over the years, we accumulate many things that we want to throw away. If you need help with this, no problem, as we've compiled a list of the best options for junk removal in Austin here for you!
Not only will all your useless junk be taken away in record time, but it will also be disposed of in an eco-friendly way or donated to charities without requiring any effort or time on your part.
Before we proceed to our list, we'll run through the price ranges of Austin junk removal services first. This is so you'll know which company from our list is a prospect in meeting your budget and needs.
How Much Does Junk Removal in Austin Cost?
Based on the data we collected, junk removal in Austin costs from $10 to $675+. The average price for this range is $342.50, which equates to approximately a 2/3 truckload for junk items.
Junk removal companies charge clients differently. Their pricing can be based on the volume of your junk (how much space it takes inside the truck), each item loaded, or the labor time.
In most cases, you can save more if you are charged by the volume. It's sometimes unfair if you are charged by the hour since workers can just stall time to brings up the service cost.
Other companies, however, are more flexible.
They offer 3 price options and use the one that best suits your situation. For instance, hourly charges are usually better for larger removal works.
Now, here is our price range table of the leading junk removal services in Austin:
| | |
| --- | --- |
| Austin Junk Removal Company | Price Range |
| Mr. Fantastic Junk Removal | $125 – $550+ |
| Smiley's Junk Removal & Recycling | $10 – $675+ |
| JunkGuys Austin | $55 – $650 |
| Jack Rabbit Junk Removal | $75 – $550+ |
| IREP Junk Removal | From $95 |
| Gorilla Junk Removal | $99 – $480 |
Note that some companies charge extra for tiles, concrete, and other construction materials. However, you'd have to get an estimate from other junk removalists to know the exact price.
It's also worth noting that some offer a price-beat guarantee where they will top the estimate that you get from other junk removalists. But of course, conditions will apply.
Furthermore, you may get more value for having a larger quantity of junk removed versus letting the staff take each item of junk from your home or rental property.
Finally, before calling the junk removal team, it helps to visit their website and see if they offer any discounts, such as a 10% online booking discount, so that you get more value out of the service.
The Best Options for Junk Removal in Austin
Now that you know about the prices, allow us to round up our top options for junk removal in Austin!
1) Mr. Fantastic Junk Removal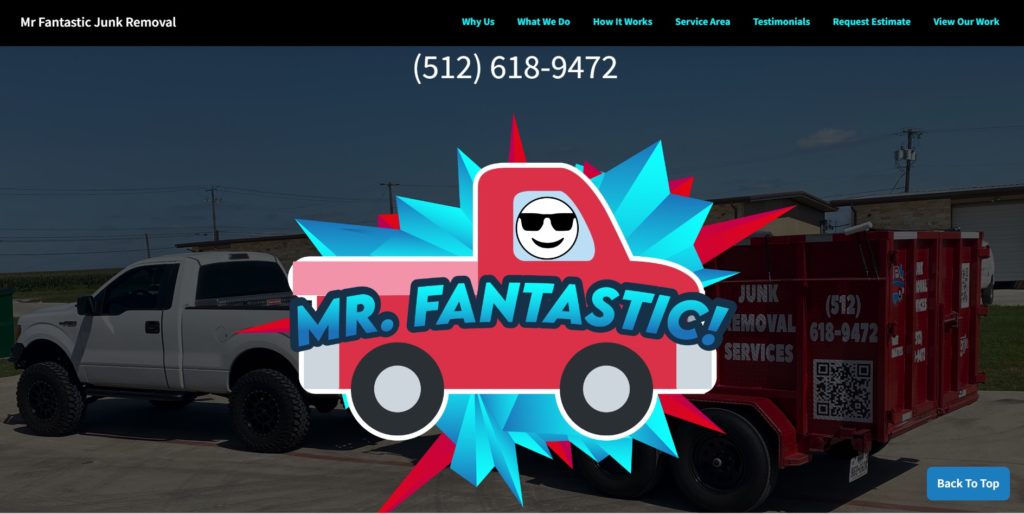 You see junk piling up? You are in luck because we introduce to you Mr. Fantastic Junk Removal.
They can safely remove all the rubbish from your home or business to let you breathe quality air again! Never let junk and debris take over.
What made us recommend them is how quickly you can avail of their services. In simple 4 steps, your area will look as if it never had any junk before.
They serve the greater Austin area and this includes Pflugerville, Hutto, Austin, Lakeway, Steiner Ranch, Round Rock, Georgetown, Florence, Elgin, Manor, Bee Caves, Cedar Park, Leander, Taylor, and Jarell.
Free estimates
Competitive pricing
Does not offer packages that can save clients a few dollars
Customer Reviews
Here is a review from one of their previous client on Google:
"Positive: Professionalism, Responsiveness, Value
Great personality and very professional, the junk was removed, the area was cleaned at a very affordable $$$. I highly recommend this service!
Service: General junk removal"
Here is another one:
"Positive: Professionalism, Punctuality, Quality, Responsiveness, Value
Emmanuel showed up on time and did a "Fantastic" job! Will definitely use him again for future clean up projects!
Services: House/garage cleanout, General junk removal"
2) JunkGuys Austin

Do you have e-waste, a hot tub, a piano, furniture, deck steps, rubbish, or torn fabrics that need to be removed? Well, you may want to call JunkGuys Austin for that.
JunkGuys Austin is a premier junk removalist that covers Austin and surrounding Texan cities 24/7. These include Barton Creek, Rollingwood, Cedar Park, Windermere, Lockhart, Sunset Valley, and more.
They can pick up, load, and haul off your junk within a couple of hours of your call! All your junk will either be donated or recycled, which is great for the community and the environment.
Other than that, they give excellent communication where you'll know exactly when they're coming and how they can help you, making their service more convenient compared to others.
While they don't offer any online discounts, their rates are in themselves affordable already. They charge not by the hour but by the volume of your unneeded items in their vehicles.
Another edge they have over bigger junk removalists is they clean up after themselves after work. A lot of homeowners and property managers benefitted from this extra-mile service.
Same-day junk removal available
24/7 on-call
Recycles or donates your junk
Online booking available
Customer Reviews
JunkGuys received an outstanding score of 4.9 out of 5 stars on Google. They were fast, professional, and efficient in removing clients' junk at their properties.
Here's feedback coming from Anjie:
"Vince and his team did an awesome job removing an old shed and hauling it off. Communication was great and they kept me updated on their eta. I really appreciate that they followed covid safety protocols. Would definitely use them in the future and recommend them to anyone who needs junk removal services. Thanks again junk guys!"
Lauren praised the affordable rates and quick service. She wrote:
"I had an old couch in my backyard that needed hauling off. I called several companies that quoted me $180-$250 for the removal of a normal sized couch that me and my roommate could carry ourselves. When I called Vince he quoted me well under that, had availability within a day, and was super polite. Excellent service and got the job some super quickly! Would highly recommend!"
3) College HUNKS Hauling Junk & Moving

College HUNKS Hauling Junk & Moving is a versatile company that offers both junk removal and moving services regardless of the size of work.
The company aims to give you a stress-free experience throughout the service. They'll do all the heavy lifting, loading, organizing, packing, moving, donating, recycling, and disposing of.
That's why they have a great track record with several hundreds of clients most of whom had a great experience—effortless and without the slightest bit of hassle.
Although they charge higher prices relative to other junk removal companies, you get value from them through their thorough, swift, and trustworthy service.
To start, you can simply book online with them. Their team member will respond quickly, set an appointment for you to confirm. And if you agree, they'll promptly drive by at your place to give you an estimate and can also remove the junk on the spot for you.
With a straightforward and helpful service, College HUNKS Hauling Junk & Moving is one of the best options for junk removal in Austin!
Same-day junk removal available
Offers moving and packing services
Easy-to-use online booking system
Works with charities and non-profit groups
Premium rates
Complaints about customer service
Customer Reviews
According to most clients, the junk removal team was nice, friendly, and professional. Also, the business scored an amazing 4.9 out of 5 stars from a lot of clients.
McKenzi who is one of them wrote this:
"My guys were crazy nice and helpful. They worked hard and at an efficient pace. We had quite a bit of stuff, some recyclable, some donation worthy, and most junk/construction removal. They picked it all up. They were even honest and helpful about the tree limbs we wanted to haul away. The branches were huge and took up a lot of space, to save me money they recommended I call an arbor for services. Very honest and kind, no surprise costs, great service!"
Furthermore, Alexandria left this review:
"Darius and Jared were great! Super nice and professional and it took less than 10 minutes for the entire process as well as a same day booking. Happy with the service provided ?"
4) IREP Junk Removal

A woman-owned junk removal enterprise, IREP Junk Removal specializes in assisting property managers in clearing junk left by a past tenant or sprucing up the place to be ready for a move-in.
Impressively, clients never wrote a bad review about this junk removal company. But that's no fluke because its service is super-fast, professional, and provides great value for money.
With an on-time guarantee, your junk will be removed and hauled away on schedule. If they arrive late, they will discount the service to compensate for their failure to arrive early.
Moreover, their team is licensed and insured so there is no fear if they accidentally damage something in your home while moving items out.
Also, they take environmental care seriously with their EnviroSustain program. With that, they will recycle your discarded items or donate them to others to prevent them from ending up in the landfills.
They also have a resale shop too where you can buy refurbished items at a great price!
And on top of that, you can conveniently pay your invoice online via all major credit cards, though they don't have a PayPal option. You can also pay them cash on-site to remove all the clutter at your property.
Same-day junk removal available
Licensed & insured team
On-time guarantee
Eco-conscious business practice
Multiple payment options
Doesn't accept PayPal and check payments
No 24/7 service
Customer Reviews
As we said, clients noted their competitive rates, professional and efficient service. Not one of the reviewers on Facebook and Yelp was disappointed with their junk removal service.
Take it from one client, Chitra. She wrote:
"We had booked a full truck for removing junk and the crew of 2 arrived on time and eventhough their trailer was 1/2 full they loaded everything I had equal to what a full trailer would require. These guys were not only proffessional and knew how to pack things together but were extremely courteous. We just moved to Austin and worked with quite a few pickup crew as we redid our home and this was one of the best experiences that we had…If I had to remove any more junk I would only call them. Please check out their specials as well they always have something on web and also advertise on Groupon and provide fantastic deals for the customers. My entire experience from booking time to redeming groupon to pickup and clearing the stuff was just amazing."
Also, Rebecca stated this:
"I hear nothing but glowing reviews about Kelly and her team. Everyone I know that has used them has commented on their speediness and professionalism, and just generally being a godsend. The fact that IREP is woman-owned and recycles everything possible really sets them apart in the best way in my eyes!"
5) Jack Rabbit Junk Removal

Looking for no-fuss service and budget-friendly rates? Well, you've found it with Jack Rabbit Junk Removal!
Servicing Austin and Central Texas areas, they arrive at the date and time agreed upon, ready to haul your bulk trash or junk in residential or commercial premises, or even construction sites. With a professional and friendly team handling everything for you, junk removal will be a breeze and can be accomplished within the same day.
Now, as they are a relatively young company, you can expect a personal service from them with a focus on satisfying clients, something that you can rarely find in bigger companies.
Aside from that, they are more than happy to pick up your bagster rental filled to the brim. You can also rent a 20-yard dumpster from them, which may be a bit pricey for some.
On their website, you can already fill out the booking form without going to another page like for other companies. That's how streamlined their service is, which is what many clients like about them.
Competitive rates for junk removal
Same-day junk removal available
Easy-booking online
Dumpster rental is a bit pricey ($400 + tax)
Customer Reviews
Jack Rabbit Junk Removal has many 5-starred reviews thanks to their affordable rates and instant quote response. Here are what some clients are saying.
One client named David wrote this comment:
"Timely ,reasonably priced and followed COVID-19 precautions. I will be using them in the future."
What's more, Sean shared his experience with this review:
"I didn't have a big job for them, just removing a couch, but he responded very quickly with a quote (which was the lowest I got of the four companies that responded), and unlike the cable guy, he got here exactly when he said he would. Glad to support a local business!"
6) Smiley's Junk Removal & Recycling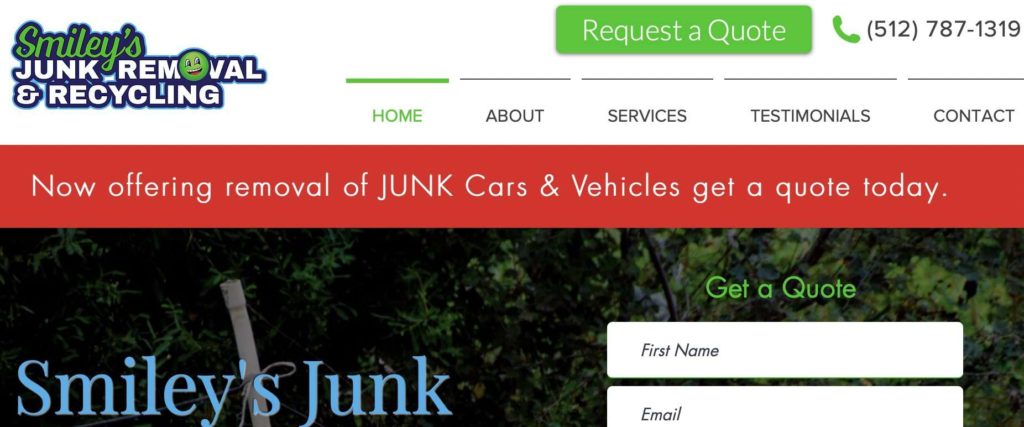 Smiley's Junk Removal & Recycling can haul off any junk or waste from a crushed soda can to a car. That's right—with their vehicles and professional team, they can remove your junk car too!
The only exception to what they can take are hazardous materials such as oil, gasoline, paints, liquids, and chemicals. Furthermore, for safety purposes, they also don't carry nor move items during or after rain or a storm.
Junk removalists from Smiley's cater to both residential and business settings without ever forgetting their mission of recycling to divert the waste they collect from being dumped in the landfills.
Their waste collection prices are reasonable. They charge by how much load you put into their trailer for their junk and charge by the hour for property cleanouts.
Clients are satisfied with their service thanks to their courteous and professional staff. They are also honest in that they turn up when they say they will and stick to the quote they give you.
These are the reasons why we picked them as one of our top services for junk removal in Austin. Plus, they are also insured enabling them to pay you in the unlikely event of property damage.
Same-day services available
Fully insured team
Open from Mondays to Sundays
No promotions or discounts offered
Customer Reviews
Most clients said that the team was professional and helpful, came in at the appointed time, performed exceptional work, and charged fairly.
Let's find out what Mark said about them:
"Great service, friendly and professional staff that started on time and finished quickly!! The guys cleaned up everything and were very professional! Would highly recommend Smiley's Junk Removal Service to anyone who wants the job done correctly and the price very fair!!"
Also, here's Amanda's feedback on Google:
"This is a high quality business full of people of integrity. We highly recommend using Smiley's. We will now always be using this company. I'm thankful I found them. It is so nice to do business with people who do what they say they are going to do, and when they are going to do it. They truly strive for excellence and it's what they give to their customer. A+ company."
FAQs about the Leading Junk Removal in Austin
---
And that marks the end of our list for the best junk removal in Austin! The team will not just remove the medley of junk you have, but also clean up your place before they leave.
Has everything been clear so far about this list? If you have any questions at all, please drop us a line and we'll get back to you in a jiffy.
Also, before you call a professional to haul away your appliance, you might want to know if it still works, so you won't have to shell out on a brand new one. In this case, you can call the best appliance repair technicians in Austin who can possibly repair it to give it a new lease on life.