Home should be built with labor and love. Thus, it's quite hard to entrust it to "just" anybody.
We understand your need, and for this reason, we rounded up the six most trustworthy home builders in Brisbane. They haven't only built hundreds or thousands of homes over their years in the industry. Nope, that's not the only reason but that they can translate your ideas into reality. They return your desires with equivalent passion by creating the best home suitable for you.
We encourage you to read on. This article details the relevant information you need to know what they offer as well as their contact information.
Are you ready? That's great to hear!
Let's begin.
1) OJ Pippin Homes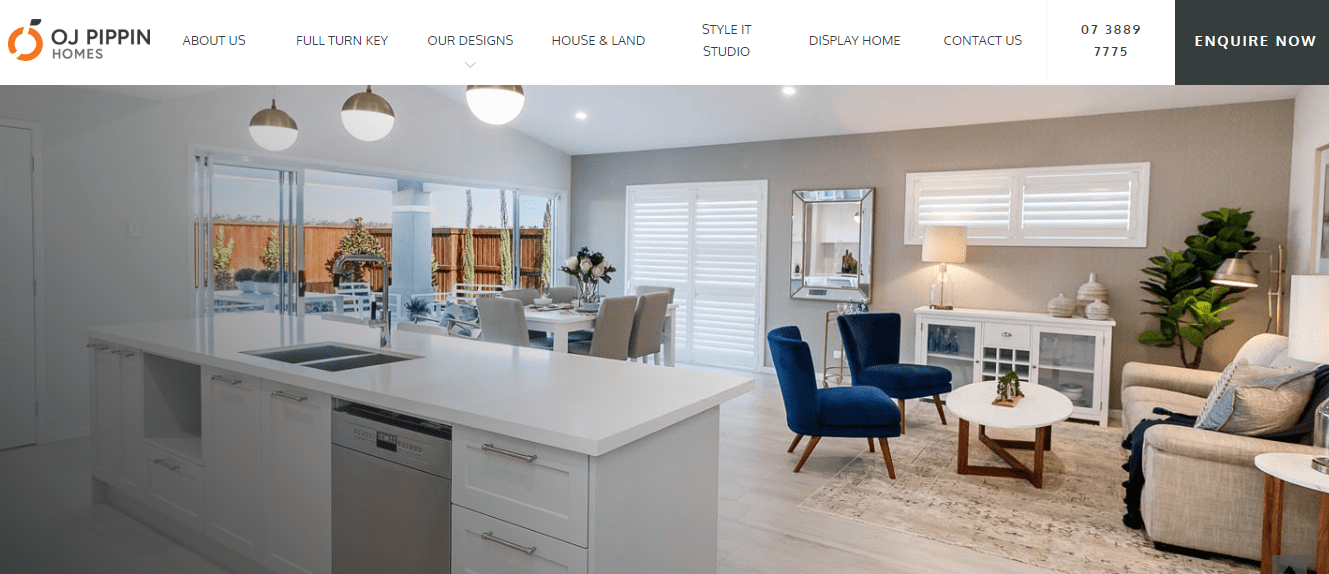 BEST FOR
Domestic construction
SERVICES
Residential and luxury homes

Design and build

Floorplanning

Remodeling and renovations

Interior and exterior remodeling

Project management

Knockdown and rebuild

House and land

Home designs

Full turnkey

Full landscaping

Interior design

ADDRESS
Unit 3 Building 6 205 Leitchs Road, Brisbane, QLD 4500
CONTACT
Phone: (07) 3889-7775

Email: [email protected]

WEBSITE
https://www.ojpippin.com.au/
OJ Pippin Homes takes care of every detail of the project—from start to finish. They proudly accept any challenging projects. Even if you're the most meticulous of clients, OJ Pippin Homes will gladly undertake the task. They also promise to provide full transparency in every single step of the whole process. With OJ Pippin Homes, expect that you will receive respect, quality products, and outstanding workmanship.
Why choose OJ Pippin Homes?
Full turnkey solution
Fast turnaround for quotations
Full transparent pricing
2) Sunstate Homes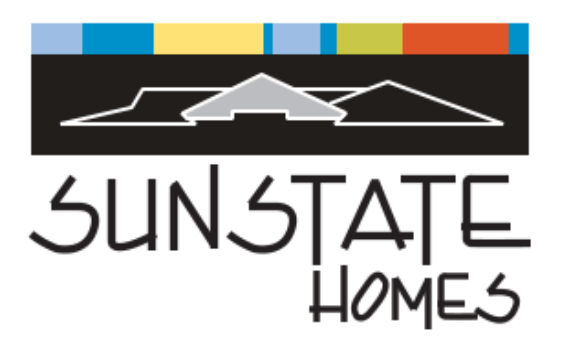 BEST FOR
Custom-built homes
SERVICES
New constructions

Indoor and outdoor constructions

Remodeling and renovation

Kitchen and living room renovations

Interior design and interior finishes

Project management

Floorplanning

Color consultation

Electrical planning and services

Kitchen and bathroom

Tiling

Plumbing services

ADDRESS
Office: Level 2, 15 Mayneview Street, Milton, Brisbane, QLD 4064

Mailing: PO Box 1215, Milton QLD 4064

CONTACT
Phone: (07) 3800-5644 | Mobile: (07) 3172-8585

Email: [email protected]

WEBSITE
http://sunstatehomes.com.au/
Sunstate Homes prides itself as a customer-focused home builder. They create distinguished homes not only in Brisbane but also across South East Queensland. Sunstate Homes offer innovative, unique, and outstanding homes with great value.
Why choose Sunstate Homes?
Unrivaled customer service
No high-pressure sales tactics
6½-year statuary structural guarantee period
10-year termite protection guarantee
26-week maintenance period
3) Homes by CMA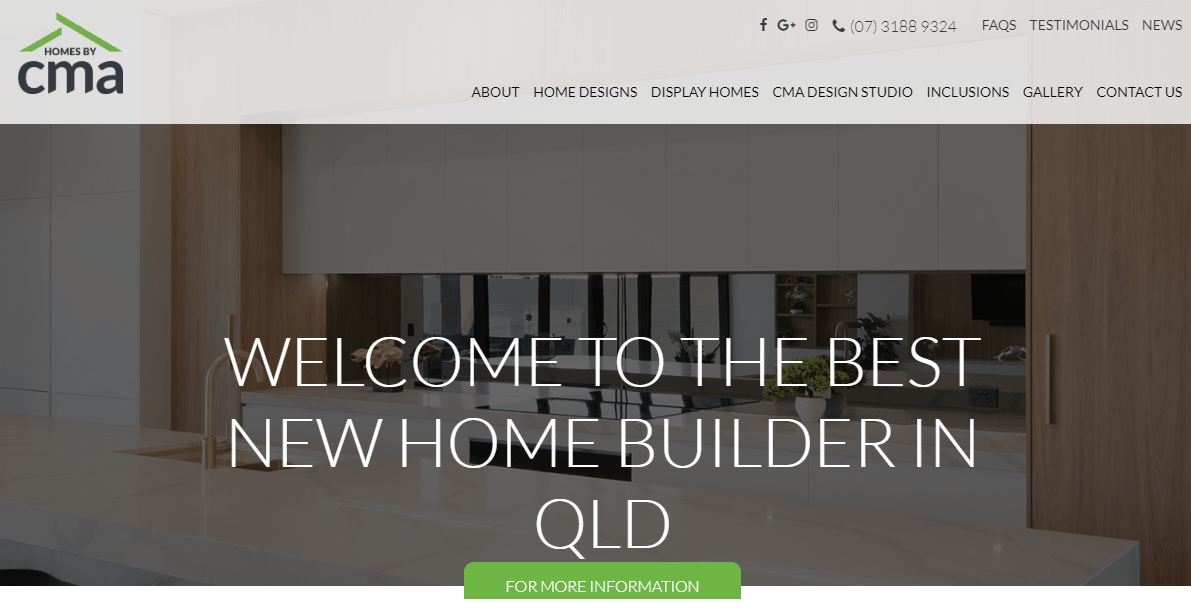 BEST FOR
Residential homes
SERVICES
Custom-built homes

Indoor and outdoor constructions

Luxury homes

Design and build

Kitchen renovation

House and land

Full turnkey

Design consultation

ADDRESS
41 Flinders Parade, North Lakes, Brisbane, QLD 4509
CONTACT
Phone: (07) 3188-9324

Email: [email protected]

WEBSITE
https://www.homesbycma.com.au/
Homes by CMA is a family-owned and operated business that was established in 2009. They currently employ 25 full-time staff and work with 132 sub-contractors. With over 730 completed homes, the company is considered one of the leading home builders in Brisbane.
The Homes by CMA has been known for its legendary customer service for years. They don't stop until everything has been delivered into perfection. They believe that every individual should have access to a beautiful home.
Why choose Homes by CMA?
Free upgrade to TrueCore Steel Frame
Frames with a 50-year warranty and are 100% termite-proof
Custom design at no extra cost
25-year structural warranty
4) Antech Constructions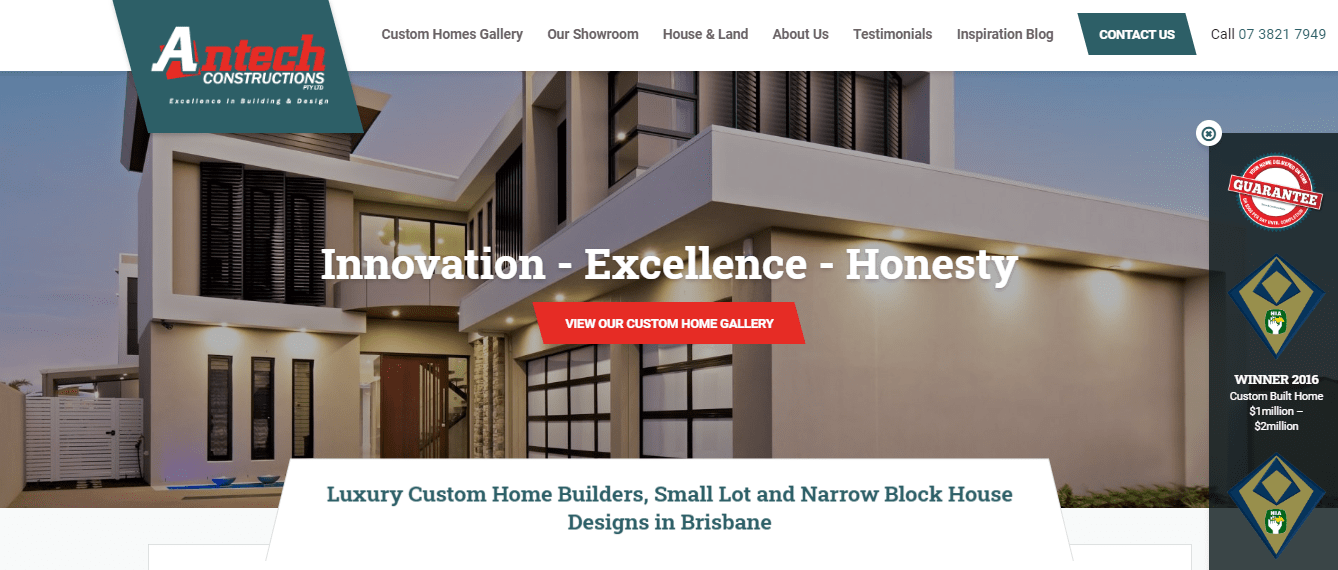 BEST FOR
House and land packages
SERVICES
Custom-built homes

Luxury homes

Residential construction

Full turnkey

Kitchen and bathroom design

Landscaping

Design and build

Project management

ADDRESS
Unit 2, 115 Russell Street, Cleveland QLD 4163
CONTACT
Phone: (07) 3821-7949

Email: [email protected]

WEBSITE
https://www.antechconstructions.com.au/
Antech Constructions takes time to understand your desires and needs to bring your dreams to come to life. After all, building a home can be a stressful process; they simply want to take the weight off your hands. Their innovative methods and processes guarantee that your home will be built within the stipulated time and budget.
Why choose Antech Constructions?
Award-winning services
Innovative solutions at budget-friendly prices
100% satisfaction guarantee
5) Urbane Homes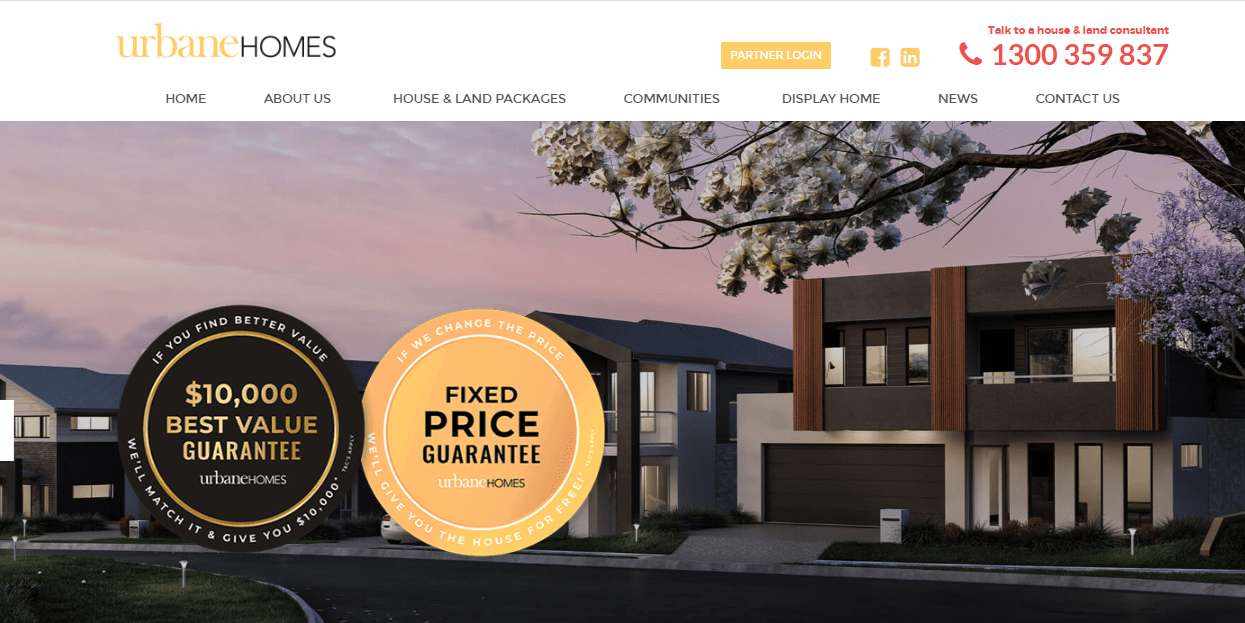 BEST FOR
House and land packages
SERVICES
Design and build

Building construction

Project management

House design

Floorplanning

ADDRESS
Office: Level 15, 201 Charlotte Street, Brisbane, 4000

Mailing: P.O. Box 10164, Brisbane QLD 4000

CONTACT
Phone: 1300- 872-263
WEBSITE
https://urbanehomes.com.au/
Established in 2013, Urbane Homes is a leading new home builder that offers integrated house and hand solutions for anyone who wants to live in Brisbane. The company focuses on ensuring customers that their expectations are met. Urbane Homes also ensure that every aspect of the project is transparent. This way, you won't be surprised by hidden costs.
Why choose Urbane Homes?
$10,000 best value guarantee
Fixed price guarantee
Customer-first guarantee
6) Bella Casa Constructions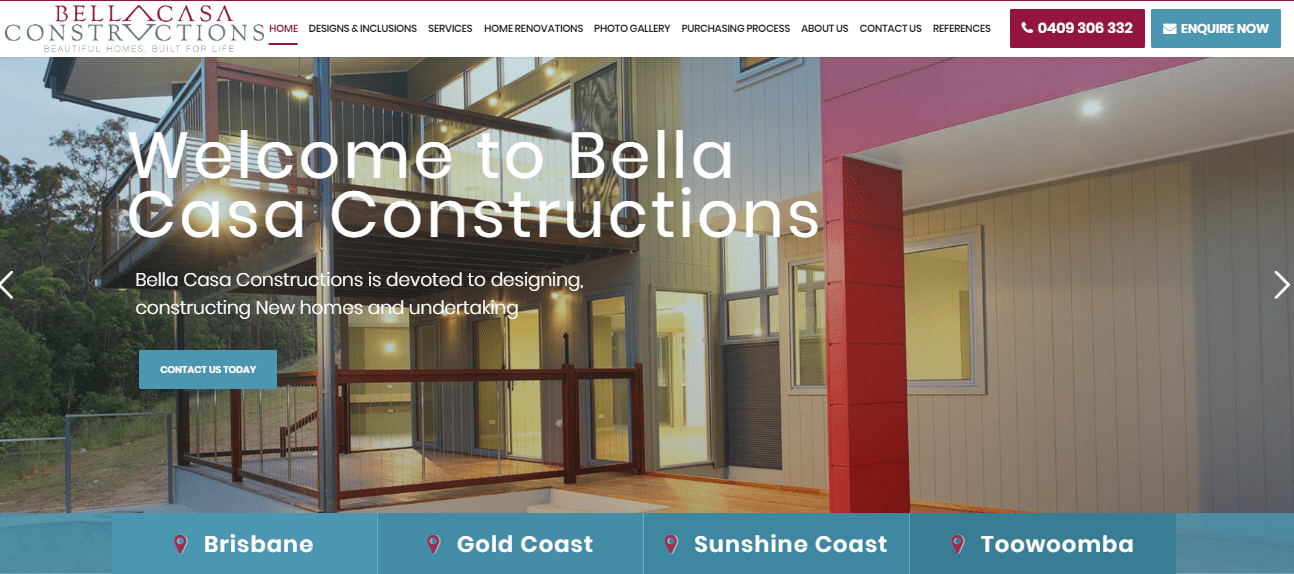 BEST FOR
Luxury custom-built homes
SERVICES
Aluminum window restoration

Renovations

Remodeling

Design and build

Site/ Project management

Interior and exterior design

Architectural and building design

3D rendering

Concept estimates

Contract price estimates

Town planning

Color consultation

Tiling

Bathroom and kitchen fittings and fixtures

ADDRESS
8 Derringer Street Cannon Hill, QLD 4170
CONTACT
Phone: 0409-306-332
WEBSITE
https://bellacasaconstructions.com.au/
For uniquely beautiful homes, Bella Casa Constructions is a leading home builder Brisbane residents trust. Everything is done within a fixed priced contract to guarantee transparency and quality. Each home is specified, designed, and constructed in partnership with the client.
Why choose Bella Casa Constructions?
Experienced with timber and steel homes
Focus on quality assurance
Transparent pricing and process