When you need things done in your home in or around Chicago, you only want to invite the best people inside. That is something we understand, which is why we have compiled a list of 12 best handyman services in Chicago for any project or budget. These contractors are small businesses made up of several people or just one-man teams. Whatever the case, you can entrust your handyman requests to these companies whose previous customers hold them in high regard.
1.  HandiCo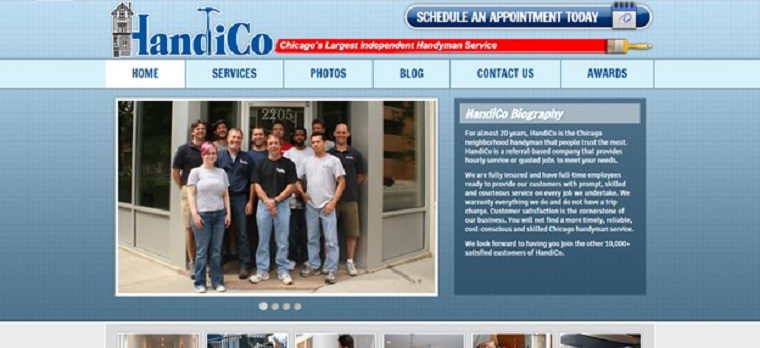 BEST FOR
Multi-faceted technicians, project managers, award-winning services
SERVICES/SCOPE
Painting, Deck Sealing, Handyman Services, Leak Isolation, Electrical, Plumbing, Remodeling,
PRICING
Request a quote online
WEBSITE
http://www.handicoinc.com/
ADDRESS
2205 West Armitage Avenue

Chicago, IL 60647

CONTACT
+1 773-862-6363 | [email protected]
PAYMENT
Cash, check, or bank transfer
HandiCo used to be a small handyman firm servicing the immediate Chicago area. But because of insistent demand, they scaled up to meet the needs of many potential customers. Even before they became a larger business, they have always provided premium service, which is why they have been awarded for their hard work. They also ensure the safety of their clients and make certain that their issues are resolved within the agreed timeframe.
2.  Fixer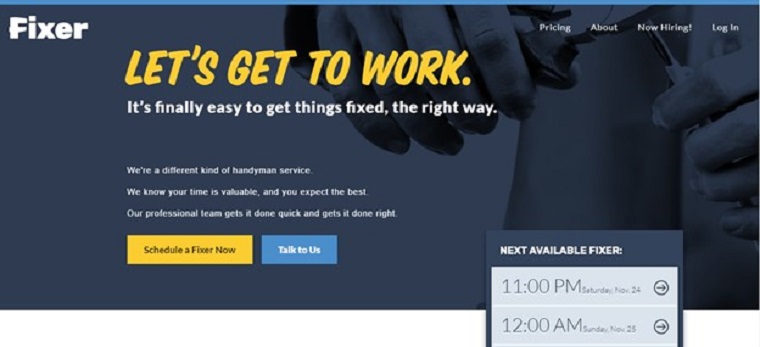 BEST FOR
Estimate on site and get to work immediately, transparent pricing, visible availability times
SERVICES/SCOPE
Electrical, Plumbing, Painting & Walls, Doors, Mounting & Hanging, Carpentry, Assembly
PRICING
Pricing is based on three elements: labor, shopping, and materials. Labor is $94.00 per hour and shopping is $64.00 per hour.
WEBSITE
https://fixer.com/
ADDRESS
2506 N Clark St

Ste 195

Chicago, IL 60614

CONTACT
+1 312-216-5999 | [email protected]
PAYMENT
Credit card payment
Fixer is a diverse team of professionals who each have their own specialization. This allows them to perform requested tasks to the best of their abilities to make clients satisfied. When you book them for a service, they give you an estimate on site and they get to work immediately after you have agreed on a price. What is great about this team is that they are very transparent in their pricing and that is why many customers return to them for other projects. Plus, they post their availability times on their websites so you can schedule their visit accordingly.
3.  Chicago Handy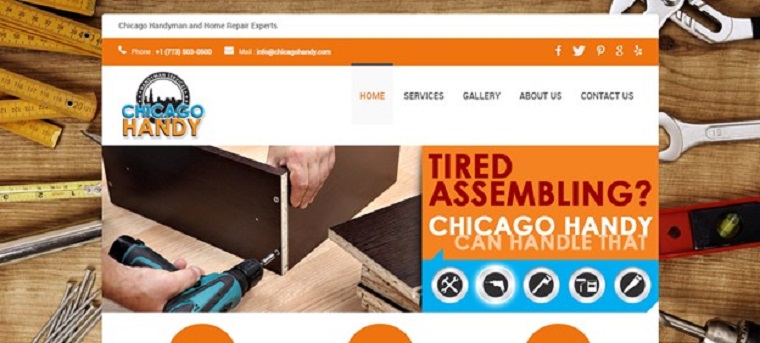 BEST FOR
Punctual, efficient, full-time technicians, marked and fully equipped van
SERVICES/SCOPE
Furniture Assembly, Appliance Installation, Caulking, Plumbing Services, Furniture Repair, Door Repair, Floor Repair, Door Installation, Remodeling Services, Tile Installation
PRICING
Call for an estimate
WEBSITE
http://chicagohandy.com/
ADDRESS
4042 W Addison St.

Chicago, IL 60641

CONTACT
+1 773-503+0500
PAYMENT
Cash, check, or bank transfer
Chicago Handy is a team composed of full-time technicians heading by an individual with early experience working with a development company. Because of this, the firm is able to handle any project efficiently and they make sure to arrive on the designated time. They come prepared in a marked van to let you know it is really them at your doorstep. On top of that, their van has all the necessary supplies to make certain there are no delays in the job completion.
4.  The Good Guys Handyman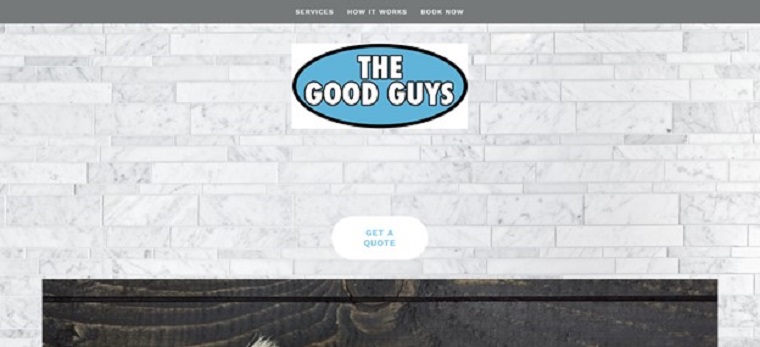 | | |
| --- | --- |
| BEST FOR | Handyman and helper package, close work with client |
| SERVICES/SCOPE | Carpentry, Painting, Furniture Assembly, Electric, TV Mounting, Light Plumbing, Miscellaneous Services |
| PRICING | Get a quote via the online form |
| WEBSITE | https://www.thegoodguyshandyman.com/ |
| ADDRESS | |
| CONTACT | +1 224-307-5369 | [email protected] |
| PAYMENT | Cash, check, or bank transfer |
The Good Guys Handyman come in a two-man team: a handyman and a helper. They offer this package to ensure the prompt and efficient delivery of tasks, however small they may be. They work closely with clients and send them regular updates to be certain that they are working the place as expected. They also come prepared to do the job and can shop for any supplies that you may need for your convenience.
5.  Mensch with a Wrench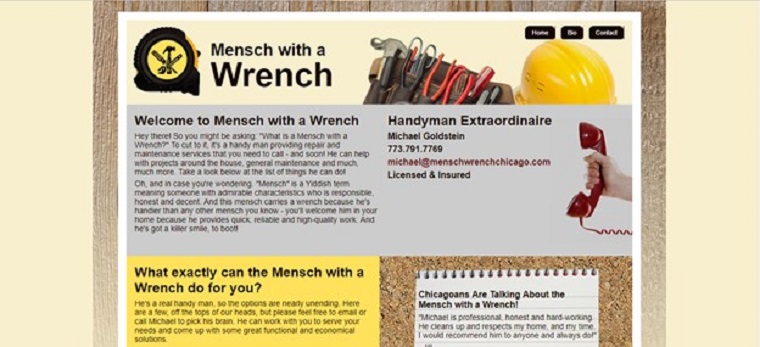 | | |
| --- | --- |
| BEST FOR | Any home improvement project, general maintenance, respect for clients' spaces |
| SERVICES/SCOPE | Light Plumbing & Electrical Work, Light Carpentry, Fixture Replacement & Repair, Ceiling Fan Installation, Dimmer Installation, Thermostat Installation, Hardware Installation, Baby/Child Proofing, Small Projects & Repairs, Shelving Units, Furniture Assembly, Storage Solutions, Weatherization, Green Homes, Caulking, Minor Painting |
| PRICING | Call for quote |
| WEBSITE | http://www.menschwrenchchicago.com/ |
| ADDRESS | |
| CONTACT | +1 773-791-7769 | [email protected] |
| PAYMENT | Cash, check, or bank transfer |
Mensch with a Wrench is a contractor that can accept any home improvement project. Because of this, many people contact the proprietor for repairs, upkeep, and sprucing up of their living areas. He is highly rated and he lives up to his five-star reviews. His clients also note of his respect and regard for their spaces and as such, gave him glowing feedback.
6. Handyskilled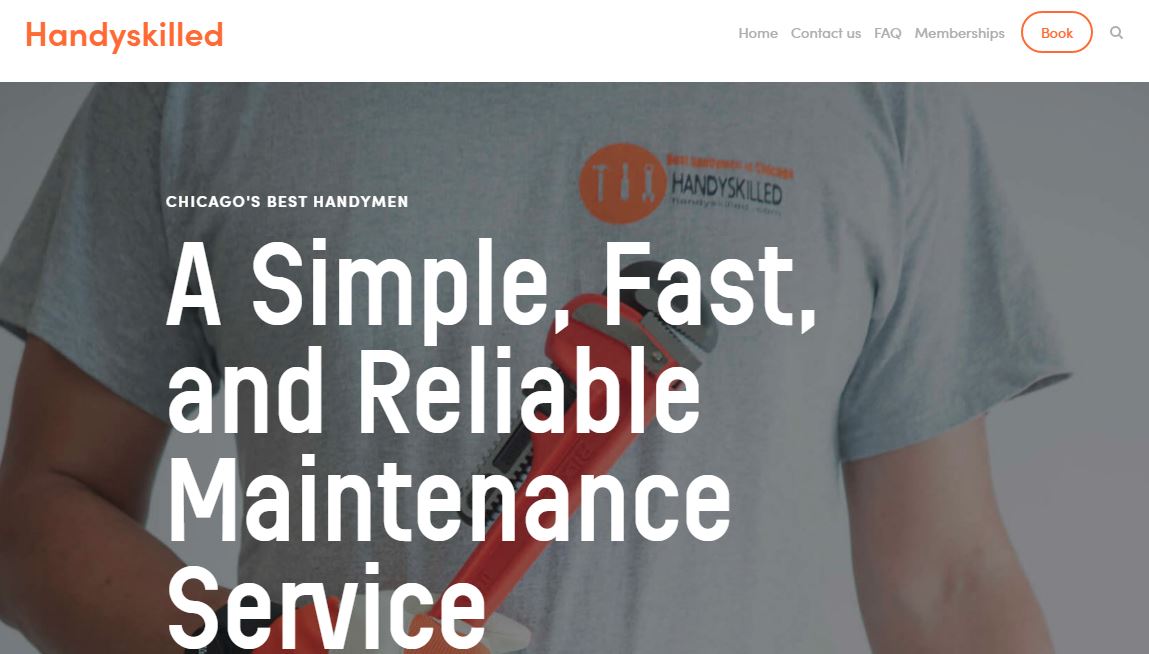 BEST FOR
Superior handyman services, transparent quote
SERVICES/SCOPE
Plumbing, electrical, heating and cooling, safety, exteriors, appliance installation, painting
PRICING
Request a quote
WEBSITE
https://www.handyskilled.com/
ADDRESS
4141 w. Armitage Ave
Chicago, IL 60639
CONTACT
773-770-3635 | [email protected]
PAYMENT
Contact for payment methods
Handyskilled's topnotch team of licensed experts has experience from every part of the repair industry. For filing requests and repair orders hassle-free, they have an easy-to-use online booking system.
This list of best handyman services in Chicago for any project or budget may have companies who have all-around technicians but there are also those who have specializations. To be sure, get in touch with them for free consultations.
7. Get an Eric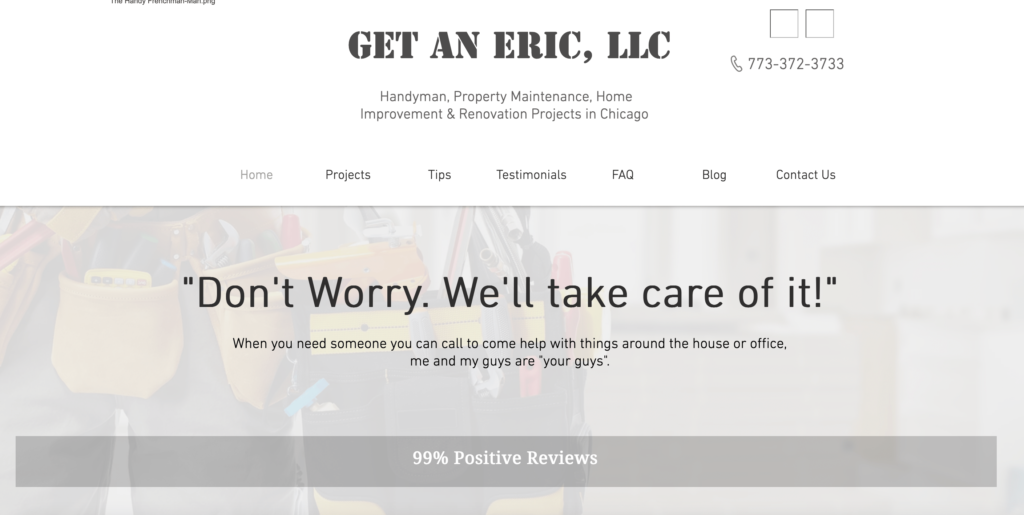 | | |
| --- | --- |
| BEST FOR | Home improvement and renovations |
| SERVICES/SCOPE | Handyman/Home Repairs, Home Improvements & Renovations, Electronics & Assembly, Basic & Building Maintenance, Custom Design |
| PRICING | Call for quote |
| WEBSITE | https://www.getaneric.com/ |
| ADDRESS | Serving Chicago's North, West and South Side neighborhoods |
| CONTACT | 773-372-3733 | [email protected] |
| PAYMENT | Bank-to-bank transfer, Zelle, QuickPay, major credit cards (Visa, Mastercard), cash, and checks |
If tinkering isn't your strong suit, Get an Eric is a company you can rely on for property updates, repairs, renovations, maintenance, and other home projects.
Among their services, we heard that they do renovations and home improvements the best. In fact, it's exactly this type of job that landed them their first huge gig, which catapulted them to handyman stardom in the Chicago area.
Unlike our other entries, they don't really do plumbing or electrical work themselves, unfortunately. But if these services are needed, you can be assured that they have trusted partners for the job.
While you'll have to contact them to know more about their rates, they're pretty flexible in handling payments. Whether you prefer to pay in cash or through bank transfer, you'll find a variety of options here.
8. Fix It People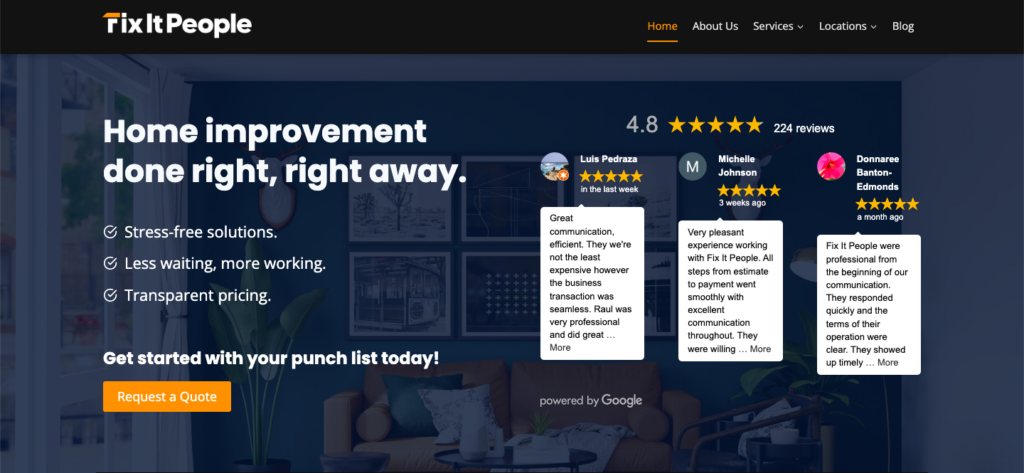 | | |
| --- | --- |
| BEST FOR | Home improvement |
| SERVICES/SCOPE | Handyman, Painting, Drywall, Plumbing, Electrical, Plumbing, Tiling, Carpentry |
| PRICING | Contact for a quote |
| WEBSITE | https://fixitpeople.com/ |
| ADDRESS | 2837 N Halsted St #1s, Chicago, IL 60657, United States |
| CONTACT | +1 312-898-9300 |
| PAYMENT | Contact for more information |
Fix It People is a handyman service that will help you improve your homes done the right way.
They understand the frustration of unreliable, unorganized contractors who under delivers yet overcharge their services. This is something they don't do.
We like that with Fix It People, everything is in writing, promises are kept, there's transparency and genuine care for each client.
We find them to be very efficient as well, and they get the job done right away. In turn, there's less of a wait.
What's more is they don't have hidden fees.
All in all, we think that if you're in need of handyman services, Fix It People is one of your best bets in the area!