Looking for someone who can repair, replace, or maintain your roofing system? No matter what your roofing concern is, we have the right expert for you here in our list of the best Oklahoma City roofing companies!
Every now and then, we also use the services of roofers (enter: hail, storms, and other unpleasant weather conditions!). We understand that it can be a bit of trouble to find the right people to hire, so we created this list to save you from the same dilemma we had!
Isn't that great? Now, let's get started!
1. Elliot Roofing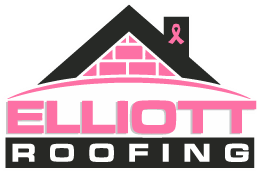 Best For
General Roofing Work
Services Offered
Residential and commercial roofing

Roof replacements and repairs

Address
3900 N Harvard Ave, Oklahoma City, OK 73122, United States
Contact Information
405-789-4646
Website
https://elliottroofs.com/
Elliot Roofing has been trusted by Oklahoma City residents since 1981. Thanks to their huge range of roofing services, commercial and residential clients won't have trouble finding an expert that can handle all aspects of roofing. The company takes pride in its capacity to conduct excellent roof repairs, replacements, and other general roofing work. Their team will walk you through every step of the project so you'll know if everything is done up to your standards!
2. All American Roofing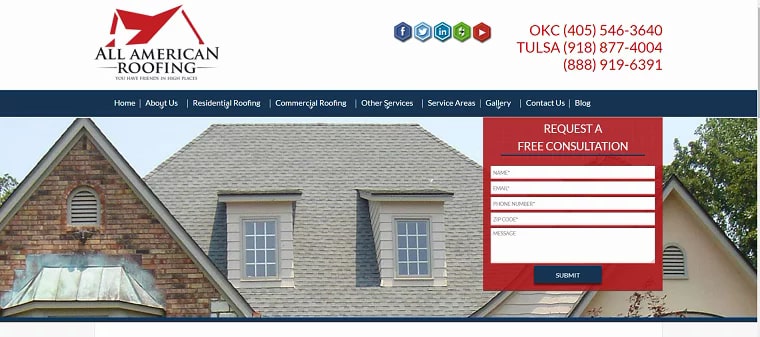 Best For
Affordable Roofing Services
Services Offered
Commercial and residential roofing

Siding, windows, and guttering

Inspection services

Address
6701 NW 50th St, Bethany, OK 73008
Contact Information
(405) 546-3640
Website
https://www.allamericanrfg.com/
All American Roofing knows how to deliver top-notch roofing services at affordable prices. And if that's exactly what you're looking for, you can never go wrong with hiring this company. Aside from affordability, they guarantee your complete satisfaction by offering you more than basic roof repairs. To further improve the value and appeal of your home, All American Roofing can also replace your old windows and conduct guttering and siding work.
3. Basey's Roofing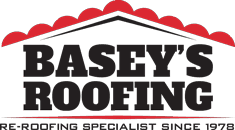 Best For
Roof Repairs
Services Offered
Commercial and residential roofing

Roof replacements

Roof leak and storm damage repairs

Address
2700 S May Ave, Oklahoma City, OK 73108, United States
Contact Information
405-755-8717
Website
https://baseysroofing.com/
Basey's Roofing is another company that established a great reputation in providing quality roof repairs. By hiring them, you won't only get the solutions for your roof problems but you will also have a positive experience as a customer. Now that sounds complete satisfaction. However, if you think your roof is beyond repair, Basey's Roofing can also do roof replacement work with a written warranty!
4. Big Sky Roofing

Best For
Residential and Commercial Roofing Services
Services Offered
Roof inspection
Roof replacement
Roof repair
Flat roof installation
TPO roof installation
Impact-resistant shingle installation
Gutter installation and repair
We also offer painting services
Address
Oklahoma City OK 73114
Contact Information
Phone: 405-843-9933
Email: [email protected]
Website
https://bigskycompanies.com/
All of Big Sky Roofing's installers have years of experience they will bring to your project. They have become the go-to roofing company within a 50-mile radius of Oklahoma City, OK. They employ seasoned roofers who are dedicated to delivering superior services and unmatched customer care.
5. Proformance Roofing Systems

Best For
A+ rating from the BBB with zero complaints; a member of BNI – Business Networking International and are a Home Advisor Approved Contractor
Services Offered
Commercial, residential, construction and church roofing services
Address
Service areas: Greater Oklahoma City area, Oklahoma City, Bethany, Yukon, El Reno, Edmond, Guthrie, Del City, Midwest City, Choctaw, Newalla, Harrah, Shawnee, Seminole, Moore, Norman, Blanchard
Contact Information
Phone: (405) 283-2205
Email: [email protected]
Website
https://proformanceroofing.com/
Proformance Roofing Systems offer free roof inspections from HAAG trained Inspectors who will evaluate your roof using the same standards as an Insurance Adjuster. As insurance specialists, they help customers with hail and wind claims, and perform all construction trades with the same level of quality as their roofs.
Proformance Roofing Systems are also certified in residential roofing with Malarkey, Owens Corning and CertainTeed. Their residential roofs offer a 10 year no leak guarantee, and they have an 8 hour response time in case of emergencies. They also have Commercial Endorsement in Commercial Roofing, being the exclusive installer in the State of Oklahoma for TritoFlex and TritoTherm, a superior waterproofing membrane system with outstanding waterproofing features including a Class A fire rating, hail warranties up to baseball size hail, and the highest wind uplift ratings in the industry.
6. Oklahoma Roofing & Sheet Metal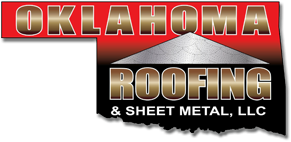 Best For
Commercial Roofing Services
Services Offered
Membrane roofing

Single-ply and sheet metal roofing

Roof coatings and decking

Maintenance and waterproofing services

24/7 emergency service

Address
PO Box 96528

Oklahoma City, OK 73143

Contact Information
405.670.1429
Website
https://www.oklahomaroofing.com/
Oklahoma Roofing & Sheet Metal is the one you should go to if you're on the lookout for a company that specializes in commercial roofing work. They can deal with industrial, communal, governmental, and commercial projects, providing the most appropriate roofing services no matter how large the project scope is. Oklahoma Roofing & Sheet Metal is an expert in handling different roofing systems, conducting maintenance work, and providing waterproofing and restoration services.
7. Statewide Roofing

Best For
Residential and Commercial Roofing Services
Services Offered
General roofing work

Roof design

Remodeling services

Address
5001 E I-240 Service Rd

Oklahoma City, Oklahoma

Contact Information
(405) 790-0109
Website
https://www.statewideroofing.com/
Statewide Roofing, on the other hand, is the preferred contractor of many for professional commercial and residential roofing work. The company can do both considering that they have accumulated a lot of experience by operating since 1995. When it comes to your emergency roofing needs, Statewide Roofing can also help as they have emergency call outs, ensuring that all your roofing problems will be fixed no matter what time it is.
8. Aduddell Residential and Commercial Roofing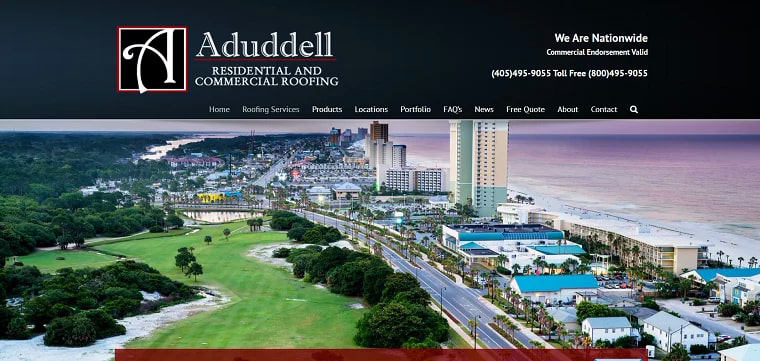 Best For
General Roofing Services
Services Offered
Tile and slate roofing

Leak repairs

Re-roofing and roof tear-offs

Ventilation analysis

Re-decking

Property management

Address
8409 Mantle Ave, Oklahoma City, OK 73132, United States
Contact Information
(405)495-9055; (800)495-9055
Website
https://www.aduddellroofing.com/
We have seen lots of reliable companies catering to both domestic and commercial roofing needs in OKC and another one is Aduddell Residential and Commercial Roofing. Some of the reasons they stand out among the competition are their workmanship warranty, 24-point quality inspection on every roof, premium quality materials, and complete clean-up. Simply put, they respect you and your property by providing professional, extensive, and clean roofing services.