A broken garage door isn't only inconvenient and unappealing but also unsafe at home. That's why we're giving you the best options for garage door repair in Ottawa here today.
But before we show you our featured list, we will delve into the cost of these services for a bit. This will give you a benchmark so you can choose a repair company that charges reasonably.
How Much Does Garage Door Repair Cost in Ottawa?
Garage door repair costs differ from one company to another, based on the style and size of the garage door, and its issues. In Ottawa, they cost from $155 to $360 on average, which already includes the labour and parts.
Typical parts that need to be fixed for most homeowners are springs, cables, tracks, openers, sensors, and panels. So, here are the rates of getting them serviced, but do note that actual rates can vary.
To get an accurate quote, you can send a potential technician a message. Remember to get multiple estimates before deciding on a garage door specialist to find the best price and service.
| | |
| --- | --- |
| Service | Typical Repair Cost |
| Opener repair | $93.42 – $373.68 |
| Sensor repair | $105.88 – $124.56 |
| Cable or chain repair | $105.88 – $249.12 |
| Lock repair | $118.33 – $404.82 |
| Spring replacement | $149.47 – $435.96 |
| Track replacement | $155.70 – $373.68 |
| Panel replacement | $311.40 – $996.48 |
The Best Options for Garage Door Repair in Ottawa
Now that you know the rates of common garage door services, you are ready to see our roundup. So, without further ado, here are the best garage door repair companies in Ottawa!
1) Ottawa Garage Doors & Openers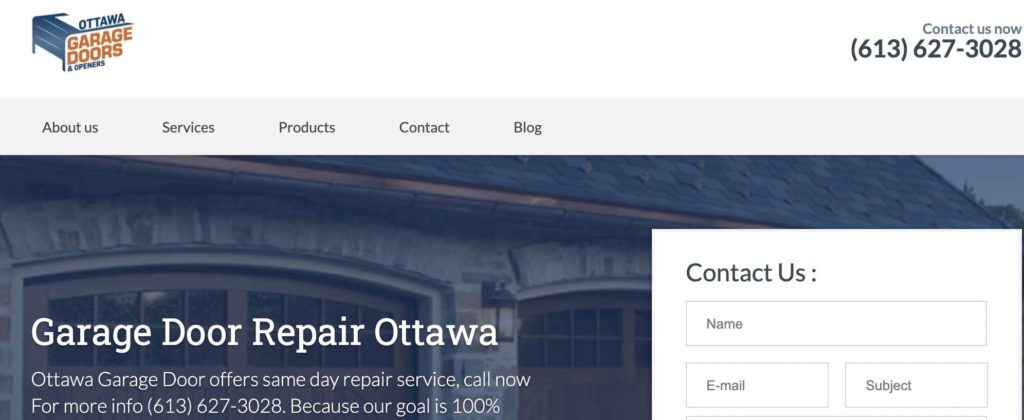 SERVICES
Spring replacement
Cable replacement
Garage door opener installation
Garage door installation
Garage door tune-up
Garage door opener repair
Garage door maintenance
Residential garage door
Commercial garage door
ADDRESS
1469 Merivale Rd, Ottawa, K2E 1B1 Canada
CONTACT DETAILS
+1 613-627-3028


[email protected]

WEBSITE
https://ottawa-garage-door.com/
Have an unexpected garage door issue? Then, you've found the right company for that, namely Ottawa Garage Doors & Openers, as it's available all day and responds quickly to emergencies!
Whether the problem is related to the torsion spring, cable, opener, or remote, their garage door technicians have the training, skills, and equipment to resolve it safely and expertly.
They can restore any make and model of garage door to an excellent working condition, as well as give preventative maintenance, or install a new one that can match your preference and your house style.
To achieve this, they endeavour to give clients a fantastic service and use only top-quality parts from leading suppliers.
Among their opener brands are Chamberlain, and LiftMaster, and Craftsman. These can help to extend the life of your garage door compared to using unnamed products.
Aside from that, they can assist you with weatherstripping your garage door. This allows you and your family to feel warm and comfy during winter, while lowering your utility bills as well!
Although the company claims to work to the client's complete satisfaction, it's not clear on their website whether they guarantee that or not.
Ottawa Garage Doors & Openers service residential and commercial garage doors in Ottawa and the nearby areas. Also, booking is straightforward and their technicians can usually be dispatched the same day to handle your garage door problem.
Services both home and business garage doors
Same-day repair service available
Wide range of garage door products
Offers a 24-hour emergency service
Longer operating hours
Satisfaction guarantee not clearly stated
No coupon deals
Customer Reviews
Great service and fair price
"Had an issue with the Garage door. Our technician Albert came in as promised and fixed the issue within 10 minutes. Great service and reasonable price! Would call them again and again 🙂 5 stars well earned GUYS! Keep up the good work. Cheers!" -Ahmed Khalid
Quick and efficient garage door repair
"When our garage door collapsed on the right side we called Ottawa Garage Door Repair, within 24 hours of contacting them it was repaired quickly and efficiently. I recommend". -Stefan Landry
2) Garage Door Repair Kanata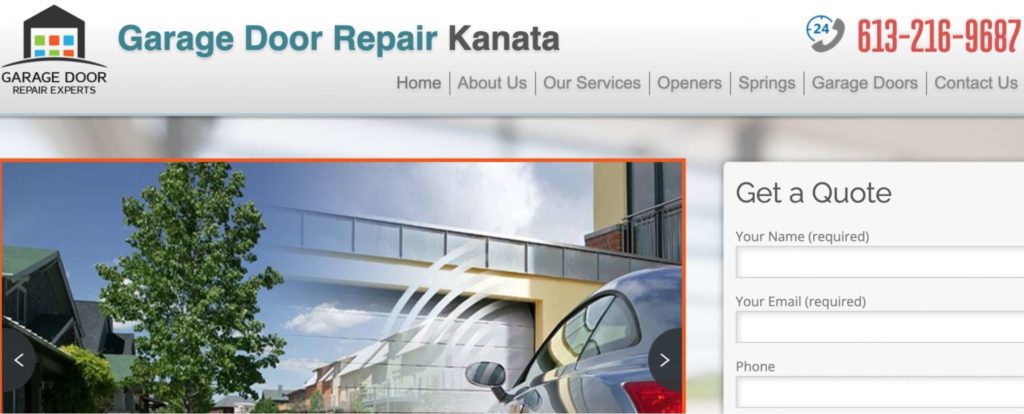 SERVICES
Garage door installation
Garage door repair and maintenance
Garage door replacement
ADDRESS
704 March Rd #11, Kanata, ON K2K 2R9 Canada
CONTACT DETAILS
613-216-9687
WEBSITE
https://www.kanata-ongdrepair.ca/
For a supportive and knowledgeable crew and quick residential garage door service, you cannot go wrong with Garage Door Repair Kanata.
It's a locally owned company with certified and qualified garage door technicians. They can handle the installation, repair, replacement, and tune-up of all sorts of house garage doors.
Need a new garage door? You can get them to advise you on what's best for your situation and recommend the best product that you can use every day for many, many years to come.
From snapped cables to seriously dented doors, their team can be relied upon to provide a solution and provide customer support 24/7 so you can use your garage door without delay.
Another assurance that they are some of the best garage door repair options in Ottawa is they guarantee the client's happiness. In case you find an issue a few days after the service, they can come back to fix it.
To book a job with them, you can simply ring them or fill out their form online. Besides that, clients said that their prices were very fair for the service provided, but they don't offer special discounts.
But, what truly puts this garage door service a notch above the others is its thoroughness. Its process can involve inspecting the unit to detect the problem, explaining to the client the situation, providing the necessary repair, and testing the door out to ensure it works without a hitch.
Certified garage technicians
Services all brands and models of garage doors
Offers a 24-hour emergency service
100% satisfaction guarantee
Doesn't offer commercial garage door services
No coupon deals
Customer Reviews
Thorough job and fast response
"We needed to find a garage door repair company when our remotes conked out. The people we called quickly responded and a technician came over for the repair. He did a thorough job and completed it quickly. We also paid a reasonable fee for the great work." -Franklin Barri
Friendly tradesman who gave a thorough unit inspection
"My brother's garage door started making loud noises. Worried, we called Garage Door Repair Kanata for help. They sent a friendly technician who got to work immediately, thoroughly inspecting the unit. He informed us that a spring replacement was necessary. I am glad this garage door repair company figured out the problem!" -Bastien Monnier
3) Garage Door Repair Orleans

SERVICES
Garage door installation
Garage door repair and maintenance
Garage door replacement
ADDRESS
3469 Chemin Innes Rd, Orleans ON K1C 1T1 Canada
CONTACT DETAILS
613-482-2841
WEBSITE
https://www.garage-repairs-orleans.ca/
Next up on our list of the top options for garage door repair in Ottawa is Garage Door Repair Orleans. They attribute their success to three things: careful choice of technicians, lower prices, and organized and advanced stocking of vital devices and parts.
First is their careful choice of technicians wherein they pick those that show competence and can keep up with the latest advances in the industry. Since garage door repair manufacturers dish out newer and better products, this constant evolution calls for up-to-date repair service.
The second one is their lower prices since they believe that repair works shouldn't be a luxury, but a necessity. Therefore, they don't charge any higher than what's needed, as many clients can attest to.
And the third reason is their organized system and advanced buying of garage door equipment and parts. That's since they don't want clients to wait longer for them to just obtain a part to finish the repair work.
Now, this garage door expert offers a comprehensive list of garage door services including repairs, maintenance, and installation.
As we said, they stock a wide range of products, and that includes overhead, roll-up, glass, aluminum, and wooden garage doors for your home or business. Depending on your garage door, the team can suggest products that will best fit your requirements and budget.
Priding themselves on their fast turnaround, they can usually come out the same day to fix your garage door—which also prevents the drafty air from entering and others to take advantage of the slightly flawed security of the door.
Surprisingly, though, there doesn't seem to be a mention online if they are on call 24/7. However, their working hours between 7:00 AM to 10:00 PM every day should work for most people, but, then again, garage door issues can strike without warning.
Moreover, their service area is limited only to the Ottawa area, including Orleans, of course. Still, if you live just a few kilometres away, you can ask the team if they can still assist you.
At this point, you can clearly see why we went with this garage door company. And we'd also like to note that they have an enviable track record among clients and fully guarantee their satisfaction as well!
Works on both home and business garage doors
Carefully chosen and expert tradesmen
Offers various garage door types
Same-day garage door repair service
100% satisfaction guarantee
Only serves the Ottawa area
No exact mention of a 24/7 service
No coupon deals
Customer Reviews
Promptly answered all the client's questions
"We just had to get a glass garage door. We dreamt about it all our adult lives and now we had the money to make the right choice but when we started looking around, we suddenly had a million questions. Which brand? What is the safety glass? What type of door? Which frames? Which opener? Which garage door springs? You get the picture. Garage Door Repair Orleans was amazing! A true help! All questions answered and indeed fast! The best installation and the best team! They are truly the very, very, very best!" -Moises Hathaway
Competent and highly skilled technicians
"Hiring Garage Door Repair Orleans to do garage door replacement was the best decision. This garage door repair company has competent and highly skilled technicians. The one who did the replacement did not miss a beat in installing the new garage door. He knew what he exactly needed to do, and that made the installation a lot faster." -Isabel Manigault
4) Door Doctors

SERVICES
Residential garage doors
Electric operators
Commercial garage doors
Industrial door products
Entry doors and frames
Residential repairs
Commercial repairs
Design center
ADDRESS
5649 Power Rd, Ottawa, ON K1G 3N4, Canada
CONTACT DETAILS
+1 613-749-3667


[email protected]

WEBSITE
https://doordoctor.com/en
Founded in 1983, Door Doctors provides garage sale, repair, and replacement services in Ottawa. Their team is licensed and insured, assuring clients that the work will be done with safety and skill.
They can fix broken torsion and extension springs, door panels, and hardware like rollers, sensors, and hinges. Furthermore, they can keep your company productive by repairing warehouse bay overhead doors, parkades, and counter shutters.
With their easy online booking, you can get a technician to your house quickly or during an emergency. However, sometimes they can get so busy that they can't promptly return calls or set an appointment for the client.
While a couple of clients complained that their prices were considerably high, most wrote that the door installation and repair services were fantastic and on time.
It has showrooms in Ottawa, Montreal, Toronto, and Kingston, which you can visit to find a replacement or new garage for your property.
Also, being an authorized Garaga dealer and installer, they are the ones to rely on should you decide to get a Garaga garage door. They also have LiftMaster brand garage door openers, by the way.
That said, if you don't feel like visiting them, no worries, as they have a cool garage door designer on their site, in which you can upload your home's picture and mix and match different details and styles for your garage door—and then, you can inform the team so they can go to work on it.
Fully insured and licensed technicians
Custom garage door designer feature
Several showroom locations
Online booking available
24-hour service
Has live chat support
Can be hard to book with
Relatively higher prices
Customer Reviews
Efficient, laid-back garage door serviceman
"Cable snapped and the door jammed at quite an angle, solidly bending a vertical track. Door Doctor has a great resource in Tony as he expertly & efficiently repaired it all in an easy going manner, plus offered helpful info on ongoing maintenance. Well recommended." -Paul Munson
Updated the client and finished the garage repair on time
"The technician Jamie did a great job with replacing my springs and rebalancing the door. He showed up in the time he told me he would, called me before arriving as he said he would and completed the work in the time he said he would. All around this was an excellent experience." -Garril Smith
5) Ram Overhead Door Systems

Ram Doors is another respected garage door repairer and installer in the Greater Ottawa area. Given their great experience and full array of parts, they can repair all brands of doors, openers, and accessories.
From simple door glitches to expensive, full replacements, they can handle both commercial and residential tasks. They aim to walk you through the whole process to give you a great experience, including explanation, maintenance tips, and after-sales support.
Their team is on duty 24/7, and so are their emergency repair services. According to clients, the team was timely, amiable, and worked hard all the time, showing they cared about them.
It would've been nice, though, if you could chat with them in real-time like with the previous company. Another con we noticed is they don't seem to offer any satisfaction guarantee, at least formally.
Just in case your garage door is beyond repair, they easily have great selections of Garaga products you can choose from. But, of course, if you plan to get a different garage door brand, they can help out with the installation too.
Also, unique with this company is you can request a certain part or accessory for your door. Whether you need a LiftMaster, Genie, Wayne Dalton, Stanley parts, or others, they might be able to assist you.
With a diligent team, informative explanation, and reasonable rates, Ram Doors naturally belongs to the list of the top garage door repair in Ottawa!
Garaga garage door expert
Create-your-door feature
Stocks a full array of parts
24/7 emergency repair available
No live chat support
No mention of a satisfaction guarantee
Customer Reviews
Great job and quick response
"Jason from Ram just finished fixing my garage door. He was super knowledgeable, explained everything in detail and the best part, he did an amazing job! It's easy to see that Jason takes pride in his work and I would not hesitate to call Ram for any of my garage door needs. Thanks again for the quick response and for doing such a great job!" -Dwayne M
Friendly, hardworking, and explained the whole process
"When my garage door was malfunctioning, the technician was friendly, worked hard to diagnose the problem, and explained his process to me throughout! Great service!" -Jenny McLean
FAQs about the Top Options for Garage Door Repair in Ottawa
---
And there you have it for our best choices for garage door repair in Ottawa. You can call most of them anytime in the day to get your garage door up and running again.
If you have any questions or suggestions, don't hesitate to contact us with your message and we will assist you promptly.
More Resources for Related Service Articles