It always pays to hire a professional for electrical works—whether in your home or business premises.  Not only they can get the job done right, they are capable of exceeding your expectations, too.  You might be tempted to do DIY or hire amateurs just to save a few bucks, but is it really worth it?  Hiring credible names in the electrical service industry save you time, worries, and money—that we can assure you.
If you're looking for electricians in Winnipeg, we highly recommend these guys to you. Below are the leading electrical contractors in Winnipeg, Manitoba.
1. Powertec Electric Inc.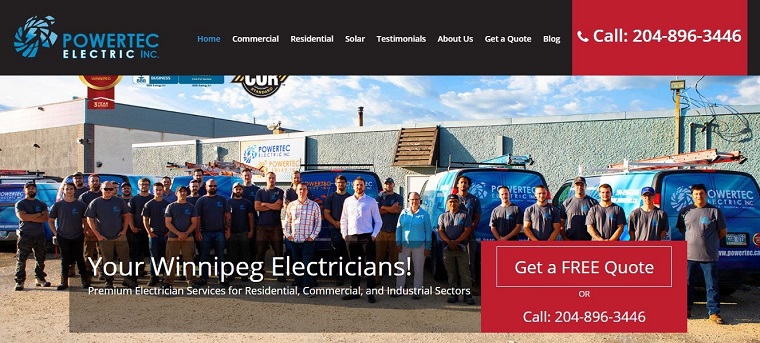 BEST FOR
Residential, commercial, and industrial electrical works

Solar systems

SERVICES
New electrical installations

Electrical upgrades

Construction and renovations

ADDRESS
499B Madison Street, Winnipeg MB, R3J 1J2 Canada
CONTACT
Phone: (204) 896-3446

Email: [email protected]

WEBSITE
https://www.powertec.ca/
Powertec Electric Inc. provides a wide variety of electrical services for its residential, commercial, and industrial clients.  It has a highly-competitive team of knowledgeable and skilled experts that guarantee a hundred percent customer satisfaction.  It offers world-class workmanship at affordable rates.  The team makes sure that each project is done in a timely fashion and leaves every job site tidy.
2. College Electric Ltd.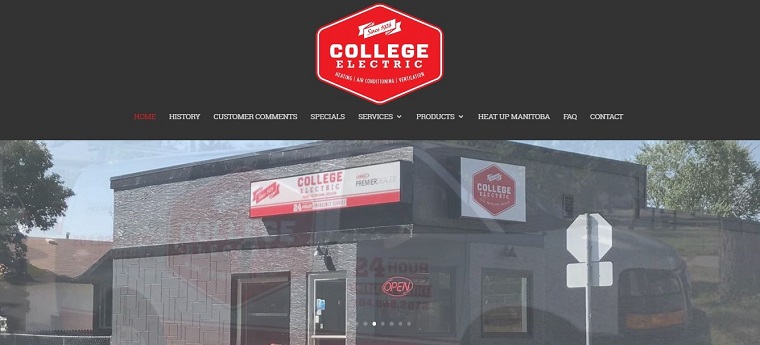 BEST FOR
Residential and commercial HVAC and electrical works
SERVICES
HVAC and electrical services

Emergency services

Maintenance

Financing options

Repairs and alterations

Control systems

ADDRESS
268 Albany St, Winnipeg, MB R3J 2A8, Canada
CONTACT
Phone: (204) 888-2873

Email: [email protected]

WEBSITE
https://www.collegeelectric.ca/
College Electric Ltd., a family-owned business, has been servicing Winnipeg and neighboring areas since its establishment in 1924.  It is also a qualified contractor of Manitoba Hydro Affordable Energy Program and a Lennox Dealer for over 60 years.  Its friendly team of highly-driven and skilled electricians is always ready to guide you in making your home energy-efficient and relatively safe.
College Electric is a long-established accredited member of Better Business Bureau (BBB) with an A+ rating and has been part of Canadian Federation of Independent Business for over 25 years.
3. Endeavour Electric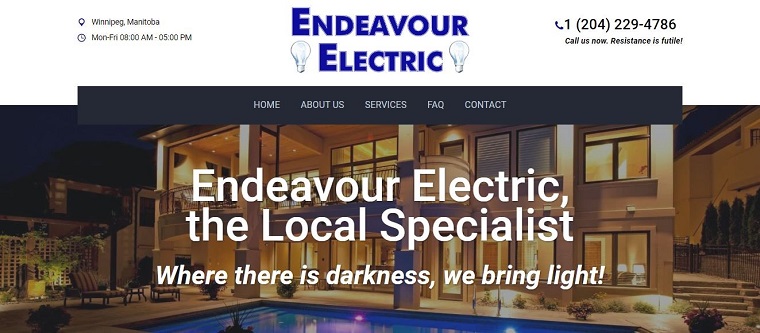 BEST FOR
Home improvement services

Residential and commercial electrical works

SERVICES
Panel upgrades

Electrical installation and repairs

Surge protection

Ceiling fan and baseboard heating installation

Outdoor and motion lighting

Knob and tube removal

ADDRESS
8494 Winnipeg, Manitoba, Canada
CONTACT
Phone: (204) 229-4786
WEBSITE
https://yourelectricianwinnipeg.ca/
Endeavour Electric, a locally-owned and operated business, has been providing Winnipeg with residential and commercial electrical services since 2012.  Each of its offered solutions is backed by a 100% satisfaction guarantee.  Its team of professional experts can install anything—from plugs, outside lighting, to a complete knob and tube replacement.  They offer:
24/7 emergency services
Upfront and competitive pricing
Free estimates
Prompt and reliable response times
Licensed and insured experts
4. Knight Electric Ltd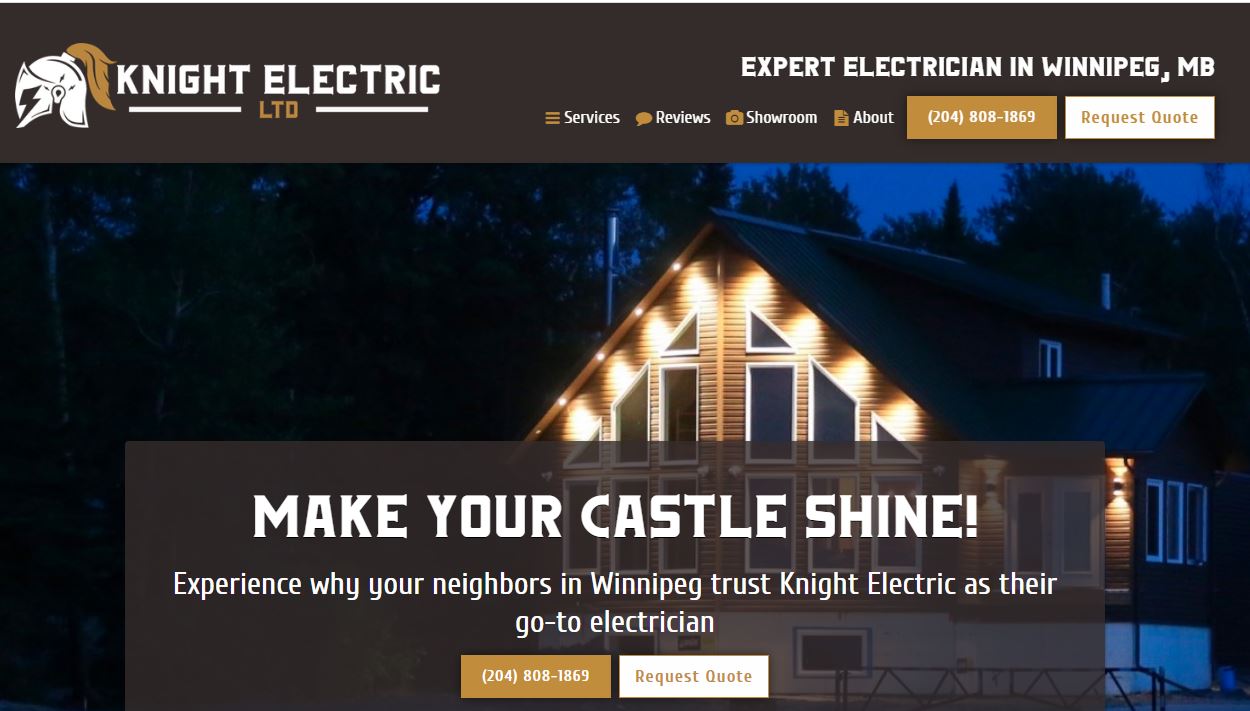 BEST FOR
Lifetime labor warranty on electrical services
SERVICES

Electrical Panel Upgrades
Electric Vehicle Charger Installation
Recessed Lighting Installation & Upgrades
Ceiling Fan & Chandelier Installation
Landscape Lighting Installation & Repair
Pool & Hot Tub Wiring Services
Home Automation Services
Dimmer Switch Installation
Smoke Detector Installation & Sales
Carbon Monoxide Detectors & Sales
Renovation Wiring
Whole Home Surge Protectors
Light Fixture Installations
Air Conditioning Disconnects
Dedicated Sump Pump Receptacles
Electric Baseboard Heater Supply & Install

ADDRESS
Knight Electric, 338 Templeton Ave., Winnipeg, Manitoba R2V 1S4
CONTACT
tel:(204)808-1869
[email protected]
WEBSITE
https://knightelectric.ca/
At Knight Electric, the process of hiring an electrician and fixing your problem is made simple. From the first phone call to the last contact, they will keep you informed the whole way through and make all decisions as easy to make as possible. With over 10 years of experience, they provide more than just electrical services — they provide their expertise throughout Winnipeg.
5. Electric 2000 Ltd.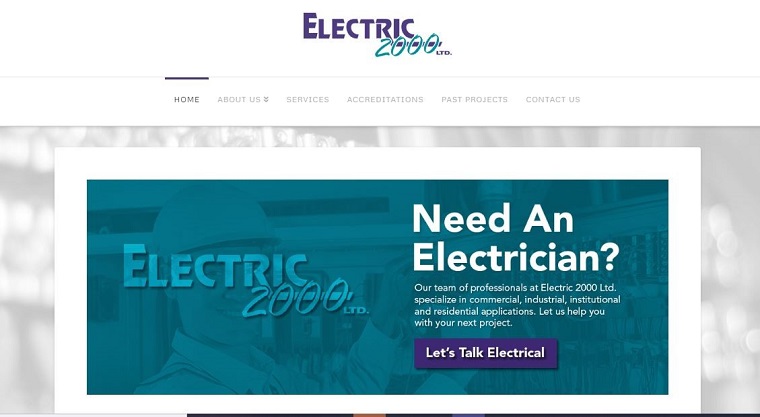 BEST FOR
Commercial, institutional, and industrial electrical & communications works
SERVICES
Planning and development of electrical installations

Design build

Project management

24-Hour emergency service

Underground cable fault detection

Preventive maintenance

ADDRESS
47 Speers Road, Winnipeg, Manitoba R2J 1M2
CONTACT
Phone: (204) 256-1239

Fax: (204) 255-7933

WEBSITE
http://electric2000.ca/
Electric 2000 Ltd. has been committed to consistent excellence since its inception in 1998.  It caters to commercial, industrial, and institutional electrical needs including new installations, maintenance, or retrofit.
6. Hutton Electric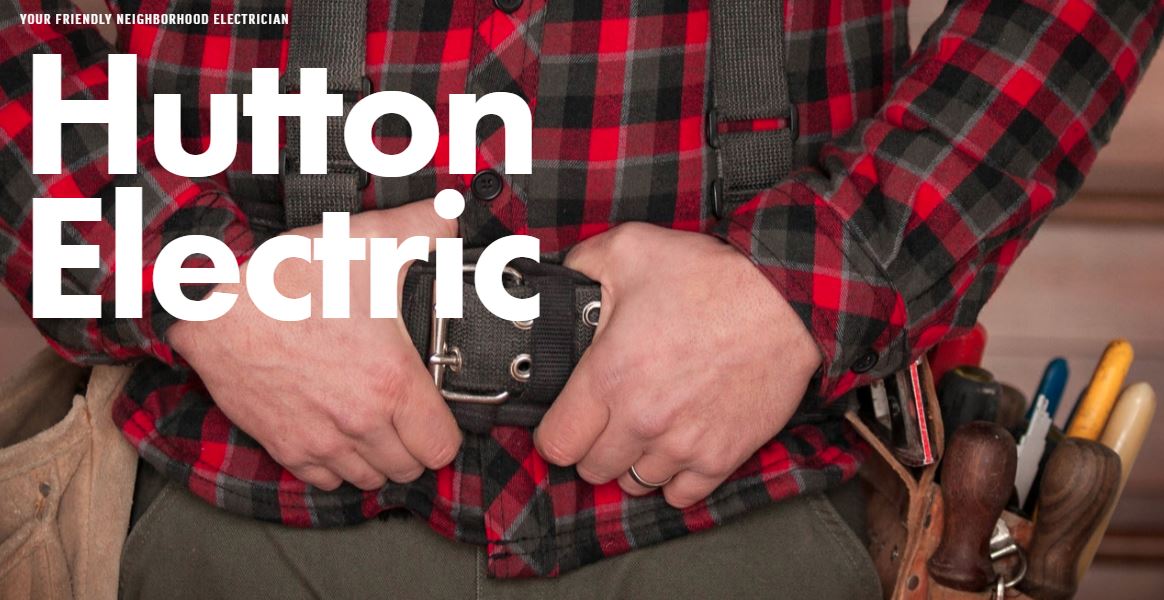 Licensed and insured, Hutton Electric's team possesses knowledge and skill gained from years of experience. All of their employees possess their red seal and all apprentices are indentured. They have also earned City of Winnipeg contractor's license accreditation. They offer free estimates for all jobs, big and small.
7. Lowe Mechanical Services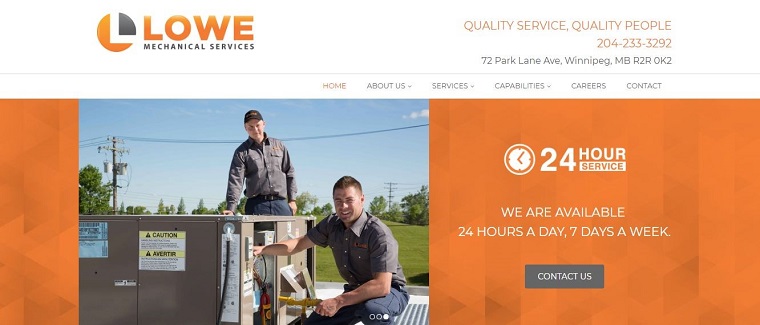 BEST FOR
Retail, commercial, and industrial mechanical & electrical works
SERVICES
Electrical, HVAC, plumbing, and refrigeration services

Building controls

Critical systems

Solar power

Fire alarm systems

Emergency and security lighting

Emergency backup power

ADDRESS
72 Park Ln Avenue, Winnipeg, MB R2R 0K2, Canada
CONTACT
Phone: (204) 233-3292

Fax: (204) 237-0411

WEBSITE
https://www.lowecanada.com/
Lowe Mechanical Services was established in 1977 as a family-operated refrigeration and air conditioning business.  It's an industry leader in retail, commercial, and industrial refrigeration, building mechanical & electrical services as well as building controls systems.  Together with its team of over 80 highly-trained and certified professional technicians, LMS continually aims in giving every client high-quality customer service.
8. Connco Electric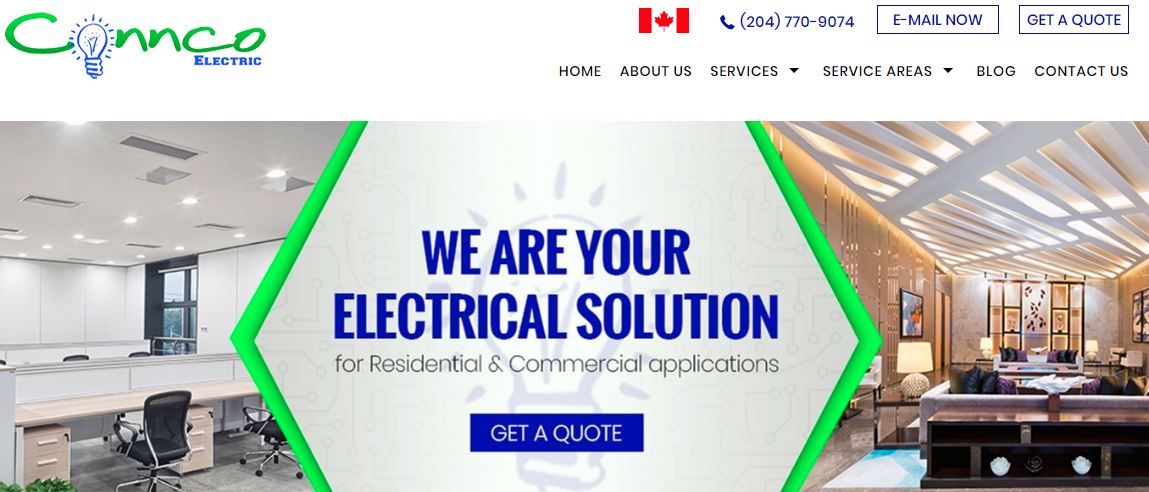 BEST FOR
Professional residential & commercial electricians providing electrical services across Winnipeg, Headingley, Oak Bluff, Selkirk & Stonewall.
SERVICES
Commercial and Residential Installations
Panel Upgrades 100/200/400amp
Home/Business Renovations
Interior/Exterior OR Security Lighting
Custom Design and Build
Data and Communication Wiring
Manitoba Hydro Commercial Lighting Program
Electrical Contracting
Installation of Smoke/CO Detectors
Installation of Fire Alarm Systems
Ground Fault Circuit Interrupters
Knob and Tube Replacement
ADDRESS
587 Sherburn Street, Winnipeg, Manitoba, Canada. R3G 2K8
CONTACT
(204) 770-9074
WEBSITE
https://www.connco.ca/
Connco Electric provides all your commercial lighting needs with the most modern products on the market today. Whether it's your office, warehouse or parking lot, their electricians will provide you an unbeatable product with professionalism, excellence, and affordability. Their electricians provide Professional Electrical Services for Residential and Commercial Applications across Winnipeg, Headingley, Oak Bluff, Selkirk, Stonewall, Niverville, St. François Xavier, St. James, Saint Boniface, MB.
9. Direct Connect Electric Inc.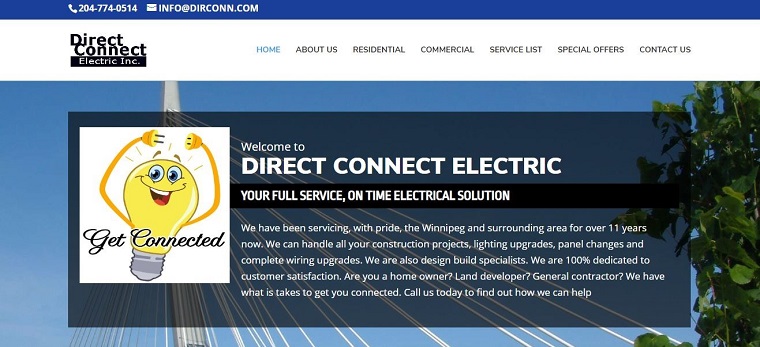 BEST FOR
Residential and commercial electrical works
SERVICES
Design build

Electrical service and maintenance

Construction and renovation

Lighting and emergency

Emergency electrical services

CCTV and network systems

ADDRESS
Unit 6 – 1 Penner Road, Navin, Manitoba, R5T 0H5
CONTACT
Phone: (204) 774-0514

Email: [email protected]

WEBSITE
https://www.dirconn.com/
Direct Connect Electric Inc. has been working with Winnipeg contractors and homeowners for more than a decade.  It employs a team of courteous and highly-trained professional electricians that can provide the best solution to you.  All their work is backed up with a 100% satisfaction guarantee.  No job is dismissed until you approved of it.  DCEI's technicians continually undergo training to ensure that you only get the best possible workmanship and service.