Your home is your greatest asset where you expect to relax and spend your time in full convenience and comfort while you are not at work.  However, electrical issues may erupt unexpectedly, putting an end to everything.  Once you call an electrician, you are in a vulnerable state and absolutely need someone who is reliable and worth of your trust.  Here is a list of stress-free electrical service providers in Sydney for your emergency needs.
1.     Sydney Local Electricians

BEST FOR: Electrical Emergencies, general electrical issues, installation, repair and upgrades
SERVICES:  Installation of smoke alarms, safety switches, ceiling fans, switchboards, and data and phone lines. Fitting of new stovetops, ovens, electric hot water systems, and bathroom light/heat combos. Safety inspections and reports. Hot water system repairs Diagnosis and repair of power and light circuits. Lighting installation and advice.
ADDRESS:  Governor Philip Tower, 23/1 Farrer Place
CONTACT:  02 8315 3264
WEBSITE :  http://www.sydneylocalelectricians.com.au/
Sydney Local Electricians is a team of licensed electrical specialists working together to provide a diverse range of electrical services to customers throughout Sydney and nearby areas. Quality workmanship and most affordable materials are the pride of the team as they guarantee their customers of 24/7-call response, especially for electrical emergencies.
2.    David Jones Electricians
BEST FOR:  Domestic and Commercial Electrical Contracting
SERVICES:  All electrical services (inside and out) including blown circuits and fuses, tripping circuit breakers and safety switches, data networks, telephone, broadband, maintenance, re-wiring, alterations, smart wiring, automation, and  any more.
 ADDRESS:  U32/112 Mc Evoy St.
CONTACT : 1300 14 94 34
WEBSITE : https://djelectricians.com.au
 David Jones Electricians, Sydney's best electricians Awardee in 2012-2013 provides quality work – the kind they would want in their homes.  Anyone on their team is friendly, approachable and reliable, assuring you of a prompt delivery of task that is compliant and of the highest standard.  They are not only great on what they do but they also understand it's your home or business and you want the best for it. 
3.    Mr. Sparky Electrical Services

BEST FOR:  Electrical installations, electrical safety, and lighting
SERVICES:  Smart home wiring, internal and external lighting security lighting, smart solutions, and safety inspections.
ADDRESS:   Five Dock NSW
CONTACT: 1300 770 77
WEBSITE:  https://www.mrsparky.com.au
Mr. Sparky Electrical Services is a trusted and licensed small electrical service provider in Sydney who puts a high value on reputation and building trust with customers.  Whether you need an electrical installation or replace a generator, you can trust the efficient performance of experienced electricians.
4.     Sydney Electrical Service
BEST FOR: Sydney Electrical Service is here to assist you with all your Level 2 electrical needs 24 hours, 7 days
SERVICES:
Service plans, Preventive Maintenance & Strata Management
Safety Switches
Security, Alarms, CCTV
Smoke Alarms
ADDRESS: Sydney-Wide Service
CONTACT: 0433462902 | [email protected]
WEBSITE:
https://sydneyelectricalservice.com.au
Sydney Electrical Service is an accredited Level 2 service provider specialising in the supply of electricity from the energy authority network all across the Sydney area. Their highly qualified staff have all the relevant experience, training, licences, and insurances and are authorised to work on the network, so they can be responsive to your project needs and take the pressure off your electrical installation.
5.  Auzspark Electrical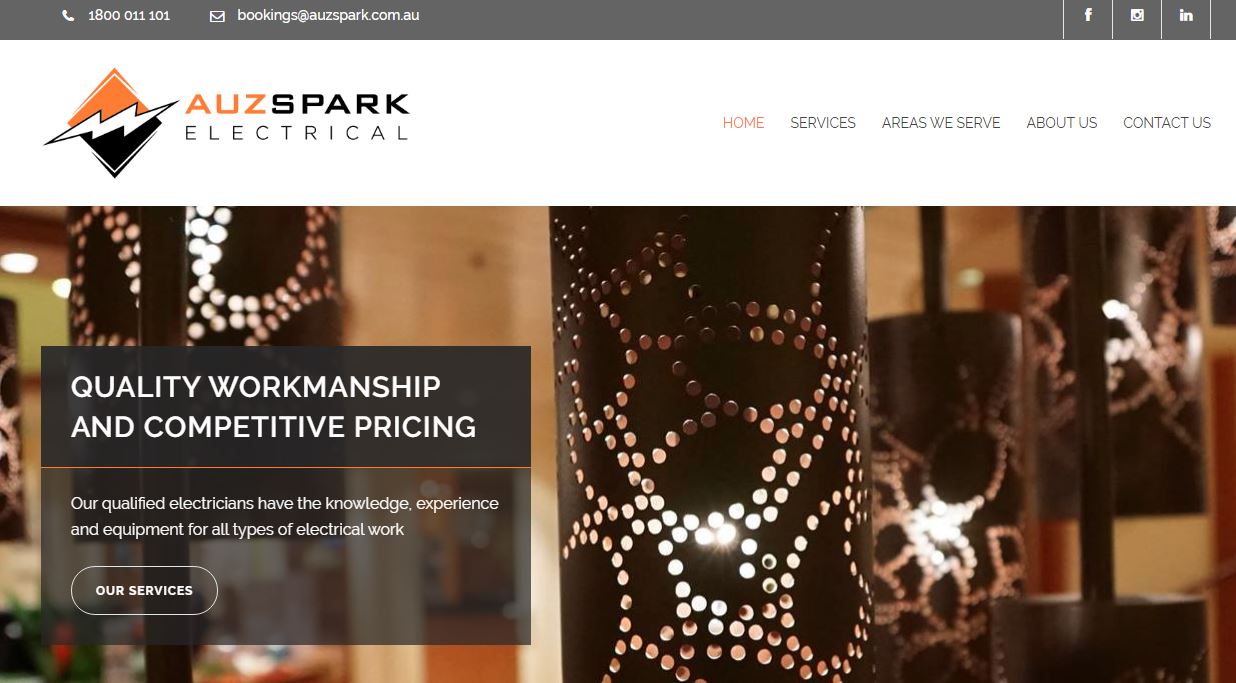 BEST FOR: Custom home automated solutions
SERVICES:
Custom Home Automation
Commercial Electrical
Domestic Electrical
Strata & Property Maintenance
High Rise Electrical
Construction Electrical
Address: Parramatta, Sydney NSW 2150
Contact Information:
1800 011 101
[email protected]
Website:
http://www.auzspark.com.au
Auzspark Electrical service all your electrical needs throughout the Sydney metropolitan area. They offer fixed rate pricing, no hidden charges, honest upfront pricing, and competitive rates with a lifetime labour warranty.
6.  DMS Electrical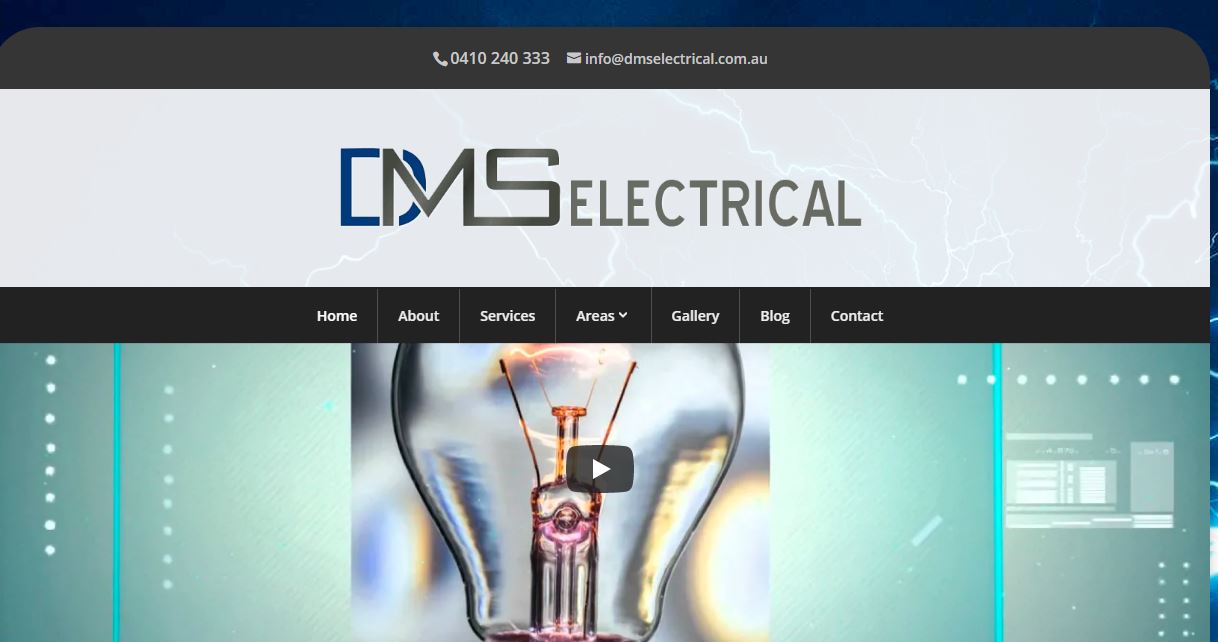 BEST FOR: Fully trained to install Tesla wall connector
SERVICES:
General Electrical Services
Switchboard Upgrades
Fault Finding
Power Point Installations
Tesla Wall Connectors
Lighting
Appliance Installations
Security Cameras
Alarm Systems
DATA
Address: 200 West Parade, Thirlmere, New South Wales, 2570
Contact Information:
Phone
0410 240 333
Email
[email protected]
Website:
https://www.dmselectrical.com.au
DMS Electrical, Picton-based electricians, can help customers finish their general electrical projects and issues including fault finding, powerpoint installations, lighting, appliance installations, security cameras, alarm systems, DATA, switchboard upgrades & Tesla Wall Connectors. They regularly travel to Maldon, Thirlmere, Razorback, Mowbray Park, and to the local area. They also serve Southern Highlands, Wollongong, and Sydney.
7.  Tillman Electrician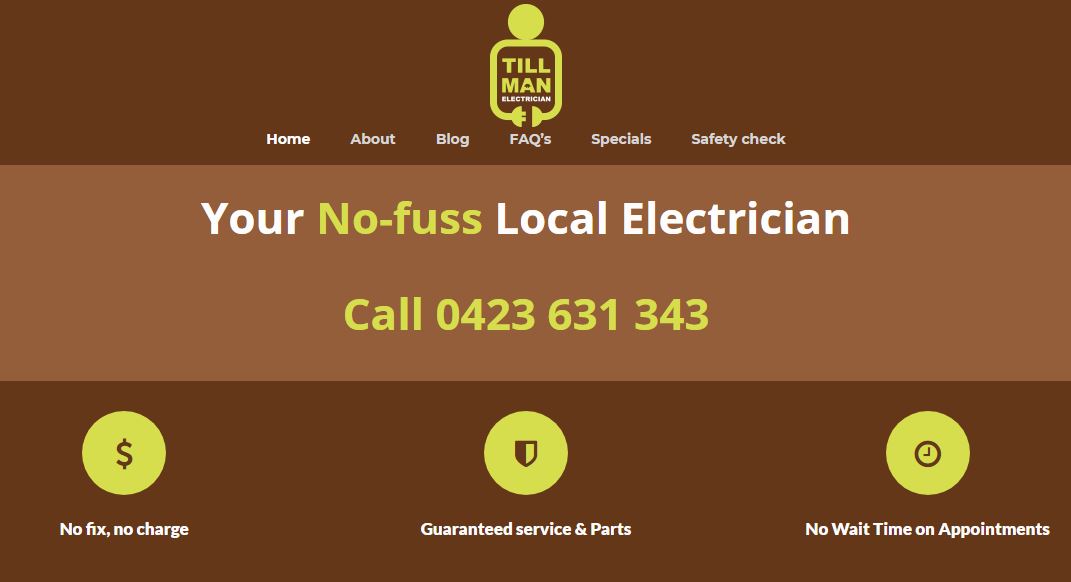 BEST FOR: Residential maintenance electrician
SERVICES:
Professional electrical Installations, electrical maintenance and repairs for all your needs
Address: 2049 Lewisham NSW
Contact Information:
[email protected] | 0423 631 343
Website:
http://tillman.com.au/
Based in Lewisham, at the heart of Sydney's inner west Tillman has been known in the electrical industry for 15 years for being open-minded, friendly and honest in serving his customers. He will strive to find a solution for your electrical problems however small or big they might be. Safety focused, Licensed and insured, all of Tillman's installations and repairs are covered by a 12-month workmanship guarantee.
8.     LME Electrical Contractors  Sydney

BEST FOR:  Commercial, Industrial Residential, and Strata Electrical services
SERVICES: Domestic and commercial electrical services, office fit out and data cabling solutions, certified designers and installers of Dynalite lighting and automation control system, and electric vehicle charging specialist.
ADDRESS:  Balgowlah, NSW, Australia
CONTACT: 040408340149
WEBSITE: https://www.lmeelectrical.com.au/
A reliable honest team of 10 highly specialized electricians, LME Electrical Contractor Pty Ltd is a Sydney-based electrical contractor with a proven track record for undertaking large, complex, and unique projects.  Equipped experienced and talented workforce backed up with the latest technology and equipment, it is committed to deliver effective management of electrical projects with major considerations on safety, quality, and efficiency.
9.     KM Electrical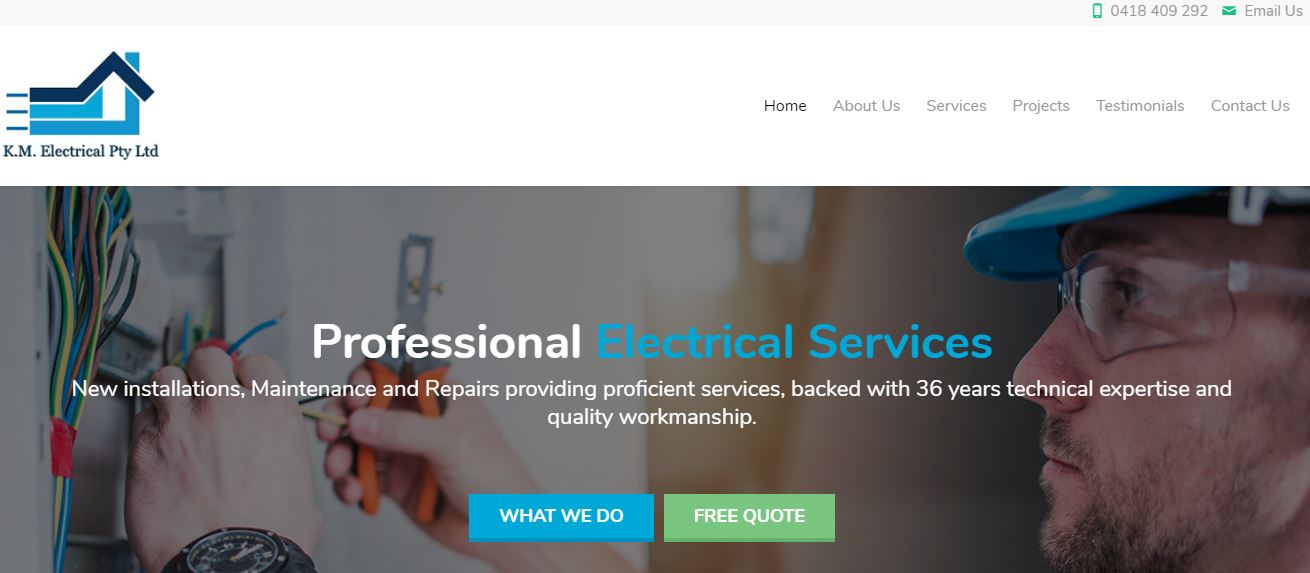 BEST FOR: Professional Electrical Services Including Installations and Maintenance
SERVICES:
Residential Electrical Services
Commercial Electrical Services
Corporate Electrical Services
Garden Landscape Lighting
ADDRESS: PO Box 918 Maroubra NSW 2035
CONTACT:Phone: 0418 409 292

 

Email: [email protected]
WEBSITE:
https://kmelectrical.com.au/
KM Electrical is a Sydney based electrical contractor that has been servicing the Eastern Suburbs, North Shore, Inner West, St George and surrounding communities since 1994. They hold licencing in electrical, telecommunications and the security service sectors, carrying $ 20M in Company Public Liability Insurance coupled with Professional Indemnity Cover. They also warrant materials / products that they supply along with their labour component for a period of 12 months following practical completion for the scope of prescribed works.
10.    Landmark Electrical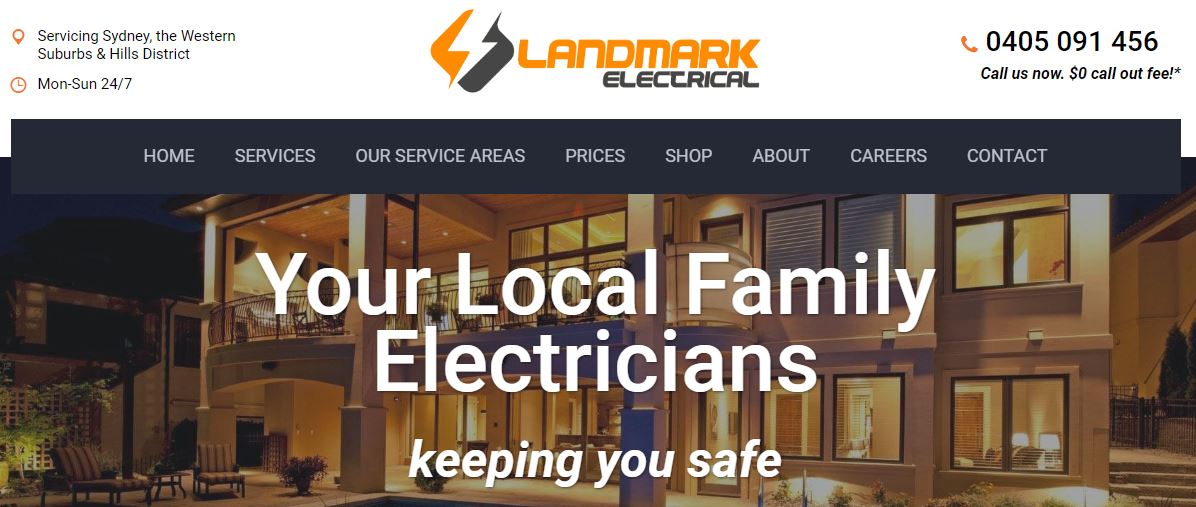 BEST FOR: Professional Electrical repairs, installations or maintenance
SERVICES:
Full-service electrical layout, design
Wiring and installation/upgrades
Emergency power solutions
Virtually any electrical needs you have – just ask!
ADDRESS: Servicing Sydney, the Western Suburbs & Hills District
CONTACT:Phone: 0405 091 456

 

Email: [email protected]
WEBSITE: http://www.landmarkelectric.com.au/
Landmark Electrical is a locally owned and operated family business. All work is completed by our by  their fully licensed, insured and qualified technicians and backed by their lifetime warranty. Their licensed electricians can install, repair or upgrade anything from new lighting in your home to emergency electrical services that will keep your home or office working during a power outage.
11. G&M Maxwell Electrical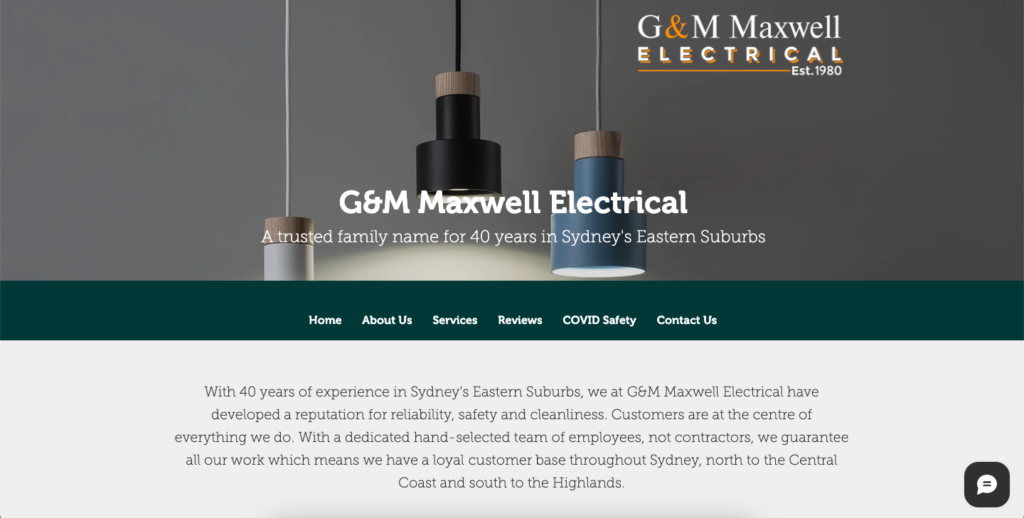 With more than four decades of experience, G&M Maxwell Electrical is definitely one of the best electricians in the area.
Over the years, they've established a reputation of being reliable, safe and clean whenever they do their job.
What we like about them is their dedication to their customers. Their dedicated hand-selected team of employees treat their clients with utmost priority each time. It's no wonder why they have such a loyal client base.
Their team also offers a diverse range of electrical services from one-off service maintenance requirements, to ongoing strata management, large scale projects and construction sites. We think that no matter your electrical needs or concern, they'll be able to help you.
Whether it's a small or large job, or even an emergency, their highly experienced and well-equipped team can handle it.
They're rated 5-stars by pretty much all their past clients, and we're not surprised at all! We highly recommend.
12.     Surry Hills Electrical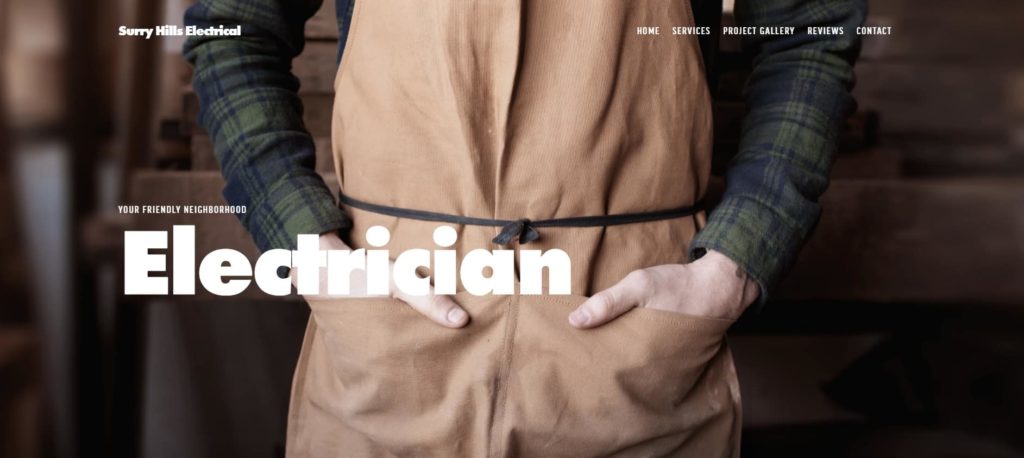 Surry Hills Electrical is a company that accommodates a wide range of affordable and comprehensive electrical services such as rewiring, cabling, installations, replacements, and other electrician services for both households and enterprises.
Past clients have commended them for the efficient and prompt electrician services that enabled them to have optimal and satisfactory results for long periods of time and less maintenance needed.
With over 22 years of experience in the field, clients can be assured that their electricians are trained and extensively experienced to handle all sorts of concerns and apply the best troubleshooting technique possible as well.
Though they do have their services stated on their website, their inclusions and other relevant packages and rates aren't readily available to which clients may deem useful.
Overall, with their excellent and professional team of electricians, a wide area of service, versatile approaches, and highly efficient and budget-friendly services, we highly recommend them to clients in the area looking for such services near them.