We use electricity in almost every area of our life. It's one of the major feats of humankind that marks the modern era.
However, we have to take care of it just as it always takes good care of us. Professional electricians can lend us a hand in this endeavor. If you don't have any idea which one you can turn to, we're here to help.
Below is the list of six most dependable professional electricians in Richmond. We selected them not merely because they're the most popular, but because they give value for money. After all, being expensive doesn't automatically equate to reliability.
Are you ready to meet them? Fantastic!
Let's begin.
1) Ace Electric Company, Inc.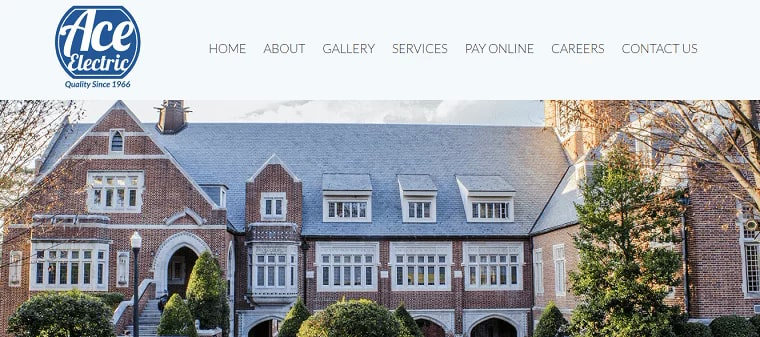 BEST FOR
Residential and commercial electrical services
SERVICES
Surge protection

Office environment lighting

Indirect and atmosphere lighting

Retail lighting

Low voltage decorative lighting

Accent and track lighting

Architectural lighting

Generator sales and installation

Rewiring

Electrical upgrades and installations

Code Corrections

Outlets and Circuits

Service Panel Upgrades

High-Tech Troubleshooting

Aluminum wiring replacement plans

ADDRESS
5608 Greendale Road, Richmond, VA 23228
CONTACT
Phone: (804) 266-2429

Email: [email protected] | [email protected]

WEBSITE
https://www.aceelectricva.com/
Ace Electric Company, Inc., a family-owned electrical contractor, has been serving Richmond for over 50 years. They are fully equipped to handle any residential and commercial electrical projects. Their clients are often happy by the extra mile Ace Electric Company does in order to provide the best services, products, and results for their satisfaction. They value integrity, quality, and customer satisfaction in every endeavor they take on.
Why Ace Electric Company, Inc.?
50+ years of experience
Emergency service
Customized solutions
2) Davis & Green Electrical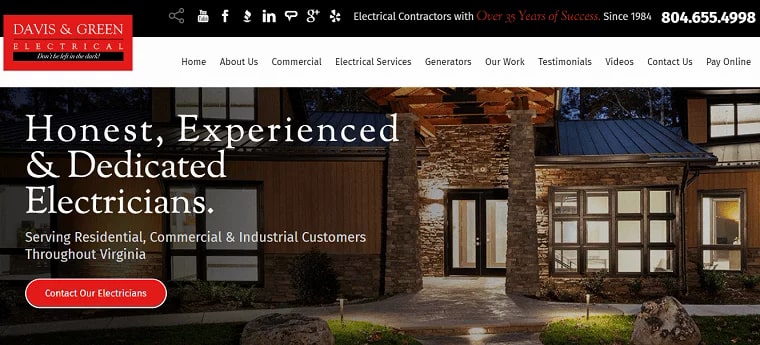 BEST FOR
Residential, commercial, and industrial electrical services
SERVICES
Electrical contracting

Home energy audits

Historical renovation & upgrades

Electrical inspections

Indoor lighting

Outdoor lighting

Hot tub wiring

Sauna wiring

Solar panel installation

LED lighting installation

Generator installation and repairs

ADDRESS
132 Brandon Road, PO Box 35418, Richmond, VA 23235
CONTACT
Phone: (804) 655-4998

Email: [email protected]

WEBSITE
https://www.dgelectrical.com/
Established in 1984, Davis & Green Electrical is a woman-owned electrical company that has provided Richmond with first-rate workmanship and services. They utilize cutting-edge technology and innovative methods, together with their passion for customer satisfaction to deliver outstanding results. Moreover, they thoroughly screen their employees for your own protection.
Why Davis & Green Electrical?
100% satisfaction guarantee
35 years of experience
A+ rating in BBB
Fully licensed and insured
3) First Call Electric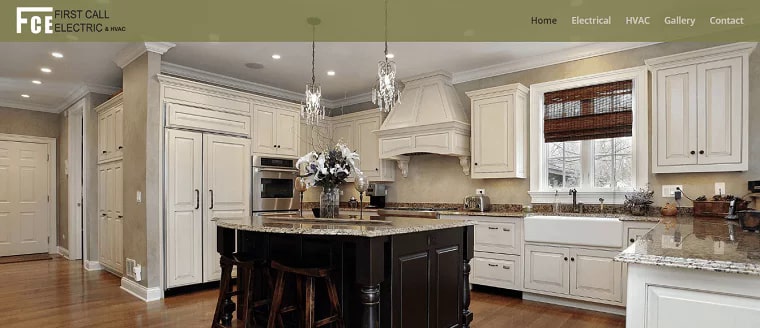 BEST FOR
Electrical and HVAC works
SERVICES
Electrical repairs, installations, and maintenance

Electrical modifications and relocations

Residential and commercial electrical works

Lighting fixtures

Panel upgrades and replacement

Electrical system upgrades

Emergency electrical services

Power surge

ADDRESS
804 Hilltop Drive, Richmond, VA 23225
CONTACT
Phone: (804) 614-7072

Email: [email protected]

WEBSITE
http://firstcallelectric.net/
If you're looking for a reputable electrician, Richmond residents highly recommend First Call Electric. All of their electricians are licensed and experienced to provide you the solutions and services you need. Even if you have an urgent request in the middle of the night, they will be willing to help.
Why First Call Electric?
24/7 emergency services
Free estimates and phone inquiries
Licensed and insured
4) Michael & Son Services – Richmond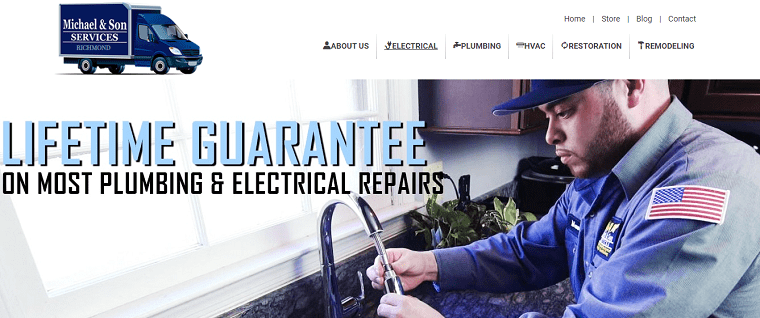 BEST FOR
Home improvement and home services
SERVICES
Ceiling Fans and exhaust fans

Heavy ups

Landscape lighting

Troubleshooting

Home inspections

Panel upgrades

Retail and commercial build-outs

Fiber optics and CAT-5 cabling

Computer circuits

Generators

Residential and commercial electrical

ADDRESS
1407 Cummings Dr, Richmond, VA 23220, United States
CONTACT
Phone: (804) 360-7373
WEBSITE
https://michaelandson.com/richmond/
Michael & Son Services is your one-stop-shop for all your home improvement and service needs. They utilize state-of-the-art tools, equipment, and solutions to address your electrical issues. For your protection, they thoroughly screen their electricians and have them undergo regular drug tests as well as background checks.
Why Michael & Son Services?
Award-winning services
Lifetime guarantee on most electrical repairs
Fully licensed, insured and bonded
5) Woodfin

BEST FOR
Home services
SERVICES
Home automation

Standby generators

Electrical repairs

Wiring

Electrical panel upgrades

Fuses and circuit breakers

Surge protector

Attic fans and ceiling fans

Motion lighting

Outdoor lighting

Smoke and CO detectors

Electrical comfort protection plan

Remodels and additions

ADDRESS
1823 N Hamilton St, Richmond, VA 23230, United States
CONTACT
Phone: (804) 730-5000

Fax: (804) 730-0861

WEBSITE
https://askwoodfin.com/
Woodfin is a trusted electrician by many Richmond locals. They also provide other home services such as plumbing and HVAC. When you choose Woodfin for your electrical needs and concerns, you are most certain to receive high standard services and workmanship. They will treat your property and home with the utmost respect.
Why Woodfin?
24-hour emergency service
Specials
Financing options
Flexible payment options
6) Chewning + Wilmer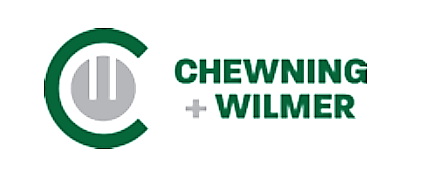 BEST FOR
Commercial and industrial electrical services
SERVICES
New construction

Design and planning

New wiring and rewiring

Lighting

Data and phone cabling

Large scale electrical contracting

ADDRESS
2508 Mechanicsville Turnpike, Richmond, Virginia 23223
CONTACT
Phone: (804) 231-7373

Fax: (804) 231-1330

WEBSITE
https://www.cw1924.com/
If you're an investor looking for a credible electrician, Richmond commends the services of Chewning + Wilmer. The company mainly focuses on providing world-class electrical services for both the commercial and industrial sectors based in Richmond and surrounding areas. It has delivered thousands of large-scale projects across Central Virginia and throughout the USA since 1924. They are considered one of the best in the electrical industry.
Why Chewning + Wilmer?
90+ years of experience
Green energy-efficient solutions
Absolute customer satisfaction