The 6 Best Options for Pest Control in Las Vegas
While you can try to control pests using the Do-It-Yourself method there's no guarantee if you can entirely solve your issues involving pests.  On the other hand, entrusting the work to the professional experts will surely guarantee that the work will be done.  These people are highly trained to keep your homes and properties free from invasive little creatures like roaches, rodents, wildlife, and blood-sucking bugs that can threaten your health.
If you're interested in getting professional pest control service in Las Vegas, here are the top best companies that can do the job.  They come highly recommended by the locals who already proven their credibility.
1. Top Line II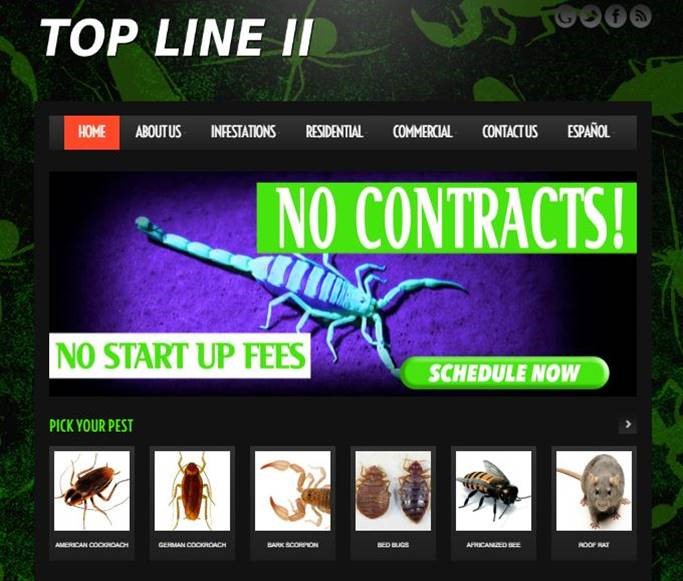 BEST FOR
Residential and commercial pest management

Pest elimination services

SERVICES
Cockroach, bedbug, scorpion, bee, and roof rat control

De-webbing services, property management, general spraying services, interior/exterior extended spraying services, and crack & crevice treatment

ADDRESS
1858 N Decatur Blvd. #102, Las Vegas NV 89108
CONTACT
Phone: (702) 425- 2742

E-mail: [email protected]

WEBSITE
https://toplinepest.com
Top Line II is one of the top pest control companies in Las Vegas.  It started in 2003 and has been providing residents and proprietors alike with outstanding customer service.  The company doesn't charge monthly contract fees or start-up fees.  They only bill customers for their actual service (for more information about their pricing, click on this link).
Top Line II focuses on the elimination—rather than control—of pests and infestations.  They use organically grown, plant-based formulas to get rid of pests.
2. Las Vegas Pest Control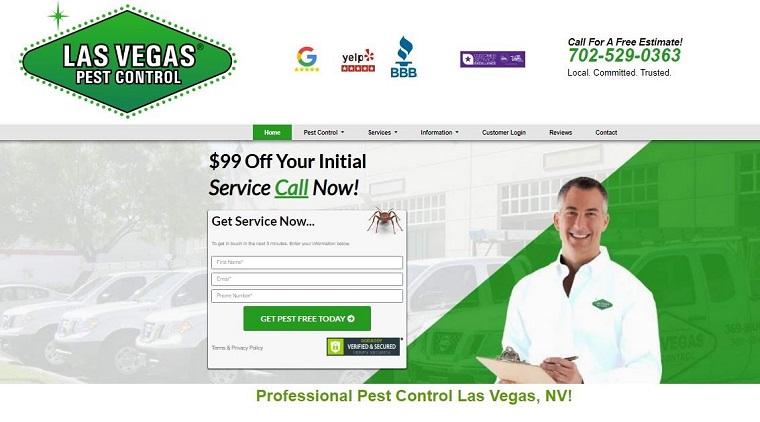 BEST FOR
Residential and commercial pest management
SERVICES
Ant extermination, bedbug treatment, bee removal, cockroach extermination, spider removal, and pigeon control
ADDRESS
3011 Rigel Ave, Las Vegas, NV 89102, USA
CONTACT
Phone:  (702) 529-0363

Email: [email protected]

WEBSITE
https://www.369bugs.com/
Las Vegas Pest Control is one of the most established pest control firms in the valley.  It has been providing Las Vegas residents and business owners alike with first-rate customer service for 11 years.
The company is known for treating each customer with honesty and respect.  It also provides a 100% money-back guarantee.  Its team of highly-trained technicians will get the job done while treating your home with respect.  Moreover, Las Vegas Pest Control has plans that can fit everyone's budget.
3. Preventive Pest Control
BEST FOR
Residential and commercial pest management
SERVICES
Weed control

Bedbug, scorpion, termite, and pigeon control

ADDRESS
3566 S Polaris Ave. Ste 3A, Las Vegas, NV 89103
CONTACT
Phone: (702) 649-0019

Fax: (702) 949-7358

Email: [email protected]

WEBSITE
https://preventivepestvegas.com
Preventive Pest Control has proven to be one of the leading players in the industry.  The company's knowledge and experience in pest control allow them to generate a scientific process to control future pests and eliminate infestations.  They proactively monitor various home and businesses to prevent issues from occurring.
Preventive Pest Control believes in the quality of their work; hence, they offer a 100% satisfaction guarantee in their residential pest control services.  Customers who aren't completely satisfied with their work can request a 100% refund or credit back to their account or a hundred percent free re-service.  They also offer a two-year price lock guarantee which simply means that customers don't have to worry about a rate increase for two years.
4.   Delcon Termite/ Pest Control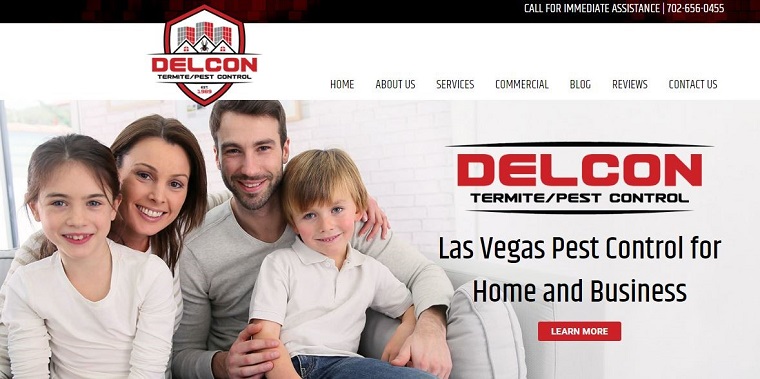 BEST FOR
Residential and commercial pest management

Termite control

SERVICES
Ant, termite, bedbug, bee, wasp, cockroach, rodent, spider, scorpion, and pigeon control
ADDRESS
2410 North Decatur Blvd. Suite # 115,

Las Vegas , NV 89108

CONTACT
Phone: (702) 656-0455

Email: [email protected]

WEBSITE
https://delconpestcontrol.com/
Delcon Pest Control Services has been providing pest management services in Las Vegas residents and business owners since 1989.  Their scope of service also includes Henderson, Mesquite, and Summerlin.  The company offers free pest evaluation and low monthly rates for budget-conscious clients.
Delcon employs highly-trained and certified technicians who can come up with a solution that can get rid of pests and is relatively safe for you and your loved ones at the same time.
5. Global Pest Services
| | |
| --- | --- |
| BEST FOR | Residential and commercial pest management |
| SERVICES | General pest control, interior and exterior treatment, treatment of water/ irrigation boxes, installation of wall injection system, removal of accessible webs around windows, standing appointments, courtesy call the night before service |
| ADDRESS | 3421 Precision Drive, North Las Vegas, NV 89032 |
| CONTACT |  (702) 657-0091 |
| WEBSITE | https://www.globalpestlasvegas.com |
Global Pest Services is one of the fastest-growing pest control firms in southern Nevada.  It is known for quality customer service and pest management results.  If you have pest issues between your regularly scheduled visits, Global Pest Services will return to implement extra treatments with no extra charge.  Moreover, if the problem has not been rectified within 30 days, the company will issue a refund of your last service charge.  For a free quote, access this page.
6. Fischer's Pest Control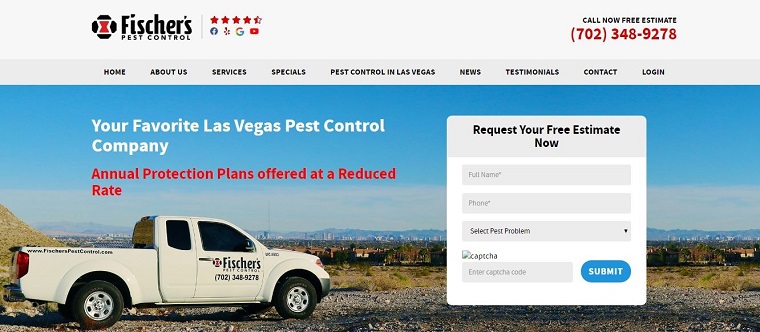 BEST FOR
Residential and commercial pest management

Specializing in German cockroaches, scorpion exclusion and preventative maintenance, Africanized honey-bee hive and honeycomb removal, pigeon deterrents (exclusion, trapping, and baiting), bedbugs exclusion  and preventative maintenance, and termite inspections during home buying

SERVICES
Bedbug, cockroach, bee, scorpion, pigeon, termite, ant, silverfish, roof rat, spider, wasp control
ADDRESS
7251 W Lake Mead Blvd #300, Las Vegas, NV 89128
CONTACT
Phone: (702) 348-9278

Fax: (702) 878-7749

Email: [email protected]

WEBSITE
https://www.fischerspestcontrol.com/
Fischer's Pest Control is a family-owned and operated business that has been serving Las Vegas residents and property owners since 2003.  The company observes five principles of service:
Free estimates: No upfront money. You won't be charged until the problem is solved. You can simply email a photo of your pest for preliminary identification.
No contracts: You don't have to sign a contract for monthly attention. Fischer's promises to prove their worth each month, for as long as you want them to.
Reliable visits: For Fischer's, your time is valuable.  They guarantee on-time visits and job accomplishments.
FPC guarantee: When Fischer's exterminate pests, they intend for the pesky pests to stay dead. If you can provide substantial evidence that your pest issues stay the same within a month, they will fix it for free!
Licensed and insured: Fischer's is a Nevada state-licensed via the Department of Agriculture. The company is also fully insured and continually upgrades its knowledge for the safety of their customers.