Featured Image Source from Architecture Lab
In our daily home routine, plumbing issues can suddenly occur. A leaking water heater, blocked kitchen sink, sewer backup, and weak water pressure are some of the problems that people face.
Therefore, if you need the best plumbers in Parker, Colorado, who are certified, responsive, and friendly, we've listed them here for you.
And in case you're wondering about how much hiring a plumber costs, we'll tackle their rates first. This will help you pick the right one from our list that will work for you.
The Average Cost of Hiring a Plumber in Parker, CO
According to HomeAdvisor, hiring a plumber in Parker, CO costs $352 on average or between $201 to $516. Plumbers can charge their clients either a fixed or labor (per hour) rate.
Often, simpler works like faucet repair and drain clearing have a fixed rate, while more complex jobs like bathroom remodeling or commercial pipe installation come at an hourly charge.
The total price will mainly depend on the work, location, and timing. But parts, trip, and call-out fees will also add to this, especially if you call a plumber outside of their working hours.
Like other tradesmen, plumbing services are expensive. So look for coupons or special deals online before calling the company, as this could give you savings.
Also, here's the table of general plumbing services and their rates. With this, you can have an idea of how much you have to spend on your required service.
| | |
| --- | --- |
| Plumbing Service | Average Cost |
| Toilet repair | $140 – $300 |
| Leaking or burst pipe repair | $150 – $350 |
| Drain clearing | $200 |
| Waterline repair | $300 – $4,000 |
| Water heater repair | $550 |
| Sewer main installation | $3,000 |
| Septic tank installation | $5,500 |
The Best Options for Plumbers in Parker, CO
Now that you know about their rates, let's move on to the best options for plumbers in Parker, CO!
1) 1st Choice Plumbing Heating & Air Conditioning

SERVICES
Air Conditioning Services
 
HVAC services
Air conditioning repair and maintenance
Air quality
Whole-house temperature zoning
 
Heating Services
 
Electric & gas furnace repair
Furnace maintenance
 
Plumbing Services
 
Plumbing repair and maintenance
Plumbing solutions for the home
Plumbing system tune-ups
Low-flow showerheads
Low-water use toilets
 
Water Heaters
 
Heater repair
Heater maintenance
ADDRESS
11873 S. Clayson Street, Parker, CO 80138, USA
CONTACT DETAILS
720-828-5868


[email protected]

WEBSITE
https://www.1stchoiceplumbingheatingandairconditioning.com
Established in 2001, 1st Choice Plumbing Heating & Air Conditioning offers a complete scope of services for plumbing, heaters, ACs, and air quality.
They have a certified and drug-checked team, topping it all off with a satisfaction guarantee. This means that if you aren't happy with their work, they'll return to resolve the issue promptly.
Some of their services include sewer backflow repairs, toilet repairs, drain clearing, gas line repairs, sump pump installation, and water filtration installation. They can also remodel your kitchen or bathroom and provide financing to spread even the price.
Besides that, they install and maintain water heaters, gas and electric furnaces, as well as repair AC systems. Compared to other plumbers, they are an all-rounder so you won't need to get another tradesman.
With a large contact form online, you can book an appointment with them at any time. They even have live chat support, although it seems to be automated.
Another of their downsides is that they only work from Monday to Friday and thus have no emergency services.
One of the top plumbers in Parker, Colorado, 1st Choice Plumbing serves residential clients in Parker, Centennial, Highlands Ranch, Castle Ranch, Aurora, and Littleton areas.
Licensed and drug-checked plumbers
Provides live chat support
Accepts credit and debit card, and bank draft payments
Coupon deals available
Offers a satisfaction guarantee
Finance options available
Live chat is initially bot-operated
Closed on the weekends
Complaints about customer service
Customer Reviews
Their team was praised by most clients for its speedy response, professionalism, and timeliness. However, there have been some complaints regarding their customer service.
Let's see this feedback coming from Rebecca:
"Had a leaky sink. Called and had someone same day, working as fast as possible so I could get to another appointment. Sink is working great."
Moreover, Mary wrote this:
"Always, always helpful, punctual and willing to go the extra mile. We have relied on 1st Choice for a wide variety of plumbing needs and they have never disappointed us."
2) Lukenbuilt Plumbing & Heating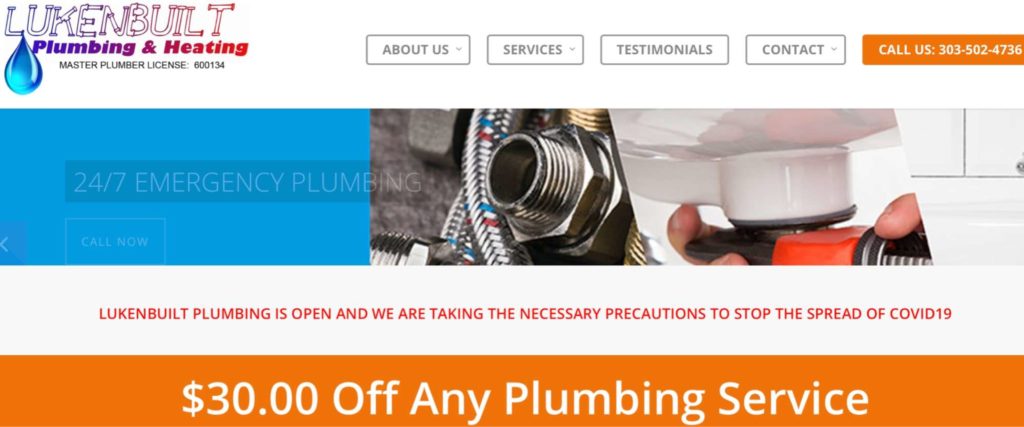 SERVICES
Sinks, toilets, and faucets
Showers and tubs
Sewer lines
Garbage disposals
Full-service plumbing
Frozen pipes and drains
Drain cleaning
Water heaters
Sump pumps
New construction
ADDRESS
17016 Walsh Ave., Parker, CO 80134, USA
CONTACT DETAILS
303-502-4736


[email protected]

WEBSITE
https://www.lukenbuiltplumbing.com
Lukenbuilt Plumbing & Heating is another of the best Parker plumbers you can find. They are dedicated to 24/7 service to assist clients with plumbing and drainage emergencies.
It is a family-owned company that started in 2004. Its team is Master Plumbers accredited and insured so you can rely on them to repair, install, or maintain your plumbing systems.
They handle both residential and commercial tasks including waterline service, garbage disposal install, video sewer inspection, basement remodeling, winterization, and tree root removal.
Additionally, they can conduct gas leak detection and repair, boiler repair and replacement, and even plumbing excavations. You can call them regardless of the size and complexity of the work.
According to former clients, they charge decent rates for a quality result. From the start, this has earned their clients' trust and given them a great reputation.
You can also pay them using an American Express, Mastercard, Visa, or Discover Network credit card. Currently, they have only one special offer, but it's a lot better than having none.
All their work is fully backed up by a guarantee too. So in case you find any fault with their service, just inform them and they will redo it for free.
The plumbing company provides its services in Parker and the surrounding communities. For fair prices and excellent service, we highly recommend picking this one.
24/7 emergency service available
Offers residential and commercial services
Master Plumber licensed
Offers a satisfaction guarantee
Accepts Visa, Mastercard, American Express, and Discover Network
Only has one special offer
No live chat support
Customer Reviews
Lukenbuilt Plumbing & Heating received a 5/5 rating on Google. Their affordable and fair rates were mentioned by clients, and so was their efficient and punctual service.
One client named Julia gave this feedback on Facebook:
"Scott (works with Robert) was on time and friendly. Pulled an old toilet and placed a new one. Did it quickly and for the quoted price. Would use again."
What's more, Laura shared her experience below:
"Highly, highly, highly recommend. Quality, fast work and fair/honest prices. I had an emergency tonight, and within 30-45 minutes of my call it was fixed and the price was totally reasonable. I will definitely refer Robert/Lukenbuilt Plumbing to others, and will be keeping the number in my phone in case of future issues. There aren't many people around like this anymore. THANK YOU!"
3) Doyle Plumbing

Need a plumber to install a new shower, washbasin, bathtub, or toilet? For this kind of job, Doyle Plumbing may be a great choice!
They are merely a small plumbing company with a qualified and trained team. From leak repairs to bathroom remodeling, they can assist both business and home clients in Parker, Colorado.
However, since they only have a small team, chances are they may not be able to perform larger and more specialized work, such as drainage installation and full-home repiping.
The local plumber only uses products and parts from trusted manufacturers like American Standard, Delta, AO Smith, and Navien.
Along with this, they offer a satisfaction guarantee of up to 1 year for labor and parts, assuring you they will provide outstanding work.
First-time clients can get a special discount if they choose this plumber. Also, the prices they charge are fixed and reasonable—enabling clients to make the most out of their services.
With over 20 years of experience, they are familiar with the biz and can efficiently solve common drain, plumbing, and gas problems that people face.
To book an appointment, you can call them at their hotline or complete their form online. Their CS staff will respond to you as fast as possible.
Reasonable rates
Licensed and insured crew
Offers a first repair discount
Only uses leading-brand products
1-year labor and parts warranty
Limited service offerings
Closed on the weekends
Only one discount is available
Customer Reviews
Great rates, great service, and knowledgeable and polite plumbers are what you'll hear most from clients. Also, they said the team responded fast and sorted out their problems within the day.
Check out this feedback from Michael:
"Josh came out on short notice and installed a gas line for a kitchen remodel and it a fantastic job, quickly and at a good price."
Also, another client, Beth, stated this:
"I have used them twice now. Not only are they priced fairly, they are the nicest people!! Highly recommend."
4) Rock Plumbing, Heating & Air Conditioning

SERVICES
Cooling
 
A/C repair, install & maintenance
Smart thermostat service
 
Heating
 
General heating
Furnaces
Boilers
Heat pumps
Smart thermostat service
 
Drains
 
Drain clearing service
Rooter service
Camera inspection service
Hydro-jetting service
Leak detection service
Sewer lines
Water lines
 
Plumbing
 
Plumbing repair
Plumbing inspection
Frozen pipe service
Kitchen & bathroom
Water heaters
Tankless services
Sump pumps
Water softeners
Water filtration service
 
Indoor Air Quality
 
Indoor air quality service
Humidifier service
ADDRESS
8117 Southpark Circle, Littleton, Colorado 80120, USA
CONTACT DETAILS
 (720) 594-4236


[email protected]

WEBSITE
https://rockheating.com
Based in Littleton, CO, Rock Plumbing, Heating & Air Conditioning has a certified, professional, and safe team that offers same-day services and quote-loyal prices.
They do it all from general plumbing repair to water softening service, including drain cleaning, rooter service, and smart thermostat installation.
The team also sets up, repairs, and maintains HVAC systems to keep you comfortable and warm or cool. Plus, they can remove the indoor pollutants to keep the air inside your property fresh and clean.
Their coupon deals are many and are displayed on their website with specific details. Clients say that their rates are honest and fair but since they're based outside of Parker, the trip fees can add up.
Furthermore, convenient financing options are available for their installation and repair services. Thus, you won't have to pay all in one go but in equal repayments within a certain period.
The acclaimed company is open from Monday to Saturday but can also work after hours. You simply have to call them to schedule a plumbing or HVAC service.
Of course, all labor and parts are warrantied for your peace of mind. Any problems that are found after the service is completed will be fixed for the client at zero charge.
For these reasons, we included Rock Plumbing Heating & Air Conditioning in our list of the top plumbers in Parker, Colorado! Note that they serve Castle Rock and the surrounding areas.
Offers same-day plumbing service
Licensed technicians
BBB-accredited business
Financing assistance offered
Has lots of coupon deals
Guarantees clients' satisfaction
Closed on Sundays
Complaints about price
Higher trip fees
Customer Reviews
They amassed numerous positive reviews from clients. They said the crew was knowledgeable and friendly, fixed the problem thoroughly, and charged honest rates.
Here's the review coming from one client, Bo:
"Quick response time, courteous staff, and very fair pricing. Would use again. Thanks for coming out in the cold snow!"
And Kristina also wrote this:
"We were very impressed with Rock's service! From the initial call to set up service, to the email & text updates and reminders, to the service itself we were very pleased. Our technician, Zach, was very friendly, helpful, and knowledgeable. He solved our problem and actually saved us lots of money in the long run. We will absolutely use Rock Heating and Air Conditioning for all our future needs."
5) Adams Plumbing

SERVICES
Bath, kitchen & laundry
Dishwasher
Drain cleaning
Evaporative cooler repair
Faucets
Floor drain install & replace
Freeze-proof hose faucet
Garbage disposals
Gas leak
Gas pipe & appliance
Main shut-off valve replacement
Pressure regulator valve replacement
Sprinkler vacuum breaker
Toilet replace & repair
Water filter
Water heater replace & repair
ADDRESS
7085 South Costilla St, Littleton, CO 80120, USA
CONTACT DETAILS
+1 720-285-5379


[email protected]

WEBSITE
http://www.adamsplumber.com
Adams Plumbing is a residential and commercial plumber that takes pride in giving affordable rates. Though their office is located in Littleton, CO, they serve clients in the Denver metro area.
With over 25 years of service, their Master Plumbers can take on any size and difficulty of works. These include toilet repair, dishwasher repair, drain cleaning, and water filtration installation.
They can also replace the main shut-off and pressure regulator valves on your pipes. Moreover, they can remedy gas leaks and install gas appliances, as well as remove risky mold and radon in your house.
As they work daily from 7:00 AM up to 10:00 PM, you can call them if you have a leak or water heater emergency, or other matters. They aim to be at your property within an hour or less.
But if you're only getting a quote, you can send them a picture of the issue along with its details. And they'll get back to you with an accurate estimate—which helps you save on call-out fees!
While this business isn't a BBB member, their staff had been professional and respectful in addressing client complaints on Google.
It's also nice that they offer coupon deals, however, they've not been updated for quite some time. Be that as it may, you can still ask them if they have any discounts available right now.
So if you want fantastic customer service, fast turnaround, and guaranteed work, Adams Plumbing might be the company for you!
Fast 1-hour response time
Licensed and insured plumbers
Offers a satisfaction guarantee
Coupon deals available
Open 7 days a week
Expired coupon deals
Not BBB-accredited
Higher trip fees
Customer Reviews
Many clients had depended on this plumber for emergencies. The staff made the process seamless for them and the plumbers came on time to resolve their plumbing issues.
Also, homeowners said that their team was knowledgeable, professional, and polite. So those were why they gave this business a high score of 4.8/5 stars.
Here's what Rebecca wrote on Google Reviews:
"Adams Plumbing quickly responded to our plumbing emergency on a Friday night. Wesley showed up within an hour of receiving our phone call and was able to make the necessary repairs the same day. He was very knowledgeable and his friendly comical demeanor eased our worries. Will definitely call Adams Plumbing for any of our plumbing needs in the future. Highly recommended."
Also, let's see another one from Tricia:
"Wesley was extremely helpful when my garbage disposal was leaking and water stopped running to my dishwasher. He walked me through what exactly was wrong and explained other potential issues I may face in the future. I would highly recommend him to my friends and family. Also he happens to be great with dogs/pets which is always a plus!"
FAQs about the Top Plumber Options in Parker, CO
---
And that ends our list of the leading plumbers in Parker, CO. Whenever you need to install or repair anything related to your property's plumbing, just give these services a call!
Have any questions or thoughts about this list? If so, feel free to drop us a line and we'll reply to you promptly.
Also, if you want to see our recommendations for heating repair services, you can browse the best options for heating repair in Denver. These specialists can help you battle the cold climate at home.