Featured Image Source from Pasadena Electrician Masters
Electrical tasks take specialized skill, experience, and care to do. Your best bet, therefore, is to call on qualified and insured contractors for your utmost safety and peace of mind.
That's why we gathered a list of the best electricians in Pasadena here. But we'll first zero in on the average cost of electricians in the city to give you a general idea of how much you should pay.
Without any further ado, let's start!
The Average Cost of Electricians in Pasadena
It's hard to know the exact electrician costs without getting a quote. This is because prices vary for each client depending on the size and complexity of the electrical work that needs to be done.
According to ProMatcher, you can expect to pay between $85 to $125 per hour for a Pasadena electrician. The average cost of this price range is $105 so you could pay either above or below it.
Other factors that can raise the electrical service costs are the materials used and travel time. Note that not all electricians charge for travel time.
Now, let's take a look at the average cost of electricians based on the work performed:
| | | |
| --- | --- | --- |
| Electrical Service | Price range | Average Cost |
| Electricals for house remodeling or addition | $103.16 – $115.88 per hour | $109.52 per hour |
| Outlet installation | $166.65 – $192.70 | $179.68 |
| EV home charging station installation | $1,357.17 – $1,407.02 | $1,382.10 |
| Electrical panel or wiring upgrade | $2,419.25 – $3,190.23 | $2,804.74 |
These are the prices that individuals usually pay for electrician services in Pasadena, California. They can be brought down through availing of coupon deals and promotions if available.
Additionally, we advise that you look for electricians that offer a satisfaction guarantee. With this, you won't have to pay one cent for them to rectify their shortcomings in the electrical repair.
Lastly, make sure to get at least 3 quotes from your preferred electricians. That way, you can compare them and know which one offers the best price for solving your specific electrical needs.
The Best Electricians in Pasadena
Now that you have some idea of how much hiring an electrician can cost, we now present to you the absolute best electricians in Pasadena!
1) Pasadena Electrician Masters

SERVICES
Residential services
Commercial services
Electrical panel installation
Electrical panel repair
EV charging station installation
Lighting installation
Lighting repair
Outlet installation
Outlet repair
Smoke detector installation
Wiring installation
Wiring repair
ADDRESS
40 N Altadena Dr, Pasadena, CA 91107, USA
CONTACT
(626) 768-9548
WEBSITE
https://pasadena-electrician-masters.com
Pasadena Electrician Masters is a preferred electrical service provider for many residential and commercial clients living in Pasadena and the neighboring areas.
It boasts having consistent and excellent reviews from clients who say that the electricians are knowledgeable, efficient, and punctual. If you call them out to fix a problem or install a component, they will be there within short notice.
They offer a full suite of services from simple outlet installation and breaker repair to full-house rewire and EV charging station installation. Whether the electrical work is for your home or business, large or small, they have you covered!
The electrician company even takes emergency calls, although only from Monday to Saturday from 7.00 AM – 7.30 PM. One of its drawbacks is that it isn't open around the clock.
At any rate, you shouldn't worry about the safety of you and your family or employees. The electricians are highly trained and experienced so you can trust them to do your property electricals.
Their base address is 40 N Altadena Drive, Pasadena, California. You can reach them by calling them or filling in the contact form on their website.
In summary, for outstanding workmanship and professional, amiable staff, Pasadena Electrician Masters is one of the very best electricians in Pasadena you can get!
Acclaimed company on Google
Certified and safety-trained team
Works within your time & budget
Doesn't indicate if they offer a guarantee
No special offers
Closed on Sundays
Customer Reviews
The electrician garnered 4.9/5 stars on Google with most clients saying that they performed a great job, came on time, and tidied up after themselves.
One client named Cristian wrote this review of the contractor:
"I didn't regret my decision to chose this company. I was so relieved when you sent this guy as the assigned electrician to repair my breaker that needs replacement. He was so smart, fast, and careful in doing the repair along the way. A big thanks to him! Your services will highly be recommended to everyone!"
Also, Bonnie shared her experience on Google Business:
"I needed someone who can deal with my first alert smoke detectors installation needs. I was glad that your electrician was available during that time, and it was him that perfectly handles my service installation. A truly capable guy that I will surely recommend to all of my friends and family. Very worth it services! Many thanks to you, guys!"
2) 911 Electric Inc.

SERVICES
Panel upgrade
Recessed lighting
Whole-house rewire
Electrical troubleshooting
EV chargers
Dedicated circuits
Landscape lighting
Motion sensor lighting
Bathroom exhaust fan
TV installation
Home theater surround
Ethernet wiring
ADDRESS
1308 E Colorado Blvd Ste 141, Pasadena, CA 91106, USA
CONTACT
747-255-8595


[email protected]

WEBSITE
https://www.911electrics.com
Based in Pasadena, California, 911 Electric Inc carries out a broad range of domestic, commercial, and industrial electrical services to the greater Los Angeles area.
Their ethos is to treat all their clients with honesty and integrity so that they can get the best outcome and deal. They will suggest options that will truly benefit your home, office, or factory and won't upsell on anything you don't need, which is why so many clients have come to trust this company.
They also understand that most electrical needs are urgent to keep people safe. Hence, they offer a 24/7 service so they can sort you out, be your problem major or minor, during night or day.
The team is made up of licensed and bonded individuals who guarantee all their work. With this, you are sure to get awesome value for your money and protection in case you're not satisfied with their workmanship.
Their services consist of panel upgrades, recessed lighting, and AC wiring (which are what most clients call them for), rewiring, EV chargers, smoke alarm installation, and motion sensor lighting. Also, if you need help setting up your home theater, ethernet, or appliance, they got you.
Versatile, efficient, knowledgeable, on-time, and clean, 911 Electric certainly has some of the best electricians in Pasadena! Plus, they accept a range of payments including credit cards, checks, and cash, making working with them very convenient.
Perhaps, their only con is that they don't offer any coupons or special discounts. But given their cost-effective rates, this is only a minor inconvenience.
Licensed & bonded team
Takes 24/7 call-outs
Serves the greater Los Angeles area
Guaranteed services
Accepts credit cards, checks, and cash
Doesn't offer coupons or special discounts
Customer Reviews
On Google, they gained a perfect score of 5/5 stars from clients. In addition to their adept and punctual electricians, their prices and customer service have also been praised by clients.
Kevin, one satisfied client, said this:
"Great Costumer Service. Clean Work. Came on time and finished at the exact timeframe they gave me. Would Recommend them."
Furthermore, Ruzanna gave this comment:
"Great company. They came out and fixed my outlet issue and charged me a standard service rate. I recommend 911 Electric Inc to other people needing electrical service."
3) B.K. Electric Services Inc.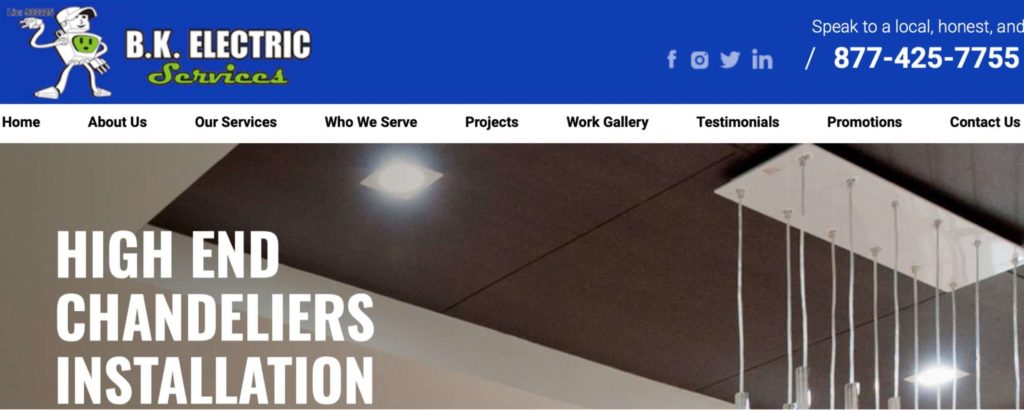 SERVICES
Low voltage
Recessed lightings
Rewire
Motion sensors
Outlets/switches/dimmers
Track lightings
Panels
Chandeliers
Ceiling fans
Bathroom heaters/fan lights
Landscape lighting
Phone/TV cables
Intercom systems
Security cameras
Plasma/LCD installation
Home theater systems
Arc fault breakers
Attic exhaust fans
Circuit breakers
Surge protectors
Carbon monoxide detectors
Dedicated circuits
ADDRESS
2495 E Washington Blvd, Pasadena, CA 91104, USA
CONTACT
877-425-7755/310-430-2300


[email protected]

WEBSITE
https://bkelectricservices.com
Planning to automate your home's lighting, sound system, and security alarm? Or maybe you want to give your store a comfortable and cozy ambiance using cost-saving LED lights?
If you answered yes to any of these questions, then you might want to call B.K. Electric Services! They specialize in installing innovative and stylish house automation systems and lights.
Other services offered by the electrician include outlet, switch, and dimmer installation, circuit breaker installation, arc fault breaker repair, surge protector supply, carbon monoxide detector installation, CCTV, chandelier, and ceiling fan setup, phone and TV cable works, and more.
They are depended upon by lots of retail stores, restaurants, and spas in Los Angeles County for installing different lighting types. Residential homes also benefit from their reliable and safe work as well as professionalism.
With a 24/7 electrical service, they can come whenever you have time without disrupting your customers or employees. If you need any assistance, just give the electrician a call and their representative, who is available 24/7, will pick up.
As for their prices, they're reasonable and not to mention honest. One client said that he was quoted a hundred plus dollars whereas others charged him thousands to upgrade his breaker panel.
Plus, B.K. Electric Services currently offers 25% off for house rewiring. To avail of this, you can simply go to their Promotions page and click 'Print This Coupon' just below the image.
As you can see, it's not very hard to include them as one of the top electricians in Pasadena! They are a one-stop shop with a diligent and responsive team that provides excellent work outcomes.
You can view their recently completed projects to decide whether they are the right electrician for you. By the way, they can also work with architects, interior designers, and other contractors, say, if you're building a house.
Licensed, insured, and bonded electricians
Accepts 24/7 electrical jobs
Coupon discounts available
Doesn't indicate if they offer a guarantee
Customer Reviews
The electrician received great feedback from its clients. Most of them complimented its friendly and prompt service and the fact that the team was available even on the weekends!
Let's hear what Jen has to say about them:
"The finished product–you can't see the harrowing route that the power took to arrive at that pump housing, but suffice to say, it took some electrical artistry to get it there. Alexis, Thank you! The work is really good and it was very nice dealing with you. You were especially communicative, which was very helpful."
Another client named Scott wrote this review:
"rocking electricians! I called them after another electrician told me my panel needs to be upgraded and quoted me thousands of dollars. When I called bk electric the lady on the phone told me they would send someone to troubleshoot the problem. The tech that came out told me my panel is big enough and I have plenty of spaces for some new breakers. My bathroom gfci's were on the same circuit as my kitchen gfcis and everything went trippin so they scheduled me for the following week to come and install a some new circuits and low and behold everything is knock on wood working. The best part of it all was I paid a couple hundred bucks instead of a couple thousands. These are honest folks.
4) G.E. Shears Electric

With a service guarantee and multiple payment options, G.E. Shears Electric is another of the best electricians in Pasadena. It covers a great range of electrical work particularly residential and commercial electricals, appliance and automation installation, generator services, and lighting.
You can contact them at any time by phone or email to pitch them your electrical repairs or project. They can work on small-to-large residential and commercial projects and stay within your budget throughout.
G.E. Shears' electricians keep up-to-date with electrical and building codes to ensure you and your family's safety at home. You can therefore trust them in carrying out your project from start to finish.
What's more, the assigned electrician will explain what's going on all the time such as about your electrical system and the parts used. Also, he will answer any questions that you may have.
Aside from that, their service rates are reasonable and will be the same as the quote that they give you. However, they don't offer any coupons or discounts online.
After the service, you can pay them by cash, check, Mastercard, Visa, American Express, Discover Network, and PayPal—more options than other electricians on this list!
G.E. Shears Electric is situated at 1075 Coronet Ave, Pasadena, California. It serves clients across Pasadena and the surrounding towns.
Accepts 24/7 electrical jobs
Multiple payment options available
Guaranteed client satisfaction
Doesn't offer industrial electrical services
No coupons or discounts
5) Pasadena Electrician Champions

SERVICES
24-hour emergency service
Electrical repair
Safety inspection
Circuit breakers
Panel upgrades
Lighting services
Installation services
Electrical wiring
ADDRESS
Pasadena, CA, USA
CONTACT
(626) 658-2103


[email protected]

WEBSITE
http://mypasadenaelectrician.com
Pasadena Electrician Champions lives up to their name because they sort out clients' electrical issues within an hour! That's right, it only takes them 1 hour to turn up outside your house from the time of your call and will assess the problem and get to work immediately.
That also implies that they also respond quickly whether it is early in the morning or late at night. None of those busy lines, bad customer service, and ensuing disappointment whatsoever.
The electricians offer a comprehensive range of services for residential and commercial electricals from house wiring to EV charging station installation. However, they don't offer industrial services with the likes of facility electrical systems and expensive machinery repair.
Furthermore, their electricians are licensed and background checked by the owner to ensure their skill, expertise, and professionalism in being a part of the team.
On their website, you can find useful electrical tips and FAQs (which have yet to be filled) but at least the section is there. Though they're not a lot, they may still help you maintain or take care of your electricals at home.
Now, safety is their number 1 priority in all their work so you don't have to hesitate upon choosing them. In fact, many clients can attest to this statement after having them conduct electrical repairs and installation for them.
Best of all, they claim to offer very affordable prices so you don't have to spend a fortune. And if the electrical work is large-scale, they offer financing options to help you break down the costs and repay conveniently.
Of course, as one of the best electricians in Pasadena, they promise to correct or redo the work until you are satisfied and at no extra cost. But this isn't likely to happen because they aim to do the work right the first time.
For phenomenal home or commercial electrical work, you can bet on Pasadena Electrician Champions! For over 20 years, they've built a trustworthy and great reputation among their diverse range of clients.
Licensed and screened team
Offers 24/7 emergency services
Finance options available
Guaranteed client satisfaction
Coupon discounts available
Doesn't offer industrial electrical services
Customer Reviews
Clients had varied jobs for David like oven installation and recessed lighting. They were very impressed with their efficiency and the work results afterward.
Dave, the owner, even called a week later to see how things were doing for one client. He appreciated this act of professional and caring customer service.
Let's now see Ryan's comment on Google Reviews:
"I had Brendan and his crew come to work on recessed lighting, removing and installing pendants and fans. It was a whole days worth of work. They were professional and very pleasant to work with."
Also, another client named Lee wrote this:
"Amazing service! Dave's professionalism and experience shone through, the job was done in an hour. #BestElectricianInChampions."
FAQs about the Leading Electricians in Pasadena
---
And that wraps up our top picks for electricians in Pasadena. No matter how large or small the electrical work, they can get it done neatly, efficiently, and safely.
Do you have any questions or thoughts about our list? If you have one, just drop us a line and we'll get back to you as soon as we can.
Looking for plumbers in the city as well? For this, you may want to check out the best plumbers in Pasadena for high-quality workmanship that will last for many years!