To say that electricity is important is an understatement because, in truth, it is a necessity. Buildings like homes, restaurants, offices, won't be as appealing and functional as they are now if the electric power is out. Also, without electricity, it would be hard, if not impossible, to do just about anything including cooking, cleaning, using computers, and printing materials. We could go on and on but if you have trouble with your electrical systems, there are other important matters that you need to do.
One of them is finding a good electrician to hire. With the help of such an expert, you never have to worry about your property going out of electricity. In Dubai, you'll find lots of electrical experts, however, this list only shows the best ones. It's a good thing though because you'll get nothing but excellent services when you hire one of them.
1.     EMC Electromechanical Co LLC

Best For
Commercial, Industrial, and Construction Electrical Services
Services Offered
Electrical power generation, transmission, and distribution

Cable services

Design, procurement, and implementation

Testing and commissioning services

Mechanical services

Address
Dubai Silicon Oasis, Palace Tower,

P.O.Box 118133, Dubai, UAE

Contact Information
+9714 3351683
Website
http://emc-global.com/
For complete electrical solutions, EMC Electromechanical Co LLC is indeed a company that you can depend on. Their team already completed several projects since the company's inception, and this helped them gain strong skills and experience working with local authorities, infrastructure contractors, gas organisations, developers, and lots of other clients. This also means that they have the capacity to undertake any electrical job including cable jointing and installation, electrical testing, high-voltage overhead line installation, and so much more.
2.     Dubai Repairing and Maintenance Company

Best For
General Handyman and Electrical Work
Services Offered
Emergency services

Domestic and commercial wiring

Electrical repairs, installation, and replacement

Lighting and security services

Address
Al satwa Near west zone supermarket – Dubai – United Arab Emirates
Contact Information
0581873003
Website
https://www.dubairepairs.org/
Every electrician at Dubai Repairing and Maintenance Company has the necessary skills, experience, and knowledge to take on almost any electrical task. From domestic and commercial wiring, light fitting, appliance installation to fuse board repairs, nothing is too much trouble for Dubai Repairing and Maintenance Company. When you hire them, all work is guaranteed safe and of a high standard.
3. Link Light Electrical Works (LLC)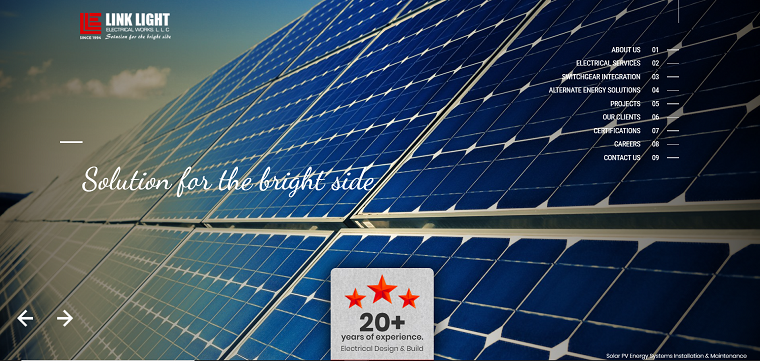 Best For
General Electrical Work
Services Offered
Industrial, residential, and commercial electrical services

Electrical design, supply, installation, and testing

Electrical fit-outs

Power upgrades

Thermal imaging and power logging

Solar PV services

Address
Al Qusais Industrial Area 4, Al Qusais

Dubai, United Arab Emirates PO Box: 86521

Contact Information
+971-4-267 5071
Website
http://www.linklightuae.com/
With a great reputation in serving the residential, commercial, and industrial sectors since 1994, Link Light Electrical Works (LLC) continues to be one of the top choices for general electrical work. They specialise in designing, supplying, installing, and testing electrical systems. In addition to this, their team is well-equipped and skilled to handle electrical fit-outs, power upgrades, thermal imaging, and more, all done in the most efficient way possible.
4.     Al Murjan Star General Trading LLC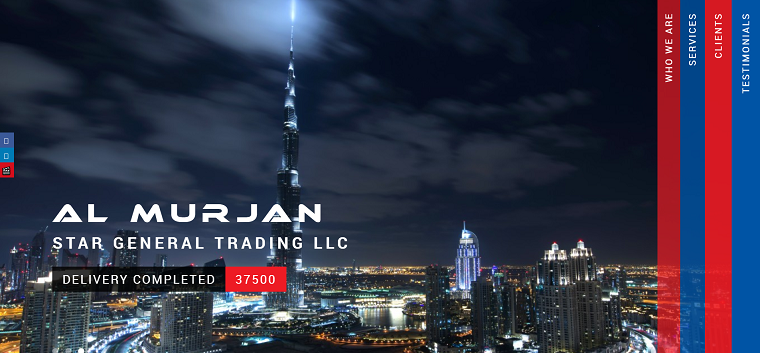 Best For
General Electrical and Plumbing Work
Services Offered
Electrical installations

Home automation

LV switchgear assembly

Commercial and residential services

Leak repairs

Address
Al Nakhal Road, P.O. Box: 60947, Dubai, UAE
Contact Information
+971 4 222 4697
Website
http://murjangroup.com/
Al Murjan Star General Trading LLC already completed hundreds of projects since its inception, gaining them many loyal clients in the commercial and residential sectors. Aside from completing every job professionally, the company also excels in providing unparalleled customer service. Also, their 100% commitment to work means you can rely on them and their swift response anytime you need quality electrical services.
5.     HomeGenie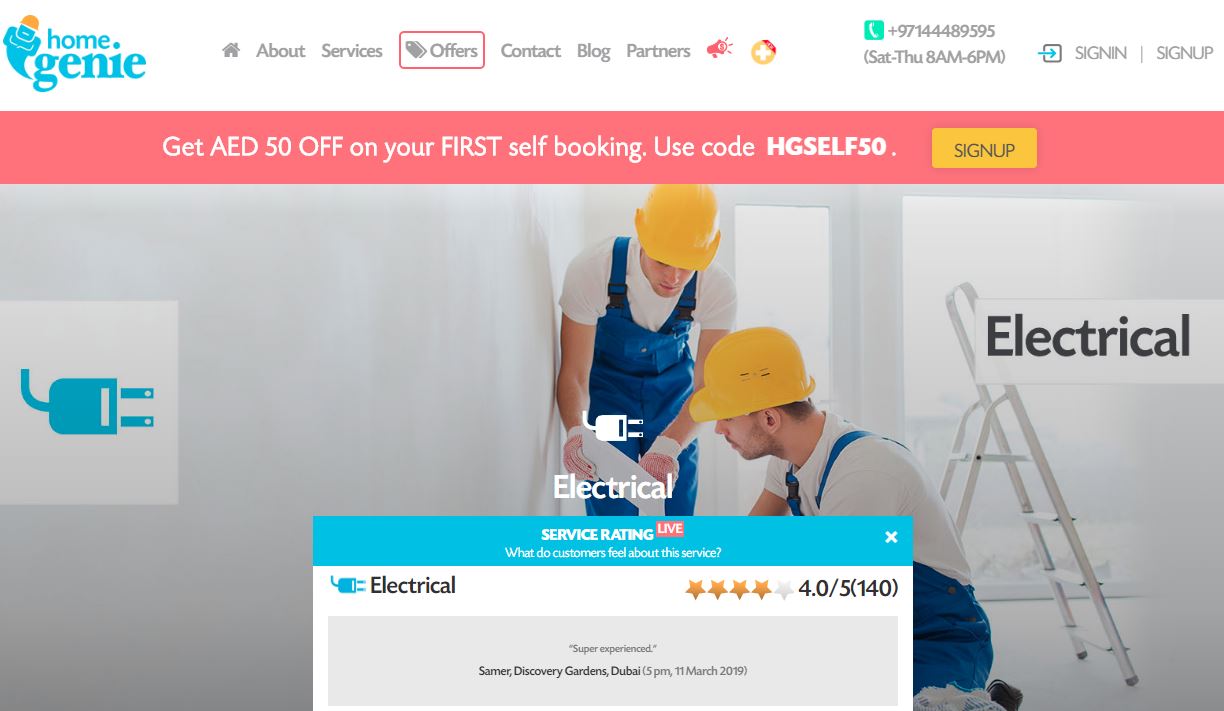 Best For
Electrical services in Dubai and UAE
Services Offered
Power outlets and switches repair
Bulbs and lamps replacement
Power tripping or no power supply
Ceiling fan installation
Water heater repair
Water pump or motors issue
Wiring installation
Light fixture installation
Other custom jobs e.g. LED installation
Address
P.O. Box 123567, Deira-Dubai, UAE
Contact Information
HomeGenie Mobile Services DMCC, Jumeirah Lakes Towers, Dubai, UAE
Website
https://www.homegenie.com/electrical-services-companies/
HomeGenie works hard to build your trusted one-stop home maintenance services partner. HomeGenie has partnered with selected companies to provide a dedicated service for any electrical service requirement. Their teams provide comprehensive inspection and full-fledged repair, installation and maintenance services. They also have a round the clock booking service and high-skilled emergency teams in place to cater to all your electrical needs.
6.     Upkeep Building Maintenance LLC

Best For
Electrical Repairs
Services Offered
Common electrical repairs

Complete and partial rewiring

Lighting services

Emergency services

Electrical installations, testing, and inspections

Electrical maintenance

Address
Office #2002 Damac Smart Heights, Tecom, Dubai
Contact Information
+971 800 7873
Website
https://www.upkeep.ae/
Upkeep Building Maintenance LLC is another company that is known for delivering top-notch home maintenance services. They offer a wide range of solutions that cover homeowners' plumbing, duct cleaning, and even electrical needs. A lot of people also choose this company for electrical tasks, particularly repairs, as their team is highly experienced with the job and can respond to emergencies. They can repair broken lights, sockets, lighting controls, transformers and more. For the complete list, go to https://www.upkeep.ae/.
7.     Sunmar Sky ElectroMechanical

Best For
General Electrical and Plumbing Work
Services Offered
Commercial electrical services

Maintenance, repair, and fixture replacement

Fit-outs

Plumbing, painting, and construction services

Electro-mechanical work

Address
P.O. Box 123567, Deira-Dubai, UAE
Contact Information
+971505833451; +971553458908
Website
http://www.sunmarsky.com
Sunmar Sky ElectroMechanical is a company that specialises in all aspects of home maintenance, including electrical work. With more than 23 years of experience serving residents in Dubai, they can expertly handle numerous electrical tasks including installations, maintenance, and repairs, just to name a few. Unlike other companies that only care about doing the job right, their team works in the cleanest way possible in addition to doing their jobs quickly and efficiently.