Desn't have the right skills and experience in conducting such activities. Never take the risk of dealing with electrical work, otherwise, you'll end up getting injured and compromising others' safety.
Licensed and professional electricians, on the other hand, won't take up too much time and effort in conducting electrical installations, repairs, and even maintenance. In fact, these 8 best electricians in Canberra handle such tasks very well, making them worth considering in case you need to hire an electrician one of these days.
1.     Sparks Fly Electrical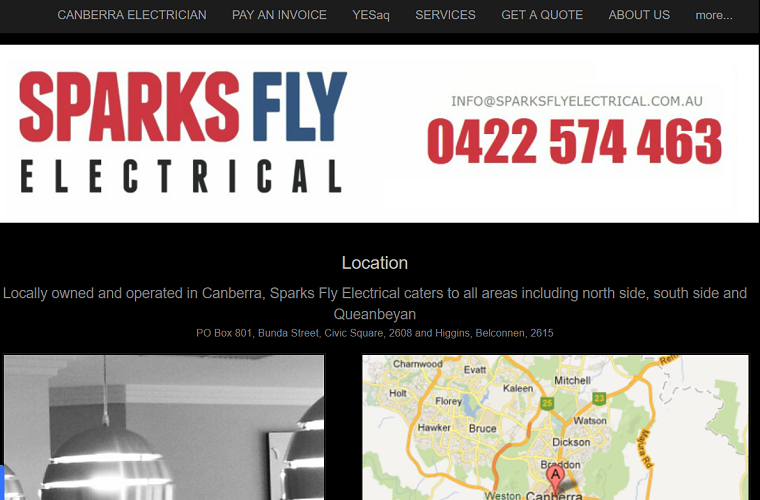 Best For
Residential and Commercial Electrical Work
Services Offered
Lighting solutions

Test and tag

Fault finding

Antennae installation

Repairs and alterations

Electrical safety inspections

Address
PO Box 801, Bunda Street, Civic Square, 2608 and Higgins, Belconnen, 2615
Contact Information
0422 574 463
Website
http://www.sparksflyelectrical.com.au/
 There isn't too small or big of a project for the team at Sparks Fly Electrical. They follow a thorough process whenever working with clients by understanding their needs first and then working according to the requirements as well as the set time and budget. The huge range of services they offer includes fan installation, electrical safety inspections, testing and tagging, plastering, fit-outs, and so much more. Get a free quote over the phone by dialing 0422 574 463 today!
2.     CFR Electrical Services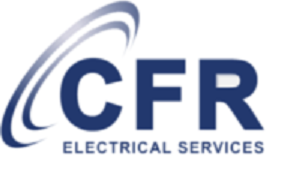 Best For
Residential and Commercial Electrical Work
Services Offered
Data services

House automation

Mechanical electrical services

Programmed electrical maintenance

Industrial electrical installations

24/7 emergency repairs

Address
2 Endeavour House, Captain Cook Crescent & Canberra Avenue Suite 118 Canberra, ACT, 2603, Australia
Contact Information
0432 035 086
Website
https://www.cfrelectrical.com.au/
 There's no need to look further for trustworthy electricians once CFR Electrical Services is by your side. Their residential and commercial electricians are properly trained, knowledgeable and passionate in accommodating all of your electrical needs. They have a good reputation in doing professional electrical installations, working on automation systems, and providing reliable data services.
3.     Mark Rawstorn Electrical

Best For
Residential and Commercial Electrical Work
Services Offered
Wiring, renovations, and additions

Security and LED lighting

Switchboard upgrades

Ceiling fan installations

Electrical maintenance and troubleshooting

Address
Canberra, Queanbeyan, Bungendore
Contact Information
0466 287 698
Website
https://markrawstornelectrical.com.au/
 Perhaps you need an electrician that's recommended by satisfied customers. If that is so, then Mark Rawstorn Electrical is the expert you're looking for. Whether it concerns electrical installation or maintenance, this electrician has built an outstanding record of positive feedback from numerous customers. Don't just take our word for it, see the testimonials for Mark Rawstorn Electrical by going to https://markrawstornelectrical.com.au/.
4.     Hamtech Electrical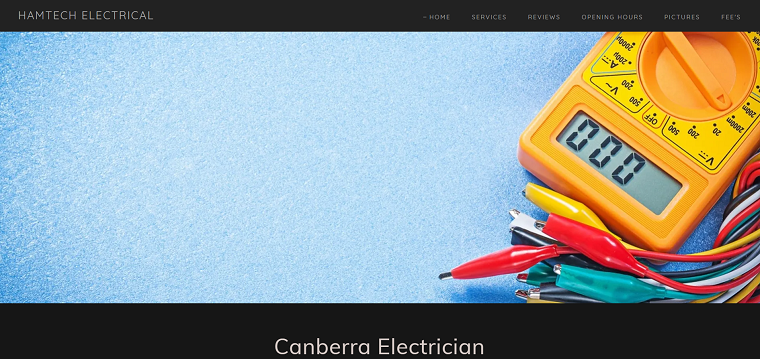 Best For
Residential and Emergency Electrical Work
Services Offered
24-hour call outs

Power point and lighting installations

Switchboard upgrades

Oven, bathroom heat light, and fan replacement

Address
Canberra, Australian Capital Territory, Australia
Contact Information
0413 326 290
Website
https://hamtechelectrical.com.au/
 Emergency electrical problems h in the least expected time and when these occur, you'd want a professional electrician who can come by at your house immediately. Fortunately for you, that's exactly what the guys at Hamtech Electrical do. They offer emergency services to all Canberra suburbs, working on all types of electrical work for homes. Need a light installed, a fan replaced, or your house re-wired, then get in touch with Hamtech Electrical today.
5.     Canberra Connections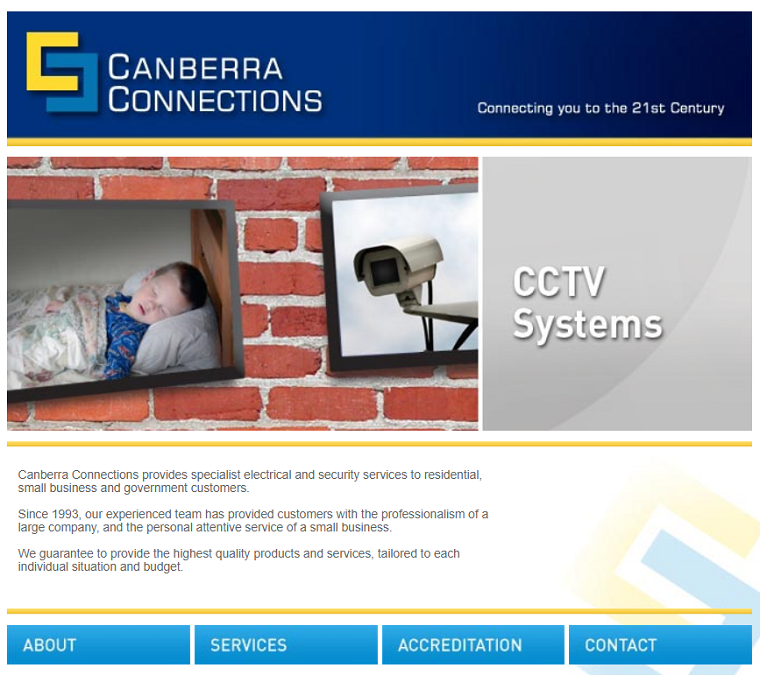 Best For
Electrical and Security
Services Offered
CCTV installations

Voice and data networks

Security lighting

Commercial fit-outs, refurbishments, and relocations

Address
Unit 4 16 Geelong St. Fyshwick
Contact Information
6228 1222
Website
http://www.canberraconnections.com.au/
Canberra Connections is one of the industry leaders in delivering efficient electrical and security solutions to government, residential, and commercial clients. They have been serving customers since 1993, specialising in data cabling, safety systems like CCTV and access control, and low voltage installations. By working with this fully licensed and accredited company, you can have peace of mind knowing that your property is safe with well-functioning electrical and security systems.
6.     Chester's Electrical Services

Best For
General Electrical Work
Services Offered
24/7 emergency service

Switchboard upgrades

Free safety check

General lighting and power

Fault findings and repairs

Address
Canberra, ACT
Contact Information
0431 440 683
Website
https://chesterselectrical.com.au/
The electricians at Chester's Electrical Services are always ready to take on projects of any size or complexity. They aren't just known for their quality workmanship but for providing a complete service to all clients as well. To satisfy each of them and ensure the safety and longevity of any electrical installation, Chester's Electrical Services uses the best materials, equipment, and techniques on every project.