If you don't have any experience or knowledge about doing electrical tasks, then you know how it can be dangerous to you and everyone in your building if you try doing these on your own. During these instances, calling a professional to assist you won't hurt anybody. In fact, it's a wise decision to make if you really want your electrical systems and fixtures to be in great working order.
Finding the right electrician to hire shouldn't be hard for you. Because in this post, we already listed the best electricians in Auckland. Now, you just have to learn about their main services, get familiar with their team, and figure out the right one for your current project or situation. All the best!
1. Grammar Electrical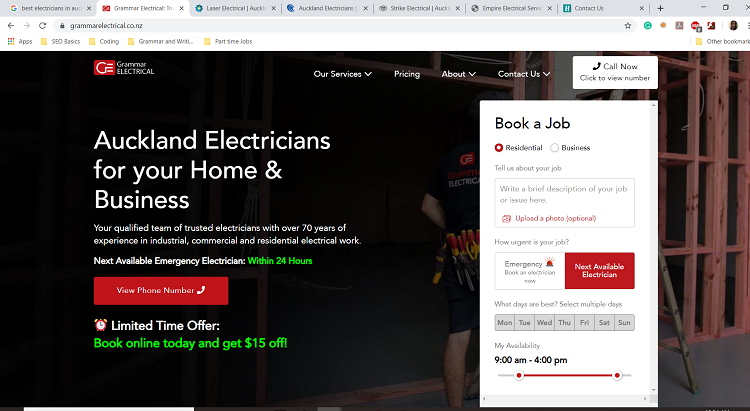 | | |
| --- | --- |
| Best For | Residential and Commercial Electrical Work |
| Services Offered | 24/7 emergency services Commercial, industrial, and residential electrical services Maintenance and servicing |
| Address | 14d Haultain Street, Mount Eden, Auckland 1024 |
| Contact Information | 0508 443 247 |
| Website | https://grammarelectrical.co.nz/ |
The qualified team of electricians at Grammar Electrical is proud to have over 70 years of combined experience in conducting an extensive range of electrical work. They are capable of working with residential, commercial, and industrial clients, taking care of all their electrical needs including installations, repairs, and preventative maintenance. Registered as master electricians, their staff can certainly provide services that exceed your expectations.
2. Northern Lights Lighting & Electrical Ltd
| | |
| --- | --- |
| Best For | General Electrical Work |
| Services Offered | Residential, commercial, and industrial electrical work Test and tag Security alarm installation House rewiring Underfloor heating, LED lighting, and home theater |
| Address | 194 Arthur St, Onehunga, Auckland 1061, New Zealand |
| Contact Information | 0800 1SPARK |
| Website | https://northernlights.co.nz/ |
Looking for a team of dependable, honest, and fully qualified electricians? That's exactly what you'll find at Northern Lights Lighting & Electrical Ltd. You can rely on them when it comes to installation of security alarms, house rewiring, testing and tagging of electrical equipment, and any other task involved in domestic and commercial electrical projects. If you want to learn about how they work, check out what their past customers have to say at https://northernlights.co.nz/.
3. Strike Electrical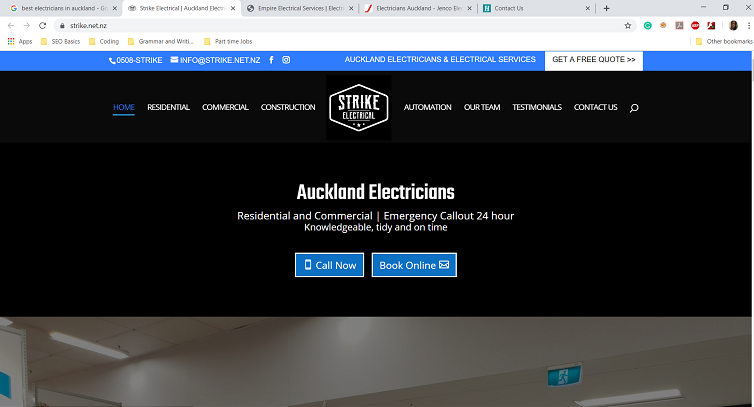 | | |
| --- | --- |
| Best For | General Electrical Work |
| Services Offered | Residential and commercial electrical services 24/7 emergency services Electrical services for construction work Automation services |
| Address | 811 New North Rd, Mount Albert, Auckland 1025, New Zealand |
| Contact Information | +64 508 787 453 |
| Website | https://strike.net.nz/ |
Strike Electrical is knowledgeable, on time, and tidy when it comes to every electrical project or task they handle. For both commercial and residential clients, they can offer 24/7 emergency repairs, data cabling and wiring, electrical installations, and maintenance work. They are also equipped with the best tools to provide construction electrical solutions such as temporary site lighting, overhead line protection, and power supplies.
4. Empire Electrical Services Ltd
| | |
| --- | --- |
| Best For | General Electrical Work |
| Services Offered | Electrical installations and repairs Rewires Temporary lighting and power distribution Commercial electrical work Electrical services for events and exhibitions |
| Address | 479 Great South Road Penrose, Auckland |
| Contact Information | (09) 526 1977 |
| Website | http://www.empireelectrical.co.nz/ |
Empire Electrical Services Ltd is staffed with licensed master electricians who are well-versed in various electrical work. Aside from doing general electrical work such as rewiring, installation, and repairs, they can also provide electrical services for events and exhibitions. They can assist you with production and event lighting, switchboard hire, and power distribution. Because of their familiarity with different electrical equipment, they can also provide you with the right solutions and help you install and maintain them properly.
5. Level Up Electrical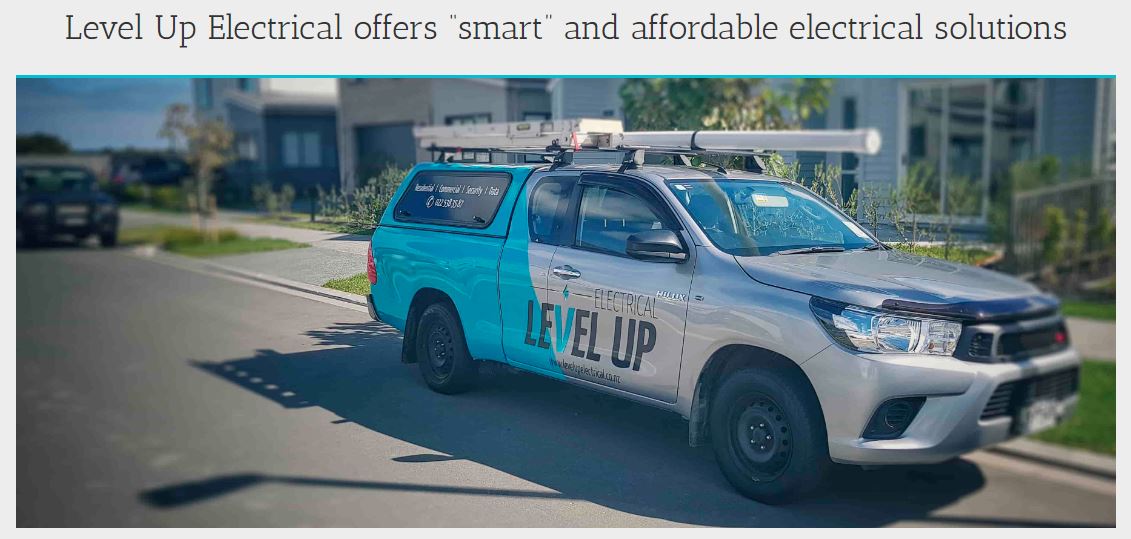 Best For
Commercial and Residential Electrical Work
Services Offered

Residential Electrical Services
Commercial Electrical Services
Renovations and New Builds
House Rewiring
Data & TV
Alarms
Security/ CCTV
Home Ventilation
LED Lighting Upgrade
Full Electrical Designs

Address
28 Karaka Road, Whenuapai, Auckland
Contact Information

Phone: 022 538 3587
Mobile: 022 538 3587
Email: [email protected]

Website
https://www.levelupelectrical.co.nz/
Providing you with peace of mind is a Qualified and Registered Electrician behind Level Up Electrical. Here's one of their service review from a customer named Ann Marie: "Very quick and easy repair by a pleasant and helpful tradesman. Was onsite within minutes of initial phone call and repair was complete in half an hour. Would highly recommend this tradesmen to others in our area. Thanks Joe."
6. Shore Spark Electrical

Best For
Domestic and commercial wiring
Services Offered
General electrical services
Address
Clifford Halliday
Hillcrest, Auckland 0627
Contact Information
021 325 497
https://www.facebook.com/ShoreSpark
Website
http://www.shorespark.co.nz/
Shore Spark Electrical employes a qualified team that specialises in a full range of services such as electrical work, new builds, renovations or repairs that will be performed with high integrity, workmanship and leave your job looking clean and tidy. As a North shore-based company, they also cover the wider Auckland regions.
7. Hines Electrical & Security
| | |
| --- | --- |
| Best For | General Electrical Services |
| Services Offered | Big and small electrical jobs New homes, extensions, and rewires General electrical repairs Shop fit-outs Alarms and monitoring Heat pumps and ventilation services |
| Address | PO Box 44398, Auckland, New Zealand 1246 |
| Contact Information | +64 800 287 452 |
| Website | https://www.hines.co.nz/ |
Regardless if you need a new alarm system, a heat pump upgrade, or stove repair, Hines Electrical & Security is an expert you can depend on. With the full range of electrical services, they offer, they won't surely have troubles addressing every electrical need there is. What's more, they always guarantee to arrive on time and leave no mess behind. Otherwise, you won't pay for the first hour of their work! Want to learn more about the company? Check out their website at https://www.hines.co.nz/.
8. Jenco Electrical

| | |
| --- | --- |
| Best For | Commercial and Residential Electrical Work |
| Services Offered | Residential building and renovations Electrical maintenance Lighting work EcoSmart electrical health check Commercial fit-outs Test and tag |
| Address | c6/8 Henry Rose Pl, Albany, Auckland 0632, New Zealand |
| Contact Information | 0800 4 Jenco (0800 453 626); 09-414 5263 |
| Website | https://www.jenco-electrical.co.nz/ |
Jenco Electrical is an electrical contractor that is equipped, experienced, and efficient in all residential and commercial projects. They can do anything from full or partial rewires, kitchen renovations, switchboard installations, to LED lighting designs. They also have an EcoSmart Electricians Health Check which you'll find useful if you're looking for electricity solutions that are energy-saving.
9. Mark Swords Electrical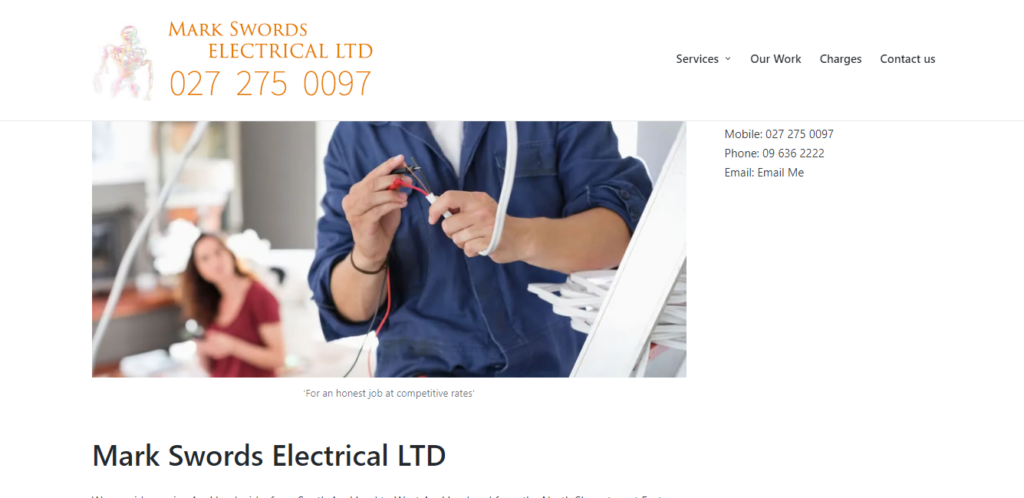 Best For
Electrical Services
Services Offered
Domestic Electrical Work, Commercial Electrical Work, Industrial Electrical Work, Data Comms
Address
Auckland
Contact Information
Mobile: 027 275 0097
Phone: 09 636 2222
Website
https://www.mseltd.co.nz/
Mark Swords Electrical is a company that offers superb electrician services and electrical support to areas within Auckland. All of their electricians are adequately trained and licensed to deliver reliable services for you.
They are also licensed by SafeSite and offer a wide range of electrical services which you could avail of according to your needs or let their experts guide you through the whole process. They also offer free quotation and consultation so you don't have to worry about committing should you find any of their features of concern to you.
The company is also driven to provide you with high-quality customer service which you can rely on at all times before, during, and after the job is done. Furthermore, they are willing to accommodate any concerns should you have any queries regarding their services and the like.
We recommend this company for your electrician needs due to their friendly and courteous attitude toward customers and the affordable rate of their services that come with it.
10. Allwest Electrical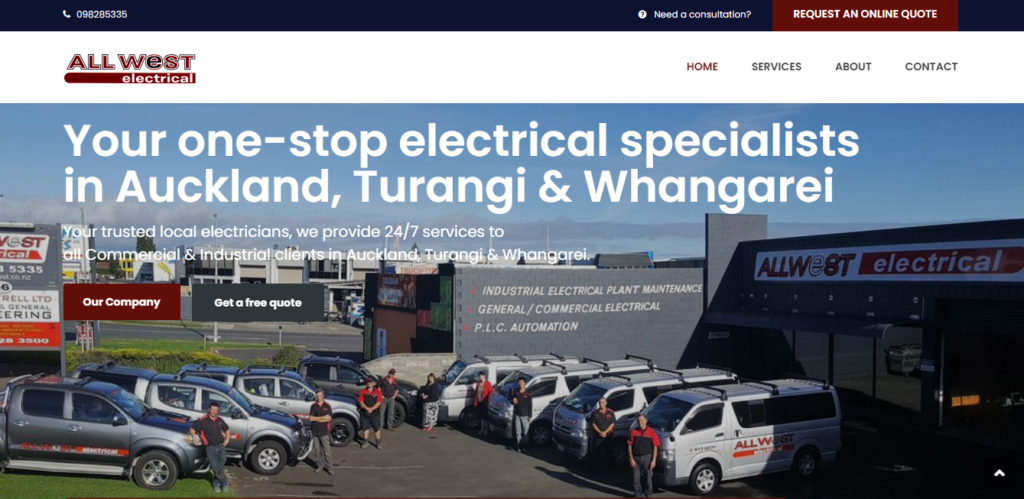 Best For
Electrical Services
Services Offered
Machine Guarding and Safety, Installation, Automation, Maintenance, Concrete Plants
Address
356 Rosebank Road, Avondale, Auckland
Contact Information
P: 09 828 5335
M: 027 684 9098
Website
https://allwest.co.nz/
Allwest Electrical is a company the offers high-quality electrician services and is composed of a team of qualified electricians to do any job in their scope for you. They bring their over 25 years of experience in the field in every job that they handle and including yours should you consider availing of their services as well.
They are currently servicing Auckland, Turangi, and Whangarei but should you be in another part of New Zealand, they might be able to do the job as they regularly travel throughout the rest of the country so make sure to contact them. Each of their employed electricians is adequately trained and possesses a vast range of skills so rest assured that your job is in expert and reliable hands.
The company understands and considers just how essential electrical services are to you and so they also have a dedicated breakdown phone line that provides service 24/7. Furthermore, they also offer a full manufacturer's warranty on all their products to ensure your satisfaction as a customer.
We recommend this company for your electrician service needs due to their outstanding, professional, and highly accommodating experts and prompt customer service that will get the job done in the nick of time.
11. Simpson Electrical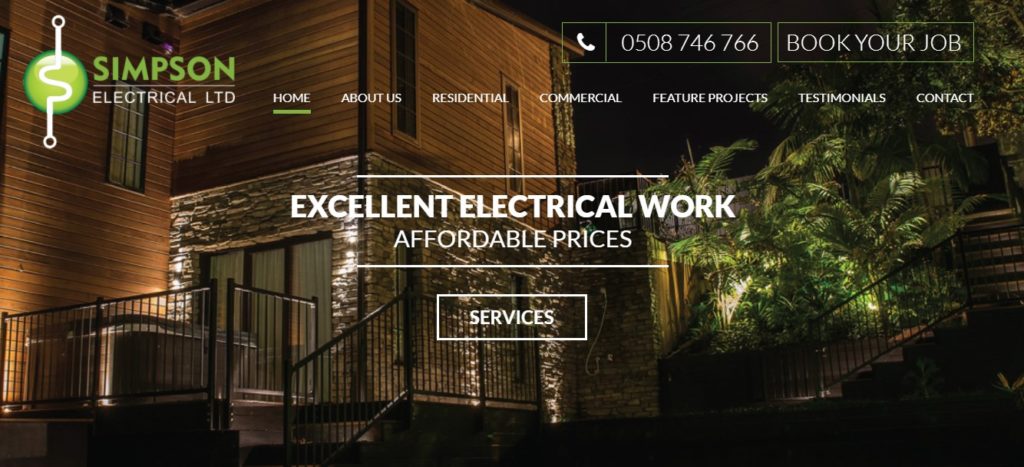 It is now the time to consider Simpson Electrical as your go-to company for electrical services. What makes them unique is how they make sure that you will receive the best service you have ever had.
In addition to this, we like that they always come up with inventive solutions that can turn your dream into a reality.
With their extensive 17 years of experience in the industry, from small one-off residential jobs to light commercial jobs start to finish, to the planning, design, and completion of all electrical work in your new home build, they are sure to come up with a plan that suits your needs and wants.
If you want an upgrade on the lighting at your home or rental property, they can help you regardless of where you live in Auckland.