Ordering flagstones typically costs $600 to $2,200 per pallet.
It's important to note that the final price can vary depending on the type, thickness, and density of the flagstone you've chosen.
Anyhow, continue reading to explore flagstone prices more and the factors that can affect them.
A Summary of Flagstone Cost
Do you want to use flagstone to pave your home's entranceway, garden path, pool, or patio? It's an incredibly beautiful material with a full spectrum of complementary colors and textures.
Compared to most kinds of paving stones, flagstones are affordable costing around $2 to $6 per square foot. But some are on the pricier side of $10 to $15 per square foot.
In addition to that, you have to get a flagstone pro to design and install it at your house. Usually, their services will cost you an additional $15 to $22 per square foot.
If you plan of buying flagstones by the pallet, know that a pallet of flagstone can cover an area of roughly 210 to 560 square feet.
Factors That Affect Flagstone Prices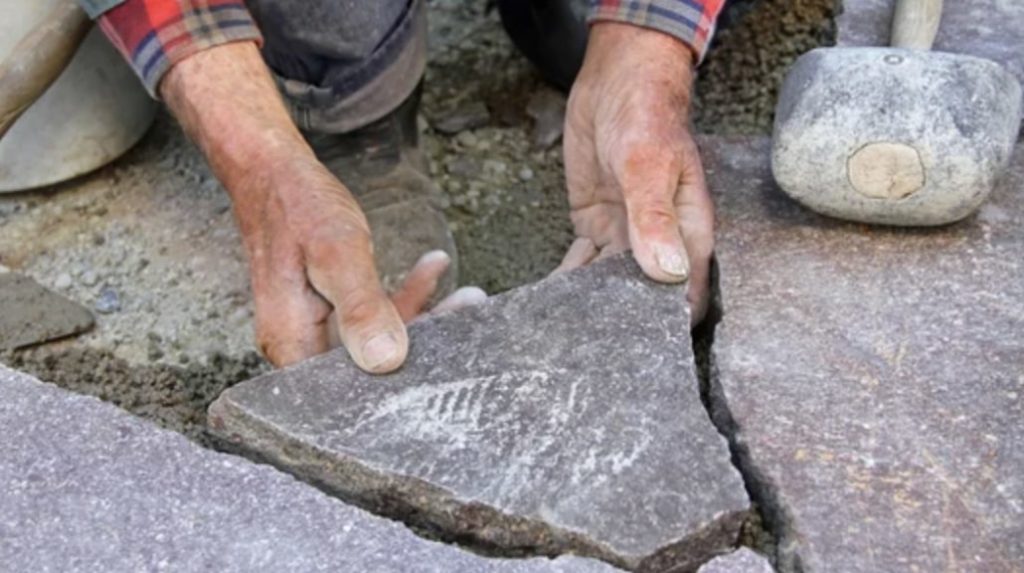 There are several factors that can dictate the overall price of laying flagstones. These are
Flagstone Weight – This pertains to the total weight of the flagstones—usually measured per ton—that are needed for the project.
Flagstone Type – This refers to the kind of flagstone you have chosen to be installed on your walkway or driveway.
There are more than 10 you can pick from including Colorado Red, Quartzite, and Crab Orchard Stone flagstones.
Shipping Distance – The farther your home is from the flagstone company, the higher the delivery fee you will pay.
Job Difficulty – Your contractor will raise the price if the job is large-scale and complex to do. This is in relation to fulfilling your requested aesthetics and flagstone weight, among other things.

Site Accessibility – If your house where the flagging needs to be done doesn't let them in as easily, you'll have to spend higher.
Some examples of this are the need to manually carry flagstones to your backyard or being unable to fit large equipment or vehicle on site.
Extra Flagstone Order – Sometimes, contractors must order 25% more flagstones than is needed to ensure the quality and timely completion of the job. This would also raise your flagstone price.
Flagstone Prices
Flagstones can be bought or ordered in different ways from a supplier. It can be by area size, by ton, and by pallet.
Let's zero in on each one of them here:
Flagstone by Area Size
The simplest way to gauge how many flagstones are needed is to mention the size of the area to be paved by your contractor.
This should cut out the possibility of having excess material, which will have you spending more.
As we've mentioned earlier, flagstones generally cost from $2 to $6 per square foot. But if you have picked a rarer and thicker flagstone material, you're bound to pay higher around $10 to $15 per square foot.
Flagstone Price by Ton
Flagstones cost between $200 and $550 per ton. For a mid-quality flagstone, expect to spend in the middle of that at roughly $375 per ton.
Bear in mind that each ton of flagstone can occupy an area of 140 feet. In contrast, choosing the denser and thicker types can often only cover a smaller area of 70 feet.
As such, you have to take account of these things and discuss it with your flagstone contractor to prevent surprises or conflicts later on.
Flagstone Price by Pallet
Sometimes, you can be charged for flagstones by pallet if you buy them from a local or international business.
In case you do, flagstone prices will depend on three factors: the stone's weight and the pallet's thickness and size.
Most of the time, homeowners spend between $600 and $2,200 per pallet for the stones. Besides that, they have to deal with the pallet expenses, which often cost $0.20 to $0.55 per pound.
Usually, a single pallet weighs between 3 to 4 tons. 
Flagstone Prices by Type
Aside from that, flagstone prices differ greatly by price depending on their type and region availability. As mentioned earlier, flagstones cost approximately $200 to $550 per ton, exclusive of labor.
Before we discuss the various popular types of flagstones, what they are, and how much they cost, kindly have a look at our summary table for each type below:
| Flagstone Type | Typical Cost |
| --- | --- |
| Arizona Flagstone | $200 to $450 per ton |
| Bluestone Flagstone | $375 to $450 per ton |
| Colorado Red Flagstone | $200 to $400 per ton |
| Crab Orchard Stone Flagstone | $350 to $450 per ton |
| Flagstone Rock | $400 to $500 per ton |
| Natural Flagstone | $200 to $550 per ton |
| Quartzite Flagstone | $400 to $450 per ton |
The Arizona flagstone is one of the most common flagstone types. It's available in different attractive colors.
As its name suggests, it comes from the Southwestern US. It's widely used by people for their pools or patios due to its great heat-resistant properties.
Also, it stays within the low side of the flagstone price range, costing from just $200 to $450 per ton.
More expensive than Arizona flagstones, it's prized for its non-slip feature and excellent unique colors, making it ideal near swimming pools or backyard gardens.
It comes from New York and Pennsylvania, and its mild colors include blue, blue-gray, orange, purple, yellow, gray, and brown.
Note that these stones may need to be sealed if it comes in contact with saltwater. And as for its price, it costs $375 to $450 per ton.
Aptly named for its bold, hot hues, Colorado Red flagstones come in light to red-pink that can make your home more appealing.
They have excellent weather resistance, whether they be set under the scorching summer heat or cold icy winter. So if your location has a climate, Colorado Red is great to have because it can last long.
And nicely, it's also more affordable in relation to other flagstone types at $200 to $400 per ton.
Crab Orchard Stone Flagstone
The Crab Orchard Stone flagstone is sourced from the friendly state of Tennessee. It's priced from $350 to $450 per ton.
One of the things people like about this flagstone is its fabulous colors ranging from pink to orange-brown. Moreover, it doesn't crack under pressure or shift positions under extreme weather.
Thus, you can have Crab Orchard Stone flagstones installed on your patio, walkway, or driveway.
If you're on the lookout for a thicker and denser type of flagstone, you could go for Flagstone Rock. You can easily find suppliers with these stones that are up to several inches thick.
Additionally, it is well-suited to flag retaining walls and garden paths due to its attractive style and hardiness. However, it's going to cost more, from $400 to $500 per ton.
Quartzite is a fantastic and super-durable flagstone, being a composite of sandstone and quartz. Therefore it's suitable for outdoor areas or paths that receive a lot of foot traffic.
It's dug from the quarries in Oklahoma, Northern Utah, and Idaho. One of the most exciting things about it is its range of colors like yellow, blue, white, beige, gray, purple, orange, and brown.
This sandstone flagstone is more expensive costing from $400 to $450 per ton. Nevertheless, this material can be a great paving investment.
How much does it cost to install flagstones?
Installing flagstones at your house should add $15 to $22 per square foot to your total bill. This price already includes labor and material costs.
Labor makes up $13 to $16 per square foot of the installation cost, while materials make up $2 to $6 per square foot.
You may have noticed that the labor per square foot costs more than the flagstones themselves. The reason for this is these stones are quite heavy at 12 to 20 pounds per square foot, and so installing them all would take some work and time.
Now, look below to get an idea of your paving area's size and the corresponding typical rates for them:
| Paving Area's Size | Typical Cost |
| --- | --- |
| 50 - 400 square foot | $750 - $8,400 |
| 125 - 250 square foot | $1,900 - $5,500 |
| 300 - 500 square foot | $4,500 - $11,000 |
| 300 - 600 square foot | $4,500 - $13,200 |
| 600 - 900 square foot | $9,000 - $19,800 |
FAQs about Flagstones
What is a flagstone?
Flagstone is a type of natural rock used for walkways, pathways, driveways, patios, and pool decks.
Like other paving, it's available in a huge range of colors and textures. You can therefore choose one that will enhance your outdoor landscaping or design.
Besides that, flagstones are easily broken into sheets of roughly 1 to 4 inches, thereby making them easily fit into any surface shape.
Also, some types have great weather and slip resistance, some can last longer, and some have unique colors that are rare to come by.
Is flagstone more expensive than paving stones?
Being natural, flagstones cost higher than paving stones. Both labor and material expenses are far more expensive for the former than for the latter.
To compare them, you will typically have to pay a cost of $15 to $22 per square foot for flagstone installation, including labor and materials. Meanwhile, pavers cost $8.69 to $22.18 per square foot.
Having said that, flagstones may be pricier, but you'll get the benefit of a stylish and long-lasting pathway, patio, poolside, or driveway. 
And so it will add a significant value to your house, translating to a higher price should you plan to sell it in the future.
Is there a substitute for flagstones?
There are a lot of alternatives for flagstones. Most of which are even more affordable.
Here are just some of your cheaper options:
Treo stone pavers that mimic flagstone textures and colors in tightly arranged formations,
Stamped concrete for its unique tone and good-looking patterns
Stone veneer which uses flagstone on top of a cheaper material
Brick for a vintage and warm look
But, of course, the real deal is better. Not only are flagstones very beautiful, natural, and hardy, but they're also easy to cut in different sizes and densities to fit your walkway or patio.
Where is the best place to buy flagstones?
Flagstones are best purchased from a local store since they mostly have an enormous selection for you to sample and choose from.
They also likely stock the best flagstones that suit your location and its climate. Also, you'll save a lot on shipping costs if you order from another state or country.
For flagstones, you'll get the most bang for your buck with a regional wholesaler or your preferred contractor where you can get a discount.
How should I clean a patio with flagstones?
It's not very hard to clean flagstones at your house. All you have to do are the following:
Sweep the flagstones regularly
Pull the weeds out
Use an oil absorber for greasy spills
Seal it with a matte finish every three to four years
Plus, for natural cleaning, you can use white vinegar. That's because white vinegar is highly acidic and can powerfully break down dirt and dust.
For this, pour white vinegar on the flagstone on your patio, let it sit for a couple of minutes, rinse it clean, and scrub out its dirt, dust, and soap scum buildup.
Is there a need to seal my flagstones?
Sealing is a prerequisite for making your flagstone appealing and durable through the years. Doing so every 3 to 4 years protects them from stains, marks, and damages.
Aside from that, it also helps you maintain the stylish texture of your flagstones. After all, this is the main highlight of a flagstone, something that makes you proud to have it at home.
Remember, though, that you should choose a matte sealant over a glossy sealant, as the second can make the flagstones slippery.
More Builder Resources
Here are other lists with paving contractors that can help you order and install your flagstones: