In America, extending one's garage, from a one-car to a two-car space, typically costs $6,400 to $11,200.
But the costs will vary depending on the size you want to upgrade to, mainly with $40 to $70 per square foot being the norm. Apart from that, there are a host of other factors that affect the total expense like obtaining permits, demolition, painting, and labor.
So, let's now delve deeper into the cost of installing a garage extension. Having an estimate of what to spend will help you make the best decision in terms of your garage build goal and budget.
Cost Factors of a Garage Extension Build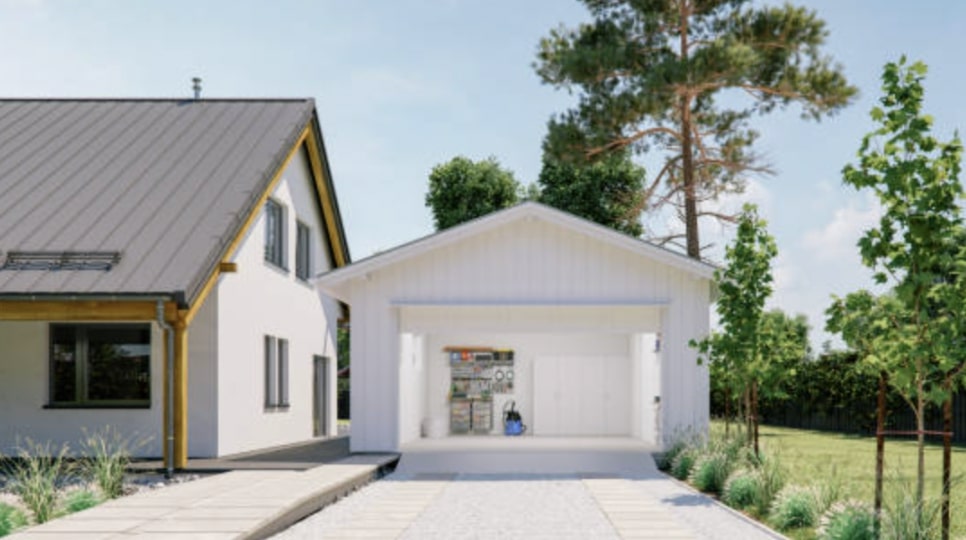 Like building a house, garage extension involves different phases—preparing, building, and finishing.
Each of these phases warrants a different set of expenses. We will list them down below.
Preparation
While a person can simply let garage professionals handle everything from start to finish, it might be wise to hire and work with a building or structural engineer.
Their task is to suggest viable and suitable budget options, review your intended design, and make an accurate blueprint.
The cost of hiring a structural engineer goes from $200 to $1,500 or about 1% to 20 % of your total project budget.
A permit is one of the documents that's required before you build, renovate, or extend a garage.
It can differ widely in costs based on the client's home state and city. You can expect to spend between $200 and $1,500.
To achieve your envisioned garage design, demolishing a whole or part of your existing garage may need to be done.
Usually, homeowners extend their garage horizontally, and thus, exterior or interior walls will have to be knocked down. For removing a load-bearing exterior wall, expect to pay higher, from $1,200 to $3,000.
Building
A garage specialist will oversee the whole extension project for you, including even the hiring of subcontractors like plumbers, electricians, and foundation repair pros.
Either you can hire a general contractor or specific tradespersons individually. With the latter, you could reduce your cost drastically; however, all the management work rests on you.
Your new extended garage will need a solid foundation to settle on. That's why foundation experts are needed for this job.
Installing a new foundation for your garage costs $4 to $25 on average. But the price can differ according to the support method you have chosen.
As you know, every kind of build starts with frames or walls and beams for structural support and layout design.
A framing contractor is therefore needed to extend your garage. Often, they charge clients $4 to $8 per square foot.
For your new garage, you need to set up lighting and electrical outlets. Hiring a licensed and skilled electrician will cost $50 to $100 per hour.
Water supply, drainage, and bathroom are most likely needed for your new garage. Plumbing services cost $45 to $200 per hour.
As you'll need to install a new roof on top of the garage structure, roofers are should be hired too. Generally, you can expect to spend $1,000 to $3,000 for the work.
The costs will vary on whether they just need to add a new roof or remove the old one.
A crucial part of the garage, the garage door has to be chosen right based on the client's needs and preferences. There are loads of garage door brands and kinds out there, which can make it hard to decide.
Fortunately, you can ask an unbiased garage door supplier for some suggestions on great and economical garage doors. Anyhow, installing a new garage door can cost you $750 to $3,000.
Once the essential outside structures are in place, you need to focus on the style and decor of your garage.
Working with painters and interior decorators is optional. But if you want a specific look, it will roughly cost around $1 to $6 per square foot for the former and $50 to $500 for the latter.
Find a garage door specialist in your area