Water damage can happen suddenly and cause great damage to a house. It can affect the furniture, carpets, timber supports, underfloor, and in worse cases, the foundation itself.
If this happens, then you'd have to quickly call the top water damage restoration in Melbourne specialists to protect your house and family by preventing further damage and fungus growth.
Now, before we start, we'll look into the average cost of restoring a flood-damaged house. This will give you an idea about how much you have to spend on hiring one of these companies.
The Average Cost of Water Damage Restoration in Melbourne
It's hard to give an estimate for a home with water damage since each situation is individual and a lot of factors contribute to the overall price.
On average, though, water damage restoration companies charge $220 during business hours and $360 for emergency call-outs. Note that both services include professional advice, an hour of extraction, and the use of effective machines to dry the wet areas in your house.
To get an accurate price, the tradesman will need to assess the extent of the damage, water contamination (clear, grey, or black/sewage water), water damage class (whether the damage is caused by a small or large amount of water), damaged areas, and also monitoring conditions.
Besides that, other factors that will be reflected in your bill include the following:
Carpet water extraction – This refers to the process of drawing out the water from badly flooded carpets and underlays using a powerful vacuum machine.
Labour – This is the amount of work needed to be done by the specialist. The larger the scope or areas to dry or restore, the higher you'll be paying them.
Equipment hire – The transporting and using of relevant equipment is included in your bill. Among them are air movers, dehumidifiers, HEPA filtration units, hydroxyl machines, and heat-drying apparatus.
Specialty drying setups – These are special equipment used to control the heat and air supply in a section of the house. Venting systems and containment chambers are some examples.
Carpet cleaning and repair – This is to render your carpets free of soil, human and pet dander, odour, mould, mildew, and bacteria by steam cleaning them.
Also, if the carpet has been damaged by a flood or burst pipe, the crew may be able to repair it so that it will look new again. But, as you can expect, the total cost will also go up with this.
Likewise, the disposing of irreparable carpets, their smooth edges, and underlays will mean a higher service bill.
Anti-microbial and anti-browning treatments – These are special treatments used to eliminate harmful bacteria and brown stains in a property flooded by contaminated water.
The Best Options for Water Damage Restoration in Melbourne
Now that we're done with the price section, let's move on to our best options for water damage restoration in Melbourne!
1) Flood Response

SERVICES
Flood water damage restoration
Carpet cleaning & drying
ADDRESS
202 Langridge St, Abbotsford VIC 3067, Australia
CONTACT DETAILS
1300 819 396
WEBSITE
https://www.floodresponse.com.au/
Flood Response is an IICRC-certified water damage specialist. Its crew can clean, dry, restore, and sanitise all aspects of the affected interior, including carpets, flooring, and upholstery.
As the name probably implies, they offer a 24/7 service regardless of when the flood occurs. Whether it be in the afternoon, at midnight, or on a public holiday, they can quickly assist you.
They are armed with state-of-the-art, heavy-duty machines to bring your house or workplace back to the way it was—safe, cosy, and free of mould, mildew, and allergens.
According to clients, the cleaners were timely, efficient, and considerate throughout the process They also noted that they were attentive to details and carried out the tough job to a high standard.
Here is their full list of services: water extraction, structural drying and thermal imaging, carpet and upholstery cleaning and repair, odour control and sanitisation, sewage remediation, and fire restoration.
A house that's been flooded should have one or several of the aforementioned problems. And what's excellent about this company is that they can handle them all, unlike other competitors.
As for their downsides, there's no mention of a satisfaction guarantee online and they don't have any special deals or promos to cut down your expenses.
Having over 30 years of experience, Flood Response services Melbourne CBD, Carlton, Docklands, Richmond, South Yarra, Toorak, and other nearby suburbs.
To get your flood problem sorted out, you can give them a ring through their hotline or fill in their form online, whichever is more convenient for you.
IICRC-certified specialists
30+ years of experience
Complete flood restoration services
24/7 availability
No satisfaction guarantee
No special deals or promos
Customer Reviews
Professional, prompt, and caring team
"Walter and his team were very professional, quick and on time as required during a difficult time where multiple apartments were affected by a flood in the building. They showed compassion and were able to address all my questions in a timely manner. Would highly recommend this Flood Response team" -Ramsey Samad
Incredible work and super-nice technicians
"I really can't talk highly enough of these guys, in a tough situation for tenants Walter and his team reassure you that things will be resolved effectively, efficiently and they communicate extremely well and assure you along the whole way. Not only did the guys do a incredible job and worked extremely hard they are the nicest bunch of people you can meet. If you want the job done effectively don't go past these guys, awesome job guys." -Paul Kotinis
2) Capital Facility Services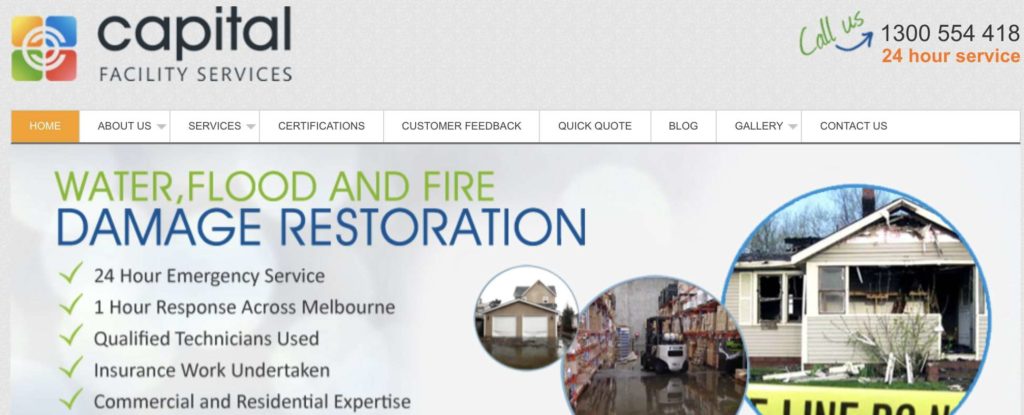 SERVICES
Flood damage restoration
Fire damage restoration
Mould removal and cleaning
Sewage cleaning
Commercial cleaning
Building maintenance
Grounds maintenance
ADDRESS
72 Raglan St, Preston VIC 3072, Australia
CONTACT DETAILS
1300 554 418
WEBSITE
https://www.capitalfacilityservices.com.au/
It's extremely frustrating to have one's house flooded, and due to this, you'll need a competent, helpful, and on-time staff. In this regard, Capital Facility Services has you covered!
We picked them as one of the top professionals for water damage restoration in Melbourne for the following reasons:
First, the company is regularly audited and certified in relation to the quality, environmental system, and occupational health and safety standards. These prove that the company itself and its cleaners are reputable, safe, and highly qualified.
They not only offer flood damage restoration services 24/7 but also assist with fire damage restoration, carpentry, office cleaning, and building maintenance services. Hence, you won't have to call a different company to handle related works and spend more as a result.
Are your house and contents insured? They can also liaise with your insurance company and carry out the necessary repair and restoration work without giving you more hassle than you already have.
While some had issues with their customer service and pricing, most clients praised the team for being very easy to work with and providing fantastic workmanship.
Their certified specialists aim to arrive within one hour of your call in and around Melbourne. This is a lot better as opposed to other companies that arrive in two to three hours or more.
And lastly, Capital Facility Services accepts Visa, Mastercard, and EFTPOS payments, making it convenient to pay them following the service.
1-hour response time
Qualified technicians
Takes on insurance works
24/7 availability
Accepts Visa, Mastercard, and EFTPOS
Doesn't take PayPal
Complaints about price and customer service
Customer Reviews
Worked tirelessly without complaint
"I had two feet of flood water in my home, and once we had pumped out the water, the mess was devastating. The team fomr Capital came in and diligently worked through to restoring the area to its original condition. They worked tirelessly, without complaint, and completed a superb job. I highly recommend them for their efficieny, work ethic, and timely response to my issue." -Danielle Cameron
Gave excellent work, guidance, and a stress-free process
"When I receive good service I like to let other people know. Shout out to Jerry and Huss. We had a water leak and Capital facility services provided a damage assessment report and helped us with our insurance company to fix the problem. Thanks for your great work, guidance and making the process easy." -Angela Giokas
3) Jena's Carpet Cleaning
SERVICES
Carpet cleaning
Wet carpet restoration
Water damage restoration
Flood damage restoration
Carpet repairs
Timber floor drying
Upholstery cleaning
Tile & grout cleaning
Rug cleaning
Mould removal
Sewage cleaning
Fire smoke restoration
Mattress cleaning
Structure drying
Odour control
Anti-bacterial treatment
ADDRESS
31 Spring St, Melbourne VIC 3000, Australia
CONTACT DETAILS
Phone: 1300 887 131
Emergency hotline: 0424 349 003


[email protected]

WEBSITE
https://jenascarpetcleaning.com.au/
While Jena's Carpet Cleaning specialises in carpet cleaning and repair jobs, they also perform water and flood restoration services, including mildew and mould removal, timber floor drying, and anti-bacterial treatment.
With a lot of industry certifications and team experience, they are a leading company for water damage restoration in Melbourne. They are accredited by IICRC, RIA, and SCRIA whom you can depend on to do the work efficiently and professionally.
This statement is supported by the before-and-after service photos on their website, showing their outstanding results and work ethic. In addition, they consistently receive high review scores from satisfied clients on Google.
Moreover, they give a satisfaction guarantee where if the work results fail your expectations, they can correct them as soon as possible.
Available 24/7, you can call them at any time you need them. But, if it's outside of their normal business hours, you would have to pay a higher labour price.
On their website, they boast of having affordable cleaning services. Their prices, however, aren't indicated online, but they offer free deodorising for every service, which you might need.
Paying for their services is a no-brainer since they accept cash, and Visa and Mastercard credit cards. They don't take American Express or PayPal, though.
And their booking process is relatively simple. You can either go online to call them via FaceTime or complete their form, or just call them on your phone.
Also, be aware that they have two numbers: one for calling them during operating hours and the other for urgent call-outs. Since the client has to keep two of their numbers, we noted this as a con.
Free deodorisation
IICRC-certified crew
24/7 emergency service
100% satisfaction guarantee
Accepts Visa and Mastercard payments
Different emergency number
Doesn't take PayPal and Amex
Customer Reviews
Professional, prompt, and well-equipped team
"We had 2 inches of water throughout the home as a result of a tap being knocked. We were at a loss as what to do other than mop and bucket and use towels, then we rang these guys and they were there within the hour. Our lifesavers, so professional with all the right gear and knowledge to solve the problem. It took over 5 days to get the moisture in the house structure back to normal. It was a relief to know we had got the right people involved. Today the builder came to assess the repairs and commented that the people we got to dry the home did a great job. Thank s Vic and team. Hope we never have to use you again but so glad we did." -Russell Potter
Informed the client every step of the way
"Vic was super professional, he helped us with a washing machine leak that had soaked into floating floorboards and plaster wall. We were informed of the situation every step of the way and were in very good hands. Very lovely guy, dealing with Jena's carpet cleaning made a stressful situation a breeze." -Brooke Barnett
4) Carpet Cleaning World
No matter the situation of your interior water-damaged home right now, the team at Carpet Cleaning World can be relied upon given their technical know-how and high-tech equipment.
They carry the Institute of Inspection Cleaning and Restoration Certification and are highly proficient in flood damage restoration.
What sets them apart from the others we featured is they strive to come on time, explain the whole process, and update you every step of the way, which most clients commended them for.
Their process begins with home inspection, followed by water extraction, anti-browning, mould, and bacterial treatment, deodorisation, steam or dry carpet cleaning, then the final walkthrough, during which they would ask you if you are satisfied with their service.
It's their goal to remove all traces of moisture, bacteria, contaminants, and dirt that resulted from the flood.
After the service, your home should be restored to its original condition that's safe to live in. But, if the areas you normally use aren't dried yet, then you can find a different place to stay in temporarily.
Their service is available all day and night throughout the week. Also, we like that their prices are more affordable than other big water restoration names.
Thus, even if they don't give out discounts or promotions, you probably won't need them anyway.
This premier company offers its wide-ranging services to clients throughout Melbourne. By the way, they also provide air duct, tile and grout, car interior, curtain, leather couch cleanings, and more!
IICRC water damage professionals
Full scope of services
24/7 emergency service
100% satisfaction guarantee
Accepts Visa and Mastercard payments
Doesn't take PayPal or Amex
No special deals or promos
Customer Reviews
Professional carpet restoration work
"Very professional and the carpet was completely restored after using this service. I highly recommend it." -Lulu Xing
Well-priced and knowledgeable staff
"I used Mickey twice at my apartment for flood restoration, this man is a super knowledgable gentleman and the best in the business for flood restoration and saving your carpet. very well priced compared to other quotes." -one Google user
5) The Flood Experts

| | |
| --- | --- |
| SERVICES | Water and flood damage restoration |
| ADDRESS | 11 Warrabel Rd, Ferntree Gully, VIC 3156 Australia |
| CONTACT DETAILS | 1800 531 448 |
| WEBSITE | https://thefloodexperts.com.au/ |
Did your bathtub overflow, your heater burst out of the blue, or rainwater seep in from outside? Before your home sustains any more damage, you should call in The Flood Experts!
They especially pride themselves on their speedy response. They can dispatch a team member within the hour or in as little as five minutes from the time of your call.
Together with this, they also have industrial-grade dryers and suction systems to dry out your house. This prevents mould and mildew from germinating and further damage to your property.
The team has over a decade of experience in the industry. According to previous clients, they were careful and systematic in handling the situation, explained everything to the clients, and even shared tips about maintaining their houses.
It's also great that they can also help out with insurance work. If they provide great after-results, your claim will have better odds of being accepted so you won't have to pay for everything.
In short, if you're looking for a knowledgeable and reliable team that goes the extra mile, this company could be the right one for you.
Now, their negative aspect is found in their limited range of services. They only offer water and flood restoration services — no carpet repair, upholstery and tile and grout cleaning, and so on.
However, they can assist both business and residential clients in Melbourne and the nearby areas. They are on call 24/7 and easily reachable via FaceTime and their enquiry form.
Speedy 5-minute team dispatch
Uses specialised equipment
Accepts or helps out with insurance work
24/7 emergency service
Limited range of services
No special deals or promos
Customer Reviews
Very professional at all times
"James was absolutely amazing our apartment flooded due to the washing machine and he came to drain out the water from our carpet. He was very professional at all times and even gave us renters tips. Thank you so much James, would definitely recommend to anyone with flooding issues at their homes." -Janey Nguyen
Turned a frustrating situation into an easy fix
"Call The Flood Experts, you won't regret it! From start (a frantic call at 6am) to finish James was calm, professional, and reassuring. He showed up quickly and was able to assess the issue and clearly explain what needed to be done and immediately take care of it. I am so grateful we found this service, James turned a potential nightmare situation into an easy fix. Absolutely recommend!" -Luna Chyld
FAQs about the Top Water Damage Restoration Options in Melbourne
---
And that wraps up the top water damage restoration companies in Melbourne. They are all experienced and well-equipped to remedy your home from water, flood, or storm damage.
So far, do you have any questions or comments about our list? Feel free to drop us a line and we'll get back to you in a short while.
Keen on improving your home's interior ambience? Well, you can view the best options for interior design in Melbourne too to get started on that!
ST: The 5 Best Options for Water Damage Restoration in Melbourne
MD: Have water damage at home? If so, here are our best options for water damage restoration in Melbourne, complete with their pros, cons, and client reviews!