Preparing for the plumbing construction of your new home? Or having frequent plumbing issues that bother you in the middle of the night? Whichever it is, we're here to help you find the best plumbers in St Paul offering all types of plumbing services!
Whether it's a minor repair or major replacement/construction, we've listed the most reliable technicians who specialise in a wide range of plumbing services. See our list below to know
where you can find the best plumbers in St Paul!
1. Kelly Plumbing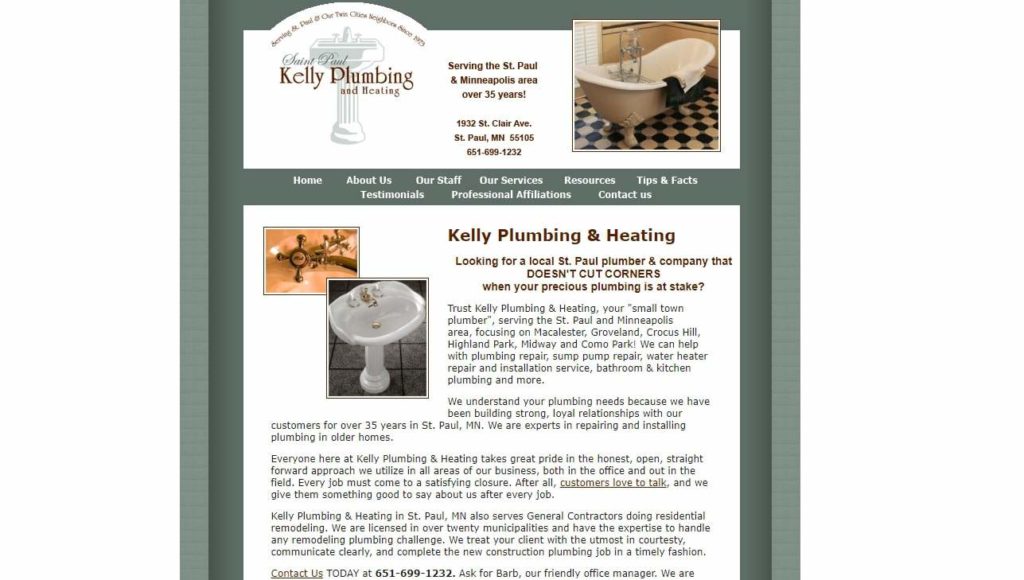 Kelly Plumbing can help you with any plumbing issue, providing water heater repair, bathroom and kitchen plumbing installation, sump pump repair, and many more.
They have the best plumbers in St. Paul who have years of experience in residential remodelling and new construction plumbing jobs for major projects.
Their other services include fixture replacement, garbage disposals, frozen pipes repair, and laundry remodelling.
Why Choose Kelly Plumbing?
Emergency service
Kitchen and bathroom plumbing
Residential and commercial services
Free estimates
2. St Paul Pipeworks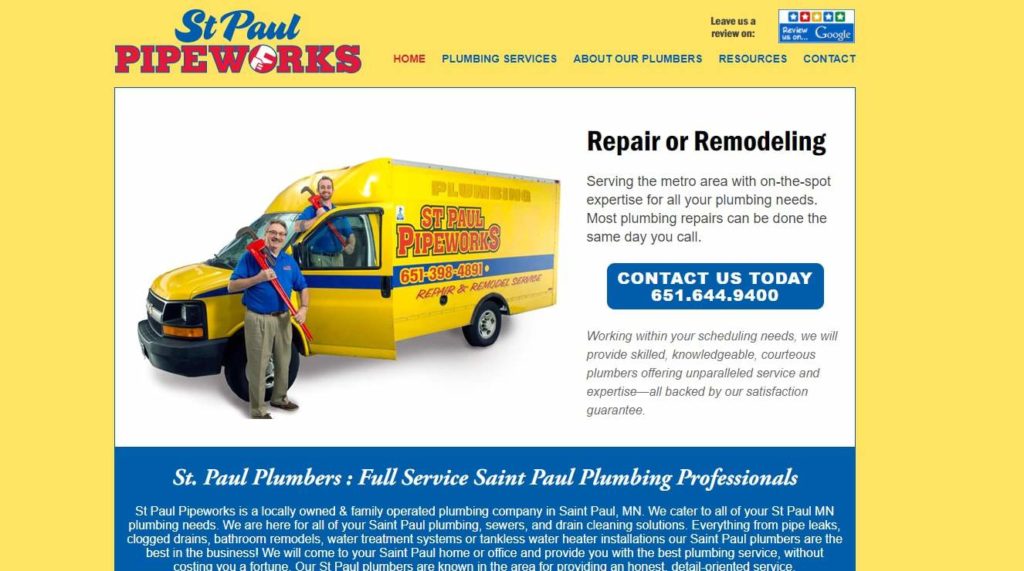 St Paul Pipeworks is a local and family operated plumbing company that can fill a great range of plumbing needs including repairs of pipe leaks and clogged drains, water heater installations, bathroom remodels, drain cleaning solutions, as well as water treatment systems.
Whether you need a plumbing service for your home or office, they have the best plumbers in St Paul, knowledgeable in providing long-lasting solutions. They're known for having detail-oriented, trained, and reputable technicians who deliver quality workmanship.
Their general plumbing services include water heating systems, kitchen/bathroom remodels, water pressure problems, faucets replacement, pipe repairs, backflow prevention, drain and sewer cleaning, and more.
They'll also advise you about which products to use for maintenance and what upgrades to do to improve the value of your home.
Why Choose St Paul Pipeworks?
Whole-house inspection service
Well-stocked service trucks
Backflow prevention
Prompt service
On-site service
3. Bonfe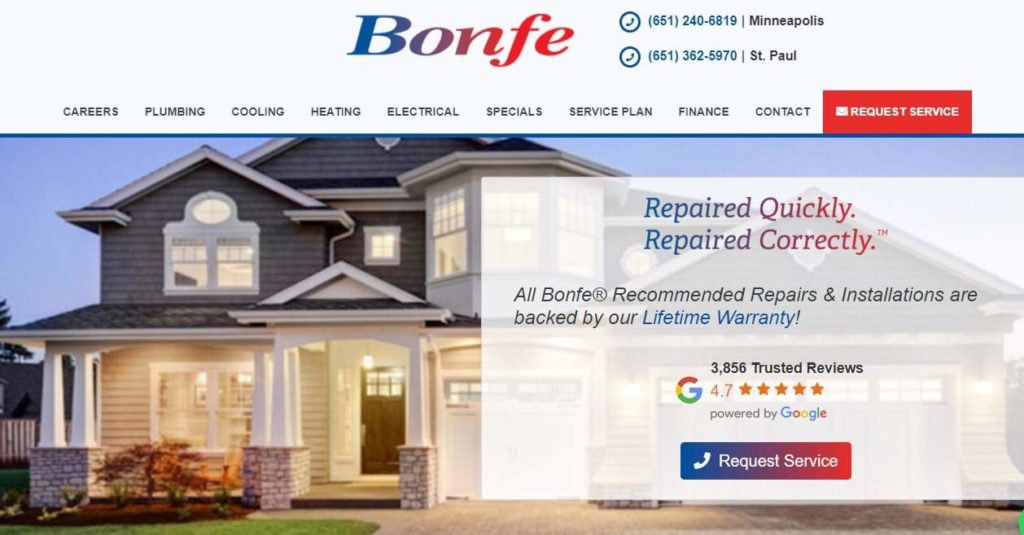 Bonfe provides an extensive range of services including plumbing, heating, air conditioning, and electrical solutions for all the homeowners in town. When it comes to their plumbing services, they have trained and certified technicians whom you can rely on.
Their best plumbers in St Paul specialise in fixing clogged drains, fixtures, faulty water heater repairs, leaking faucets, sewer line and sump pump repair, as well as kitchen and bathroom plumbing installation.
They even offer a free water quality test to check the overall condition of your plumbing system at home.
Why Choose Bonfe?
Home leak detection
24-hour emergency service
Upfront pricing
Lifetime warranty for repairs and installation services.
Special deals
4. Rascher Plumbing and Heating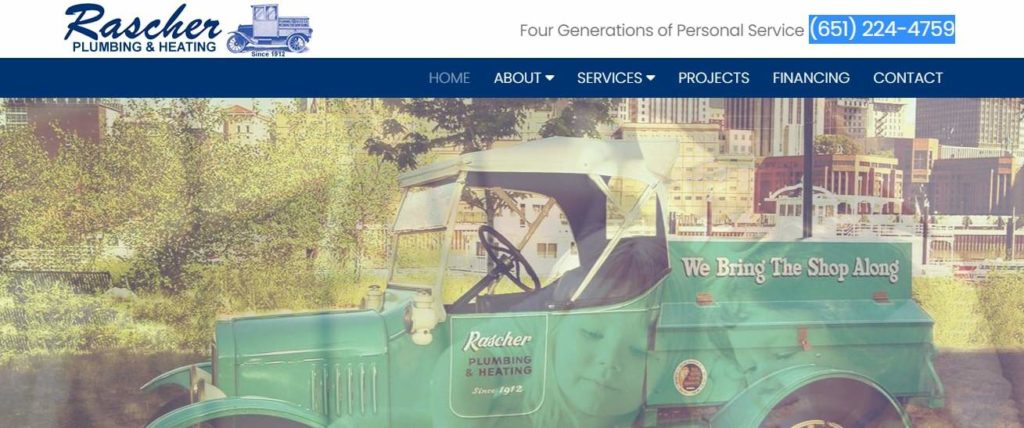 Rascher Plumbing and Heating specialise in remodelling and new construction of plumbing systems for residential and commercial properties.
They've partnered with the leading manufacturers in the plumbing industry such as Kohler, Delta, American Standard and more to provide reliable and high-quality repair services.
Their best plumbers in St Paul are experts in developing a comprehensive plan for upgrading or constructing a new plumbing system in your kitchen/bathroom.
At their showrooms, you can find the latest contractor-grade fixtures rarely found in home centres — so if you're searching for a certain design or style, you must check out their selections!
Why Choose Rascher Plumbing and Heating?
Whole-house repiping
Home mobility specialists
Fixture replacement
Sump pumps services
Drain cleaning and installation
Water filtration systems
5. Norblom Plumbing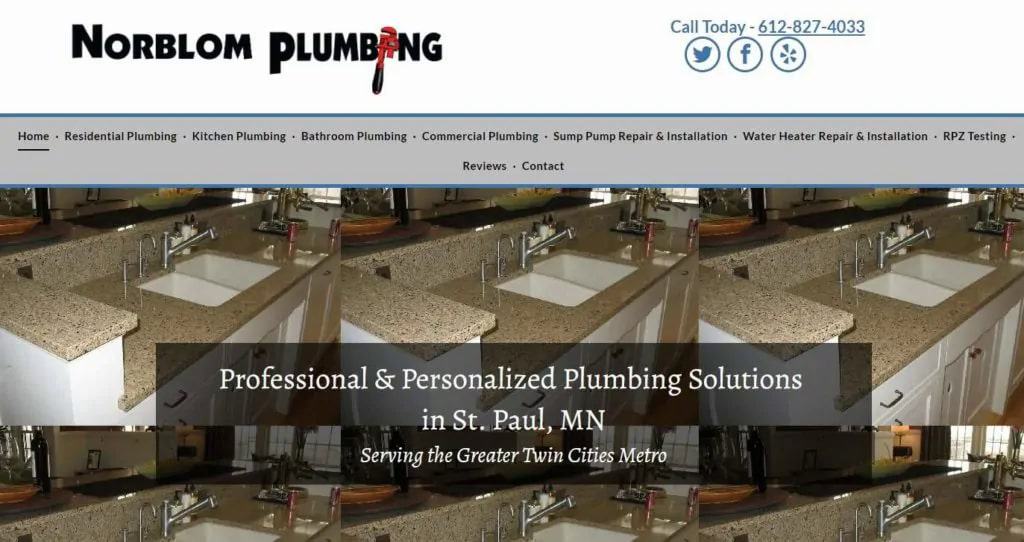 Being one of the longest-running plumbing companies in town, Norblom Plumbing has served thousands of home and business owners with their plumbing services.
Their best plumbers in St Paul offer a wide range of services, including bathroom and kitchen plumbing, sump pump repair and installation, and water heater systems.
They also conduct backflow prevention to keep your plumbing system safe from contaminants. Aside from these, they also construct commercial build-outs and deal with gas piping and gas systems.
Why Choose Norblom Plumbing?
Residential and commercial plumbing
Sump pump repair and installation
Kitchen and bathroom services
Water heater and repair and installation
6. Gopher Plumbing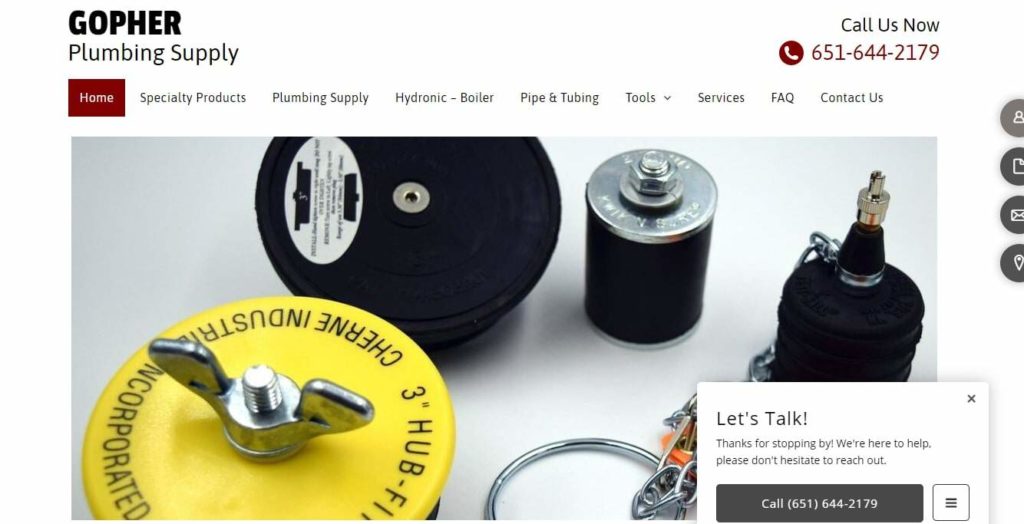 Gopher Plumbing offers a large selection of plumbing supplies coming from famous brands, suitable for all of your plumbing needs. So, you can be sure that they have everything in stock and ready whenever you need plumbing replacements.
Their products include faucet systems, bathroom fixtures. water heaters, sump and sewage pumps, and even kitchen accessories. Alongside their wide variety of products, they also specialise in pipe cutting and water heater replacements.
Why Choose Gopher Plumbing?
Pipe cutting service
Tools rental service
Delivery service
And that's our list of the best plumbers in St Paul! If you'd like to recommend more options, you may also share them with us!