Security is no doubt an essential element of a residential property. If you're looking to improve your home security, one thing you can do is to install a reliable and effective security door.
Of the many companies that offer security door installation and repair, we narrowed them down for you. So, if you're ready, here is our list of the best suppliers for security doors in Melbourne!
The Average Cost of Security Door Installation in Melbourne
Security doors greatly vary in costs in relation to the brand. You should expect to pay somewhere between $1,000 and $1,400 for a custom, triple-locked security door.
The regular size of security doors is 860mm x 2100mm and ordering or having a larger door than this made will cost you higher, about $2,500 to $5,000 for wide porch enclosures.
Decide to add custom features to the security door? Some examples include adding a door closer, modifying the standard colour, or installing a pet door, which would cost you an extra $30 to $350.
The Best Suppliers for Security Doors in Melbourne
Before choosing the service providers for this list, we subjected them to our parameter test that validated they are some of the top security door suppliers in Melbourne.
The parameters or factors that we are referring to include the following:
Now that you've seen what we based our list on, we now give you our security door company roundup for today!
1) Budget Price Security Doors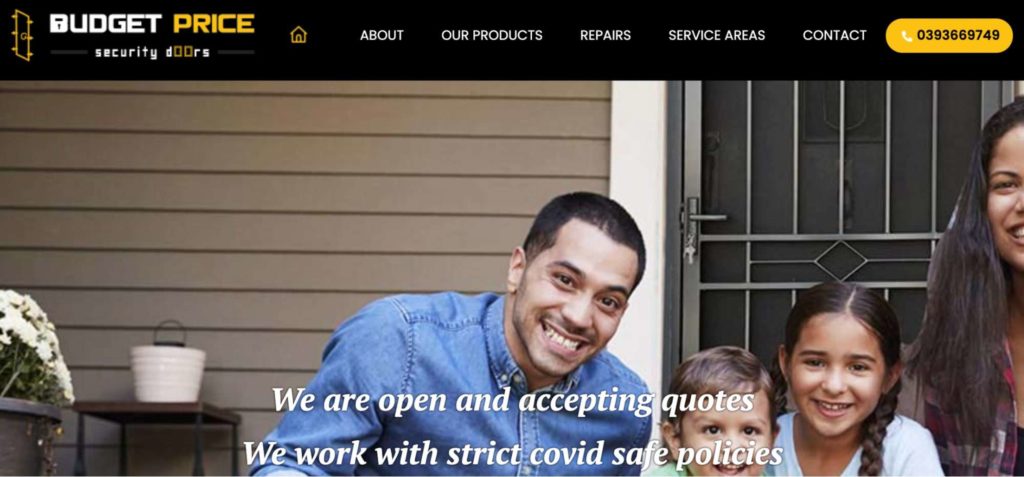 SERVICES
X-View doors
Stainless steel mesh doors
Cast grille doors
Steel grille inserts
Security screens
Diamond grille doors
Security door repair
ADDRESS
11 Wildwood Crt, Albanvale VIC 3021, Australia
CONTACT DETAILS
03 9366 9749


[email protected]

WEBSITE
https://www.budgetsecuritydoors.com.au/
For over 45 years, Budget Price Security Doors has been fitting and repairing a large range of security doors with lasting durability and up to assuring six-point locks.
Among their offerings are X-View security doors, diamond grille doors, cast grille doors, steel grille doors, stainless steel doors, and security screens, most of which are made with aluminium frames.
Each product can be trusted since it's built to Australian standards. What's more, it's covered by a decade of limited warranty should the security door become damaged by pets or thieves.
Since their founding, they have had a lot of return clients, and that attests to their outstanding products and service. Another reason they chose them is that they charge decent and sensible rates.
Right now, they offer free onsite quotes whilst following proper COVID19-safe procedures. Thus, getting a new security door from them should be easy and safe.
Situated in Albanvale, the security door supplier services clients in Melbourne and the surrounding areas. You can contact them during office hours on weekdays only, though.
Australian-standards passed doors
6-point lock security doors offered
Great range of styles and colours
10 years limited warranty
Unavailable on the weekends
Warranty not extendable
Customer Reviews
Knowledgeable staff and distinctive security doors
"Our door is very distinctive. Charlie had great knowledge and offered his expertise on what would suit our entry door. It's amazing everything was perfect made to hit perfectly because of this we ended up adding a back security door which is perfect. He also repaired our glass sliding door which works like a dream. I wouldn't hesitate whatsoever in referring Charlie and his team to all our family and friends. Thank you for a great job." -Nicki Sarandoglou
Very happy with the elegant grille door installed
"Charlie from Budget Price Security Doors is the one I would highly recommend if you want to install a security door. I chose him because
• They have a workshop that I have visited, giving me more confidence.
• Charlie is very experienced with more than 20 years in this business.
• Able to provide useful advice
• He promised me that all those screws won't be visible from outside and I am very happy with the grille door installed and it looks very elegant." -Audrey Chan
2) MSD

SERVICES
Crimsafe security doors
Designer Crimsafe doors
Steel security doors
Aluminium security doors
Security door repair
ADDRESS
Shop 1/658 Centre Rd, Bentleigh East VIC 3165, Australia
CONTACT DETAILS
1300 025 025


[email protected]

WEBSITE
https://www.msdmelbourne.com.au/
Fusing security and design for their doors, MSD is one of the most dependable security door suppliers in Melbourne! It currently has six showrooms for you to check out their range, and another three that are opening soon.
Their team has more than thirty years of experience and strives to keep up with the newest security door models and knowledge. They can surely help enhance your security and privacy at home.
They have Crimsafe security doors, designer Crimsafe doors, steel security doors, and aluminium security doors. There is a wide variety of designs and colours for you to choose from, such as square patterns, diagonal lines, and elaborate filigrees.
Their Crimsafe doors are claimed to be 7.5 times stronger than other security doors that barely reach the Aussie standard of 500 joules of force, which can stop intruders forcing their way through.
The company offers an obligation-free inspection and security assessment. Your chosen door will be laser-measured to perfectly fit your door space for utmost stability and security.
Another strength of this company is its solid warranties. They offer a standard 10-year warranty, which can be extended up to 15 years, as well as an impressive 25 years for steel doors!
And though most clients shared that the installation service was professional, prompt, and tidy, a few complained about their installed security doors and communication.
Overall, we believe that MSD is a fantastic company given its resilient doors, solid guarantees, and professional and tidy servicing.
Offers custom-fitted doors 
Specialises in designer security doors
Tons of options to choose from
Standard 10-year product warranty
25-year guarantee for steel doors
Closed on Sundays
Complaints about their installed doors and customer service
Customer Reviews
Great service from quote to installation
"Great service. This was our second security door and the measure and quote and final installation was excellent. We actually love the doors." -Andrew Rowe
Very friendly and helpful staff
"Friendly staff, extremely helpful. Fantastic website, Carol suggested I upload the image of my front door and move the different designs of the doors across. It helped me to decide which door suited my house. Great feature, thanks MSD Bentleigh East." -Ayden van Middelkoop
3) Eastern Security Doors

For a simple, strong, and sturdy security door, we highly recommend Eastern Security Doors. Their experienced team supplies, installs, and repairs both aluminium and stainless steel doors.
The differences between them are that aluminium security doors are more affordable and don't rust, whereas steel ones provide the best security and last a lot longer as well!
You can look through the available doors online and specify your requirements for them to make. They can also construct a door that can fit the particular budget that you have.
As we have mentioned, their grille and steel doors are quite simple, which aren't as elaborate as those of other suppliers. You might like their crisscross, horizontal line, and glass bar door styles.
By choosing this company, you get a full warranty for the product and service. And if you find anything unsatisfactory, just say the word, and they can rework the door for the best quality in terms of user-friendliness and function.
Now, clients have left rave reviews for the Australian-owned company. They appreciated their same-day response and stellar security door workmanship.
With no negative Google reviews, we are very confident that they are one of the top suppliers for security doors in Melbourne!
They cover the following areas: Melbourne, Vermont, Ringwood, Mitcham, Bayswater, Knox, Doncaster, Croydon, and nearby places. You can get a quote from them online or by phone from Mondays to Fridays.
Fast turnaround
Steel and aluminium security door specialists
100% satisfaction guarantee
Full warranty on product and service
Unavailable on the weekends
Not for those who want elaborate designs
Smaller range compared to others
Customer Reviews
Quick turnaround and great workmanship
"I asked for something unique… a solid door that is sturdy and nice looking to keep away the rain and sun and I'm not disappointed! James even suggested something to keep the bugs out! Well done James! You turned up exactly on time and you finished installation within a week from quotation. I'm very happy and would recommend you to anyone." -Regina Leong
Wonderful and quick service
"Thanks James for such wonderful and quick service. Responded to my message on the same day, provide a quick turnaround on quote, gave valuable advice about my options, then arranged for a quick and thorough installation. Overall a faultless service and I highly recommend Easter Security Doors to anyone." -Jude Barling
4) Valesco Security Doors
SERVICES
Screen mesh security sliding doors and windows
Diamond grille security sliding doors and windows
Flyscreen sliding doors and windows
ADDRESS
Myrtle Street, Glen Waverley VIC, 3150 Australia
CONTACT DETAILS
1300 545 881
WEBSITE
https://www.valescosecuritydoors.com.au/
Valesco Security Doors is another leading security door supplier in Melbourne with over 20 years of service.
It offers three simple options of screen mesh, diamond grille, and fly screen sliding and hinged security doors. Their edge in this regard is letting you customise the door fully to your desired mesh, colour, and design.
The beauty of their products is that they are made of marine-grade stainless steel that can stand the test of time. And their mesh gives enough structural and visual protection to deter would-be intruders.
Furthermore, their security products are tested and proven to exceed Australian standards. That means that it will hold up regardless of the weather, whether it be normal or inclement.
Of course, these products are protected by long-term warranties for your peace of mind. Not all of them are specified but should not be less than 10 years.
Now, we know all too well that doors aren't the only access for burglars. And that is why the supplier also offers strong window grilles and screens to prevent potential and unwanted break-ins.
If you don't know which door and/or window is perfect for your abode, worry not, as their team can give you practical advice and options.
You could get a quote online or visit their showroom at Myrtle Street, Glen Waverley to see what they offer personally. But for the latter, you'd have to schedule an appointment with them first.
Completely customisable doors
Fitted with marine-grade stainless steel mesh
Meets Australian standards
Provides product warranties
Open the entire week
Warranty for sliding products not specified
Only have a couple of showrooms
Customer Reviews
So happy with the security door
"So happy with my security door, the one I chose suits me, my privacy and my security needs perfectly. Was happy from quote right through to installation. Had it now over a year and have not looked back. Highly recommend Valesco Security Doors." -Jude Gilroy
Great service and door quality
"Great service and quality. Michael was at our place until 8pm on Saturday night just to get the job finished. Would highly recommend." -David Bongetti
5) Canon Doors & Shower Screens

Based in Brunswick, Melbourne, Canon Doors provides security door, bath screen, wardrobe, and window grille supply, fitting, and repair services to enhance clients' security and privacy.
Many homeowners have had a wonderful service experience using them. You can call their office for anything from asking great door suggestions to doing multiple jobs at your home.
More importantly, they complimented their well-engineered security doors, timeliness, and personal attention the whole time, which is partly why they made it to this list!
They offer a growing list of options for your security door. They have both steel and aluminium products, as well as a range of mesh options and a couple of add-ons.
No matter what door you pick from them, you can equip it with a mesh of your choice. They have flywire, tuff, limited vision, galvanised, and stainless steel mesh—from the least to the most secure.
And for the add-ons, they have prowler proof and screen guard. The first makes your place more secure with its aluminium-welded screen, and the second uses a special T6-grade, high-tensile aluminium, which isn't prone to cutting or ramming by a criminal.
Although they offer a warranty for their products, how long this will cover you isn't stated online. As such, you can just enquire with their crew to find out.
Another inconvenient drawback is their shorter working hours ending in mid-afternoon, so you'd have to call them early—and only on weekdays.
Offers security door customization
Provides product warranties
All-around door and screen provider
Lots of mesh choices
Warranty not specified online
Shorter operating hours
Closed on the weekends (Saturday by appointment only)
Customer Reviews
Outstanding service and security door
"Ivana – thank you for your clear and professional advice when researching which security doors would suit my home and needs. The service and quality of your products are outstanding and I cannot recommend Canon Doors highly enough. Thank you – I love my doors!!" -Annique Teycheney
Security door and flyscreen fit and work beautifully
"A big thank you to Canon Doors for doing such a wonderful job with our new security door and flywire screens. Being an old house, none of the windows or doors were square. I'm not sure how you did it but everything fits and works beautifully! We couldn't be happier. It was an absolute pleasure dealing with you all, from Ivana at the front desk, through to Val and Josh installing." -Louise Hill
FAQs about the Top Security Door Suppliers in Melbourne
---
And those were our top picks for security door suppliers in Melbourne. Hopefully, you have enjoyed and picked up something from our list.
Also, if you have any questions or comments, please let us know by messaging us and we will get back to you promptly.
More Resources about Security Doors