After having stayed at a property for quite a while, it's stressful to pack up and carry all your stuff to move. Fortunately, you can enlist the help of our top options for removals in Croydon.
Here, we've listed those that can simplify the process for you from estimate to unloading. But first, we will explore how much these services cost on average so you'll know what to expect.
The Average Cost of Removals in Croydon
Determining the removal costs in Croydon is no easy feat since they are subject to many variables. However, the most important ones are your city of origin and the volume of your items.
Along with this, you have to consider accessibility, peak season, additional services (like packing or self-storage), minimum price, and expensive or valuable items (like artworks or a piano).
The aforementioned factors can increase your removal cost as well so you need to take them into account.
You can be charged based on labour or travel distance. The former is dependent on your chosen company, while the other ranges from £0.50 to £1 per mile.
Now, here is the price overview of local house removal based on the size of the house. Note that the table pertains to moving costs within the same city or county.
| | | | |
| --- | --- | --- | --- |
| City | 1-Bedroom House | 2-Bedroom House | 3-Bedroom House |
| London | £330 – £400 | £410 – £550 | £580 – £700 |
| Birmingham | £325 – £400 | £410 – £540 | £550 – £650 |
| Glasgow | £330 – £400 | £410 – £535 | £540 – £640 |
| Manchester | £320 – £400 | £410 – £530 | £535 – £660 |
| Cardiff | £300 – £360 | £365 – £460 | £465 – £640 |
Decided to live abroad? Here is the cost table of international moves to Europe based on a 3-bedroom house.
If you need to move a 4-bedroom house volume, you can expect to pay around £650 to £1,000.
| | | |
| --- | --- | --- |
| Move Destination | Road Cost | Sea Cost |
| Paris, France | £1,300 – £2,000 | £4,500 – £6,200 |
| Berlin, Germany | £2,300 – £3,300 | £4,700 – £6,500 |
| Barcelona, Spain | £3,000 – £4,000 | £4,700 – £6,300 |
| Geneva, Switzerland | £2,200 – £3,100 | £4,900 – £6,600 |
Also, check out the sea shipping costs for going to farther overseas destinations. The typical price for this is between £1,500 – £10,000.
| | |
| --- | --- |
| Move Destination | Sea Cost |
| New York, USA | £5,100 – £6,900 |
| Sydney, Australia | £7,000 – £9,500 |
| Delhi, India | £6,200 – £10,000 |
| Cape Town, South Africa | £4,900 – £8,000 |
As you've seen, these are the average removal costs of moving locally or internationally. For an accurate quote, you have to get a professional removalist to assess all your belongings and furniture for moving.
But, besides that, you may have to deal with other expenses if you have bought a new house.
Some examples for this are the conveyancing cost, attorney fee, estate agents fee, stamp duty land tax, and homebuyer report cost among others.
The important thing is that you get multiple quotes and carefully weigh them to find the most cost-effective one for you.
The 5 Best Options for Removals in Croydon
You now know the costs of removal services in and around the town. So, here's our roundup of the best options for removals in Croydon!
1) Garrards Removal and Storage

SERVICES
UK removals
European removals
Office/commercial removals
Container storage
Packing
ADDRESS
Unit 9, Mill Lane Trading Estate, Mill Ln, Croydon CR0 4AA United Kingdom
CONTACT DETAILS
Freephone: 0800 068 7743
Mobile: 07957 828612
Office: 0208 688 4979
WEBSITE
http://www.garrardsremovals.co.uk/
Moving out from a property with tons of items to transport? Thankfully, the Garrards Removal and Storage team is here and can ensure the entire process is stress-free for you.
It has amassed over 2 decades of experience in moving, packing, and transporting items all across the UK, including Croydon, London, Surrey, Kent, Sanderstead, and other counties.
They can also assist you with convenient door-to-door service if you are moving to another part of Europe as well!
Its goal is to tailor the removal to your special needs so that everything can go according to plan and arrive at the destination safely and on time. This puts them a notch above the others on this list.
Clients say that the movers and employees are reliable and friendly. They can accommodate your special request and also have a container site for storing your items temporarily if needed.
One of the things we noticed about them is there's no mention of any insurance on their website. This is crucial as this gives home and office owners peace of mind concerning their belongings.
On their webpage, they give out a free moving guide to help you organise your items and get ready for your big move. Whether or not you are taking on their service, you can keep it.
Also, the company offers a free quotation that's accessible online. You only have to fill in the required fields, hit send, and one of their representatives can get in touch with you shortly.
Tailored removal service
Has a container storage site
Can assist with UK-wide moves
Gives a free moving guide
No moving insurance mentioned
Unavailable on Sundays
Complaints about service quality and customer service
Customer Reviews
With zero-damage moves and friendly service, Garrards Removal is a dependable removalist. Here are some clients testimonials on Google:
Reeva, who was one happy client, said this:
"I called to inquire, the staff was great at walking me through the process and getting everything organized. On the day of the move, they were prompt and very efficient. I was happy to receive everything with no problems."
Furthermore, let's see what Xavier wrote about their service:
"I hired Garrard's simply because they were referred to me by a friend and it also appears that they have an excellent reputation. Their whole service is truly remarkable, everyone was professional and friendly. Will not hesitate to recommend!"
2) F Smith and Son Removals and Storage

Formed in 1930, F Smith and Son Ltd is a local and international mover. It provides top-notch work being accredited with the BAR and the BSEN 12522 quality standard.
It offers a complete scope of services from surveying to shipping. They have a careful and expert team of packers, wrappers, surveyors, and movers to assist you every step of the way.
Should you decide to do the packing yourself but lack supplies, they have a wide range of materials like boxes, cutters, bubble wraps, tapes, and wrapping papers at GST-inclusive prices.
They assist both residential and business clients whether the moving job is big or small, across the UK, Europe, or the rest of the world. And they carry different forms of insurance to protect the client, their staff, and the goods in transit.
To keep their clients and staff safe during the pandemic season, they offer free video surveys instead of physical ones to give you an estimate. This can also expedite the process of moving from one place to another.
Although they don't give out any freebies, you can browse their site for packing tips and hints to make your move easier. They have a FAQ section too to clear out your common removal concerns.
As opposed to other companies, they only work from Mondays to Saturdays. Hence, for Sunday moves, you would have to wait for the next business day.
One of the best options for removals in Croydon, F Smith and Son can arrange, remove, and transport your items to your new home or office property in an efficient and timely manner.
Free contactless video quoting
Accredited and insured removalist
Conducts international moves
Storage services available
Advanced payment guarantee
Closed on a Sunday
Doesn't give freebies
Customer Reviews
According to the reviews, they helped to make their clients' move stress-free. Also, clients said that the staff worked efficiently and conscientiously to move their furniture and belongings.
One client named Nick left this review of the removal company:
"F Smith and Son provided a seamless service in planning and executing our move out of London. Their help and support gave us peace of mind that the day would be stress free. Movers on the day were efficient and friendly. We would recommend to anyone moving in the future."
What's more, Kathleen gave this feedback:
"We were really happy with the service provided. Richard and Ian were friendly, hard working and helpful during our 3 day move, and as Dave was on the first day. Everything went smoothly and professionally."
3) All Moves Anytime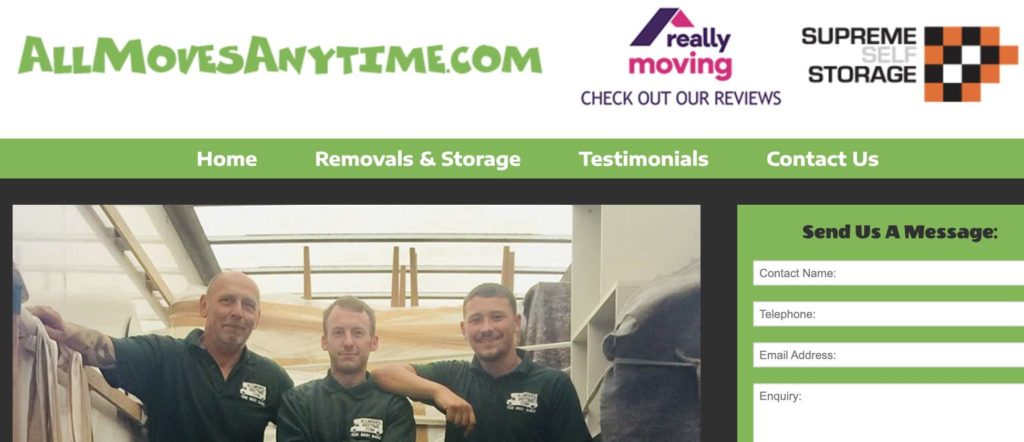 Whether you need to move on short notice or a future date, All Moves Anytime has you covered! They're a small, family-led business based in South Croydon in London, England.
They handle house and office moves throughout Croydon, Bromley, London, Surrey, and the United Kingdom.
Their fleet consists of a few vans and trucks capable of transporting single objects to full-house items. However, since their vehicles are smaller and fewer than other companies, they can only ship a limited volume of items.
Depending on the size of the removal job, they can send 1 to 3 people to work at your property. They are fully insured and are careful yet efficient in moving and packing property, as clients can attest to.
If you already need to move out and your new house isn't ready yet, they have self-storage units where some or all of your items can be kept safely in the meantime.
A positive aspect of this company is they don't hide their rates, they have it on their webpage for everyone to see. And they give written estimates and strive to stick with them until the service is finished.
Moreover, if you find a cheaper written quote from another company, you can show it to them and they can come up with an even lower price for you. The rates they give clients are on a daily or hourly basis.
They have a simple quote form online that won't take long to complete. Or you can just phone their team with the number given in the above table.
And thus, for a small, quality, and safe moving experience, we recommend All Moves Anytime highly as one of the top removal options in Croydon!
Specialises in short-notice removals
Can beat competitors' quote
Fully insured movers
Delivers throughout the UK
Storage services available
Smaller fleet compared to others
No moving services outside of the UK
Customer Reviews
The removalist earned a flawless score on Google Reviews. Clients indicated the team was knowledgeable, early, and efficient throughout the service.
Here's a review coming from one satisfied client:
"I was very happy with the service and communication from these guys. Very friendly and punctual. I moved from Caterham, Surrey to Somerset and they gave me a very reasonable quote. They even suggested ways I could save money through storing my furniture in self-storage units in Somerset until my new house was ready for me to move in and then using a local company to get the furniture out as it could be cheaper for me that way. Overall, I contacted 8 different removal companies and no-one else gave me this suggestion to help me save money, instead all wanting to store my furniture in their own storage units, and then transporting it to my new house, which would ultimately have cost me a lot more money. They may be a smaller company than some of the other removal companies I contacted, but their service is second to none and I'm very pleased I contacted these guys. I would highly recommend them!"
And have a look at Demetrios' comment of them:
"John, Sam and the team were professional and friendly, and clearly put the customer and service excellence at the centre of their operation. John was easy to deal with and communication was easy throughout. Sam and the team worked like troopers on moving day, putting in excessive hours to get the move done and ensuring at every stage that I was happy with progress and the way things were being handled. Furniture and fragile items were very well packed and handled with care. On my next home move AllMovesAnytime will be my first port of call and I recommend them highly,"
4) Good Movers Ltd

Check out this removal company's funky logo. Good Movers Ltd is a family-owned and run business offering removal and storage services, in addition to doing cleaning and demolition tasks.
With a hardworking and trained team, they can do all the heavy lifting, boxing, packing, and discarding for you. They can even pay cash for junk items that you want to get rid of.
You can depend on their crew since they carry the necessary licences and insurance. They have public liability, waste carriage, and goods in transit cover to protect your property and valued items.
They recycle and reuse materials where possible to care for the environment, one thing that's overlooked by other movers.
We included them as one of the best removal options in Croydon as they have advantages that others don't. These include being open the entire week and having live chat support 24/7.
However, they mostly serve clients in Croydon and the surrounding areas. They offer international house moves too, but you'd have to enquire with their team about it to be sure.
Without getting a quote, you can get a sense of how much you should pay them. For this, just head over to the pricing section of the service you plan to use with them.
Unfortunately, they don't have any special coupons or offers online. Nevertheless, the company is known for offering a fair price for the service they provide.
And so, for a licenced and insured team, versatile services, and convenient house removals, you can't go wrong with Good Movers!
Fully licenced and insured team
Recycles goods where possible
Has live chat support
Transparent rates
Open 7 days a week
May not be able to assist with international moves
No special or coupon deals
No storage services
Customer Reviews
They earned a 9.95/10 average score on Checkatrade, a service review platform. Among the criteria for this are courtesy, reliability, tidiness, workmanship, and quote accuracy.
Find out what one client said on the website:
"Very happy with job carried out have used this company before and would definitely use this company again. John and his brother are hard workers, reliable and very friendly. Price was really reasonable as well."
What's more, another client remarked of their service:
""Really tidy job, nice, helpful, proper company, family run, competitive price, recommend to everyone. Thanks, guys!"
5) Steve Frieze Removals

SERVICES
Local domestic removal
Domestic & commercial storage
Business relocation services
Confidential shredding
ADDRESS
3a Princes Way, Croydon CR0 4RD United Kingdom
CONTACT DETAILS
020 8680 5235


[email protected]

WEBSITE
https://www.stevefrieze.co.uk/
As a member of the British Association of Removers (BAR) and having 50 years' experience, this company is worth trying for your removal and storage needs within South London and Surrey.
It handles both residential and office removal regardless of the size of the work. That's because they have large container vehicles so all items can be transported in one go.
They can also provide packing assistance and materials to move all your things to the new location.
An extra and unusual service they have is commercial shredding. If you have unwanted confidential papers, they can shred them for you.
It has a warehouse on the Wallington-Croydon border to house your furniture and personal effects securely. They have a palletised storage system there to locate and take out items at a fast pace.
Many clients noted that the movers were professional, helpful, and fast in manoeuvring and transiting their items without damage, while some complained about their pricey rates.
Their business hours go from Monday to Friday and this is a disadvantage since if you get them to work on the weekends, you would most certainly pay a higher labour rate than normal.
Also, it's relatively easy to get a quote from them. Their form is displayed on the homepage where you can also write your questions or message for them—their staff member will get back to you soon.
BAR member
Has a fleet of large container vehicles
Offers palletised storage services
Simple quote form
A bit on the expensive side
Doesn't assist with overseas moves
Normally closed on the weekends
Customer Reviews
According to most people, moving had been effortless for them with this company's help. They also cited the staff to be polite, helpful, and professional.
Check out Lizzie's feedback below:
"3 of the team moved us from London to the south coast a couple of weeks ago and they were great from start to finish. From initial enquiries, to booking, to the day itself the service was smooth, professional and friendly. Were able to provide additional packing essentials, like wardrobe boxes, and gave us a fair price with no hidden extras. Would definitely recommend them."
Additionally, Christine stated this on Google Business:
"The team that moved us were professional, helpful and friendly. I couldn't believe how quick they were in emptying our old property and unloading at our new property. All our goods arrived safely. They really were just brilliant!!"
FAQs about the Leading Removal Companies in Croydon
---
So that's all for the top options for removals in Croydon, UK. If you have any questions about them, feel free to drop us a line and we'll reply as soon as we can.
Know of a company that should've been on this list as well? You can let us know of it and if they're worthy, we might add them here.
Apart from that, if the house you're moving into has a lingering pest issue, you can try calling the best pest control in London so you won't have to worry about them anymore.