Any kind of plumbing issue, when left unresolved, can certainly lead to bigger problems, damages, and costs. This is why having a plumber who's always available to help you is important. This expert won't just resolve the current problems you're facing but they'll also take time to detect other faults to help you save money on costly repairs in the future.
Aside from that, there are lots of other great things that plumbers can do for you as they work on your property. You might want to check out these best plumbers in York to know more about the subject and also find your own go-to plumber in case problems arise.
1.     Knowles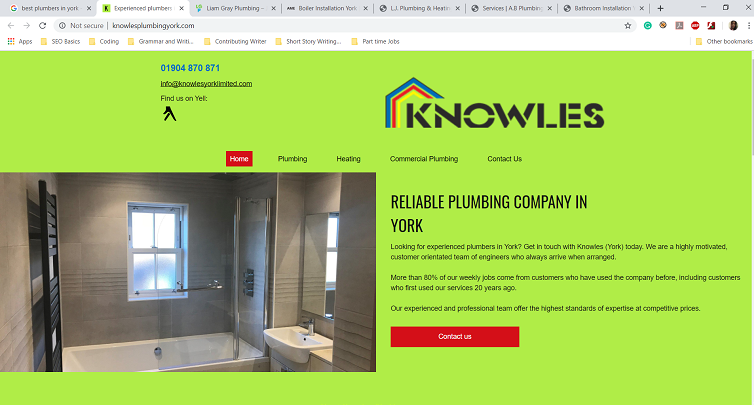 Best For
Residential Plumbing
Services Offered
Residential and commercial services

General plumbing work

Power flushing

Bathroom refurbishment

Installations

Address
75 Lawrence St, York YO10 3DZ, UK
Contact Information
01904 870 871
Website
http://www.knowlesplumbingyork.com/
Knowles is a reliable plumbing company in York staffed with experts who are all customer-oriented and highly-motivated when doing any type of work. Because of this, it's not surprising that they're getting a great amount of repeat work. They are certified to conduct plumbing work in residential and commercial establishments, covering everything from power flushing, bathroom refurbishments, plumbing repairs, and so much more.
2.     Liam Gray Plumbing & Heating
Best For
General Plumbing Work
Services Offered
Plumbing repairs and installations

Shower and pressure adjustments

Water heater services

Bathroom and kitchen refurbishment

Pipework replacement

Address
218 Thoresby Rd, York YO24 3ER, UK
Contact Information
01904 345 288; 07837 271 350
Website
https://liamgrayplumbing.com/
If you need a company that's expert in various aspects of plumbing work, you can put your trust in Liam Gray Plumbing and Heating. Although they always do a great job when it comes to plumbing repairs, customers can also rely on them for new builds and extensions as well as maintenance work. To see the complete list of services they have for you, visit their website at https://liamgrayplumbing.com/.
3.     A.M.E Plumbing and Heating

| | |
| --- | --- |
| Best For | Bathroom Installation |
| Services Offered | all aspects of plumbing and heating, from full boiler installations, service and repair to bathroom installation |
| Address | 17 Barbara Grove, York YO24 4DP, UK |
| Contact Information | 01347 848527 or 07967 733619 |
| Website | http://www.ameplumbingandheating.co.uk/ |
A.M.E Plumbing and Heating, on the other hand, is a company that offers complete plumbing services to the commercial, residential, and industrial sectors. By working with so many clients in York, they are able to demonstrate their flexibility and expertise in almost all plumbing jobs. Full design, installation, and project management service are just some of the many things they can help you with. You may call them on 01347 848527 or 07967 733619 to further discuss your needs.
4.     Armstrong Plumbing and Heating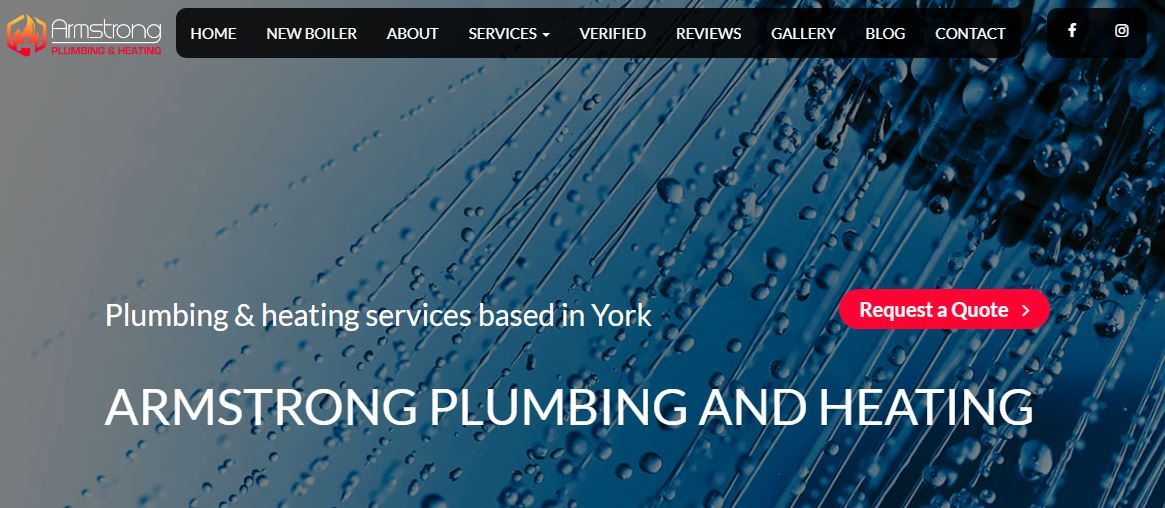 Armstrong Plumbing & Heating offer their services throughout York, Malton, Wetherby, Knaresborough, Leeds, Selby, Tadcaster, Easingwold and surrounding areas. Their engineers are fully qualified and highly experienced, earning qualifications such as Gas Safe registration and OFTEC registration. Their Gas Safe registration is also extended to cover LPG work. Moreover, all their work is covered by full public liability insurance.
5.    Ignite Gas Care

Best For
Plumbing services including boiler repairs and replacements, gas safe checks
Services Offered
Boiler, gas fire, cooker, hob and water heater repairs and servicing; Home-owners' and Landlords' Gas Safety Certificates and Portable Appliance Testing (PAT); Breakdowns, leaks, routine maintenance and minor plumbing works; Boiler replacements/ upgrades, full central heating installations, fault-finding and power flushing
Address
Unit A, Rowans Court, Green Lane, Rawdon, Leeds, West Yorkshire LS19 7DT
Contact Information
0800 2100 632
[email protected]
Website
https://www.ignitegasyorkshire.co.uk/
Ignite Gas offers a wide variety of gas related services to individual home-owners, companies, landlords, letting agents, Housing Associations and Local Authorities throughout the Yorkshire region. They use the latest technology to ensure that they get to you quickly, keep you fully informed and resolve your problem to your complete satisfaction. Using SMS texts and email to confirm appointments, they also use satellite navigation and GPS to schedule and prioritise their jobs and engineers and upload reports and certificates whilst still at the property so that you can access them via the internet.
6.     J D Plumbing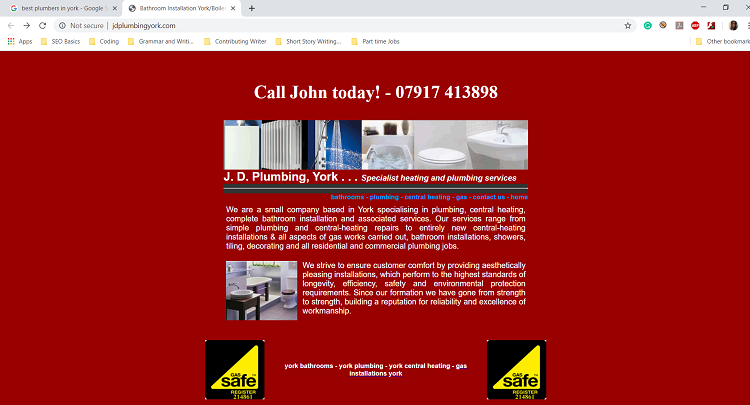 Best For
General Plumbing Work
Services Offered
Residential and commercial plumbing

Central heating services

Plumbing repairs

Bathroom installations

Tiling and decorating

Address
77 Tranby Ave, York YO10 3NN, UK
Contact Information
01904 412103; 07917 413898
Website
http://www.jdplumbingyork.com/
Although J D Plumbing is a small plumbing company based in York, they have the tools, experience, and skills to provide a vast range of plumbing services. They can do all domestic and commercial plumbing jobs including bathroom installations, shower tiling, simple plumbing work, and a lot more. All of these are done with safety, excellence, and efficiency in mind because they want you to feel at ease whenever they do any kind of work on your property.
7.     L J Plumbing & Heating

Best For
General Plumbing Work
Services Offered
Plumbing servicing and installations

Boiler and central heating services

Landlord safety checks

Bathroom services

Address
71 Doncaster Road, Selby, North Yorkshire, YO8 9BU
Contact Information
01757 291 112; 07855 377 176
Website
http://www.plumberinselby.co.uk/
Another company you can depend on is L J Plumbing & Heating. They properly complete all domestic and commercial plumbing jobs as they want to showcase that there isn't too big or too small of a task for their team. They are strongly committed to providing great customer experience to everyone so aside from doing all jobs safely and accurately, they're also happy to offer free quotes, estimates, and advice to all customers.
8.     A.B Plumbing and Heating

Best For
General Plumbing and Bathroom Installations
Services Offered
General plumbing and heating work

Bathroom installations

Washing machine/dishwasher installation

Plumbing repairs

Address
25 Farndale Ave, York YO10 3NY, UK
Contact Information
01904 416455; 07708 717201
Website
http://www.ab-plumbingheating.co.uk/
A.B Plumbing and Heating has been dealing with domestic plumbing work for many years now. Over time, they have become experts in fitting all types of bathrooms as well as electric showers and wet rooms. Their fully trained and qualified engineers can also take on any size of general plumbing work from leak repairs to complete installation of plumbing fixtures. They can also help you deal with emergency situations, just call them on 01904 416455 or 07708 717201.