Sometimes, it's hard to give your trust even with the most popular brands in the market. It's just that they're too expensive and don't actually deliver what they promised. You feel like you're being robbed of your hard-earned money but seem can't do anything about it.
If you're a person who's a big fan of value-for-money deals, lives in Louisville, and need plumbing services, then you're reading the right article. Below are six of the most credible names in Louisville's local plumbing industry. These guys know how to satisfy their clients and even exceed the clients' expectations.
1. Tom Drexler Plumbing, Air & Electric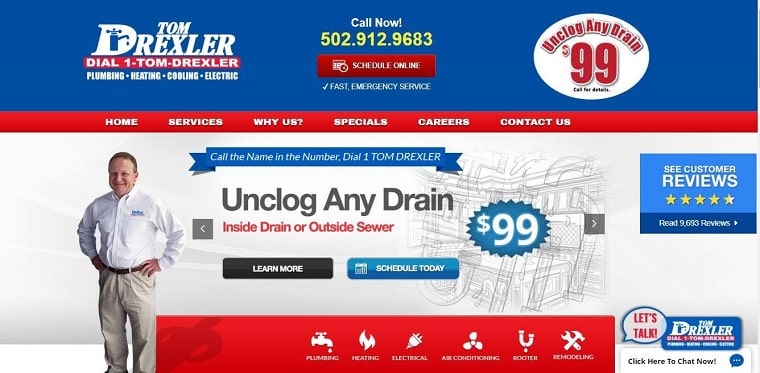 BEST FOR
Home improvement and care services
SERVICES
Emergency services

Commercial Plumbing

Water Heaters

Tankless Water Heaters

Toilet Replacement / Repair

Leak Repair

Faucet Replacement / Repair

Drain Cleaning

Sump Pumps

Green Plumbing

Water Conditioning

Backflow Prevention

ADDRESS
3718 Bardstown Road, Louisville, KY 40218
CONTACT
Phone: (502) 912-9683

Fax: (502) 458-9632

E-mail: [email protected]

WEBSITE
www.tomdrexler.com
Tom Drexler Plumbing, Air & Electric has been in the industry for more than 30 years. When you say Tom Drexler, residents of Kentuckiana immediately think of an authentic customer service-oriented company. Its technicians are prompt, clean, and respectful. They value your time and homes, so they make sure that they arrive on time and leave your homes clean or cleaner than they found it. The company is also licensed and insured.
Tom Drexler also offers the following:
Industries Best Warranties
100% satisfaction guaranteed
Upfront pricing with no hidden charges
Trained and certified technicians
Easy financing options
2. Maeser Master Services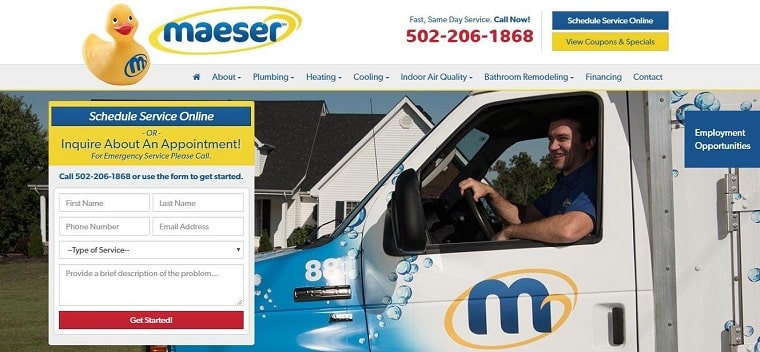 BEST FOR
Residential and commercial plumbing, heating, and AC services
SERVICES
Plumbing repairs

Backflow prevention

Sump pumps

Drain cleaning

New construction plumbing

Garbage disposals

Gas & water lines

Sewer lines

Water heaters

Water leaks & pipe repairs

Hot water circulation

ADDRESS
11101 Electron Drive, Louisville, KY 40299
CONTACT
Phone: (502) 206-1868
WEBSITE
https://www.maeser.com/
Maeser Master Service is a locally owned business that has been servicing Louisville since 1975. The company successfully sets itself apart from the rest of the home improvement providers. How? They always provide:
Fast and prompt service
Available emergency service
Licensed and professional technicians
Drug-tested and safe background checked employees
High-quality products
Guaranteed customer satisfaction
Careful and clean treatment of your home
3. Jarboe's Plumbing, Heating & Cooling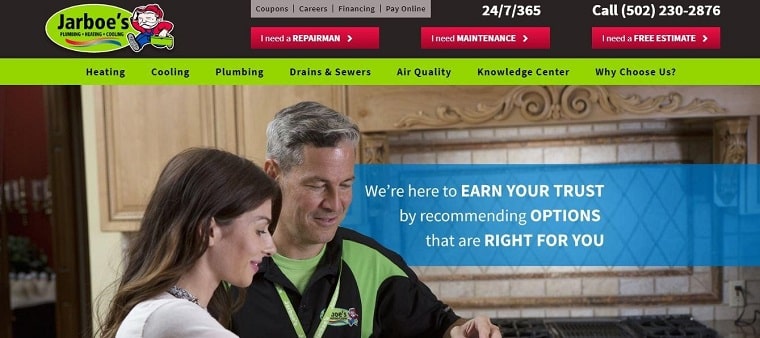 BEST FOR
Plumbing and HVAC services
SERVICES
Clogged or overflowing toilets

Sewer line problems

Bathroom additions and remodeling

New dishwasher installation

Garbage disposal

Water heater

Emergency services

ADDRESS
3258 Ruckriegel Pkwy, Louisville, KY 40299
CONTACT
Phone: (502) 230-2876
WEBSITE
https://jarboes.com/
Jarboe's Plumbing, Heating & Cooling has provided the best plumbing and HVAC services in the Greater Louisville area since 1986. Jarboe's plumbers are all licensed, insured, and bonded. They offer a 100% customer guarantee in all their works, services, and materials. The company offers upfront pricing, guaranteed workmanship in writing, and carefree rewards for referrals.
4. ASI Plumbing

BEST FOR
Residential and commercial plumbing services
SERVICES
Outside Plumbing Services

Drain Cleaning

Water Heater Repair

Sump Pump Repair

Faucet Repair

Toilet Repair

Leaking Pipe Repair

Tub & Shower Repairs

Kitchen Repairs

Bathroom Repairs

Gas Line Repair

Slab Leak

Sewer Repair or Replacement

ADDRESS
2957 7th Street Rd, Louisville, KY 40216
CONTACT
Phone: (502) 271-1331
WEBSITE
https://www.asiplumbing.com/
ASI Plumbing is a full-service plumbing company with 15 years of experience in the plumbing industry. It provides various plumbing services in Louisville and surrounding areas—from fixing leaky pipes, installing water heaters, sewer repairs, to kitchen and bathroom repairs. The company makes sure that clients will receive the best possible customer service.
5. Daniel Brown Plumbing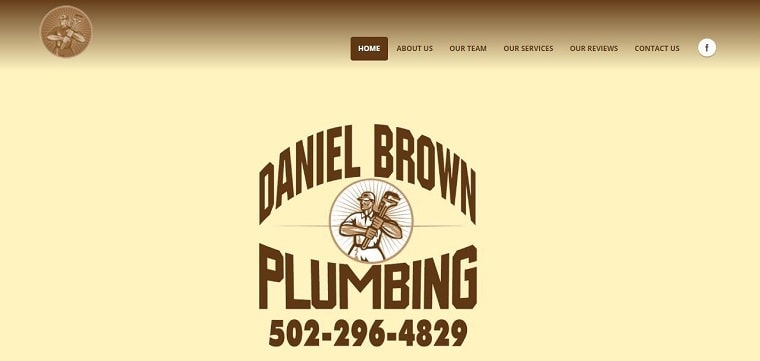 BEST FOR
General plumbing services
SERVICES
Water heaters repair, installation, and modification

Faucets repair, installation, and upgrade

Dishwashers and icemakers installation

Toilet unclogging, repair, and replacement

Garbage disposals installation and repair

Drain clogs and drain cleaning

Bathroom and kitchen sink installation, repair, and replacement

Water and waste lines repair, rerouting, and replacement

ADDRESS
501 Leyton Ave, Louisville, KY 40222, United States
CONTACT
Phone: (502) 296-4829

Email: [email protected]

WEBSITE
http://danielbrownplumbing.com/
Daniel Brown Plumbing, a locally-owned business, is one of the most trusted plumbing companies, not only by their clients but also by their plumbers. They provide paychecks to their plumbers and do not pay them by commission. As a result, they only provide superb workmanship and won't sell anything you don't need. The company's technicians offer excellent customer service and will always respect your home premises. They always clean up after every work.
6. St. Matthews Plumbing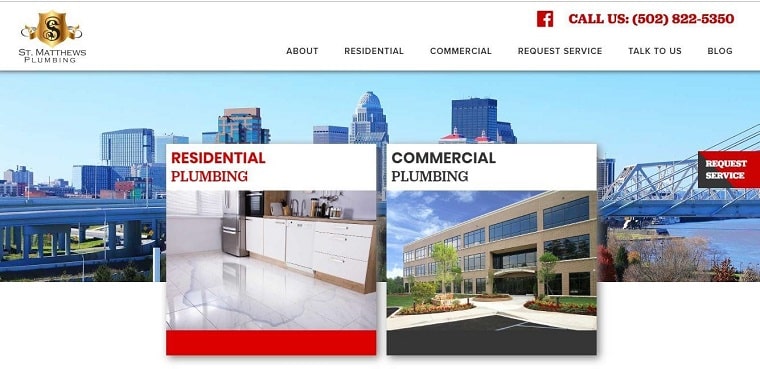 BEST FOR
Residential and commercial plumbing services
SERVICES

Bathroom repair and installation
Drain cleaning
Water heater repair and replacement
Sump pump repair
Kitchen plumbing repair and replacement
Whole-house repipe
Tankless water heaters
MSD basement backflow prevention program

ADDRESS
201 Meridian Ave., Suite B-1, Louisville, KY 40207
CONTACT
Phone: (502) 822-5350
WEBSITE
https://stmatthewsplumbing.com/
St. Matthews Plumbing is an expert in residential and commercial plumbing. It has been servicing Louisville and the Kentuckiana region for over 50 years. St. Matthew's knowledgeable staff and plumbers offer customer satisfaction and excellent workmanship. Its highly-skilled plumbers know how to get the job done right the first time.
7. Shane Gibson Plumbing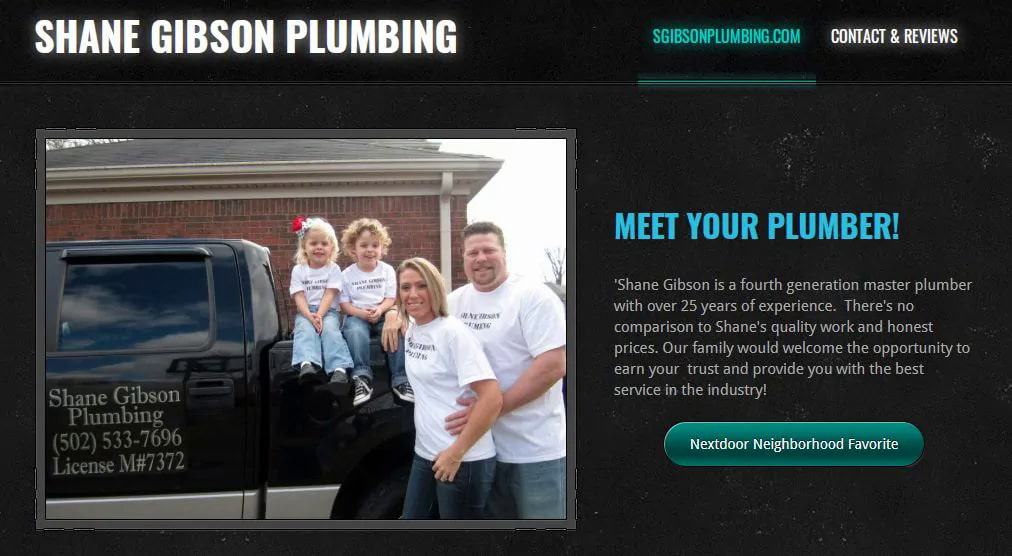 BEST FOR
General Plumbing Services
SERVICES
Plumbing Installations & Repairs
Drain cleaning
Sewer cleaning
Faucet repairs
Toilet repairs
Waterline repair
Sump Pumps
ADDRESS
—-
CONTACT
(502)533-7696 ~ [email protected]
WEBSITE
http://www.sgibsonplumbing.com/
Shane Gibson Plumbing is a fourth-generation master plumber with over 25 years of experience. He can take care of most of your plumbing needs, assuring customer satisfaction to meet and exceed your expectations! They take pride in knowing that their business is mainly from repeat customers and referrals.
8. Durbin Plumbing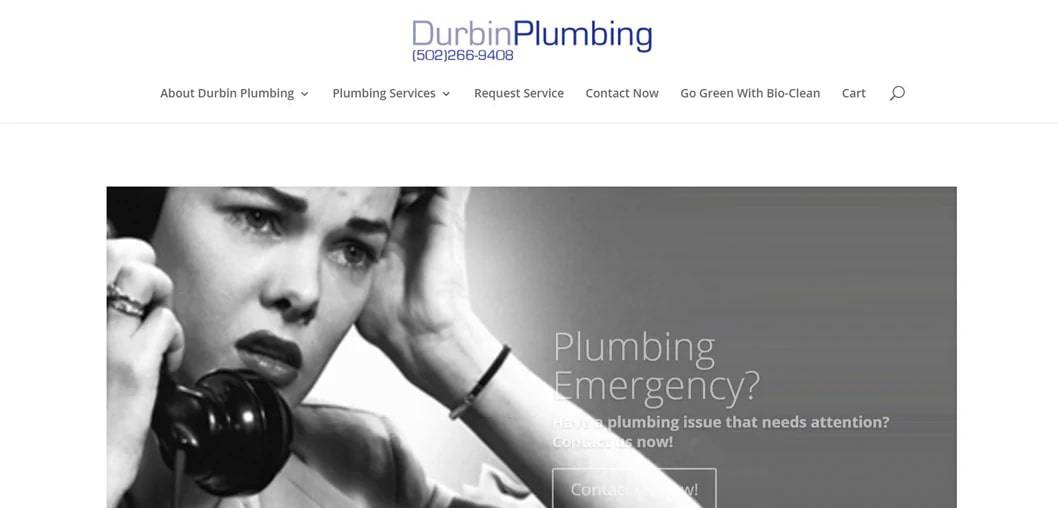 BEST FOR
Bio-cleaning
SERVICES
Residential and commercial plumbing
ADDRESS
Durbin Plumbing, Inc.
3801 Billtown Road, #99555
Louisville, Ky 40299
CONTACT
(502) 266-9408
WEBSITE
http://durbinplumbing.com/
Durbin Plumbing is one of the few companies that offers 24-hour emergency plumbing services. They have in-house professional plumbers that are sure to do the job perfectly; with all of them being licensed, insured and bonded. Durbin Plumbing can assist you in various plumbings in the household, including bathrooms, kitchens, and laundry rooms.