Your search for the best Long Beach plumbing experts is over. Oh, wait… you just started? If that is so, then you're in luck because our list shows some of the most reliable plumbing companies in the area today!
It could be pretty hard to find the right company to help you especially if your plumbing issues seem to be recurring or complex. But look, we already did it for you and we managed to find not just one but six excellent plumbers.
Now, let's get to know each one of them…
1.     J & D Plumbing & Heating Contractors

Best For
Plumbing and Heating Services
Services Offered
24-hour emergency response

Residential, commercial, and industrial services

Hydro jetting

Sump pumps, water heaters, and gas piping

Backflow service

Plumbing repairs and replacements

Address
1806 Gaviota Avenue

Long Beach, CA 90806

Contact Information
562-427-2555
Website
https://www.janddplumbinglongbeach.com/
J & D Plumbing & Heating Contractors is a plumbing and heating company that is 100% dedicated to keeping Long Beach clients satisfied and happy. With their strong expertise in the field, they can provide excellent solutions for your problems — from the ground to the roof. Some of the things they can do for you include hydro-jetting, plumbing repairs, sewer/drain line replacement, waterline and copper repiping, and so much more. Need emergency help? They will be on their way when you call them at 562-427-2555.
2.     Beach Plumbing and Jetting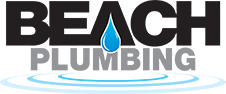 Best For
24/7 Plumbing Service
Services Offered
Emergency plumbing work

Plumbing maintenance

Sewer repair and drain cleaning

Leak detection

Water heater repairs

Services for toilets, faucets, and gas lines

Address
3450 E Spring St #114, Long Beach, CA 90806, United States
Contact Information
562-595-6300
Website
https://www.beachplumbingservices.com/
Beach Plumbing and Jetting is known for providing efficient plumbing services since 1993. They are open 24/7 so you can also rely on them if ever you're faced with plumbing issues during the odd hours. In addition, they cater to residential and commercial plumbing needs, making them one of the most flexible plumbing experts in the area today. From sewer repair, leak detection to drain cleaning, you name it and they can do it.
3.     Long Beach Plumbing Company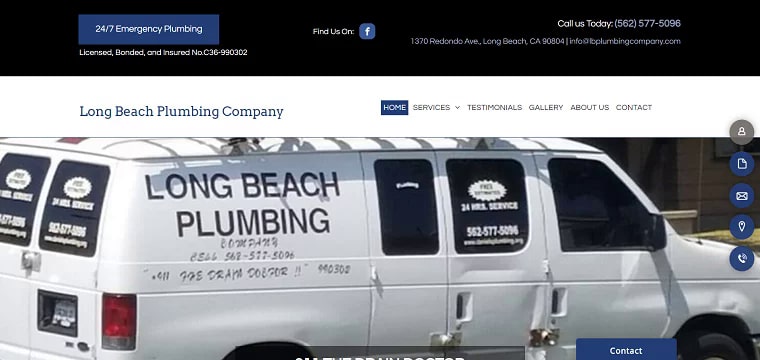 Best For
Complete Plumbing Services
Services Offered
24/7 emergency plumbing work

General plumbing repairs

Pipe replacement

Sewer repair and drain cleaning

Water heater installation

Address
1370 Redondo Ave.,

Long Beach, CA 90804

Contact Information
(562) 577-5096
Website
https://www.longbeachplumbingcompanyinc.com/
Long Beach Plumbing Company, on the other hand, excels in providing complete plumbing services to homeowners. What sets them apart from other plumbers is their capability to offer affordable prices. They care about the budget you have and the fact that you need quality plumbing service at the same time. Hence, they will only do what you ask them to do and no, they won't try to sell you products or services that you don't need.
4.     The Drain Guys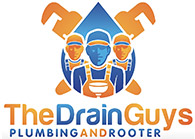 Best For
General Plumbing Work
Services Offered
Commercial and residential plumbing

Plumbing repairs, installation, and maintenance

Drain cleaning

Backflow services

Water heater installation

Rooter services

Address
4508 Atlantic Ave,

Long Beach, CA 90807, USA

Contact Information
(310) 818-7260
Website
https://www.drainguysusa.com/
The Drain Guys is one of the favorite plumbers in Long Beach. The reason? They are always prepared. Need a swift service? Plumbing help during the weekends? Or perhaps emergency plumbing service? The Drain Guys simply have the capacity to do all these and more. They work on commercial and residential projects, ensuring that each property has well-functioning plumbing systems. Moreover, you'll find them doing a great job in drain cleaning and maintenance work as these are among their many specialties.
5.     Pete's Plumbing

Best For
Same-day Plumbing Service
Services Offered
Plumbing repairs and installations

Re-piping

Drain service

Emergency services

General plumbing and heating work

Residential and commercial plumbing

Address
3099 E. Pacific Coast Highway

Signal Hill, CA 90755

Contact Information
(562) 599–0106
Website
http://www.petes-plumbing.com/
Since 1972, Pete's Plumbing stays true to its commitment and that is to provide plumbing services in a fast and friendly manner. They are always ready to serve you regardless if you need them for a residential or commercial plumbing project. Should you require emergency or even heating services, you may call them at (562) 599–0106 and they'll help you in the best way they can.
6.     Sunset Plumbing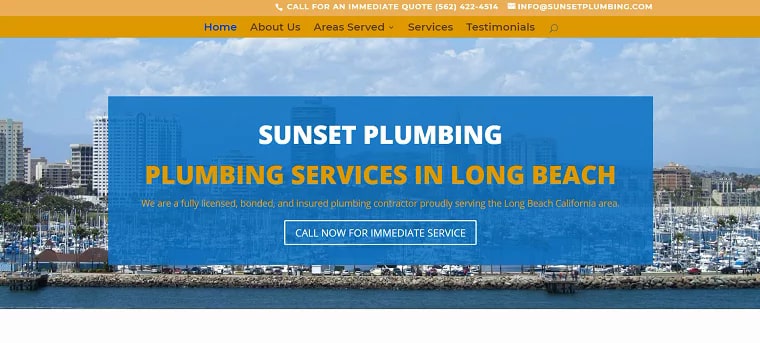 Best For
Commercial and Residential Plumbing
Services Offered
General plumbing repairs and installations

Drain unclogging

Water heater installation and repair

Sewer video inspections

Trenchless pipe restoration

Plumbing maintenance

Emergency plumbing service

Address
404 E First St #131, Long Beach, CA 90802
Contact Information
(562) 422-4514
Website
http://sunsetplumbing.net/
With Sunset Plumbing, your plumbing issues will surely be fixed before sunset. That's how quick they are to respond and provide effective solutions. No wonder, more and more commercial and residential clients are turning to Sunset Plumbing whenever they need immediate help. The company offers a broad range of plumbing services including, but not limited to, plumbing repairs, maintenance, sewer video inspections, and unclogging drains.