Hiring plumbers is such a good idea to make sure that plumbing installation, repair, or maintenance is done right the first time. With the help of these professionals, you don't have to deal with these complex tasks yourself or suffer from any plumbing issue for too long.
Ready to hire a plumbing company? We have put together a list of 6 best plumbers in Edmonton, check it out and you'll surely find the one that offers the best services for you.
1.     Butler Plumbing Heating & Gasfitting Ltd.
Best For
Emergency Plumbing and Heating
Services Offered
Boiler repairs and installation

Furnace repairs and installation

Water heater repairs, replacement, and installations

Plumber renovations and repairs

Backflow prevention

Address
4260 93 St, Edmonton, AB, T6E5P5
Contact Information
780-432-3947; +1 (587) 200-7565
Website
https://www.butlerplumbing.ca/
Butler Plumbing Heating & Gasfitting Ltd. assures that you don't need to stress over the quality and cost of plumbing service when you hire them. In fact, by using their services, you'll have an experienced plumber ready to help you no matter how big or small the job is. They provide honest and competitive costs, so you know that you won't be overspending or surprised with hidden charges.
2.     Urban Piping
Best For
4.8-Star and 5.0-Star Reviews on Google and Facebook; 24/7 Emergency Plumbers
Services Offered
Drain cleaning services
Plumbing services
Poly B replacement
Address
10050 – 112th Street, Suites 904 & 1001
Edmonton, AB T5K 2J1
Contact Information
Phone: (587) 598-3801
Email: [email protected]
Website
https://www.urbanpiping.com/locations/edmonton/
At Urban Piping Ltd. has been providing fair prices since 2008 paired with their punctual journeyman plumbers who are licensed, background checked, insured, bonded, and drug tested. They're also the leader in Poly B Replacement in their coverage areas.
3.     Always Plumbing & Heating
Best For
Residential Plumbing and HVAC Work
Services Offered
Drain cleaning

Bathroom and kitchen plumbing

Air conditioning

Indoor air quality

Construction

Address
200-17633 114 Ave NW

Edmonton,  AB T5S 2R9

Contact Information
780-489-8118
Website
https://alwaysplumbing.ca/
Always Plumbing & Heating is a wise choice if you're looking for expert technicians who can handle any residential plumbing issue. They can work on water heaters, boilers, toilets, drains, and even remodeling projects. Being in the service since 1998, Always Plumbing & Heating has also acquired HVAC expertise, making them suitable to handle heating, ventilation, and air conditioning jobs.
4.     Pro Plumbing & Heating Ltd
Best For
General and Emergency Plumbing
Services Offered
Emergency plumbing

All plumbing and repair work

Gas fitting

Furnace repair and maintenance

Gas line installation

Address
6906 Whyte Ave NW

Edmonton, Alberta T6B 0E7

Contact Information
587 410 4277
Website
http://www.proplumbing.ca/
There's no need to panic over an emergency plumbing issue if you have Pro Plumbing & Heating Ltd by your side. This company offers efficient routine maintenance and emergency services, helping customers resolve all types of plumbing issues at once. What's even better, their plumbers love working with people so you can expect friendly yet professional faces at your property, willing to help you all throughout.
5.     Need A Plumber Canada
Best For
General Plumbing
Services Offered
Plumbing repairs

Sewer and drain cleaning

Faucet replacement

Toilet repairs

Boiler repairs

Whole house care

Address
18-10549 170 St NW

Edmonton, Alberta T5P 4W2

Contact Information
(780) 469-4677
Website
https://www.needaplumbercanada.ca/
Need help with a clogged toilet, leaky faucet, or a fixture replacement? Need A Plumber Canada is always available, 24 hours a day. They also offer senior discounts and don't charge for overtime work because they understand that keeping your plumbing system in excellent condition shouldn't cost a lot. Contact them at (780) 469-4677 to fix your plumbing issues right now.
6.     Richfield Plumbing and Heating Ltd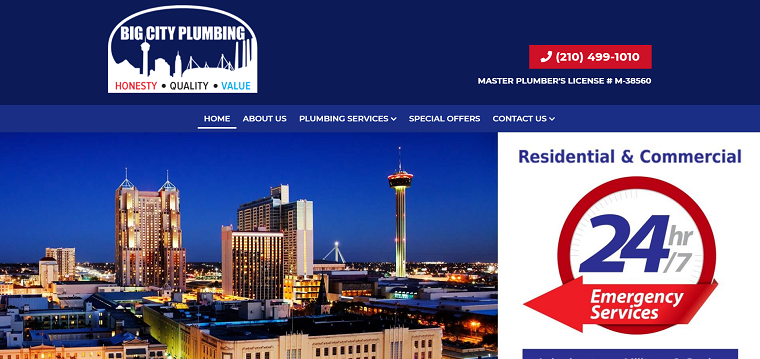 Best For
General Heating and Plumbing Work
Services Offered
Gas fitting

In-floor heating

Boiler service

Residential and commercial plumbing

Renovations

Address
8740 51 Avenue,

Edmonton, AB T6E 5E8

Contact Information
(780) 462-7321
Website
http://www.richfieldplumbing.ca/
Richfield Plumbing and Heating Ltd is a family-owned company that has started in 1979. Not only do they have plumbers to ensure you have a supply of clean water, but their gas fitters are also available for commercial or residential projects. With wide knowledge and experience in the field, they are also capable of building custom new homes, doing renovations and providing in-floor heating services.
7.     Apollo Plumbing
Work ethic, desire to see jobs out until their completion, and customer satisfaction set Apollo Plumbing apart from other electricians and plumbers in Edmonton. They are licensed, bonded, and fully insured. They're open from Monday to Sunday, 7a – 10pm but they're also available 24/7 for emergency requests.
8.    Waterfox Plumbing & Heating Ltd.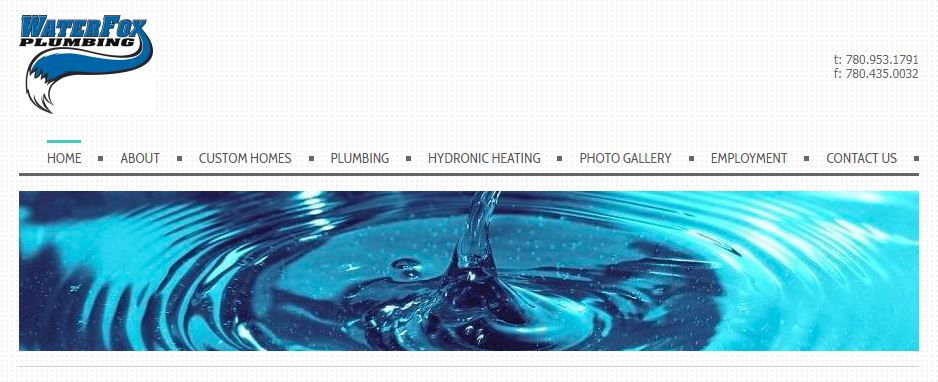 Best For
Exceptional customer service to builders and home owners
Services Offered

Plumbing
Hydronic heating
New construction plumbing
Renovations
Boiler installation
In-floor heating

Address
8737 12 Avenue SW
Edmonton, AB
T6X 1C8
Contact Information
780.953.1791 | [email protected]
Website
https://www.waterfoxplumbing.com/
Water Fox Plumbing is an Edmonton based family-run company. Since 2006, they have emerged to be a trustworthy plumbing solution for new home construction. They're currently servicing Edmonton, Sherwood Park, St. Albert, Spruce Grove, Leduc, and Beaumont. Residential plumbing and hydronic heating for new home construction, custom / estate homes and renovations.
9.    Oakum Mechanical Ltd.
Best For
Plumbing and heating services
Services Offered

Plumbing services
Drain cleaning
Boiler services
Heating services
Construction
Renovation

Address
LTD, 5316 82 AVENUE NORTHWEST, EDMONTON, AB, T6B 2J6
Contact Information
780-217-4600 | [email protected]
Website
https://www.oakum.ca/
Oakum Mechanical Ltd. can take care of general plumbing services, big or small: from leaking pipes to hot water heater failure. Plumbing task request is made easy with their online booking service.
10.    EZ Plumbing Inc.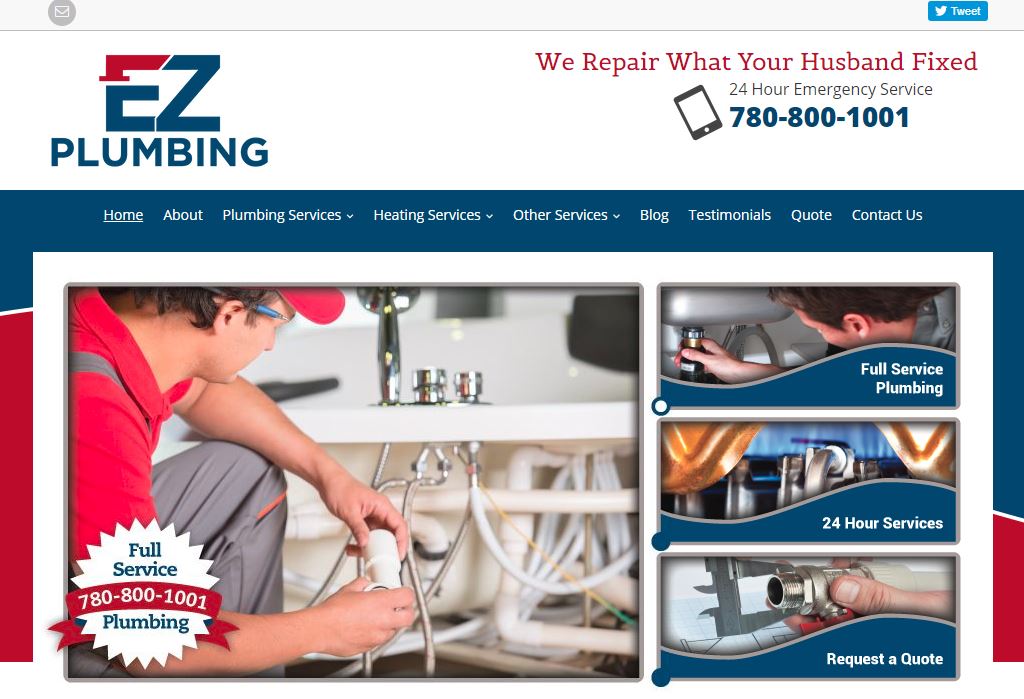 EZ Plumbing is proud to offer 24 hour around-the-clock plumbing services to the people of Edmonton, Sherwood Park, St. Albert and Leduc. EZ Plumbing is always standing by, ready to take your call to solve your leaking sink or furnace problems. They can quickly dispatch a licenced, bonded and insured plumber to complete the task.
11.    ProSolutions Plumbing Heating & Air Conditioning

Best For
Easy Scheduling & Customer Service
Services Offered
Bathroom Renovations, Tankless water heater, Boiler, hot water heater, Furnace, Plumbing, Air Conditioning, Free In home estimates, no over time charge
Address
15383 117 Ave NW
Edmonton, AB T5M 3X4
Contact Information
780-453-6640
Website
https://www.prosolutionsinc.ca/
ProSolutions Plumbing, Heating & Air Conditioning has been of the most trusted home services companies in the area for over three decades. Their expert technicians are certified, licensed, supervised, trained and equipped to handle a full range of home maintenance issues. Menawhile their "SuperPros" are expertly trained in all the leading methods and technologies available for plumbing, heating and air conditioning needs.
12.     Capital Plumbing & Heating Ltd.
Best For
General Plumbing and Heating Work
Services Offered
24-hour emergency service

Residential plumbing and heating work

Furnace and boiler repairs and replacements

Renovation work and commercial service

Address
14843-118 Ave

Edmonton, Alberta, T5L 2M7 Canada

Contact Information
780-306-5091
Website
https://capitalplumbing.ca/
Capital Plumbing & Heating Ltd. is a reliable plumbing company that always go above and beyond to serve their customers right. From the first phone call up to the job completion, their team is dedicated to providing the best solutions and complete answer to all your plumbing needs. Find out the other great things that their past customers have said by browsing through this website: https://capitalplumbing.ca/.
13.     Worry Free Plumbing & Heating Experts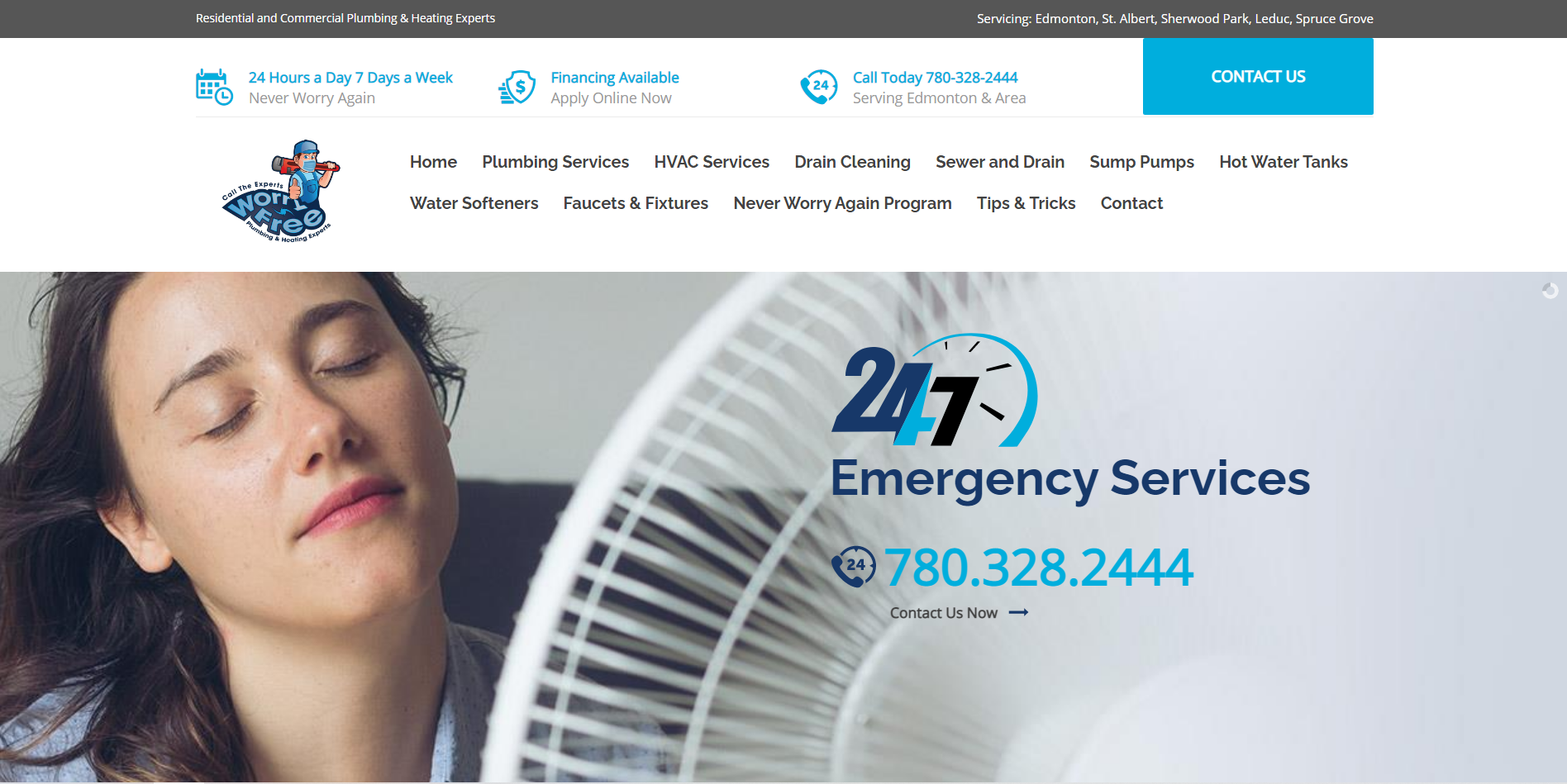 Best For

Plumbing and Heating Services

Services Offered

Plumbing Services

Heating Services

Drain Cleaning

Address

Edmonton 

St. Albert

Sherwood Park

Leduc

Spruce Grove

Fort Sask

Contact Information
Tel.: 780-328-2444 | Email:

[email protected]

Website
https://www.worryfreeplumbing.com/
Worry Free Plumbing is a one stop shop that is able to meet all the needs of their clients. The goal of their company is to provide the highest of quality in installation maintenance services.
They provide 24-hour emergency services while making sure to keep their van fully stocked with equipment and parts. With the team having over 10 years of experience, they can serve both residential and commercial properties.
14.    City Works Plumbing & Heating Services in             Edmonton

Best For
Plumbing and Heating
Services Offered

Residential Heating Services

Residential Plumbing Services

Residential Drain Cleaning Services

Address

10050 – 112th St., Suites 904 & 1001 Edmonton, AB T5K 2J1

Calgary, AB, Canada

Contact Information

Edmonton: 780-432-2500

Calgary: 403-474-7422

Website
https://cityworksedmonton.ca/
City Works Canada has been the most reliable plumbing company in Edmonton and Calgary since 2017. Their team of expert plumbers work hard to satisfy their customers and get the job done right.
The company serves both residential and commercial clients.