Perhaps you have already experienced having a plumbing issue at home or office and you tried to fix it yourself. You think you have resolved the problem and then, later on, it comes back again. So when recurring plumbing problems keep pestering you, it's time to find a professional plumbing company to help you out.
To assist you in finding the best expert for your situation, check out these 6 best plumbers in Cambridge. They vary in offers, years of experience and values, so consider these things when choosing one to hire.
1.     Cambridge Plumbing & Heating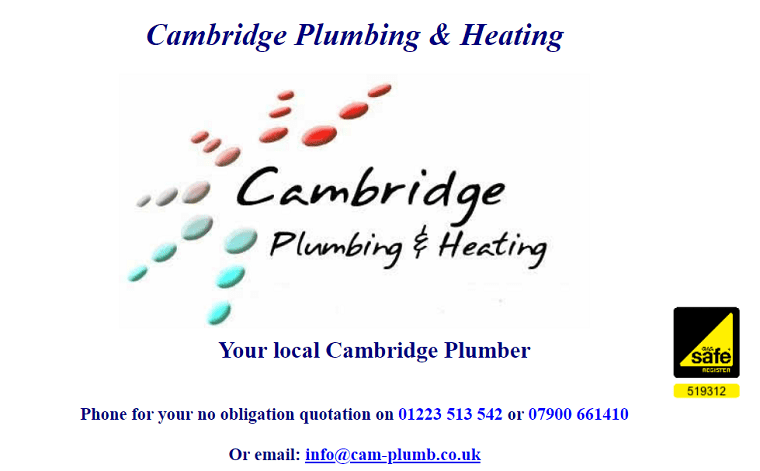 Best For
General Plumbing and Heating Work
Services Offered
Boiler servicing, installation, and replacement

Central heating systems, repairs, maintenance

Power flushing

Cooker installation

Address
20 Chapman Ct, Cambridge CB4 2SG, UK
Contact Information
01223 513 542; 07900 661410
Website
http://www.cam-plumb.co.uk/
Cambridge Plumbing & Heating strives to provide professional yet competitively-priced services to everyone. They can help you with general plumbing, boiler servicing, cooker installation, central heating maintenance and so much more. Their wide-ranging services only mean that they can provide you with the premium quality service you deserve no matter what your needs are.
2.     My Plumbers

Best For
General Plumbing and Maintenance
Services Offered
Emergency services

Central heating and boiler repair

Bathroom and wetroom installation and design

Gas safety inspections

Address
82 Chartfield Rd, Cambridge CB1 9JY, UK
Contact Information
07866 525785
Website
http://myplumberscambridge.co.uk/
Over the years, My Plumbers has already gained valuable experience working with numerous private clients and local businesses. From installing showers to general plumbing and maintenance and work, they can do it without any fuss. Other things they can do for you include emergency plumbing, gas safety inspections, boiler repair, and much more. For the full list of services, go to http://myplumberscambridge.co.uk/.
3.     Plumbing Birds Ltd

Best For
General Plumbing  and Heating Work
Services Offered
General plumbing and bathroom installations

Boiler installation, servicing, and repair

Central heating installation

Power flushing

Address
45 Whitehill Rd

Cambridge CB5 8LU

Contact Information
01223 241717
Website
https://www.plumbingbirds.co.uk/
Plumbing Birds Ltd doesn't overcharge you or surprise you with hidden charges. Their team stays true to what they say that "what they quote is what they do." So if you tell them that you need help with bathroom installation, leak detection, or plumbing maintenance, they will provide you with friendly and professional service that won't cost a fortune. They also offer a full range of heating services and you can learn more about them at https://www.plumbingbirds.co.uk/.
4.     Thomas Plumbing & Heating Ltd

Best For
General Plumbing and Heating Work
Services Offered
Boiler installation, servicing, and repairs

Power flushing and bathroom installation

Emergency plumbing

Address
135 Hereward Close, Impington, ​Cambridge CB24 9YF
Contact Information
​​(01223) 979 009; 07825 44 00 75
Website
http://www.thomasplumbingandheating.co.uk/
Your suffering from leaky taps or faulty shower will be over once you call on the team at Thomas Plumbing & Heating Ltd. Their plumbing services are suitable for you if you're looking to repair and install various appliances in the kitchen or bathroom. Another great thing is that Thomas Plumbing & Heating Ltd can also keep your property at ambient temperature at all times. They can do this by providing various, top-notch heating services.
5.     DJS Plumbing and Bathrooms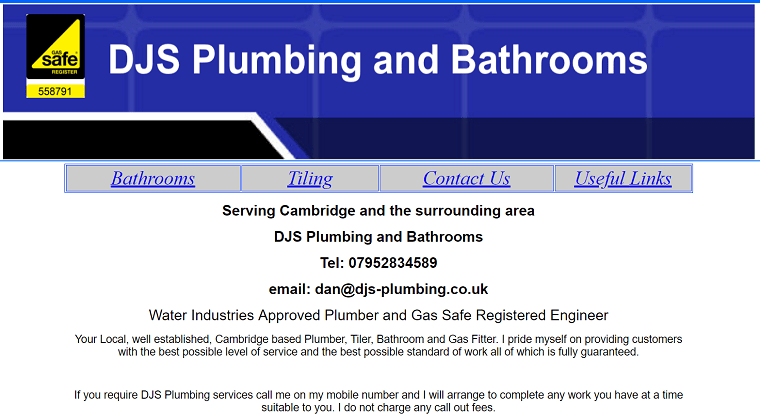 Best For
General Plumbing and Bathroom Fitting
Services Offered
Bathroom installation

Kitchen plumbing

Replacing taps or ball valves

Gas boiler installs and repairs

Address
21 Laburnum Cl, Cambridge CB4 1FY, UK
Contact Information
07952 834589
Website
http://www.djs-plumbing.co.uk/
DJS Plumbing and Bathrooms is an expert that you can trust in improving your existing bathroom or installing a completely new one. From designing, giving advice on tiles and radiators, to purchasing the materials needed, all of these can be done by DJS Plumbing and Bathrooms for you. In addition, this expert can also be relied on in case you're having other plumbing issues like tap replacement, kitchen plumbing, and the like.
6.     Prime Plumbing

Best For
Plumbing Repairs and Installations
Services Offered
Bathroom installations

Central heating services

General plumbing repairs

Address
22a Cambridge Road, Cambridge, CB24 9NU
Contact Information
01223 237 795
Website
http://primeplumbing-cambridge.co.uk/
For efficient and quick plumbing repairs and installations, Prime Plumbing is the one you need. They have a team consists of experienced people who can cover all aspects of plumbing. Their areas of specialization include fixing leaking taps, burst pipes, and blocked drains along with other general plumbing repair work. Furthermore, if you require a bathroom upgrade, they can also offer complete bathroom suite installation including planning and design.