Featured Image Source from Justdial
A plumbing system is one of the essential parts of a house. It ensures that the inhabitants get fresh and clean water and dispose of wastewater safely out of their property every day.
But the problem is that sometimes pipes leak, drains clog, and the water heater doesn't work. Fortunately, the best plumbers in Bloomington, Illinois are available and ready to assist you.
But, before we proceed to our top choices, we'll zero in on the costs of hiring a plumber in the city. This will give you a good idea of how much you'd have to pay to use their services.
The Average Cost of Plumbers in Bloomington, IL
Hiring a plumber in Bloomington, IL will cost approximately $45 to $165 per hour according to Thumbtack. But remember, you have to pay the parts, transportation, and call-out charges too.
Your overall price will mainly depend on the plumbing issue and the size of the work. Other plumbers can also charge by fixed rates for installing a toilet, hydro-jetting a drain, among others.
Before obtaining a quote from the plumber, you can check the available coupons. With them, you can reduce your expenses for the plumbing work.
Also, below are the average costs of common plumbing services. Note that these already include the labor and parts rates.
| | |
| --- | --- |
| Plumbing Service | Average Cost |
| Toilet repair | $140 – $300 |
| Leaking or burst pipe repair | $150 – $350 |
| Drain clearing | $200 |
| Waterline repair | $300 – $4,000 |
| Water heater repair | $550 |
| Sewer main installation | $3,000 |
| Septic tank installation | $5,500 |
The Best Plumber Options in Bloomington, IL
With the cost section done, we now present to you our very best plumber options in Bloomington, IL!
1) Covenant Plumbing

SERVICES
Plumbing Services
 
Drain cleaning
Leak detection
Fixtures
Piping & repiping
Remodeling
Sewer repair
Sump pumps
Backflow prevention
 
Water Heaters
 
Tankless water heaters
 
Water Treatment
 
Water testing
Water purification
ADDRESS
418 Olympia Dr., Ste 8, Bloomington, IL 61704, USA
CONTACT DETAILS
309-320-2999


[email protected]

WEBSITE
https://www.plumbingbycovenant.com/
Formed in 2006, Covenant Plumbing is a full-service residential plumber serving Bloomington, Normal, and the surrounding areas.
Some of their services include drain clearing, leak detection, backflow prevention, and repiping works. They can also repair and install water heaters.
Furthermore, their fully licensed team carries out remodeling and water purification jobs. These are something that other plumbers don't offer.
It's easy to schedule an appointment online with them too. If you have any questions or need assistance, you can use their quick SMS system to send the team a text and they will reply shortly.
Accredited by the Better Business Bureau, the company was given an A+ rating for resolving client complaints with professionalism and respect. That's one reason that they're one of the best plumbers in Bloomington, IL.
They have a lot of coupon deals that can apply to many—discounts for first-time clients, seniors and veterans, new water heater installs, and more. This allows you to get great value from their service.
And their cons are they don't offer commercial plumbing services and are closed on the weekends. However, they can take emergency plumbing calls if you need them.
Fully licensed plumbers
Conducts water purification & remodeling services
Online booking available
BBB-accredited business
Offers coupon deals
Doesn't offer commercial plumbing services
Closed on the weekends
Complaints about price
Customer Reviews
They earned a great 5/5 star score on Facebook. Most clients wrote that the team was personable, efficient, and explained the whole process to them.
One client named Lyn recommends them on Facebook. She said:
"Delayne answered a Sunday emergency call within 45 minutes. He was empathetic to my flooded home, fixed the problem quickly and recommended a clean up company. This is the third time I have used Covenant and they always do a great job!"
Also, Jackie left this review of them:
"Shane was very personable and professional. He did a great job replacing our water valves and making sensible recommendations. I highly recommend Covenant Plumbing and will certainly use them again."
2) Sunkel Plumbing
SERVICES
Plumbing repairs
Water heaters
Residential plumbing
Drain cleaning
Pipelining
Sump pumps
Gas pipes
Garbage disposals
Home water filtration
Kitchen remodeling
Bathroom remodeling
Duct cleaning
Indoor air quality
ADDRESS
1 Lafayette Court, Suite 2, Bloomington, IL 61701, USA
CONTACT DETAILS
309-829-5320


[email protected]

WEBSITE
https://www.sunkelplumbing.com/
For upfront and qualified plumbers, you might want to consider Sunkel Plumbing. Their ethos is to give a quote and time based on the client's plumbing situation and stick to them.
Though this is merely a small act, it makes a big difference. This simple customer-focused approach sets them apart from other established plumbers in Bloomington, IL.
Sunkel Plumbing is a locally run and operated business with a skilled team. All of them are background and drug-checked for your peace of mind when they work at your home.
They offer all aspects of home plumbing from leak repairs to waterline connection, including general repairs, sump pump installs, garbage disposal installs, water heater replacement, and drain clearing.
It won't matter if you need large or small work done. They can also remodel your toilet and kitchen using quality plumbing materials that will last for many years.
And here's the kicker: they offer a solid 2-year guarantee for all workmanship. If something goes wrong with your new heater or shower drain, for example, they'll repair it for you for free!
You can request a service online, but you have to fill up more information than that of others. However, this will allow them to tailor their service for you, provide options, and give an accurate time and bid.
Also, some clients complained of their expensive rates. But you don't have to pay it all in terms of price as they have coupons for certain services.
They cover the following areas in Illinois: Bloomington, Carlock, Danvers, Armington, Normal, El Paso, Shirley, Waynesville, and other villages. They are open only from Monday to Friday, though.
Licensed and background-checked plumbers
Guaranteed quotes
2-year workmanship guarantee
Coupon deals available
Also offers duct cleaning and indoor air quality services
Expensive rates
Doesn't have commercial services
Lots of info required to book a job
Closed on the weekends
Doesn't take 24/7 emergency plumbing calls
Customer Reviews
Several clients criticized their workmanship and expensive rates. But not for the majority, who mostly said they were thorough and skilled as well as explained the process clearly to them.
Here's the feedback from one client on Google:
"A bit before Dalton arrived to install a kitchen faucet and flexible water lines, I received a short text survey that allowed me to communicate to the plumber exactly what I needed. Dalton arrived on time and was just incredible, taking time to communicate to me some of the pricing breakdown and explaining the best course of action before proceeding with the job. He was very thorough, yet he finished much quicker than I had anticipated. I admit that it may have cost a bit more than I had anticipated, but that is on me. However, I always say "You get what you pay for", and Dalton provided bang for my buck!"
And Jeremy wrote this as well:
"Called around 1:30 after finding my sump pump had failed, and Dalton was out and had it replaced within a few hours. Definitely recommend these guys if you need something done on short notice."
3) D & R Plumbing, Heating & Air, Inc.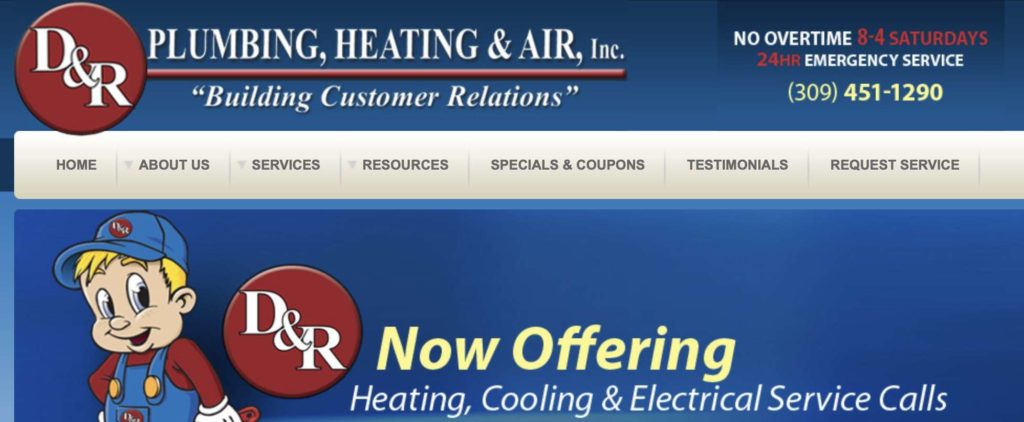 SERVICES
Residential services
Commercial services
Heating & air conditioning
Electrical
Sewer & drain
ADDRESS
2245 Springfield Rd, Ste A, Bloomington, IL 61701, USA
CONTACT DETAILS
(309) 451-1290


[email protected]

WEBSITE
https://www.drplumbingusa.com
D & R Plumbing, Heating, and Air is a versatile company that offers plumbing, electrical, and HVAC services to home and business clients within the Greater Bloomington area.
Since its inception, its mission is to build long-lasting relationships with clients. This they do by treating them as not just numbers but people whom they value and care about.
As their team is certified by the Plumbing-Heating-Cooling Contractors Association (PHCC), you can trust that they have the experience, skill, and knowledge to get the job done.
Among their services are plumbing & remodeling, backflow prevention, sewer camera inspections, hydro-jetting, water heater and boiler maintenance, air conditioning repairs, and many more.
To give you confidence, they back up all their work with a reliable guarantee. If you find any issues with their service, you can give them a call and they'll come back to your place to fix them.
However, their weakness lies in their high-end prices. Some clients had been surprised by the bill after the work—thus, it's best to clarify the price with them from the get-go.
Their emergency service is available from Monday to Sunday. But, bear in mind that on Saturdays, they only work till 4.00 PM.
So, if you need an adept and safe team to work on both your plumbing and electricals, D & R Plumbing is a terrific choice, since you won't need to call in a different tradesman.
Emergency services available
Conducts residential and commercial services
PHCC certified plumbers
BBB-accredited business
Gives special deals
Accepts Mastercard and Visa credit cards
Guarantees all work
Pricey service
They only work till 4.00 PM on Saturdays
Customer Reviews
There were some complaints about their premium prices. But most people were satisfied as the plumbers were friendly, professional, and courteous.
Of course, the technicians also resolved their plumbing issues efficiently.
Let's now see Mary's review of the company:
"Richard and his son, Rick, were polite, professional, and communicated very well with us about what the issue at hand might be and the approximate cost (toilet leak). Upon further investigation, it ended up being a less costly issue causing the toilet leak. They took care of it completely and cleaned up afterward so well! I loved that as they left he said to please get in touch right away if we had any needs or questions! Highly recommend D&R Plumbing! They take pride in their work and go the extra mile (such as fitting us in during an extra busy time)! Five stars!!"
Besides that, Renee mentioned this:
"Very responsive and communicative. Ready to help and work with my insurance company. Kind, courteous and even funny! I definitely reccomend them to anyone needed a plumber!"
4) A-1 Haney Plumbing Inc.

Family-owned and operated, A-1 Haney Plumbing Inc. is respected by clients for its friendly, kind, and efficient plumbers, and most of all, fair rates.
It offers a wide variety of plumbing services to businesses and homes. These range from leak repair to sewer line installation, including installing all types of water heaters and gas piping.
They offer 24-hour emergency calls too from Monday to Sunday. If an emergency strikes, say your sump pump flooded your basement or you have a blocked garbage disposal system, they can come to you fast.
Need to remodel or renovate your house? Their plumbers can professionally work with your other contractors too, such as electricians, painters, and floor installers.
They have a simple quote form online for you to reach the crew. As soon as they receive it, they'll get right back to you.
They don't have a lot of special offers but they offer military discounts. And besides, their low rates are already in themselves an advantage.
While they did not mention any guarantee, most people found their service outstanding the first time. You could enquire with them about this as you get a quote.
A1-Haney Plumbing serves clients in Bloomington and the entire McLean County. For good old-fashioned quality and service, they are an awesome pick!
Reasonable rates
24-hour service available
Simple quote system
Provides residential and commercial plumbing
Gives military discounts
Accepts credit cards
No mention of a service guarantee
Only one special offer available
Customer Reviews
On Facebook, this company bagged an average of 4.8/5 stars. Homeowners complimented the dedicated and courteous team who charged decent rates for their work.
One satisfied client shared this about the plumber:
"Strongly recommend these plumbers. They only fix what is necessary and won't overcharge just to get more money. I have used them several times without issue."
Moreover, another homeowner named Michael wrote this:
"For those living in Bloomington Normal area, this is THE plumbing company to use. I've had them out twice in the span of a couple weeks during shelter in place conditions…once for a hot water heater, once to come back and fix the hot water to a bathroom faucet, replace a kitchen faucet, and replace seals in tub handles. Both times they showed up when they said they would, got right to work, and the bill came up at or close to what they estimated and was more than fair. Guys were friendly, uniformed, and professional. If you find yourself needing a plumber and are anxious about choosing the right folks, call these guys and relax…you are in good hands."
5) America's Plumbing Company, Inc.

SERVICES
Bathtubs/showers
Drains
Faucets
Sinks
Sump pumps, sewage ejectors
Toilets/urinals
Water lines
Water heaters, tankless heaters, recirculation pumps
Utilities (gas, sewer, water remodeling)
Video sewer inspection
Hydro-jetting of sewer lines
ADDRESS
403 E Front St, Bloomington, IL 61701, USA
CONTACT DETAILS
309-212-7681


[email protected]

WEBSITE
https://www.americasplumbing.net
America's Plumbing Company is a local and family-owned business of Jerry Butler. He, along with his team, are licensed, reference-checked, and have a combined experience of 40 years.
They offer a broad range of domestic and commercial plumbing with the likes of faucet installation, toilet leak repair, water heater maintenance, and shower drain blockage.
However, they can also carry out hydro-jetting jobs, commercial urinal installation, sump pump installation, video sewer inspection, and the list goes on.
They strive to provide high-quality work that's compliant with current building codes. Also, a guarantee is provided along with every work to assure you of their top workmanship.
They operate from Monday to Friday but, unfortunately, don't offer round-the-clock service. You can conveniently book with them using their user-friendly program online.
According to clients, their rates were fair—a benefit with most family-owned companies. They also offer a few coupons, although as of the time of writing they are already expired.
Because they have three persons in their team, they can probably only handle small and medium plumbing works. Still, they're one of the top plumbers in Bloomington, IL that you can depend on.
Apart from booking online, you can get in touch with them by calling or emailing them. Their contact details are given in the table above.
Licensed and background-checked plumbers
Offers domestic and commercial services
Simple booking program
Offers a service warranty
Fair rates
Closed on the weekends
No emergency services
Coupon deals aren't up to date
Customer Reviews
America's Plumbing Company garnered rave reviews on Google and Facebook. Most clients said the team worked hard, answered all their questions, and fixed the problem promptly.
Check out Peg's comment as shown on their website:
"Just had the pleasure of having Mark and Matt at my home. Very professional and knowledgeable plumbers. Hope I don't have to call again, but if I need a plumber they are on my speed dial!"
Also, Mike gave this review regarding the company:
"Mark helped fix a leaky spigot, and consulted us on a different sump pump system with water back up system which we ended up installing. He did a thorough job explaining pros and cons of different options. The end product was of high quality and workmanship. He was on time each of the days he said he would be working. We'll definitely be using him again."
FAQs about the Top Options for Plumbers in Bloomington, IL
---
And those were our top list for plumbers in Bloomington, IL. If you have a plumbing issue at home or office, you're just one call away from them to solve the problem.
Do you have any questions or thoughts about our picks? If so, don't hesitate to send us a message and we'll get back to you as soon as we can.
Have a friend living in Springfield who needs an outstanding plumber? For this, you can share with him the best options for plumbers in Springfield, Illinois!