You should consider the interior design of your home or office seriously.  Why? It's the perfect method in showcasing your individuality and brand.
When it comes to professional interior design, Jakarta never runs out of talented designers who can help bring out your style in your space.  There's just one thing: Out of the many, who are you going to choose?
Leave that to us.  We combed through hundreds of interior design providers in the city and finally found six of the most prestigious interior design names in Jakarta.
Are you ready to know these folks?
We're ready if you are!
Note: Due to the current pandemic outbreak, we've noted the relevant service changes for some of the shops listed below. Where applicable, we've noted the policy or service changes.
1)   Rytama Interiors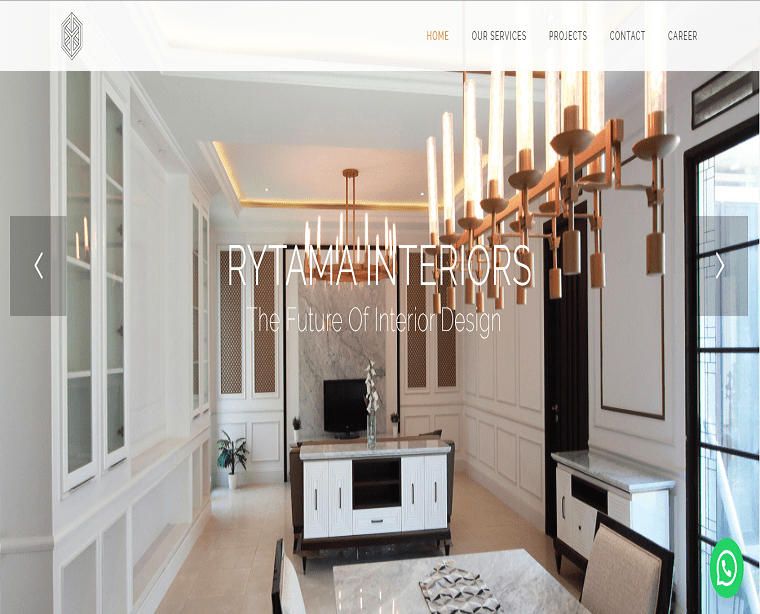 BEST FOR
Consultation, interior design, and custom furniture
SERVICES
Interior design and décor

Renovation

Interior contracting (processed floors, walls, electrical, lighting, etc.)

Residential & commercial interior design

Co-working spaces

ADDRESS
Jalan H. Kelik, Komplek Migas 20 Blok F / 46, Jl. Nasional 1, RT.1/RW.8, Klp. Dua, Kec. Kb. Jeruk, Kota Jakarta Barat, Jawa Barat 11550, Indonesia
CONTACT
Mobile: 0812-208-2275

Email: [email protected]

WEBSITE
https://rytamainteriors.com/
Co-founders Fery Pratama and M. Egi Restiadi launched Rytama Interiors in 2010 intending to help clients to convert their imagination into original designs.  With this in mind, Rytama's reputation has evolved into one of the most sought-after interior designers, not only in Jakarta but in the entire country.  Rytama Interiors will never fall short in delivering top-notch services and professionalism before and after a project.  Rest assured that you will achieve your dream space.
2)  INSADA Integrated Design Team
BEST FOR
Architecture, interior design, and construction services
SERVICES
Residential, commercial, hospitality, and health care interior design

Furniture selection

Color consultation

Project management

Design consultation

ADDRESS
Intercon Plaza D/17, Meruya Ilir, Jakarta, 11630, Indonesia
CONTACT
Phone: +62 (21) 584 5535

Email: [email protected]

WEBSITE
https://www.insadadesignteam.com/
INSADA has been serving Jakarta for over 25 years with architecture, interior design, construction, and design consultant services.  With more than 250 completed projects in Indonesia and abroad, INSADA takes pride in having extensive experience in various markets.  Its interior design team integrates well with other disciplines in the office to produce the best outcome for the clients.  INSADA also works hard to deliver engaging designs within the client's financial scope and time frame.
3)  Iwan Sastrawiguna Interior Design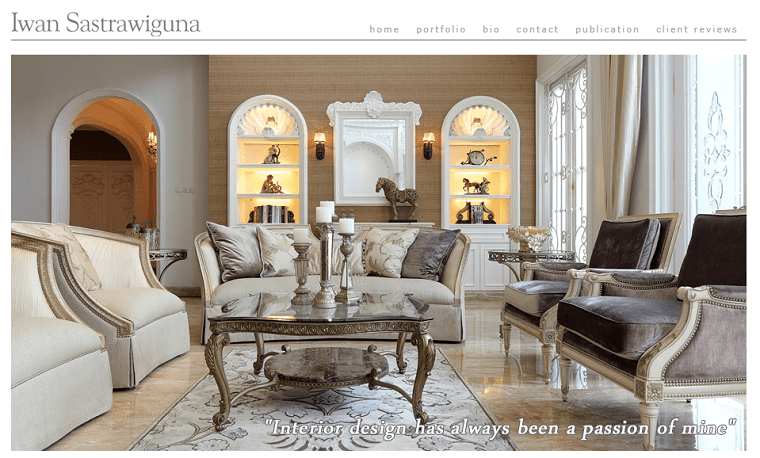 BEST FOR
Interior design consultancy services
SERVICES
Bathroom, bedroom, kitchen, and living room design

Color consulting

Custom furniture

Decluttering

Floor plans

Historic building conservation

Home staging

Space Planning

ADDRESS
Pinangsia I no 16 LL, Jakarta 11110, Indonesia
CONTACT
Phone: 62-21-6284581

Email : [email protected]

WEBSITE
http://www.iwansastrawiguna.com/
Iwan Sastrawiguna is known for his keen eye for detail and passion in designing spaces.  In 1999, he opened his own practice, bringing quality designs and soul to spaces in different markets. Many of his clients attest how Iwan converted their spaces into aesthetically pleasing and warm homes or workplaces.
4)  Mahallati Interior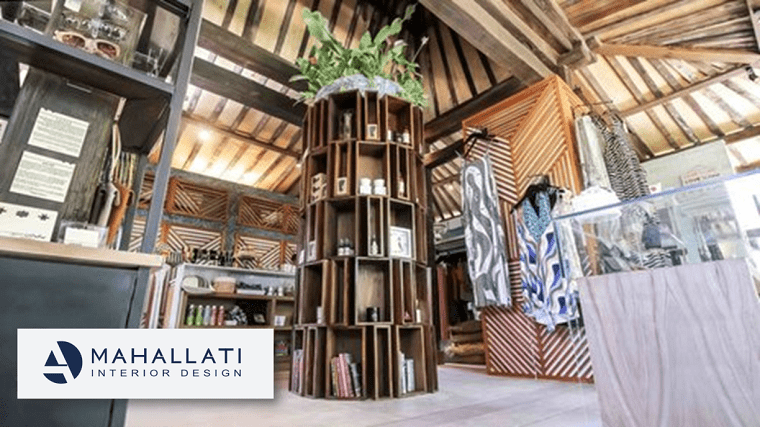 BEST FOR
Interior design, production, and manufacturing ser
SERVICES
3D rendering

Art selection

Attic conversion

Custom furniture, shelving, storage, cabinetry, etc.

Downsizing

Energy-efficient homes

Interior design photography

Floor plans

Green building

Sustainable and universal designs

Space planning

Project management

ADDRESS
Jl. Gn. Tangkuban Perahu No.303, Padangsambian Klod, Denpasar Bar., Kabupaten Badung, Bali 80117
CONTACT
Phone/ Whatsapp:  +62-811-2674-333

Email:  [email protected]

WEBSITE
https://www.mhllt.com/
For international interior design, Jakarta highly recommends Mahallati.  With a team of more than 120 experts in related fields and over four decades of combined experience in the industry, the company provides exceptional design output.  Mahallati's creative workflow generates a genuine end-to-end solution with its improving portfolio of completed projects that have been recognized across three continents.
5)  Interior Jakarta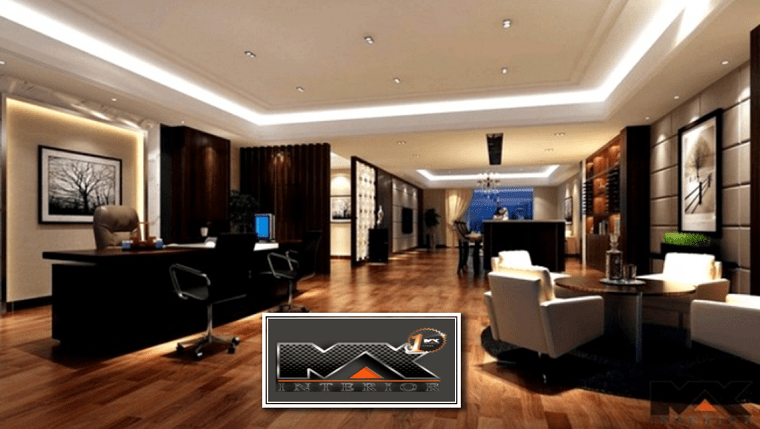 BEST FOR
Interior design & contracting

Home & office furniture production

SERVICES
Bathroom, bedroom, dining room, and living room designs

Custom built-ins, cabinetry, furniture, pantries, etc.

Floor Plans

ADDRESS
Taman. Shangrilla Indah II, Jl. Sakti II, No. 13, Jakarta Selatan

jakarta 12270, Indonesia

CONTACT
Phone: 0853-5663-3233

Email: [email protected]

WEBSITE
https://maxpekanbaru.blogspot.com/
Max Interior Jakarta is a premier interior contractor that has been providing residents and investors in Jakarta, with superior designs and end-result.  It offers clients full control, cost-effective services, and excellent performance on all projects.  With its integrity and outstanding performance, together with the best team and access to premium resources, Max Interior Jakarta established its reputation as a leading contractor in the country.
6)  Levendig
BEST FOR
Interior design, architecture, and construction services
SERVICES
Private and commercial interior design

Branding

Floor planning

Project management

New construction and renovation

Art, furniture, fixture, and accessory selection

Documenting

Space planning

Furnishing

ADDRESS
Jalan Penyelesaian Tomang 3 blok 49 No. 2 Meruya Utara

Jakarta 11620, Indonesia

CONTACT
Phone: +62 888-1135-945
WEBSITE
http://www.levendig.co.id/
Levendig is one of Indonesia's leading companies when it comes to interior design, construction, and architecture services. Founded in 2007, Levendig's more-than-a decade experience in the industry plus its highly-driven team of innovative professionals makes it a reputable go-to for anyone who wishes to create their dream spaces.
Note: Website is under construction.
7) Mezzanine Jakarta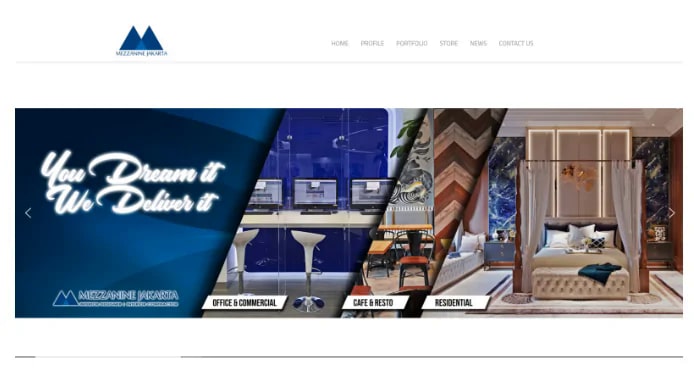 BEST FOR
Interior design, contractor firm, and advertisement
SERVICES
Design, Space Planning, Furniture, Decor, Upholstery
ADDRESS
Jl. Re martadinata no 1Q Rw5 Rt6, RT.6/RW.5, Ancol, Kec. Pademangan, Kota Jkt Utara, Daerah Khusus Ibukota Jakarta 14430
CONTACT

[email protected]




[email protected]


(021) 226-927-53
0818-691-706
0812-8111-0289
WEBSITE
https://mezzaninejakarta.com/
Mezzanine Jakarta is an interior design and contractor firm that believes in delivering designs that fit the clients' desired environment and enhancing their current lifestyle. From designing, building of the furniture, to advertising of the given product, Mezzanine Jakarta will ensure to give you the best outcomes.
Their services are also perfectly suited for commercial spaces, so investing in their talents in designing and advertising is perfect for businesses. Mezzanine Jakarta is definitely a good choice for professionals who want to achieve their desired spaces.
8) Arkadia Works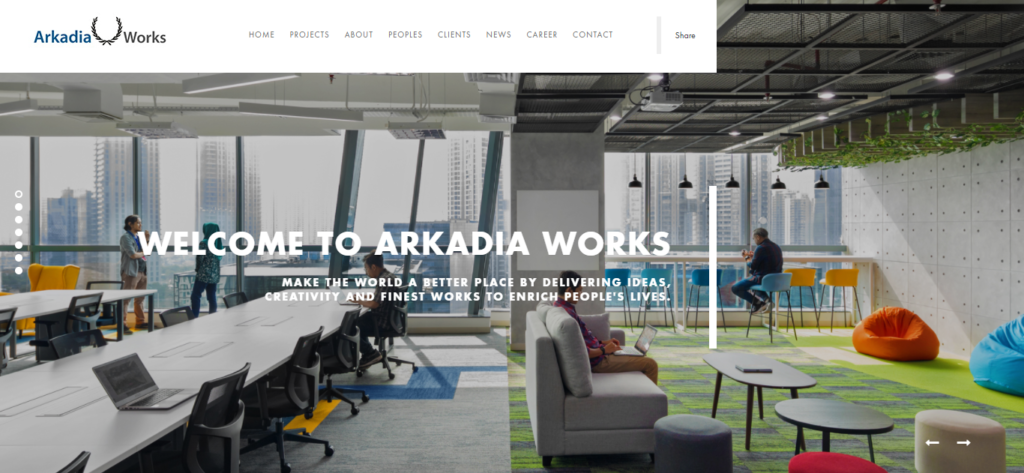 BEST FOR
Interior design
SERVICES
Office Fit Out
Interior Renovation
Booth Construction
Reinstatement
ADDRESS
JL RC VETERAN NO.1-I, SOUTH JAKARTA, INDONESIA. 12330
CONTACT
TEL: +62 8111476793, FAX: +62 21 7433946


[email protected]

WEBSITE
http://www.arkadiaworks.com/
Arkadia Works is a professional design & construction interior architecture firm. They belive that ideas and skilled craftsmanship are essential in enriching people's lives.
What people love the most about them is how they only provide the finest quality, excellent service, and  punctuality & partnership during the entire project.
People love Arkadia Works because they use Green materials for each project they have, They make sure to always seek ways to specify the materials with lowest impact to the environment as well as to improve the Indoor Air Quality.
Over the years, they have built a reputation for themselves due to the quality of their services. They have delivered their services to numbers of corporate clients like Shell, HSBC, Motorola, UNICEF, and so much more.