Featured Image Source from Horizon Services
Heating is one of the most important amenities in a home or office that people can't do without, especially in Denver when the weather is often chilly.
We can't feel warm and comfortable if our heaters are faulty or have failed to work for some reason. If this is your situation, don't worry, as today's article is for you.
Here, we've listed down the best options for heating repair in Denver. But before we go to that, we'll discuss their average costs to help you find a contractor that offers a fair and decent price.
Ready? Let's start!
How Much Does Heating Repair Cost in Denver?
Heating repair costs in Denver vary a lot from company to company. The final price will depend on the heater type and issue as well as the provider's labor, parts, trip, and call-out rates.
Common heater issues include defective ignition switch, ductwork, thermostat, flame sensor, dirty condenser coils, low heat, broken wires, and so on.
Service call-outs can cost from $50 to $100 and are higher for emergencies after hours or in the early morning. To save up on costs, it's wise to call a repair tech out during working hours even though offices are mostly open 24/7.
Below is a table showing the different heater types and their respective rates according to HomeAdvisor.
By the way, many heating repair specialists have special printable coupons online. This will effectively lower down the full price you have to pay so it's a good idea to avail them.
| | |
| --- | --- |
| Type of Heater | Average Repair Cost |
| Furnace heater | $124 – $515 |
| Heat pump | $144 – $592 |
| Electrical baseboard or wall heater | $192 – $541 |
| Radiant floor heater | $207 – $740 |
| Boiler or radiator heater | $226 – $1,213 |
Also, we suggest you get at least 3 bids from your top repair specialists first. This will help you get the best price for getting your heater repaired like brand new.
The Best Options for Heating Repair in Denver
Now that you know the average cost of heating repair in the city, here are our top options for heating repair in Denver, Colorado!
1) Swan Plumbing, Heating & Air

SERVICES
Heating

Heating systems
Emergency heating repair
Homeowner heating advice

Furnaces

Furnace repair
Furnace replacement
Furnace maintenance

Boilers

Boiler repair
Boiler maintenance
Boiler replacement

Accessories

Programmable thermostats


Air Conditioning

AC repair
AC replacement
AC maintenance

Air Quality

Ductless air conditioners
Central air conditioning
Humidifier installation & repair
Programmable thermostats
Energy-efficient cooling
Homeowner cooling advice


Plumbing

Sump pump repair & installation
Sewer repair
Trenchless sewer repair
Leak detection
Drain cleaning
Repiping
Homeowner plumbing advice
ADDRESS
6810 Broadway, N, Denver, CO 80221, USA
CONTACT
(303) 993-1406
WEBSITE
https://swanheating.com
Swan Plumbing, Heating & Air is a preferred heater and AC specialist in the Denver metro area. It offers a full gamut of services including installing, servicing, and repairing boilers, furnaces, and air conditioning units, as well as plumbing and drainage works.
The repair team carries a North American Technician Excellence (NATE) certification, environmental product approval, and BBB endorsement, making them one of the greenest and best heating repair options in Denver!
There are lots of benefits to hiring this company, including their quick, same-day heating repair or replacement service, emergency availability, unbeatable parts warranties, and guaranteed client satisfaction.
Service call prices aren't hidden from interested clients nor are their coupon discounts. The latter are printable so they can simply be shown to the technician who will deduct your total bill.
As clients can attest to, their heating and cooling technicians are professional, knowledgeable, and friendly. They aim to detect the issue quickly and resolve it to get your heater up and running so you can feel cozy.
That said, quite a number of homeowners had been disappointed with the scheduling problems and high price quoted to them.
The gist is if you want a client-focused company with a fast response, Swan Plumbing, Heating, & Air is a great pick! You can call them by their number as provided above or scheduling online.
Same-day heating repair service
A+ rating from the BBB
Guaranteed client satisfaction
Lengthy parts warranties
No emergency call-out fees
Printable coupons available
Expensive rates
Closed on a Sunday
Complaints about price and customer service
Customer Reviews
Swan Plumbing, Heating & Air received rave reviews on Google and Facebook. Clients said that they provided excellent workmanship and service, all the while being approachable and friendly.
Here's a review coming from one client, Anthony:
"Professional and outstanding service, my service rep was very knowledgeable, he educated me on how to reduce my problems with
the heater and A/C unit. Mr O'Brien was polite, courteous and very knowledgeable. I will recommend him and SWAN Plumbing, Heating & Air to any one with their heater or A/C."
Furthermore, Vikki shared her experience with the company:
"Moe came out today and fixed my heater. He was professional, knowledgeable, had great customer service skills and best of all was honest with what I needed now and what I may need in the future. This is the first company I've dealt with in a long time that did not try to get me to replace more than what I needed. I'm sold! This is the company I'm staying with and Moe is the one I will be requesting. I'm very pleased!"
2) Golden West Plumbing, Heating & Air Conditioning

SERVICES
Plumbing

Residential plumbing
Commercial plumbing
Kitchen plumbing
Bathroom plumbing
Water heater
Water heater repair
Water heater selection
Tankless water heaters
Plumbing repair

Sewer & Drain

Drain cleaning
Trenchless sewer repair
Drain sewer cleaning
Sewer line cleaning
Rooter services
Video pipeline inspection

Air Conditioning

Central air conditioning
Air conditioning installation
Air conditioning repair
Air conditioning replacement
Air conditioning tuneups
Swamp coolers

Heating

Furnace
Furnace selection
Heat pumps
Boilers
Heating installation
HVAC services

Electrical

Panel upgrades
Electrical repairs
Residential electrical repairs
Commercial electrical repairs
ADDRESS
4217 Delaware St., Denver, CO 80216, USA
CONTACT
303-433-6077


[email protected]

WEBSITE
https://www.goldenwestph.com
Based in Delaware Street, Denver, Golden West Plumbing, Heating, and Air Conditioning has a licensed and professional team that can get all your cooling, plumbing, and heating needs sorted!
Some of its popular services include AC installation and repair, furnace and boiler unit repair, swamp cooler unit installation, water heater replacement, and electrical panel upgrades.
To keep your house or office heating system efficient all year round, you can avail of their annual heating tune-ups. It will be inspected for faults and maintained for optimal performance, which can reduce breakdown chances over the long term and even lower your energy bills!
Golden West is a family-owned and -operated company that serves the Denver metropolitan area including Aurora, Lakewood, Parker, Westminster, and other cities. The repair techs can come to you 24/7 to get your heater or heat pump back to a good working condition.
As for their downsides, they charge lofty prices relative to the job performed. Many clients expressed their dissatisfaction about this in the business's customer reviews.
Despite this, if you still want to give this company a go, they offer a few finance options so you can get your heater repaired without having to pay the entire sum right now. Also, you can make use of their coupon deals to get savings.
So far, we didn't see a clear indication of whether they provide a service guarantee or not. If they don't offer one, it's another setback in picking this provider.
On the bright side, they have thousands of satisfied clients on Google. This says that their workmanship and service are very reliable and effective, which is why we still recommended them as one of the best heating repair services in Denver!
Provides same-day heating repair service
24/7 emergency service available
A+ rating from the BBB
Accepts Visa, Amex, Mastercard, and Discover Network
Coupon discounts available
Offers stress-free finance options
Lofty rates
No mention if they offer a service guarantee
Complaints about their prices and service
Customer Reviews
On Google, the company garnered 4.8/5 stars from numerous clients.
Despite the complaints about price, clients ended up satisfied thanks to their dedicated, helpful, and adept team who successfully repaired their heaters.
Take a look at Tina's feedback on Google:
"My old inefficient furnace finally blew a motor and Chris came out the next morning. Golden West met all my expectations with how the whole thing went down. I was presented with several options but didn't want to dump a lot of money into an old furnace that struggle to heat my 800 sq ft home so I went with a moderately priced unit and was very happy with how fast it happened. Same Day. They were done by about 5pm with the install. They even replaced an arm off the main trunk over to my son's room because it had been repaired DIY-style by so many previous home owners.
They sealed everything up and helped to get my Nest thermostat installed correctly and set up. Gave me tips on how to keep the machine running the best through winter, like cycling the warm air upstairs with the blower on. They also brought my exhaust up to code and scheduled the inspection around my schedule. I am a very happy customer and will use them moving forward for my properties.
My dog was even thrilled with Chris."
Additionally, Melissa wrote this review:
"Highly recommend! Phone was answered by a person early in the morning and a technician was on his way shortly thereafter. Anthony was knowledgeable, friendly and great at explaining what was happening and giving me options. His work is neat and, best of all, I have heat again! (3 other companies didn't respond to my messages at all!)."
3) Time Plumbing, Heating & Electric

SERVICES
Plumbing

Emergency plumbing
Bathroom plumbing
Winterize plumbing
Kitchen plumbing
Water leak detection

Water Heaters

Drain & Sewer

Drain cleaning
Drain camera inspection
Sewer ejector pump
Hydro jetting
Sewer line repair
Trenchless sewer replacement

Heating

Heater tune-up & repair
Furnace replacement
Boiler services
Furnace maintenance & repair
Water heaters
Filter replacement

Cooling

AC repair
AC installation
Ductless mini-splits
Filter replacement

Electrical

Breaker panel services
Ceiling fan installation
Generator services
Landscape lighting
ADDRESS
2525 W 6th Ave, Denver, CO 80204, USA
CONTACT
303-758-6237


[email protected]

WEBSITE
https://www.303plumber.com
Need your heater fixed to be ready for the winter season? If so, you could call Time Plumbing, Heating & Electric as they have a professional, neat, and informative team to help you!
The company has been in business since 1983 offering a comprehensive list of services for heating, cooling, plumbing, and electrical jobs for businesses and homeowners alike.
Their specialty is in water heater repair and replacement, furnace servicing and installation, boiler tune-ups, and filter replacement.
Most clients were satisfied with the skillful and thorough work provided by the team, alongside a clear explanation about how the heater broke, what they did to fix it, and how to care for it.
However, the trade-off is that they charge excessive prices for parts and materials. Many said they found a similar component that's considerably cheaper on Amazon or other online shops.
This is what pulled the company down a bit in their review scores. Despite that, clients stated they were great to work with, coming in to diagnose the heater, resolve the issue, and leave your area without a mess all done efficiently.
They have coupon discounts online but fewer than what their competitors offer. Also, they have finance options wherein you can pay 1/50th of the price every month until the balance is fully paid.
You can also pay the repair technician with different methods. This can be through cash, check, or credit card including Visa, Mastercard, Amex, and Discover Network—so in terms of convenience, you won't have a problem.
Finally, Time Plumbing, Heating & Electric offers same- and next-day heater servicing. Moreover, they can take service calls round the clock in case you suddenly have a heater outage.
Same-day heating repair available
Takes 24/7 service calls
Accepts Visa, Amex, Mastercard, Discover, cash, and check
A+ rating from the BBB
Special deals are available
Offers a variety of finance programs
Expensive rates
Complaints about customer service
Customer Reviews
Although there were critics about the price, the great majority said the technicians were efficient, knowledgeable, reliable, and punctual. In the end, their heaters worked well without a hitch.
Ryan, one satisfied client, wrote this feedback:
"I've used Time Plumbing & Heating several times to fix different issues and they've (Jeff A and MIke been excellent to work with. Not only are the technicians extremely friendly, but also explain to you everything you want to know about your heating and cooling systems. I will continue to use Time for all of my services in the future!"
And here's another one from Donna:
"David F. came out to fix my water heater the same day I called to schedule an appointment. David was very friendly, professional, and knowledgeable about the water heater repair (and the water system in general). He explained in detail the problems and gave options for fixing them. David was very efficient and thorough with the water heater replacement and made sure all the important new features were in place. Though an expensive job to replace a water heater, I felt the quality to cost ratio was appropriate. I would recommend Time Plumbing, Heating & Electric to others. Thanks for the great customer service and work."
4) Right Away Heating & Air Conditioning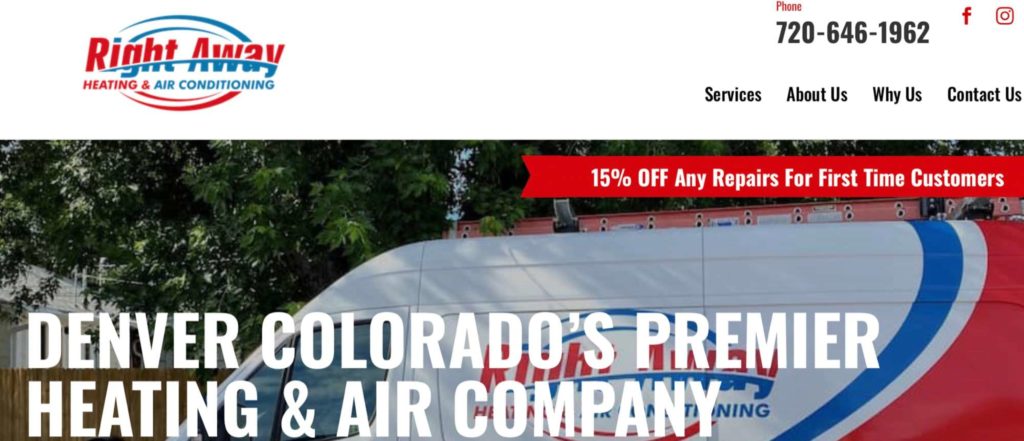 Thus far, our featured companies have given high prices to their clients. This time, we found a company that offers affordable and fair prices without sacrificing workmanship quality.
Right Away Heating & Air Conditioning is the HVAC company we are referring to. They are known for working around and within a client's budget and finishing the work on time.
They offer fewer services compared to their competitors, though. These only include AC repair and replacement, furnace repair and replacement, and boiler repair and maintenance.
What they're lacking is plumbing and electrical repairs, which are vital when you need them to do additional services for you. Some examples are clearing the drain, changing to LED lighting, or installing a generator.
The company takes pride in its certified team who has the technical skills and know-how to solve your heating issues. All work comes with a 2-year warranty for labor and parts, which is great as they are transparent about it.
Right Away lives up to its name as its technicians will be at your house on short notice. They are also available the whole day if ever you need them like when the weather is very cold and you can't take it anymore.
Aside from affordable prices, you can capitalize on their 15 percent first-time customer discount to get more value for your money. Expensive prices won't deter you now from getting a reliable tech to fix your heating system.
Based on the reasons stated above, we are confident to include this company in our list of the best heating repair services in Denver!
Affordable rates
Same-day service available
Offers 2-year parts and service warranties
A+ rating from the BBB
24/7 service availability
Offers a first-time client discount
No plumbing and electrical services
Only one discount available
Customer Reviews
Right Away Heating & Air Conditioning earned a score of 4.9/5 stars from many clients. Most of them said that the professional repair team delivered within budget and on time and walked them through the entire process too.
Gavin wrote this review as can be seen on the website:
"Jose was absolutely incredible. I had a complex furnace issue that I needed to be immediately addressed because the outside temperature was 0 degrees. Jose came out just hours after I called. He walked me through the issue and allowed me to observe for my own benefit. Ultimately Jose informed me how to fix the problem and gave me two options: 1) to allow me to acquire the necessary parts myself and to install the parts myself, and only pay Jose a reasonable service fee or 2) to pay for the parts, installation, and the service fee. I chose the later and my furnace has been working great ever since."
And also, Shane wrote this:
"Ive used Right Away Heating and Cooling now 2 times already and each time impressed with the knowledge Henry had with my old Heating and Hvac system I have.
Whether it was my furnace problems not getting heat blowing to now my air conditioner not blowing cold air, he did a great job getting the furnace back on and kept family warm this winter (Dec 2020).
Our furnace went out, I smelled gas, we evacuated the house in the middle of the night, we called the Fire Department and they turned off the lines, and my family spent a miserable cold night huddled under blankets.
Right Away Heating came out the very next day before my family came home to a cold house. Henry came out, was very friendly and knowledgeable, and got the furnace working in under a half hour, all with a smile. My Family was warm and comfortable again this winter and today all cool again enjoying freezing temperatures in our house due to the amazing work by Henry at Right Away Heating and Cooling . Definitely 5 stars!"
5) Dalco Heating & Air Conditioning

SERVICES
Air Conditioning

Repair
Installation
Maintenance
Heat pumps
Ductless mini-splits
Temperature zoning

Heating

Repair
Installation
Maintenance
Heat pumps
Ductless mini-splits
Temperature zoning

Water Heaters

Repair & maintenance
Installation

Air Quality

Air sterilization
Virus protection
ADDRESS
4610 S Ulster St #150, Denver, CO 80237, USA
CONTACT
303-979-7541


[email protected]

WEBSITE
https://www.dalcohvac.com/heating-repair/
If your furnace heating system isn't working and you need a certified repair professional to sort it out for you, Dalco Heating & Air Conditioning is a pretty good choice!
Furnace heaters are their forte, and they can fix whatever type you have and whatever is wrong with it. Whether it has to do something with the gas valve or oil combustion chamber, they have you covered.
The NATE-certified team understands that it's uncomfortable to be without a working heater at home. So, they make it a point to respond quickly from the time that you called them out for service.
Although they are normally closed on Saturdays and Sundays they are on call 24 hours a day and 7 days a week.
Aside from furnace heater repairs, they also install, repair, and service all makes and models of air conditioners, heat pumps, and humidifiers to keep you warm or cool depending on the season.
Their rates are not hefty like other companies we have on this list. As clients can attest, they are reasonable and fair, not to mention they offer package and coupon deals to make it even sweeter.
Moreover, it's not often that you find a company with a team that's honest and caring to the clients. Luckily, it is, which is why many clients trust them and why we added them to our list of the best heating repair options in Denver.
Dalco Heating & Air Conditioning covers residences and businesses in the Denver metro area. And they accept cash, check, credit cards, and debit card payments.
Furnace heating system experts
NATE-certified technicians
24/7 emergency services offered
Accepts cash, check, credit cards, and debit cards
Offers a same-as-cash finance option
Special offers available
Guaranteed client satisfaction
Closed on the weekends
Complaints about their service and rates
Customer Reviews
According to clients, owner Marc and the team were professional, adept, and friendly the entire time. They also said that the repair specialists cared about them and their properties.
Here's what Jim had to say of the contractor:
"DALCO is an Outstanding Company. I am very impressed with DALCO. The owner, Marc, is a very genuine, no nonsense person. Honesty and integrity is what you will get with Marc and DALCO. I had several HVAC companies diagnosis my A/C system and provide me with alternatives to either repair or replace the system. DALCO was the only company the fully and carefully and honestly explained the pros and cons to repair vs. replacement. Their prices are fair and reasonable. I have total confidence in this company and will use them for all my HVAC needs in the future."
Another happy client left this review:
"We were without heat for 12 days during a cold snap and the temps were down to 7 degrees. Trane (furnace manufacturer) would not help our repair tech because he wasn't certified through Trane. So once we found Dalco with a certified tech we called them in the evening and after the representative learned about us being without heat, she dispatched a tech immediately. Travors came out first thing in the morning and was so great! He was intelligent and sincerely concerned for our well being. After a long process with Trane technician on the phone- we had heat!!! He took the time to explain everything to us and we were very satisfied regarding the care this company showed us. The repair price was very reasonable and they have our business from now on!! Thank you Travors and Dalco!!"
FAQs about the Top Heating Repair in Denver
---
And that concludes our top options for heating repair in Denver! With these contractors, you won't have to wait long for your heater to be up and running again.
Do you have anything to ask us or comment about this list? If you have one, kindly let us know by messaging us and we'll get back to you promptly.
Have lots of things that need to be fixed at home? In this case, you could read about our best handyman options in Denver so you can go back to enjoying your space with total convenience.