Is your garage door unusable at the moment? To get it fixed without delay, we compiled a list of the best garage door repair in Indianapolis for you today.
But before we proceed to that, we're going to tackle their typical costs first. This will help you decide which company to use so you can get value for your money.
How Much Does Garage Door Repair Cost in Indianapolis?
According to Home Advisor, Indianapolis garage door repair typically costs $237 but can be between $146 and $332.
Factors that can affect the price include the issue and type of the garage door, labor, urgency, and whether or not a replacement part is needed.
The most common garage door issues include broken springs, slow opening doors, faulty openers, worn rollers and bearings, and blocked photo-eye sensors.
It's vital to fix them for smooth day-to-day operation and more importantly, for you, your family, and your pets to be safe.
We also made a table below of common repair works and their average prices. Note that these serve only as a guide and may vary from your actual estimate.
| | |
| --- | --- |
| Garage Door Repair Work | Price Range |
| Bracket repair | $80 – $160 |
| Chain repair | $85 – $350 |
| Roller replacement | $90 – $190 |
| Cable repair | $90 – $350 |
| Garage door maintenance | $100 – $200 |
| Sensor replacement | $110 – $200 |
| Off-track repair | $125 – $400 |
| Spring replacement | $150 – $350 |
The Best Options for Garage Door Repair in Indianapolis
Now that we're done with the cost section, here are the best options for garage door repair in Indianapolis!
1) Garage Door Doctor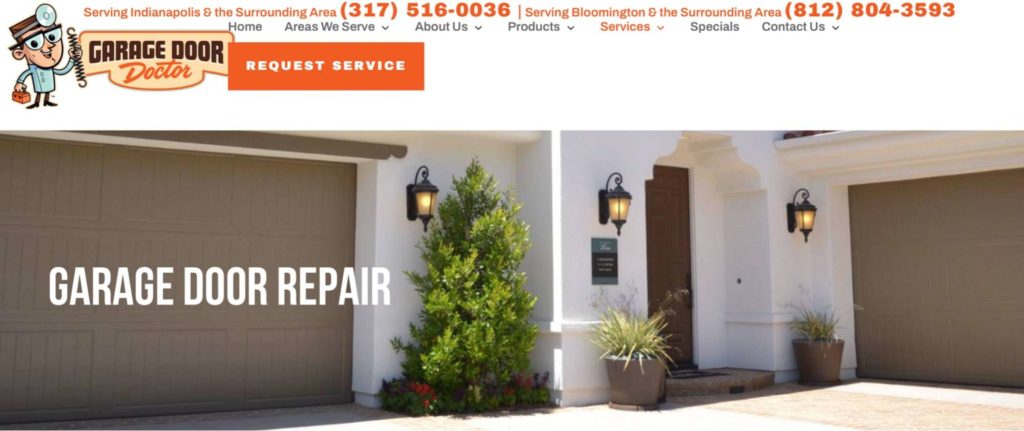 Garage Door Doctor offers garage services to clients from its Indianapolis and Bloomington locations. Its certified team conducts garage door sales, repairs, installation, and maintenance.
But their 24/7 emergency service is available only with their Indianapolis location. Normally, they are open from Monday to Sunday.
Formed in 2009, they are a local and family-owned company. They are a member of the International Door Association and the Better Business Bureau, denoting that they provide high work standards.
Regardless of the brand and type, they can restore your garage door to good working order. To do that, they have premium products like springs, hinges, cables, and openers.
Should you need a new garage door, they offer leading garage door brands for residential and commercial use, namely Haas and C.H.I. Doors. These have different styles and colors that can match your house.
As well as a solid product guarantee, the team gives clients a workmanship warranty for their peace of mind. In case you observe a defect with the product, their team will repair it or replace it with a new one.
Most clients found their prices to be lower than what other garage door companies offer. One said they could even price-match if you happen to find a more affordable quote from someplace.
Also, they have plenty of special offers and discounts on their website. With this, you can get more bang for your buck—which is why they're among the best garage door repair options in Indianapolis.
Their only drawbacks are client complaints about their response times and service. But, then again, not all businesses are perfect.
International Door Association member
Authorized dealer of recognized garage door brands
Special offers and discounts available
Offers 24/7 emergency services
Has live chat support
Gives product and workmanship guarantees
Fewer garage door selections
Complaints about their service quality and turnaround
Customer Reviews
They received tons of positive reviews on Google. Many people wrote that they were professional and knowledgeable, coming out the same day to sort out their garage doors.
One reviewer named Chase posted this on Facebook:
"Great response time, VIP customer service, quality work. Best garage Door Company! The owner went above an beyond to make sure we had the very best. Don't waist your time and money with another company."
And here's Leslie's comment of them:
"Garage Door doctor arrived within 24 hours fo my call. the technician, Robert, was very professional and started the work quickly after telling me what needed to be done and the pricing. I highly recommend Garage Door Doctor."
2) Overhead Door Co.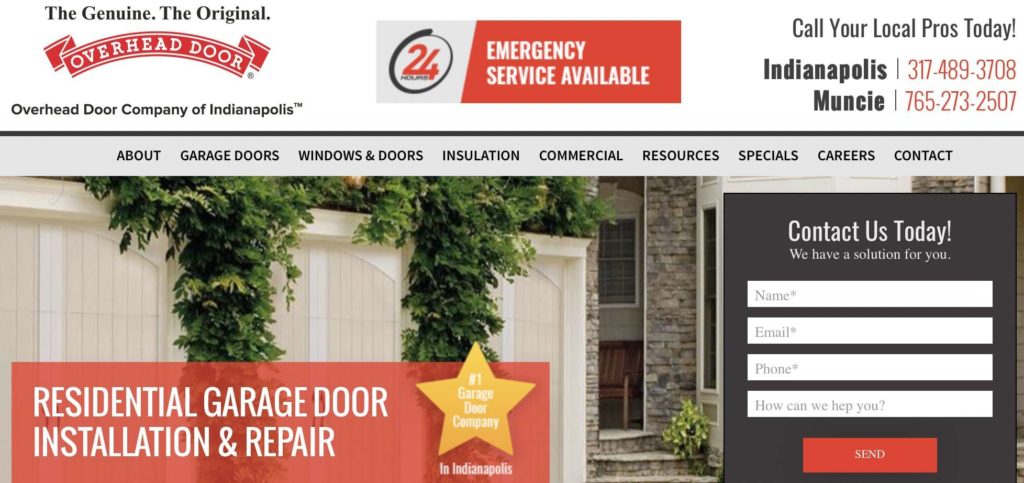 SERVICES
Residential garage doors
Garage door maintenance
Garage door repair
Garage door replacement
Replacement windows
Exterior doors
Home insulation
Air sealing
ADDRESS
8811 Bash Street Indianapolis, IN 46256, USA
CONTACT DETAILS
317-489-3708
WEBSITE
https://www.myohd.com
With 90 years of experience, Overhead Door Co. has gained a reputation for being another of the best garage door repair firms in Indianapolis!
They promise to come out the same day, otherwise, the labor fee is waived for clients.
They serve clients in the Indiana metro area round the clock. Holidays, midnights, and weekends are no exception to them.
The company provides garage door repair, installation, and service. They have a high-quality and versatile range of doors and openers that will fit your requirements and budget.
From garage doors that don't fully open to broken glass panes, they are experienced to repair. Pretty soon, you'll be able to drive out or park your car in a well-functioning garage door.
Among the different kinds they can fix and replace are fiberglass, vinyl, aluminum, and steel. These will unfailingly enhance the aesthetics and security of your home and garage, after all, these come from the best brands in the country.
They allow you to schedule a text-back with their team online. Although this isn't as quick as instant chat, you can expect to get a reply from them within a short time.
Or, you can simply fill in their form online if you prefer.
On their website, they have a few coupons that will cut down your expense when using their service. However, these aren't as many as what our previous pick offers.
And while you're at it, you can also let them repair your broken security grilles, house door, or window. This means you won't have to spend extra costs on calling another professional.
Guaranteed same-day service
Large range of premium garage doors
24/7 hour emergency service offered
Has instant text support
Fewer coupons compared to other companies
No mention of a service guarantee on their website
Customer Reviews
Their pricing, coupons, and service were praised by most clients. This led the company to achieve a perfect 5/5 star score on Facebook:
A client named Brandy said this on social media:
"JD was so nice and worked hard to get everything back in working order. Great friendly guy with lots of experience! Thanks so much!"
And here's Kevin's feedback of them:
"Kevin did a great job helping to repair our garage door when the springs broke. Quality work! Thank you!"
3) 1st Choice Doors, LLC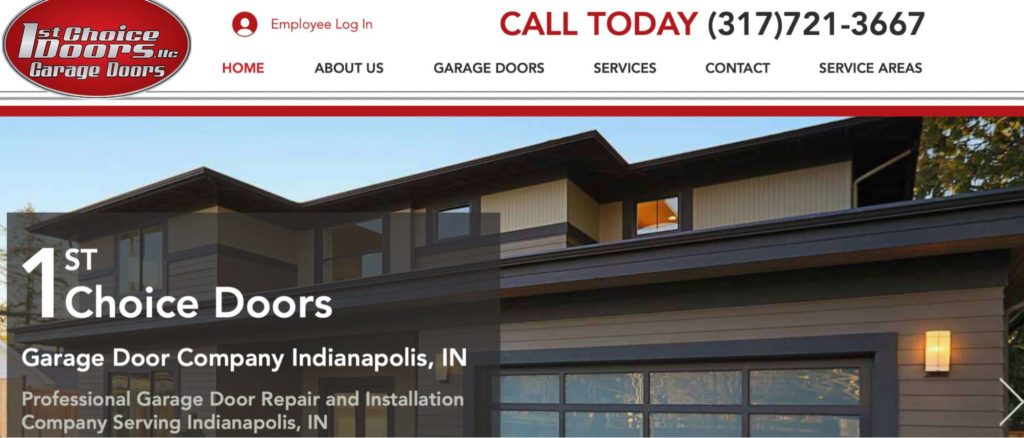 For a guaranteed and reasonably-priced garage door repair, 1st Choice Doors is your company! They have amassed over a decade of experience in serving Indianapolis and its suburbs.
Their certified and insured team can fix any kind of problem your garage door has. Some of the issues they fix include off-track doors, grinding noises, faulty openers, loose hardware, and so on.
In addition, they can perform preventative maintenance on your garage once a year. This is great because you'll have peace of mind that your garage is safe and working optimally whenever you use it.
The selling point of this company is its plethora of garage doors. They have products from well-known brands like Amarr, Haas, Hormann, Clopay, Safe-way, DoorLink, and CHI.
They clearly state online that they have a satisfaction guarantee. Furthermore, they offer a 10% military discount for those on active duty and veterans, and the team honors this when you mention it to them.
Based on the reviews, they charge fair prices and don't upsell on services or products you don't need. That's one advantage of a family-owned business since the owner cares about their clients and business.
Now, the big con of this company is they're only available on Mondays through Fridays. This also means that they don't offer 24-hour emergency repairs if you happen to need them.
Overall, they're an awesome garage door company to deal with. And they're fit to be named as one of the top services for garage door repair in Indianapolis!
Licensed and insured team
Enormous range of garage doors
Offers a 10% military discount
Guarantees their work
No 24/7 emergency services
No live chat support
Fewer coupons compared to other companies
Pros
Licensed and insured team
Enormous range of garage doors
Offers a 10% military discount
Guarantees their work
Cons
No 24/7 emergency services
No live chat support
Fewer coupons compared to other companies
Customer Reviews
1st Choice Doors didn't even have one negative review. Clients appreciated the fact that they responded quickly, were professional and efficient throughout, and gave great repair results.
Let's take a look at Anjie's review below:
"1st Choice Doors was on time, friendly, and reasonably priced, and very professional. Would definitely recommend them."
Furthermore, Jeannie wrote this one:
"Josh was great at getting my door fixed and adjusting everything so it operated smoothly and he was very respectful. I appreciated that they answered the phone and responded quickly. I already recommended them to a friend! I highly recommend!!"
4) Zionsville Garage Door Repair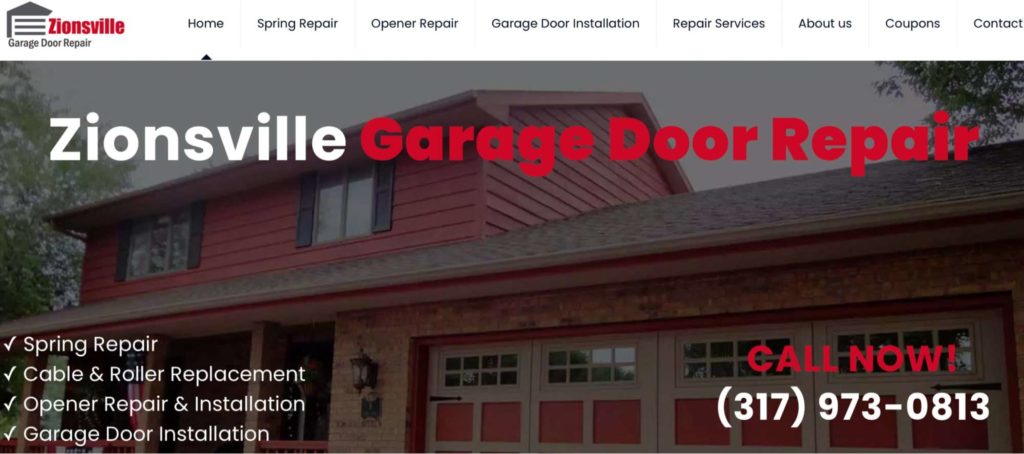 Located in Zionsville, IN, Zionsville Garage Door Repair is open 7 days a week and specializes in garage door repair, maintenance, and installation.
They work daily from 7:30 AM to 10:00 PM, which is good since they cover most of when garage door mishaps occur. However, there are also times that they happen beyond these hours.
Their repair technicians are certified and reliable and keep up with the latest trends and products. They have great-quality garage doors including those from Amarr and LiftMaster.
As clients will agree, when you call them, their team is quick to respond and will arrive at your home within just a couple of hours.
Their process involves a complete diagnosis of the garage door issue. Afterward, they'll give suggestions and explain their plan to get your garage door or opener back to the way it was.
Apart from that, you can print out their coupons online for a discount. That said, theirs are fewer than those offered by competitors.
Also, you can pay the bill through several credit cards. These include American Express, Visa, Mastercard, Discover Network, and PayPal—so in this area, they top other companies.
You can contact them in three ways: by phone, email, or online. They don't have live chat support, however.
So for same-day repair service, skilled technicians, and 14.5/7 availability, you can count on Zionsville Garage Door Repair!
Same-day garage door service available
Certified garage door technicians
Open 7 days a week
Accepts all major credit cards plus PayPal
Gives a few coupons
Located in Zionsville instead of Indianapolis
No 24/7 emergency service
Fewer coupons compared to other companies
No live chat support
Customer Reviews
Zionsville Garage Door Repair took home a perfect review score from many clients. They mostly noted their great customer service and communication.
One client, Nathan, posted this comment about the company:
"Garage Door Repair Zionsville is great! I needed an extra remote for my Linear openers. I contacted them and they got one shipped out to me in no time at all. Great service at fantastic prices! Thanks again!"
What's more, Josh shared his experience with them:
"Had a great experience yesterday with this garage door repair. I called them in the morning and they were able to come fix the garage door that day. Great customer service that helped me throughout the whole process and kept me updated on when they would be there. Would highly recommend them!"
5) Garage Doors of Indianapolis

SERVICES
Garage door installation
Garage door maintenance
Garage door replacement
Garage door repair
Opener repair & replacement
Gutter repair & replacement
Emergency service
ADDRESS
5041 W. 96th Street Indianapolis, IN 46268, USA
CONTACT DETAILS
+1 317-860-0806


[email protected]

WEBSITE
https://doorstoday.com
Established in 1979, Garage Doors of Indianapolis is a commercial and residential garage service provider. It does everything—garage door tune-ups, repairs, replacement, installation, and sales.
With them, garage door issues can be resolved the same day. Their licensed repair team will answer all questions, identify the problem, and solve it quickly and efficiently, which clients can vouch for.
One of the best garage door repair services in Indianapolis, they can fix any brand and kind of garage door—be it at your home, office, or industrial premises.
They have emergency services 24/7 in case your garage door suddenly misbehaves. Whether you need them on a Sunday, holiday, or after work, their dedicated team is on call.
Suppose the repair will cost you more in the long run, they have an array of garage doors for you to choose from. They have wood panel, sectional, steel, classic, and carriage doors to fit your budget and needs.
There have been some complaints about the pricing wherein the initial estimate turned out to be different from the actual one, which was way higher. And so, if you're on a strict budget, make sure to let them know so that they'll stick to it.
Speaking of price, you can check out their specials page to see their available coupons. This will help you save on your repair expenses, but remember to read their stated conditions.
Garage Doors of Indianapolis offers its services to clients across Central Indiana. You can book an appointment with them by phone or using their online form.
IDA-certified installers and technicians
Stocks an array of garage door products
Provides a same-day repair service
24/7 emergency service available
Offers coupon deals 
Expensive service
No live chat support
Customer Reviews
Most clients complained about their high prices, while others wrote that they arrived on time, worked efficiently, and were kind and professional the whole time.
Check out this review written by Chase:
"Matt H did an awesome job. He worked quickly and was happy to explain what he was doing. Plus he seems like a genuinely nice person.
The previous owners installed my opener incorrectly. Matt took care of it in no time and it's working better than it ever has.
Would recommend Garage Doors of Indianapolis to anyone."
Furthermore, James posted this comment on Google:
"The torsion spring was broken on Saturday morning. We eventually found out the info about Garage Doors of Indianapolis. The review seems reasonable. We called them and they gave us the quote and said they could have it fixed today. We were pleasantly surprised. They did show up and the person was very professional. He replaced the broken part in about 30 minutes or less. He also spent a few minutes answering our questions. We are very happy with the services."
FAQs about the Top Garage Door Repair in Indianapolis
---
And that wraps up our top options for garage door repair in Indianapolis. With their assistance, your garage door will work smoothly and be safe to use once again.
Have any comments or questions about our list? If you have one, please send us a message and we'll get right back to you.
Also, if you need a licensed electrician at your home or office, you might want to check out the best options for electricians in Indianapolis!