Modern technology has allowed us to visually enhance almost everything under the sun. This includes our houses and properties.
Numerous companies can help us turn every corner of our homes or workplace into our dream space. The trouble is… which one should we choose?
Now, when it comes to flooring Houston homes and workplaces, our list below can meet (and even surpass) customer expectations. Here are six of the best flooring companies in Houston, Texas:
1. Joe Hardwood Floors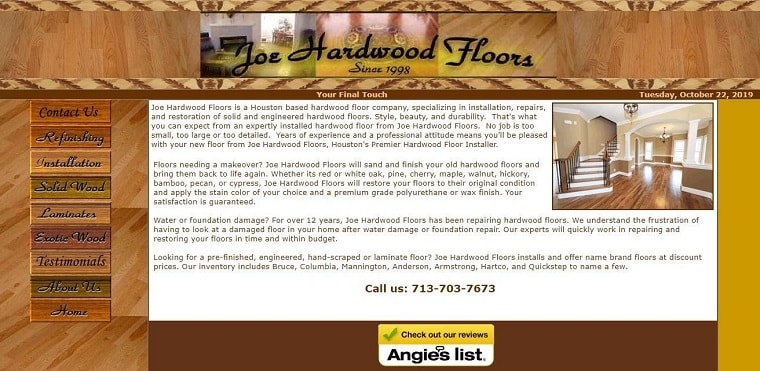 BEST FOR
Flooring and refinishing services
SERVICES
Hardwood floor installation, restoration, and repair

Laminate floor repair and installation

ADDRESS
4341 Sw Fwy., Houston, TX 77027
CONTACT
Phone: (713) 703-7673
WEBSITE
http://www.joehardwoodfloors.com/
Joe Hardwood Floors has been installing, refinishing, and resurfacing solid wood and laminate floors for over 15 years. Each flooring specialist at Joe Hardwood Floors has been meticulously selected to ensure that you're only working with the best.
All work done by Joe Hardwood Floors are created with top-of-the-line products only and are completed in a timely fashion. Refinishing work comes with a guarantee to grant you peace of mind. Furthermore, payment is only due upon completion and customer satisfaction.
2. Floor Coverings International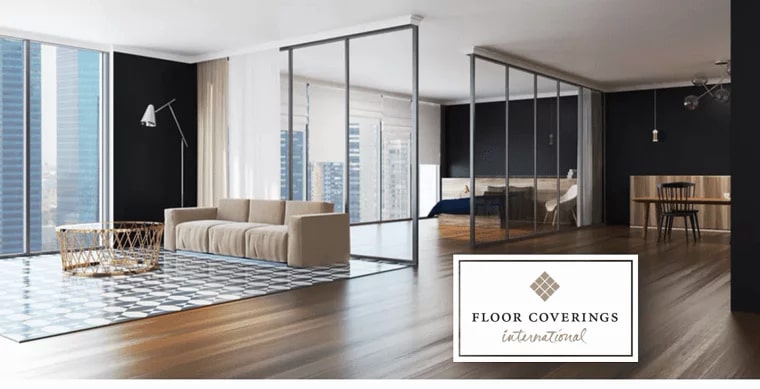 BEST FOR
All types of flooring
SERVICES
Design Services

Carpet installation

Hardwood floor repair, installation, and restoration

Laminate floor installation and repair

Epoxy coating

Hardwood, carpet, tile & stone, vinyl, laminate, and eco-friendly flooring

Commercial flooring

ADDRESS
5201 Mitchelldale St., Ste B13, Houston, TX 77092
CONTACT
Phone: (832) 280-6646
WEBSITE
https://houstonheights.floorcoveringsinternational.com/
Floor Coverings International is a locally-owned and operated flooring company. It's more than just a flooring store. The company also provides a mobile showroom to allow clients the convenience of the buying experience.
Floor Coverings International offers:
Free consultations
Customized solutions
Eco-friendly products and services
Different payment plans
Free design appointment
3. Flooring by Patterson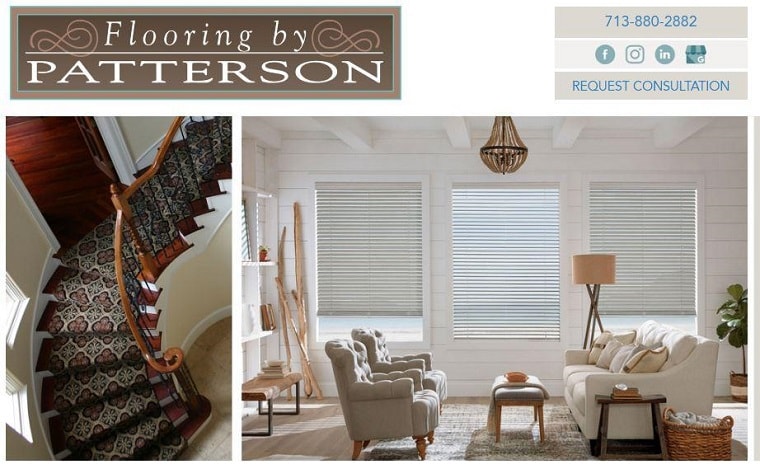 BEST FOR
Flooring design and installation services
SERVICES
Hardwood flooring

Carpet, ceramic tile, and natural stone

Stair conversion from carpet to hardwoods

Stair runners

Custom countertops

Granite, quartz & other man-made solid surfaces

Custom shutters

ADDRESS
7026 Old Katy Rd, Houston, TX 77024
CONTACT
Phone: 713-880-2882
WEBSITE
https://www.flooringbypatterson.com/
Flooring by Patterson provides residences and commercial establishments with quality flooring. Its crew of flooring experts has worked in the industry for a long time. They are trained to deliver excellent customer service & satisfaction and first-rate workmanship
Flooring by Patterson is also insured to ease your worries. If your home or workplace experienced weather-related flooding incidents, the company offers insurance adjusters to make It is always ready to provide you with value for money products and services. All you need to do is to let them know.
4. Bram Designs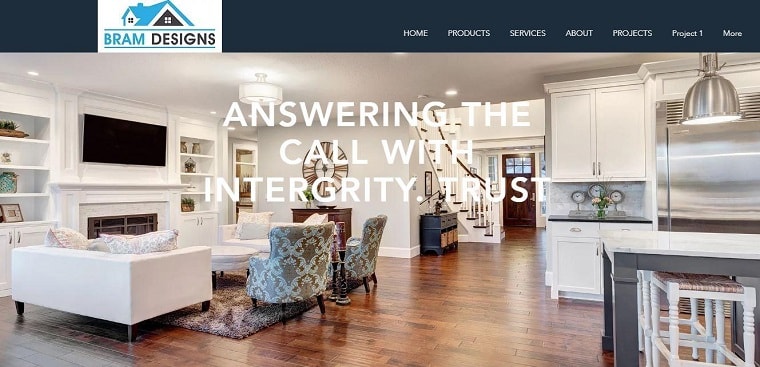 BEST FOR
Residential and commercial flooring services
SERVICES
Design Services

Cabinet painting

Color matching

Exterior painting

Laminate floor installation and repair

Caulking

Tile floor installation

Trim & baseboard painting

Vinyl & linoleum floor repair

Wallpaper removal

ADDRESS
9915 Tanner, Houston, TX 77041
CONTACT
Phone: (832) 968-9852

Email: [email protected]

WEBSITE
https://www.bramdesigns.com/
Bram Designs started by helping friends and families to remodel their floors. Now, it's a full-grown business flooring Houston and neighboring areas. Bram Designs always aim to impress and exceed customer expectations. It's also fully insured for your peace of mind.
5. AquaTec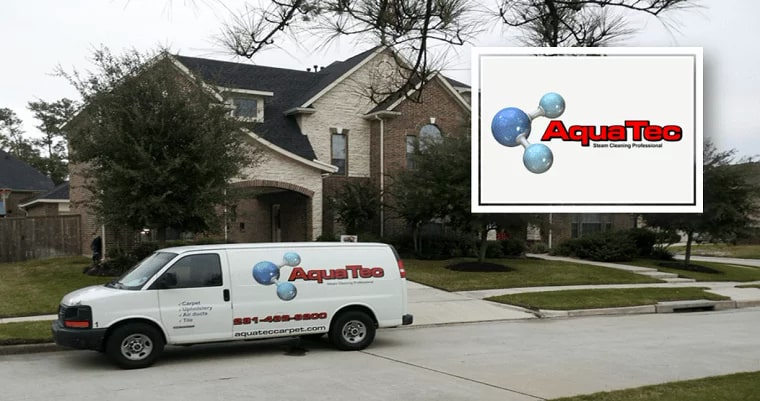 BEST FOR
Carpet cleaning
SERVICES
Upholstery cleaning

Carpet cleaning and repair

Tile cleaning

Rug cleaning

Air duct cleaning

Water floor cleaning

Water damage extraction

ADDRESS
7106 Dearborn, Houston, Texas. 77055
CONTACT
Phone: 281-492-9200
WEBSITE
https://www.aquateccarpet.com/
AquaTec's highly trained professionals use powerful carpet cleaning equipment in order to implement outstanding customer service and satisfaction at affordable rates. It incorporates new and revolutionary method sans the use of harsh chemicals, removing lengthy and extensive dry time. This solution is made of natural extracts, making it child, pet, and environmentally-friendly.
AquaTec delivers a complete customer satisfaction guarantee or it's totally free. The company doesn't advertise heavily and always stands by its written estimates.
6. FloorMart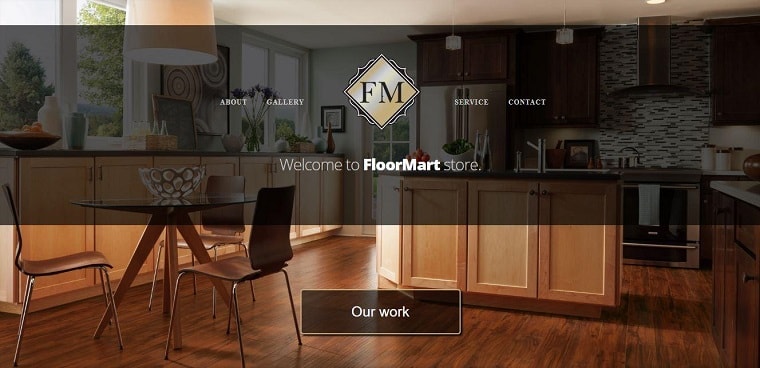 BEST FOR
All types of flooring
SERVICES
Hardwood, laminate, tile, stone, vinyl, and linoleum installation

Floor covering Installation

Carpet installation and replacement

ADDRESS
17129 Westheimer Road, Houston, TX 77082
CONTACT
Phone: (832) 672-8808

Fax: (832) 672-8809

Email: [email protected]

WEBSITE
http://www.floormarts.com/
FloorMart offers a wide range of selection for flooring products and services. It has been grooming and flooring Houston homes and businesses for years. According to FloorMart, customers are its number one source for marketing and advertising.
7. Metro Flooring & Construction
BEST FOR
Construction and flooring services
SERVICES
Kitchen and bathroom remodeling

Flooring services

ADDRESS
3822 Arc Street, Houston, TX 77063
CONTACT
Phone: 713-785-6677
WEBSITE
https://www.metroflooringhouston.com/
Metro Flooring & Construction is a locally owned and operated construction and remodeling company that is serving clients in The Greater Houston area. They take great pride in their work and it shows in the quality of each of their project. From the moment you contact them to the moment the job is finished, you will have experienced the best the industry has to offer.