If your Tauranga home or commercial establishment has electrical issues, we're glad to lend you a hand. We already researched six of the best choices for electricians in the city.
You can erase your worries already! These electrical service providers will do the work for you. All you need is to wait and relax as they do their magic. They have the skills, knowledge, experience, and technology to execute swift but quality workmanship. They will surely fix your issues in no time!
But first, you need to choose from this list who you think can work well with you.
Are you ready? Let's begin!
1) AJ's Electrical

BEST FOR
Residential and commercial electrical services
SERVICES
Electrical repairs, installations, upgrades, and maintenance

Audio-visual

Home automation

Heat pumps and air conditioning

Security alarms

CCTV installation

Ventilation systems

Central vacuum

Underfloor heating

Solar power installations

ADDRESS
Office: Unit 6, 282 Chadwick Rd., Greerton. Tauranga 3112

Mailing: P.O. Box 810 Tauranga 3140

CONTACT
Phone: (07) 543-3830

Email: [email protected]

WEBSITE
https://electriciantauranga.co.nz/
AJ's Electrical is a group of licensed, highly skilled electricians. They provide design and installation services and has established its reputation on consistent quality services and workmanship. This results in satisfied clients, repeat business and numerous recommendations.
Why AJ's Electrical?
Free quote
Customer-focused approach
Cost-effective and tailored services
2) CommElec Group LTD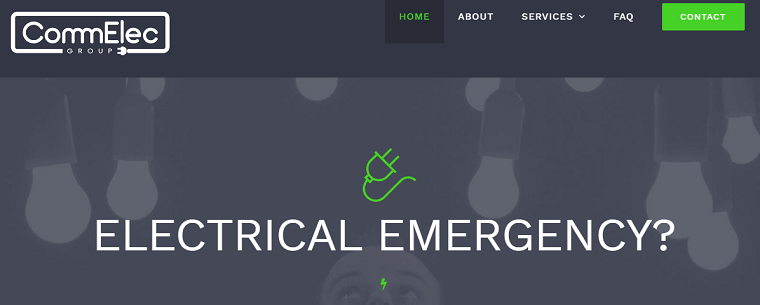 BEST FOR
Residential and commercial electrical services
SERVICES
Electrical repairs, installations, upgrades, and maintenance

Lighting

Data and fiber installs

Emergency lighting installation and repairs

Residual current device testing

Signage

Preventative maintenance programs

Pre-purchase electrical inspections

Testing and tagging

Renovations and new builds

Project management

ADDRESS
Mailing: P.O. Box 11468, Palm Beach, Papamoa, Tauranga 3151
CONTACT
Phone: (07) 572-1282 | Emergency – 027-212-1161

Email: [email protected]

WEBSITE
https://commelec.co.nz/
CommElec Group is an experienced electrician based in Tauranga. It has extensive experience in domestic, residential, and commercial electrical works—from small one-offs to complete shop fit-outs. Its team of professional electricians strives to deliver high-quality electrical services at competitive rates. They also continuously build and improve relationships with clients, colleagues, suppliers, and employees to create an efficient work environment.
Why CommElec Group?
24/7 emergency service
Free quote
30+ years of combined experience
Lifetime warranty on all workmanship
Manufacture warranty on all parts
3) Adapt Electrical Limited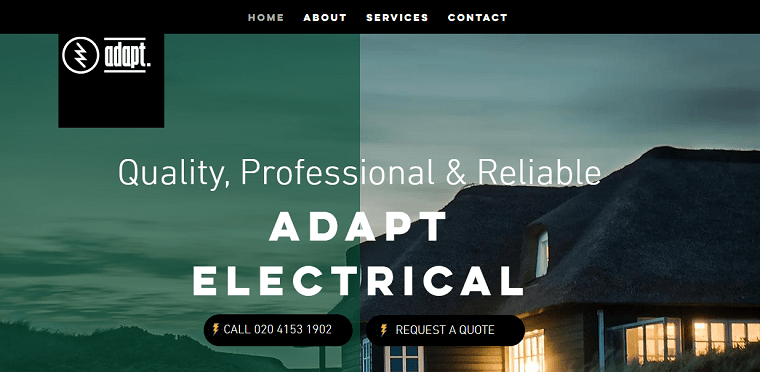 BEST FOR
Residential and commercial electrical services
SERVICES
House wiring and fit-outs

Electrical repairs, maintenance, and servicing

Lighting and fixtures

Heat pump installation

Underground wire installation

Temperature control

Energy savings

ADDRESS
204 Grenada Street, Mount Maunganui, Tauranga 3116
CONTACT
Phone: 020-4153-1902

Email: [email protected]

WEBSITE
https://www.adaptelectrical.co.nz/
When it comes to reliable electricians, Tauranga locals trust Adapt Electrical Limited. They aim to provide quality, on-time, and on-budget electrical works. More importantly, they observe the "health and safety policy" to keep the working environment safe and risk-free.
Why Adapt Electrical Limited?
24/7 emergency services
High-grade electrical products
Licensed and fully-qualified electricians
4) Bayside Electrical Services Ltd.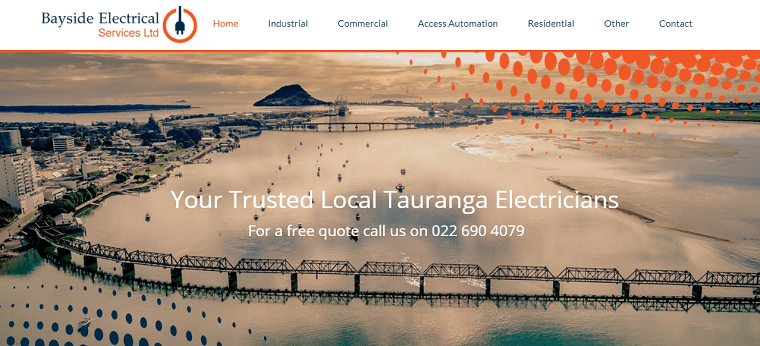 BEST FOR
Residential, commercial, and industrial electrical services
SERVICES
Wiring and heating assessments

Electric ventilation installation for bathrooms

Smoke alarm supply, installation, and maintenance

Home security systems

Access automation

Heat Pump supply and installation

Complete new home fit-outs

Outside lighting supply and installations

Home theatre wiring

Underfloor heating

Multimedia installation

LED Lighting upgrades

Spa and pool wiring and repairs

Renovation planning, supply, and installation

ADDRESS
Unit 6, 2 Poturi Street, Tauriko, Tauranga 3171
CONTACT
Phone: 022-690-4079

Email: [email protected]

WEBSITE
https://www.baysideelec.co.nz/
Bayside Electrical Services is a Master Electrician, which means that it is a member of the Electrical Contractors Association of New Zealand. It has met the high safety standards as well as the commercial criteria set by the association.
Why Bayside Electrical Services?
Licensed and insured
Safe, competent, and professional
$20,000 Workmanship Guarantee on all residential work
5) Energy Services
BEST FOR
Residential and commercial electrical services
SERVICES
Underground services

Whole-house wiring

LED lighting

Power designs

Data wiring (fiber and copper)

Security and landscape lighting

Full home audio and visual set-ups

Power-saving solutions

Solar energy

HVAC services

ADDRESS
941 Cameron Road, Gate Pa, Tauranga 3112
CONTACT
Phone: (07) 578-4334
WEBSITE
https://www.energyservices.co.nz/
Energy Services is one of Tauranga's most trusted electricians. It has undertaken many prestigious projects, including Latitude Apartments, ACG Primary School and College, Truman Lane Trade Units, and Waihi Sport and Action Lighting. Aside from electrical services, Energy Services also offers HVAC works for clients who need it.
Why Energy Services?
20+ years in the industry
Comprehensive services
Full design and specification package
6) Chris & Co. Electrical
BEST FOR
Residential and commercial electrical services
SERVICES
Home rewiring

Switchboard upgrades

Fault-finding & repairs

Safety checks (home wiring and electrical)

Energy cost-saving solutions

High-energy efficient lighting (LED)

Safety recommendations

Internal, external, and security lighting

House and smoke alarms

Solar installation

Power point installation and repairs

Hot water repairs

Phone and data cabling (audio-visual & telecommunications)

Exhaust & ceiling fans

ADDRESS
17a Amber Crescent, Judea, Tauranga 3110
CONTACT
Phone: 022-043-3605

Email: [email protected]

WEBSITE
https://www.chrisandcoelectrical.co.nz/
As one of the most trusted electricians, Tauranga highly recommends Chris & Co. Electrical provides reliable, professional, and high-quality services. Although the company just started operating in 2016, it already has over 45 years of industry experience thanks to its highly motivated team of seasoned electricians.
Why Chris & Co. Electrical?
Honest and transparent pricing
Free electrical safety check and quotes
Respectful of your property
7) Ultraflex Technologies LTD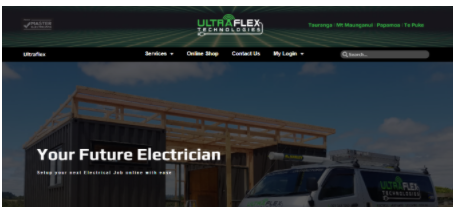 BEST FOR
Electrician Services
SERVICES
Electrical Services, Thermal Comfort, Inspections, Caravans, Test & Tag, Communication, Smart Home, Maintenance
ADDRESS
Contact for more details
CONTACT
027 343 7652


[email protected]

WEBSITE
http://ultraflex.co.nz/
Ultraflex is directed by Gareth Wilkin and Brian Wilkin. Gareth continues the legacy in the electrical industry while Brian is the two-way radio, telecommunication, electronics expert.
Both have been working to keep the company uphold its high quality electrical work. Since they specialize in two different fields, they can offer various range of works easily to their clients.
Why Choose Ultraflex Technologies LTD:
Professional, honest services
Electrical Services
Smart Home
8) Affordable Electrical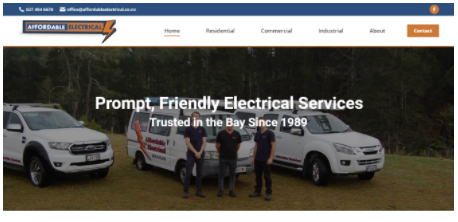 Since 1989, Affordable Electrical has been providing prompt, friendly and efficient electrical services to residents and business owners across Tauranga and the wider Bay of Plenty area. They provide comprehensive electrical services, covering a huge range of residential, commercial & industrial applications.
From residential electrical repairs and new builds, to full electrical fit outs of retail shops, commercial buildings and electrical maintenance on industrial machinery. At Affordable Electrical they aim to provide seamless solutions to all your electrical issues.
Why Choose Affordable Electrical:
Smooth communication
Affordable cost
Professional Work
9) Complete Electrical Services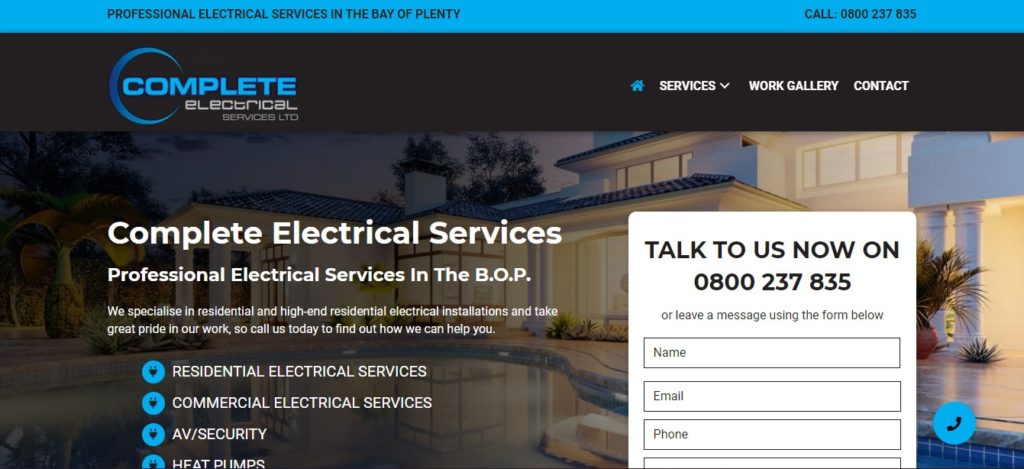 From their company name itself, Complete Electrical Services offers an extensive range of electrical services. From residential and commercial electrical installations to security and heat pumps, they can help you.
With them, you can relax knowing that you are in safe hands. Their team is composed of electricians that have more than enough experience in the industry.
What makes them stand out from the crowd is their expertise in architecturally designed homes, modern homes, and unique installations. Aside from this, they also cover hot water tanks, feature lights, alarm systems, data & fiber, general repairs, home automation, LED lighting installations, and outdoor lighting.
Renovating your property? No problem because they can also install and modernize your house's electrical components.
Why Choose Affordable Electrical:
Over 30 years in the HVAC industry
Professional staff members
Work in with your tradespeople