Electricians aren't just useful when you need your lighting system changed, an electric appliance fixed or your circuit breaker replaced. Although many people hire them to do electrical repairs, their expertise goes beyond that. In fact, with the help of professional electricians, you can upgrade your whole electrical system, increase your home's safety, rewire your property, and prolong the life of your electrical fixtures through maintenance plans.
Such valuable services cannot be provided just by any electrician. You need to find the best ones to get them and ensure an electrical work that's neatly done. So to help you with that, here are the 6 best electricians in Plymouth that you should be working with.
1.     Electrician Plymouth Sparky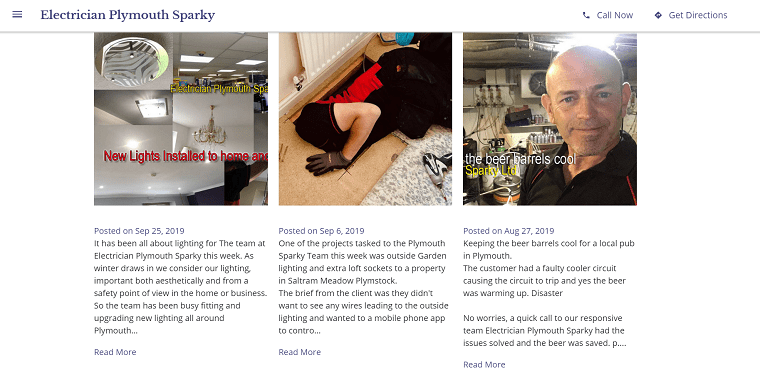 Best For
General Electrical Work
Services Offered
Commercial and residential services

Rewiring and electrical testing

Fault finding

Electrical installations

Lighting services

PAT testing and electrical condition reports

Address
11 Elliott Rd

Plymouth, PL4 9NJ United Kingdom

Contact Information
01752 905260
Website
https://electrician-plymouth-sparky.business.site/
Great communication skills, high-standard work, and helpful services are some of the things that Electrician Plymouth Sparky is known for. This plumbing expert is qualified to conduct a wide range of electrical services, from electrical testing and installations, fault finding, PAT testing to rewiring. And because they always guarantee a quality job, it's no surprise that more and more homeowners and businesses continuously support Electrician Plymouth Sparky and its team.
2.     Goodwin Electrical

Best For
General Electrical Services
Services Offered
Domestic and commercial electrical services

Rewiring

Testing and inspections

LED lighting

Fuse boards, CCTVs, and EV charge points

Address
2 Tamerton Avenue,

Plymouth, PL5 1DT

Contact Information
01752 363915
Website
https://goodwinelectrical.com/
Goodwin Electrical started in 2008 with the goal to serve Plymouth residents in the best way possible. With their extensive range of electrical solutions, they can easily cater to every need of homes and businesses in the area. By using the best equipment for the job and following the latest safety standards, their team can conduct installations, lighting work, rewiring, and more with a high level of excellence.
3.     JAH Electrical Services Ltd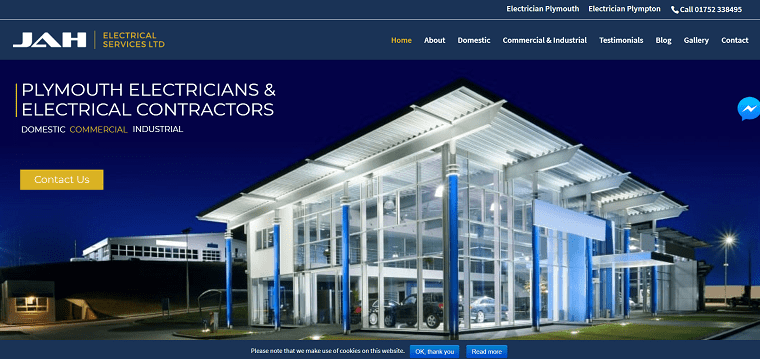 Best For
General Electrical Work
Services Offered
Domestic, commercial, and industrial services

Electrical safety testing

Electrical contracting services

Electrical installation, additions, and re-wires

Electrical design and shopfitting

Address
Unit 3 Joshua Park

Bell Close, Plympton, Plymouth PL7 4FF

Contact Information
01752 338495; 07802 827636 (for emergencies only)
Website
https://www.jahelectrical.co.uk/
JAH Electrical Services Ltd has more than 25 years of experience serving the domestic, commercial, and industrial sectors. Lots of Plymouth residents trust this company because they don't only have the capacity to do all kinds of electrical work but they also offer services that are competitively priced. Because of these, they're able to provide all clients with excellent value for money.
4.     RC Electrical

Best For
Domestic and Commercial Electrical Services
Services Offered
Testing and inspection

Electrical installations, additions, and upgrades

Fault finding

Full and partial rewiring

Maintenance work

Address
5 Forest Ave, Plymouth PL2 3QD, United Kingdom
Contact Information
07813 195943
Website
https://rc-electrical.net/
RC Electrical is all about providing 100% customer satisfaction to everyone. How do they do this? Using their wide expertise in domestic and commercial electrical services, they always strive to meet client expectations. Whether you need them for electrical upgrades, maintenance, installations or rewires, they will do the job for you in the safest and most efficient way possible. Learn more about how they work at https://rc-electrical.net/.
5.     SSI Electrical Services

Best For
Electrical Contracting Services
Services Offered
Electrical installations and maintenance

Inspection and testing

Lighting services

Audiovisual installations

PAT testing

Address
28, Bell Park, Close 4JH, Bell Close Newnham Industrial Estate, Plymouth, United Kingdom
Contact Information
01752 330 400
Website
https://www.ssielectrical.com/
Looking for a company that can deliver high-quality electrical work at an affordable price? You better choose SSI Electrical Services for this. They are one of Plymouth's most trusted electrical contractors today because they always do their jobs safely, consider the needs of clients, and guarantee to meet all project specifications. If you're interested in the work they do, you can visit their website, https://www.ssielectrical.com/, for more details.
6.     Electrician Plymouth AES 24hrs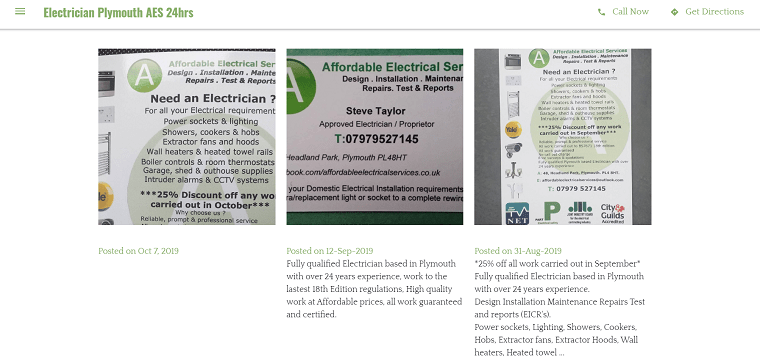 Best For
General Electrical Work
Services Offered
Electrical design, installation, maintenance, and repairs

Electrical tests and reports

Lighting services

Intruder alarms and CCTV systems

Address
48 Headland Park

Plymouth, PL48HT United Kingdom

Contact Information
07979 527145
Website
https://affordableelectricalservicesplymouth.business.site/
Electrician Plymouth AES 24hrs is available any time of the day or night, ready to accommodate all of your electrical needs. Their more than 24 years of experience in the business means they can do a lot of electrical tasks including, but not limited to, maintenance, repairs, lighting system installation, socket replacement, and complete rewiring. You can also watch out for discounts and special offers from this company especially if you want to save some dollars on their services.