Dealing with serious damage 'cause of a recent electric hazard at your home/office? If you are, then you're on the right page: we've listed some of the best electricians in Plano TX right here!
We've selected the top professionals in this particular field. They can handle any electrical issue, including lighting problems, power tripping, electrical surges, and more.
No matter how major or minor it is, they can immediately solve the problem — saving you from further harm. See our list below to know where to find these pros!
1. Collin County Electrical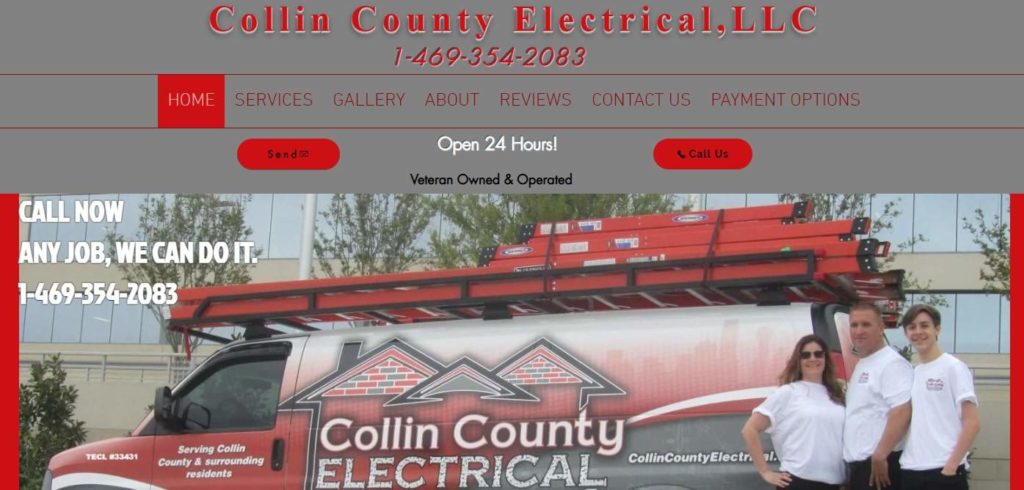 | | |
| --- | --- |
| BEST FOR | System and Fixture Upgrades, Electrical Appliance Services, Switches/Outlets Repairs |
| WEBSITE | https://www.collincountyelectrical.com/ |
| CONTACT DETAILS | 1-469-354-2083 |
| OPERATING HOURS | Open 24 hours |
Collin County Electrical is managed by veteran electricians who have decades of experience with large electrical contractors. They focus on serving residential owners with varied electrical services such as lighting installation, surge protection, panel relocation, grounding, appliance repairs, and other services.
If there's a need to redo the entire electrical system at home, they can even perform a full rewiring to ensure that the place is completely safe from any dangerous hazards.
They're also experts in handling new constructions: they do inspections, trim outs, code updates, remodels, and many more.
Pros
Provides 24-hour emergency services
Offers new electrical system construction services
Cons
Offers residential services only
Customer Reviews
Collin County Electrical has gained the trust of many locals because of the broad range of services and flexible operating hours. This award-winning service company was also praised for their team's professionalism, punctuality, and responsiveness.
A customer shared this experience:
"My husband and I are in the process of getting our house ready to sell. Rodney helped us greatly by installing canned lighting above our guest bath which has made a huge difference. Plus he made great suggestions and improvements towards our having a more successful inspection in the near future such as checking our breakers, outlets, suggesting lighting covers and adding a smoke alarm. Plus an added bonus was his replacing the doorbell which never worked since we have been here. We are truly grateful for all the improvements and suggestions. Thank you"
2. Frisco Electrician Experts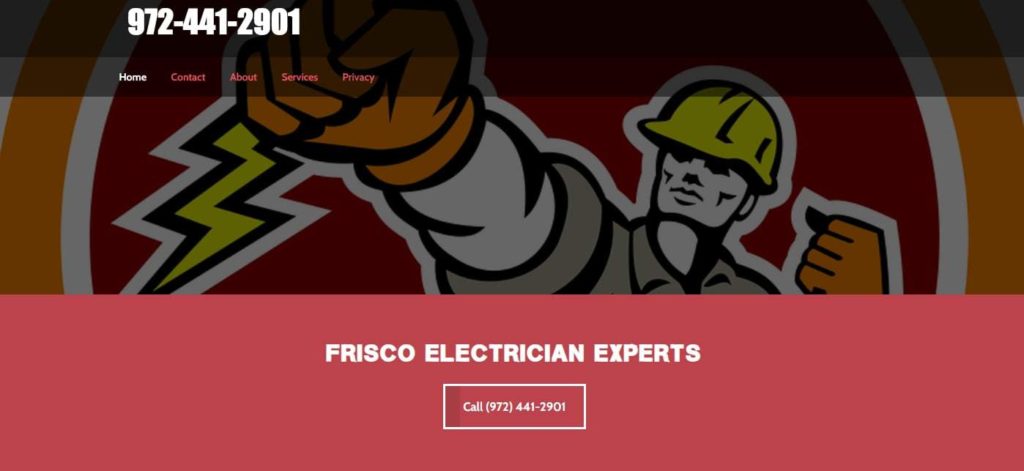 | | |
| --- | --- |
| BEST FOR | Electrical Maintenance and Repairs, Installation of Video and Audio Systems, Electric Home Safety Survey |
| WEBSITE | http://www.electricianfriscotx.net/ |
| ADDRESS | 6811 Pecan St, Frisco, TX 75034, United States |
| CONTACT DETAILS | 972-441-2901 |
| OPERATING HOURS | Monday – Saturday: 7:00 AM – 9:00 PM |
Unlike the previous option, Frisco Electrician Experts does both residential and commercial electrical services. So if you need immediate help at your office, they can quickly accommodate all of your needs.
They have some of the best electricians in Plano TX who are well-versed in electrical solutions like basic grounding, surge protection, landscape lighting, fixture installation, old wiring upgrades, and so much more.
They also have installation services. These include LED light systems, video and audio systems, outlets for USB, and security lights.
When it comes to their commercial services, they offer basic underground and overhead electrical services and installation of ground fault receptacles as well. Since they provide the overall electrical solutions needed for a whole project, you can rely on them from start until the end of a construction project.
Aside from these, they also conduct an electrical home safety survey to prevent faulty electrical system risks in modern homes. This is highly recommended, especially for those who have smart homes — this can help detect the minor issues that may cause big problems in the future.
Before hiring their services, you can ask for a free consultation and instant quote. So, you can make sure that the rates are reasonably priced and match your estimated budget.
Pros
24-hour emergency service for both residential and commercial properties
Free instant quotation and consultation
Can do electric safety survey for smart homes
Cons
Reports of slightly slow responses to online enquiries
Customer Reviews
Many clients were impressed with Frisco Electricians Experts' friendly and knowledgeable team. They shared that the electricians did a great job setting up the fixtures, replacing circuit breakers, and repairing appliances.
They were also pleased with the on-time arrival of the staff and fast work. A client posted this review:
"From the time I first called and spoke with Vanessa it was an excellent experience. We moved into a new home and needed to make some changes to install a new oven microwave combination. William showed up promptly to provide an estimate and to do the work on the same day I called. He was knowledgeable and professional and completed the work in less than an hour. The experience was so good we called them back to install a few ceiling fans and install some dimmers. We would highly recommend them. Thanks for the great service!"
3. Adis Electric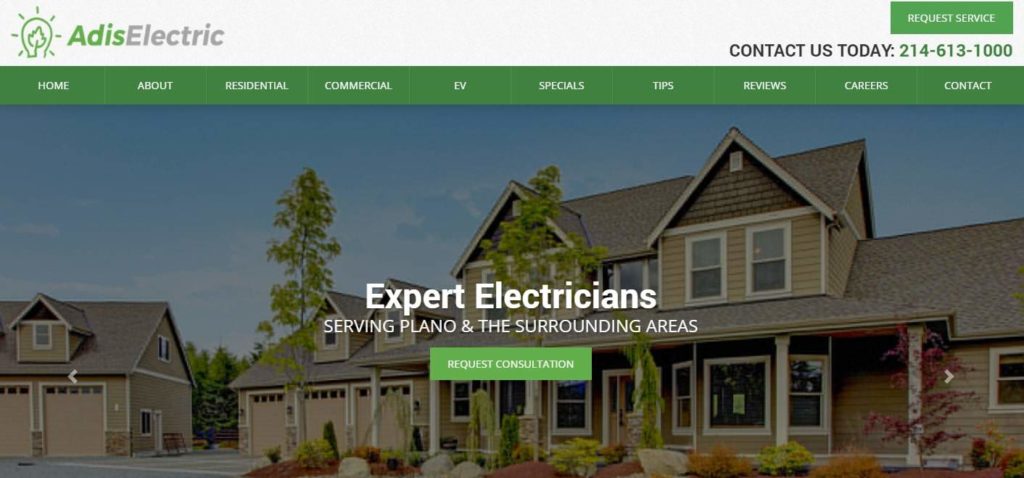 | | |
| --- | --- |
| BEST FOR | Electrical Services for Remodelling and Construction, Commercial EV Charging Installation |
| WEBSITE | https://www.adiselectric.com/ |
| ADDRESS | 2204 Skiles Dr, Plano, TX 75075, United States |
| CONTACT DETAILS | 214-613-1000 |
| OPERATING HOURS | Monday – Saturday: 8:00 AM – 6:00 PM |
With Adis Electric, you can expect a personalised approach where they'll start by talking about your ideal solutions and needs — which is great if you're working on a big project! So if you're in the middle of planning the electrical system for your dream home/office, they've probably got the best electricians in Plano TX,
For basic solutions, they offer a wide array of services involving electrical safety inspections, wiring replacements, surge protection, panel upgrades, electrical repairs, and more.
For commercial services, their best electricians in Plano TX are capable of handling lighting maintenance, controls, electrical systems, backup generators, tenant fit-out, etc.
Pros
Experience doing big commercial projects
Capable of doing whole-house generator installations
Offers petroleum electric services for gas station facilities
Cons
Higher rates compared to most
Customer Reviews
Most customers mentioned the convenient scheduling and reasonable rates of Adis Electric. They also said that the team consulted them with detailed explanations and practical solutions.
Though some said that they offer more expensive rates than other service companies, they ensure quality workmanship and sincere attentiveness. This is why they recommended the services of Adis Electric.
A customer gave this feedback:
"While I didn't like hearing the bad news that my breaker box was not up to code, I was aware of it for many years and because we needed a new circuit we couldn't run from the problem any longer. It had to move from a closet to the outside of the house. Power was only out for 3 hours because of how they planned the job. Both Aids and Brandon took a lot of time to explain what they were doing and why. They were also great consultants as far as planning and future work that we plan doing in the house. They did a bunch of extra work, cleanup of non-functioning wires and removing old boxes and non-functioning wires that I really appreciated. I recommend them and certainly use them again in the future."
4. Lambright Electric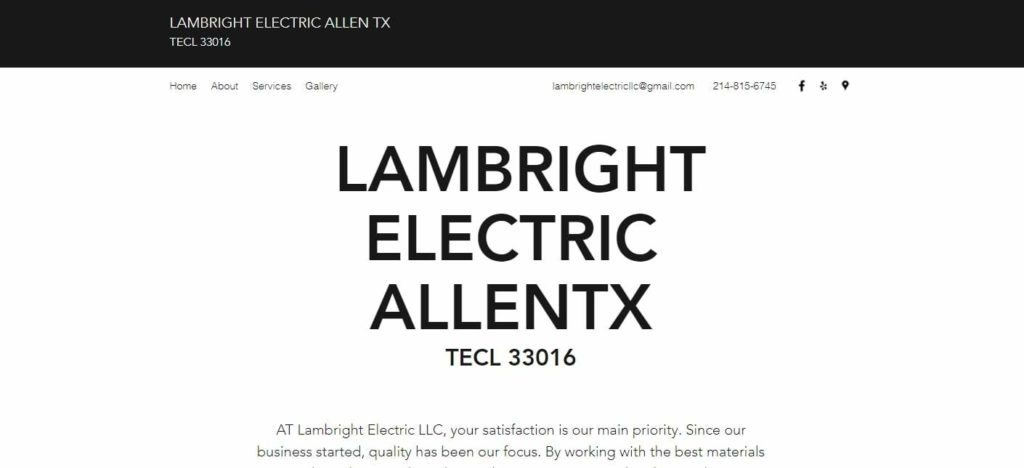 | | |
| --- | --- |
| BEST FOR | Installation of Electrical Fixtures, Panel and Meter Upgrades |
| WEBSITE | https://www.lambrightelectricllc.com/ |
| ADDRESS | 607 Ironwood Dr, Allen, TX 75002, United States |
| CONTACT DETAILS | 214-815-6745 |
| OPERATING HOURS | Monday – Thursday: 8:00 AM – 8:00 PM Friday: 8:00 AM – 5:00 PM Saturday – Sunday: 10:00 AM – 4:00 PM |
Lambright Electric delivers long-lasting solutions with their experienced and best electricians in Plano TX. They specialise in residential services such as panel and meter upgrades, lighting and circuit installations, home surge protection, and more.
They also handle remodelling works and offer a full range of contracting services. This includes reconstruction of kitchens, bathrooms, and additions, as well as conversions.
Aside from these, they also provide replacement and installation services for electrical fixtures like ceiling fans, chandeliers, switches, dedicated circuits and other items.
Pros
Can do installation of up-to-code complete grounding systems
Offers smart switch services
Cons
Offers residential services only
Customer Reviews
Lambright Electric has gained good feedback because of their responsive customer service, extensive range of solutions, honest pricing, and fast work. Customers said that the team was able to resolve problems immediately and do follow-ups regularly.
A customer left this feedback:
"I first contacted Phillip on a Sunday. Surprisingly, he responded by email the same night promising to reach out the following day. Phillip listened to understand my needs and provide the right solution, and he also provided a quote during the same call. Fast forward a week and he was on-site to complete the work: replacing a front landscape light, installing two new exterior outlets, and a dedicated circuit. It took about 4 hours to finish. I was pleased with the professionalism of the install and will be sure to call Phillip again for any future electrical needs."
5. Gentry Electric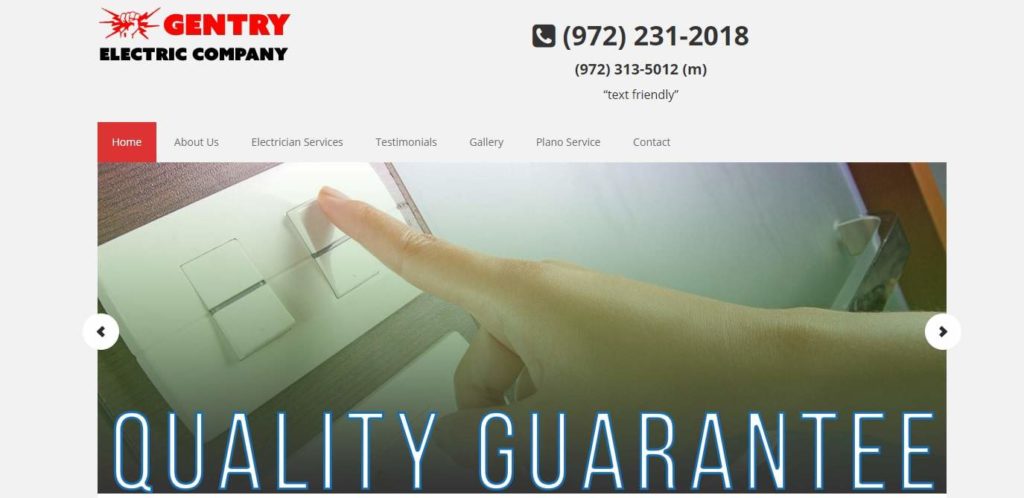 | | |
| --- | --- |
| BEST FOR | Telephone and Voice and Data Cabling Services, Pool and Spa Electrical Services, Appliance Services |
| WEBSITE | https://gentryelectric.com/ |
| ADDRESS | 237 Orbit Drive Lavon, TX 75166 |
| CONTACT DETAILS | Phone: (972) 231-2018 Mobile: (972) 313-5012 |
| OPERATING HOURS | Monday – Friday: 8:00 AM – 4:00 PM |
Gentry Electric provides both residential and commercial electrician services where they specialise in handling electrical panels, lights and appliances, remodelling, and upgrades as well.
Their best electricians in Plano TX are trained and knowledgeable in all kinds of major repairs, installations, and upgrades. This involves telephone services, backup generator installations, freeze guard protection, whole-house surge protection, and more.
For the pool and spa owners out there, they can even help install a special set of lights that serves both functionality and aesthetics. They're also experts in dealing with electrical appliances such as microwaves, stoves, and ovens.
Moreover, they offer great discounts on any of their services. So for those who are worried about costly rates, you wouldn't want to miss out on their special promotions!
Pros
Often offers huge discounts on all services
Cons
Customer Reviews
Gentry Electric has been mostly recognised for their approachable and considerate staff. They are also known for the meticulous work they do in every project.
The special deals are also one of the reasons many clients keep coming back for their services. A customer wrote this review:
"A few weeks ago, I had a strange electrical problem with an outdoor light and the owner had it fixed in a very short time, found a loose wire. Now the light works perfectly. A few weeks after we had Gentry Electric Company replace our 40+ year old breaker panel. The three guys were very professional and polite. They cleaned up all their mess (which most companies lack this trait) and left no signs they were here except the beautiful up to date panel they installed. They labeled the panel so we would know what rooms went to which breaker. I would recommend them to everyone. A+++"
FAQs about Getting Electricians in Plano TX
__________________________________________________________________________
That's it for our list of the best electricians in Plano TX! Already found the one nearest your place or that has the greatest deal? Tell us all about it!
If you'd like to explore more electricians' services around Texas, take a look at these best electricians in Irving TX! They also offer excellent consultations and a whole range of electrical services.