According to the research performed by the US Fire Administration, about 2,305 injuries and 485 deaths have been associated with electrical fires each year.  Majority of these cases are caused by improperly installed electrical wiring usually done by DIY projects.  Don't take such risk—you can always find reliable partners you can place your trust to.
This article presents seven of the most credible and trustworthy electricians in Phoenix.  They guarantee topnotch quality service, courteous and professional electrical technicians, and competitive prices.  With these guys on the job, you can simply sit back and relax.
1. Turn It On Electric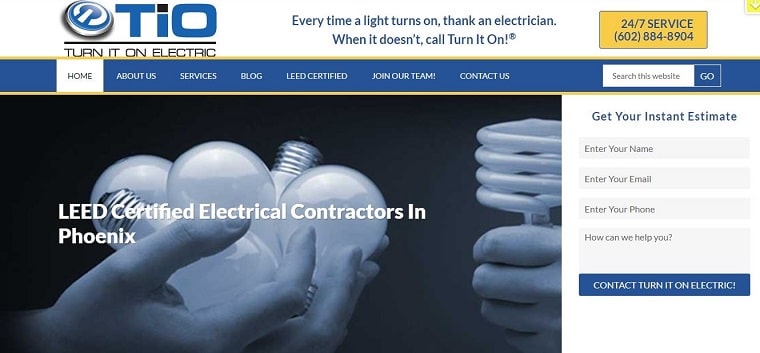 BEST FOR
Residential and commercial electrical works
SERVICES
General electrical services

24-hour emergency service

Copper wire and metal theft prevention

ADDRESS
1745 W Deer Valley Rd #110, Phoenix, AZ 85027
CONTACT
Phone: (602) 884-8904
WEBSITE
https://turnitonelectric.com/
Turn It On Electric is a licensed, insured, and bonded electrical contractor serving homeowners and proprietors in the Phoenix, Arizona metropolitan area.  All of its work is 100% satisfaction guaranteed, plus their technicians are not paid by commission basis; meaning, they will give the best quality service.  These specialists are all trained to be passionate about their job and deliver an amazing customer experience.
2. Coltech Electrical Services LLC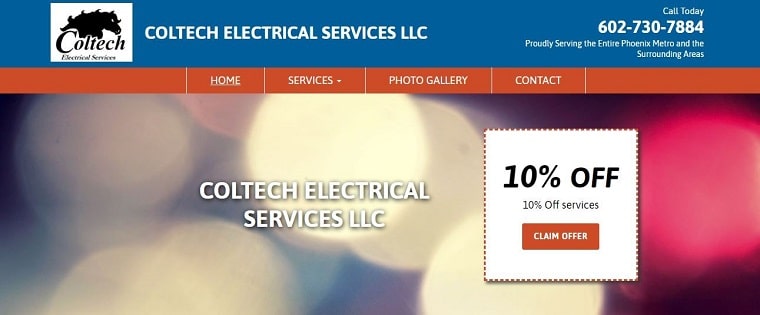 BEST FOR
Residential and commercial electrical works
SERVICES
General electrical services

Circuit breaker repair

Electric panels

Commercial lighting

Electrical service upgrade

Electric vehicle charging station

ADDRESS
Not available
CONTACT
Phone: (602) 730-7884
WEBSITE
https://www.phoenixcertifiedelectricians.com/
Coltech Electrical Services promises to deliver high-quality work and fair prices to all its customers in the Phoenix Metro Area.  The company consists of punctual and professional staff that will arrive with the necessary resources to execute their work efficiently and effectively.  They can also provide a free estimate and honest assessment of your electrical issues.
Coltech Electrical Services has the following qualifications:
BBB (Better Business Bureau) accredited
A+ rating with BBB
Best of Home Advisor
3. TAB Electric, LLC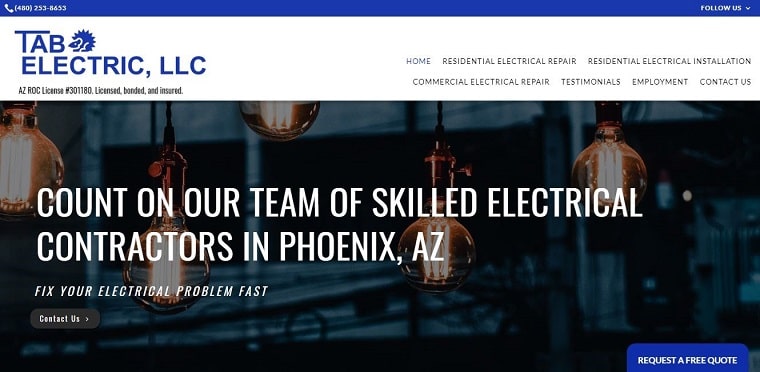 BEST FOR
Residential and commercial electrical services
SERVICES
Residential electrical repair and installation

Commercial electrical repair

Emergency repair

ADDRESS
Phoenix, AZ 85024
CONTACT
Phone: (480) 253-8653
WEBSITE
https://www.tabelectricaz.com/
TAB Electric, LLC has 25 years of experience in providing top-grade electrical, making sure that the electrical wiring of every home and business establishment in Phoenix, Arizona is safe.  The company is licensed, bonded and insured, guaranteeing nothing but the best customer experience to all its new and existing clients.  For inquiries, feel free to give them a call or send them a message via this link.
4. Fox Valley Electric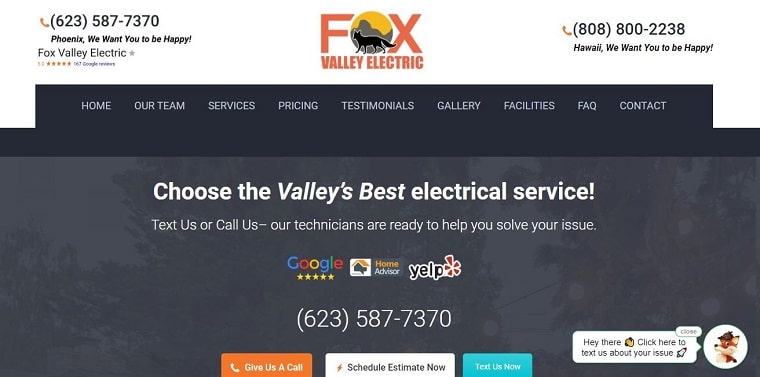 BEST FOR
Residential and commercial electrical works

Facilities management

SERVICES
24-hour emergency electrical services

Electrical repairs and installations

Facilities maintenance

Panel changes or upgrades

Surge protection

Baseboard heating and digital thermostat installation

ADDRESS
2440 West Mission Lane #15, Phoenix, AZ 85021
CONTACT
Phone: (623) 587-7370

Fax: 623) 587-7371

Email: [email protected]

WEBSITE
https://foxvalleyelec.com/
Fox Valley Electric was established in 2006 and has been delivering quality electrical construction, service, and maintenance to its customers in the Phoenix metropolitan area.  Its team of highly competitive professionals provides an extensive range of electrical services through their three divisions: Residential, Commercial, and Facilities Management.  They only offer world-class customer service and workmanship.
All of Fox Valley Electric's services are backed by its 100% satisfaction guarantee. Its team of professional technicians can install anything from new security lighting to a whole generator that will support your home or business establishment during a power outage.
5.    Mr. Electric of the Phoenix Metro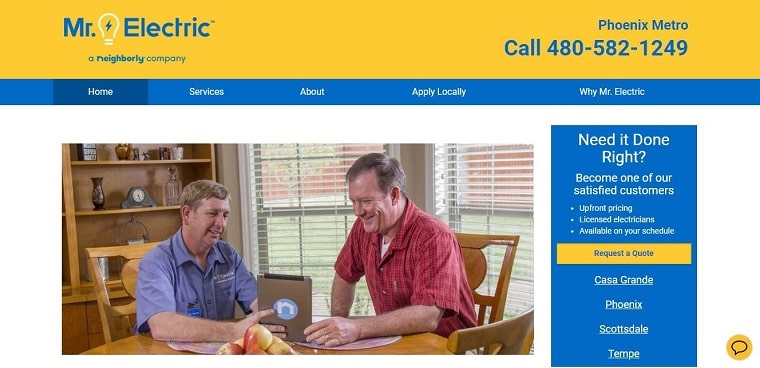 BEST FOR
Residential and commercial electrical works
SERVICES
General electrician services

Electrical repair, installations, and maintenance

Emergency services

Generator installation

Childproof outlets

ADDRESS
9831 S 51st St #C115, Phoenix, AZ 85044
CONTACT
Phone: (480) 582-1249
WEBSITE
https://mrelectric.com/phoenix-metro
Mr. Electric of the Phoenix Metro provides various electrical needs to both residential and commercial sectors throughout the Phoenix and surrounding areas.  Its highly-trained team of electricians will treat you, your loved ones, and home with the respect and attention to safety you deserve.
Mr. Electric is locally-owned and operated, and as a result, it understands the needs of their clients.  When you need a local technician, you can rely on the bonded and insured specialists at Mr. Electric of Phoenix Metro.  The company also provides free estimates, upfront pricing, and warranty to both its products and services.
6. T&K Electric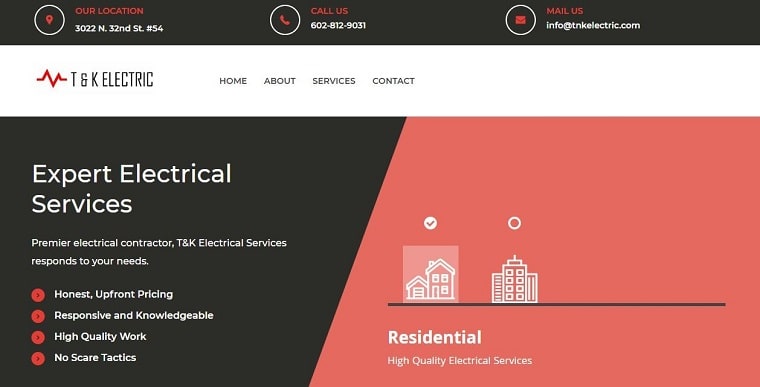 BEST FOR
Residential electrical works

Data communications

Electrical installation and maintenance

Dedicated circuitry

Fire alarms

Emergency lighting

Whole-home surge protection

SERVICES
Ceiling fan installation

Electrical wiring

Remodels

Panel upgrades

Childproofing outlets

ADDRESS
2618 N 31st St, Phoenix, AZ 85008
CONTACT
Phone: (602) 812-9031

Email: [email protected]

WEBSITE
https://www.tnkelectric.com/contact-us/
T&K is a premier electrical contractor that responds to its customers' electrical needs.  It's licensed, locally-owned and operated business that provides high-quality residential service and construction.  The company values the opportunities to work with their clients regardless of the work size they need.
7. Watt Masters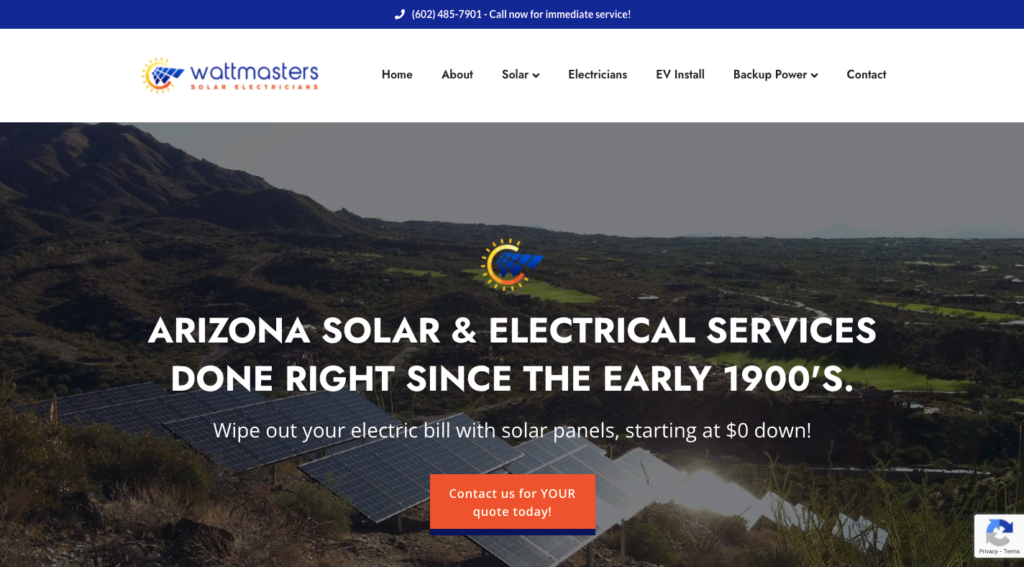 BEST FOR

Solar and Electrical Services

SERVICES

Residential SolarCommercial Solar

Solar Battery Backup

Battery Backup

Generator Backup

EV Install

Electrician Phoenix – Valleywide Service

ADDRESS

11029 N 24th Ave Suite 804, Phoenix, AZ 85029, United States

CONTACT

(602) 485-7901

WEBSITE

https://wattmasters.com/
Being recognized and awarded by HomeAdvisor, Angi, Porch, CustomerLobby and Unilocal, Watt Masters have been serving Arizona's solar and electrical needs for over 20 years! Their family-owned and operated company is one of the most experienced solar panel installers and electricians with nearly 100 years of experience across 4 generations.
We are amazed that this company has been running their business since the 1900s. With quality, integrity, and a job well done, they have won the hearts of locals in Arizona for their residential and commercial projects ranging from small to very large. They make sure that they use industry-leading parts and provide competitive pricing upfront before any work begins.
You also won't worry if you reach out to them for your solar and electrician needs since they are licensed bonded insured, have a solid 100% guarantee of workmanship that is built to last a lifetime, and an exceptional experience guaranteed. This can be supported by their new and returning customers' reviews and their honest expert electricians and solar installers.
You can be confident that if you work with Watt Masters, your project will be completed correctly, that it will be a pleasant and enjoyable experience for you, and that it will be built to last a lifetime