We already established how important electricity is in our lives. We may take it for granted until such time when we experience electrical issues.
It's a great thing that today's technology allows mankind to address such nuisances quickly and efficiently. We have rounded up the finest electricians Indianapolis has to offer. These companies offer tip-top services and guarantees that only the experts in the electrical industry can give.
Scroll on to know six of the most excellent electricians in Indianapolis.
1. Mister Sparky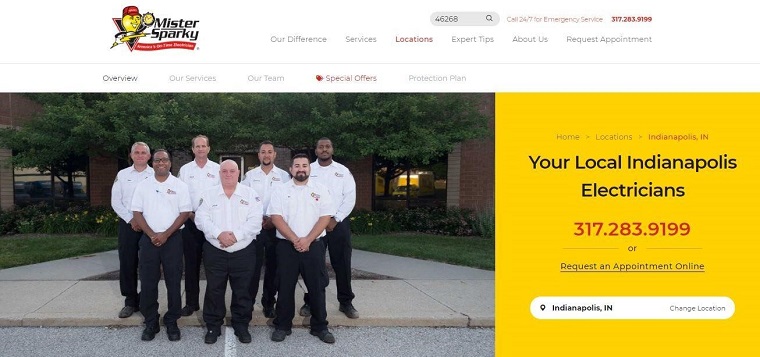 BEST FOR
Residential electrical services
SERVICES
Lighting installation

Electrical sub panel repair & installation

Electrical panel upgrades

Electrical repair

Electrical inspections and code compliance

Emergency electrical services

Fan installation

Home surge protection

Outlet installation

Generators

Circuits & wiring

Smoke detectors

ADDRESS
5561 W 74th St, Indianapolis, IN 46268, United States
CONTACT
Phone: (317) 283-9199
WEBSITE
https://www.mistersparky.com/indianapolis/
Mister Sparky Electric knows the power of electricity and how it empowers our daily life. Fortunately, it employs experts when it comes to safeguarding Indianapolis against the dangers electricity can give. These electricians are highly skilled, licensed, and professional troubleshooters.
Mr. Sparky Electric delivers:
Straightforward pricing
100% satisfaction guarantee to all service calls
Locally tailored electrical solutions
Top-notch workmanship
24/7 emergency service
Comprehensive and complementary diagnosis with repairs
2. Mr. Quick Home Services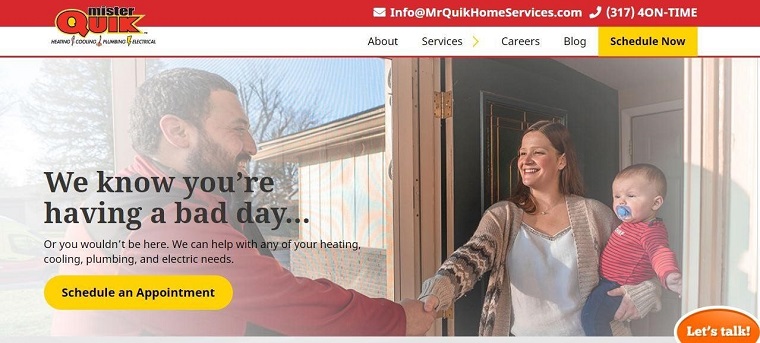 BEST FOR
Electrical, plumbing, and HVAC services
SERVICES
Electrical panel replacement

Whole-home generators

Tripping breakers

Whole-home surge protection

Meter base repair

ADDRESS
4625 W. 86th Street, Suite 800, Indianapolis, Indiana 46268
CONTACT
Phone: (317) 4ON-TIME

Email: [email protected]

WEBSITE
https://mrquikhomeservices.com/
For quick fixes in your electricity, plumbing or HVAC issues, Mr. Quick should be your first option to call. It is staffed by highly competitive people who can deliver top-quality workmanship. Their combined experience makes Mr. Quick one of the most reputable home service companies in Indianapolis today.
3. Godby Heating Plumbing Electrical

BEST FOR
Furnace repair and installation
SERVICES
Residential and commercial electrical works

Electrical panels

Smoke and carbon monoxide detectors

Low voltage cabling, phone/TV/data networking

Troubleshooting and Repairs

Arc fault breakers

Surge protection

Outlets and GFCI

Interior and exterior lighting fixtures

Landscape lighting

Decorative lighting/ ceiling fans

Whole-house generators

ADDRESS
7852 Moller Rd., Indianapolis, IN 46268
CONTACT
Phone: (317) 471-8700
WEBSITE
https://godbyhpe.com/
Godby can troubleshoot and fix any electrical issues you have on hand. The company's highly competitive professional electricians can perform electrical services 24/7 and are always equipped for emergencies. They also want your home to be as energy-efficient as possible.
4. Efficient Systems Inc.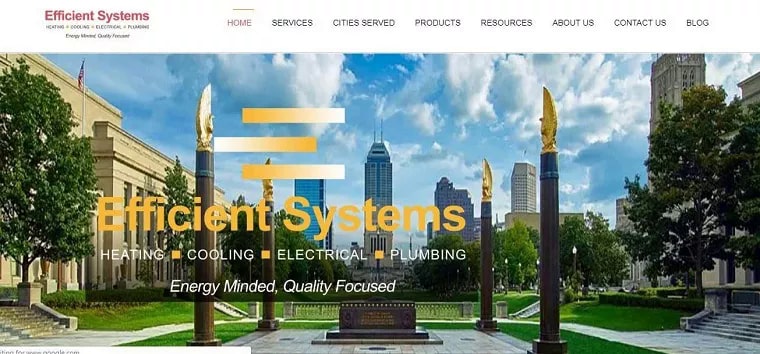 BEST FOR
Electrical, plumbing, and HVAC services
SERVICES
24-hour service and repairs

Maintenance agreements

Overhead to underground service upgrades

Underground circuit locating

Short circuit or fault current calculations

Energy-efficient upgrades

Electrical code compliance

Design & build

ADDRESS
284 N Belmont Ave, Indianapolis, IN 46222, United States
CONTACT
Phone: (317) 293-6510

Email: [email protected]

WEBSITE
https://www.efficientsystems.net/
Efficient Systems, Inc. is a principal provider of electrical, plumbing, and HVAC services in the greater Indianapolis metro area since 1993. The company, as its moniker suggests, wastes no time in delivering quality workmanship and customer service. Its technicians are all NATE certified and are highly capable of delivering A1 services to both residential and commercial clients.
5. David Electric
BEST FOR
Residential, commercial, and emergency electrical services
SERVICES
Aluminum wiring maintenance

Security lighting

Temporary service build and installation

Remodels and room additions

Phone, cable, and data lines

Transfer switch and generator systems

Fire, water, and storm damage repairs

ADDRESS
6013 N College Ave, Indianapolis, IN 46220, United States
CONTACT
Phone: (317) 295-2894
WEBSITE
https://davidelectricservicellc.com
David Electric is committed to providing first-class customer service. It doesn't matter how big or small a task is, the company will always get the job right. David Electric's team of professional electricians, the job gets done right the first time, on-time, and on-budget. It utilizes state-of-the-art equipment and parts to ensure 100% customer satisfaction.
6. White's Electrical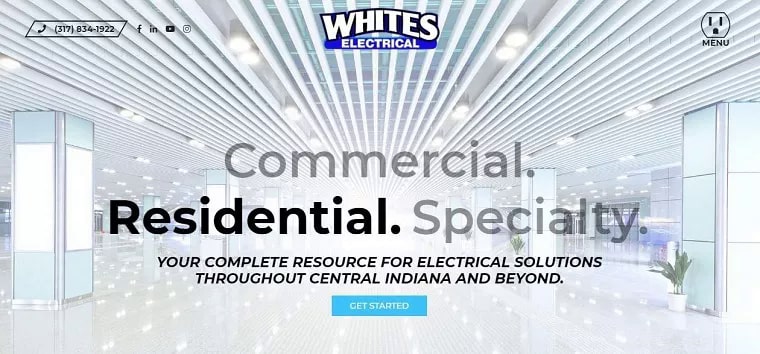 BEST FOR
Residential and commercial electrical services
SERVICES
Ceiling and Wall Lighting

Code Compliance

Electrical Receptacles

Smoke Detectors

Dimming or Flickering Lights

Outlet and Switch Replacement

Commercial services

ADDRESS
310 Indianapolis Rd Ste A, Mooresville, IN 46158, United States
CONTACT
Phone: (317) 834-1922
WEBSITE
https://www.whiteselectrical.com/
White's Electrical has been servicing the whole Midwest as a highly dedicated team of electricians since 2001. The team always strives for excellence in every single task they do. No wonder why they received an A+ rating from BBB and received Angie's List Super Service Award from 2007 to 2014. Aside from those, hiring White's Electrical means:
Full-service electrical services
Local and established
Licensed professional electricians
5-star review