Do you want to make your dream house real? How about the business building you envision to have? Or perhaps you need to renovate your ancestral house in Dubai?
If you answer with a resounding "Yes!" to any (if not all) of these questions, then we have the right list just for you! Our list contains the most credible contractors in Dubai.
These companies are known to deliver three of the most relevant aspects in the construction industry: top-quality workmanship, unparalleled customer service, and 100% customer satisfaction. Without further ado, here are your six best choices for contractors stationed in Dubai.
Note: Due to the current pandemic outbreak, we've noted the relevant service changes for some of the shops listed below. Where applicable, we've noted the policy or service changes.
1. Exterior Experience Landscaping LLC
BEST FOR
Specialises in designing and building residential projects
SERVICES
Swimming pool and landscaping construction
ADDRESS
Arenco building nr. 4 – Dubai – United Arab Emirates
CONTACT
Tel: +971 4 332 0033

Email: [email protected]

WEBSITE
https://xterior.ae/
Headed by a European management, Exterior Experience Landscaping LLC is an internationally renowned award-winning swimming pool and landscaping company devoted to building the most unique and luxurious swimming pools and landscaping projects in the world. They also specialise in residential private villas projects that are centred on outdoor living space concerns.
Exterior Experience Landscaping LLC handles swimming pools, pergolas, outdoor kitchens, jacuzzi, water features, and fire features. Some of their recognised projects are:
Meydan Falls – Meydan Millenium Estates
My Marina – Saadiyat Island
The Entertainment Landscape – Jumeirah Park
Mudon Dream – Mudon
Jasmine Paradise – Arabian Ranches
2. Amana Contracting

BEST FOR
Design-Build construction
SERVICES
Industrial construction

Agriculture, equestrian, retail, automotive, aviation, food processing, institutional, logistics, manufacturing, medical, oil, power, and water design-build construction

ADDRESS
1st Floor, Amana Building – 9 Street 1 – Dubai – United Arab Emirates

Mailing: P.O. Box: 5643 Abu Dhabi, United Arab Emirates

CONTACT
Phone: +971 2 642 8383 | Fax: +971 2 642 8644

Email: [email protected]

WEBSITE
http://www.amanabuildings.com/
Amana Contracting comes first in the list of the most trusted contractors in Dubai, particularly in the design-build construction. It offers total solutions for clients who value the element of time savings. They provide a diverse workforce, a large network of suppliers, and subcontractors with innovative backgrounds and ideas.
Amana has built various projects including:
Factory and offices of Del Monte Foods at Al Aweer
Bakery production facility of Dunkin Donuts at Sharjah
Pharmaceutical plant for Neopharma at Mussafah industrial city
Equestrian facility for Emaar at Arabian ranches
Second hangar for Presidential flight at Abu Dhabi Airport
3. Al Sahel Contracting Company LLC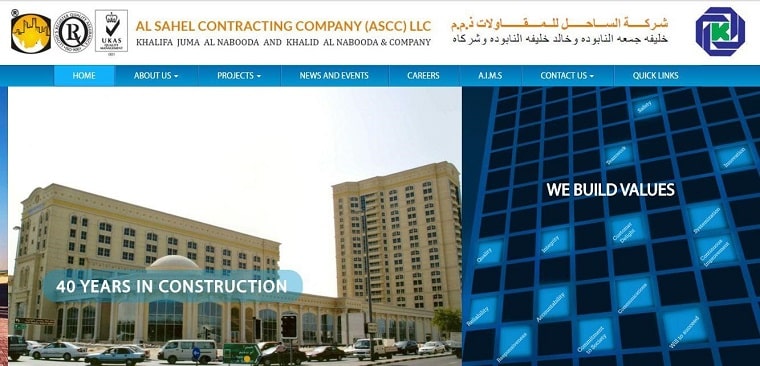 BEST FOR
Design and build construction
SERVICES
Residential, commercial, retail, and institutional design build construction
ADDRESS
25th St – Dubai – United Arab Emirates
CONTACT
Phone: +971 4 2857324 | Fax: +971 4 2851609

Email: [email protected]

WEBSITE
http://alsahelcon.com/
Al Sahel Contracting Company LLC boasts of a 40-year service in the construction industry. It is part of the Khalifa Juma Al Nabooda Group of Companies headed by its Chairman, H.E. Khalifa Juma Al Nabooda. It has been providing Dubai various construction services since its inception in 1976.
ASCC has completed over 230 diverse projects which involve residential and commercial buildings, skyscrapers, shopping malls, hotels, luxury villas, warehouses, schools, etc. These include the following:
Audi, Porsche, and Volkswagen body & paint workshop at Saih Shuaib 3, DIC
B+G+12 residential building on Plot No.232-105, Al Qusais First
Ettore 971 Bugatti Villas at Akoya Oxygen Master Development
4. Heilbronn Contracting L.L.C.

BEST FOR
Property development
SERVICES
Residential and commercial property development

Building and road construction

Infrastructure

ADDRESS
P.O. Box 48559, Suite # 2601, Marina Plaza, Dubai Marina, Sheikh Zayed Rd., Dubai
CONTACT
Phone: +971-4-277-5627 | Mobile: +971-50-650-8160

Fax: +971-4-277-5793

E-mail: [email protected]

WEBSITE
http://www.heilbronn-dk.com/
Heilbronn, one of the premier contractors in Dubai and an ISO certified company, was established in 2002. Since then, it has steadfastly grown to be what it is known today. Heilbronn has worked with Dubai's most iconic clients including:
H Sheik Ahmed bin Saeed Al Maktoum
Alec
Dubai World Trade Center
Paramount Pictures
Emirates Airlines
Jumeirah Group
Besix
What makes Heilbronn unique from the rest? The company's projects are fully funded and constructed by its own construction wing to ensure top-notch standards as well as quality control implementations.
5. Adnan Contracting L.L.C.

BEST FOR
Full construction and development services
SERVICES
Residential, commercial, and industrial constructions

Design-build projects

ADDRESS
P.O.Box: 62778 Dubai U.A.E.
CONTACT
Tel: +971-4-3369550

Fax: +971-4-3360051

Email: [email protected]

WEBSITE
http://www.adnan.ae
Founded in 1999, Adnan Contracting LLC has consistently grown to become one of the strongest market players in the UAE. It now holds a Grade 3 classification license and is headquartered in Dubai.
Here are some of their most prestigious projects:
Emirates Transport Branch at Al Warsan
(2B+G+6) Auris Hotel
(2B + G + 10 + HC) Residential & Commercial Building at Al Warsan
(B + G + 11 + Gym) Residential & Commercial Building at Al Qusais1st
(G + 3) Labor Camp at Al Quoz
6. Wade Adams Contracting LLC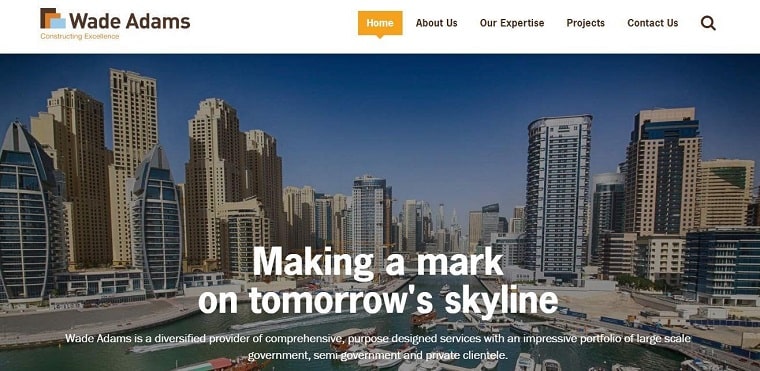 BEST FOR
General construction and project development
SERVICES
Tunnel and highway interchanges

Water system, drainage & sewerage systems

Residential complex infrastructure

Marine works

Mechanical, plumbing, and electrical systems

Dam construction

Bulk earthworks and grading

Residential, commercial, and industrial building & complexes

Airport construction

Oil and gas

ADDRESS
14th-15th floor Vision Tower, Al A'amal Street – Dubai – United Arab Emirates
CONTACT
Phone: +971-4-453-5000

Fax: +971-4-450-8087

Email: [email protected]

WEBSITE
https://wadeadams.com/adams/
Wade Adams Contracting LLC is a full-service general construction and project development company. It proudly serves Dubai with over 40 years of regional expertise and unmatched resources. The company also provides world-class quality control standards, skilled specialists, and cutting-edge technology.
Wade Adams has worked on distinctive projects such as:
The Sharjah International Airport (new runway, airside systems & main civil works)
Interchange No. 5 (improvement services)
Sir Bani Hotel (development and hotel refurbishment)
Hatta Dam (new construction)
7. Dubai Contracting Company (DCC)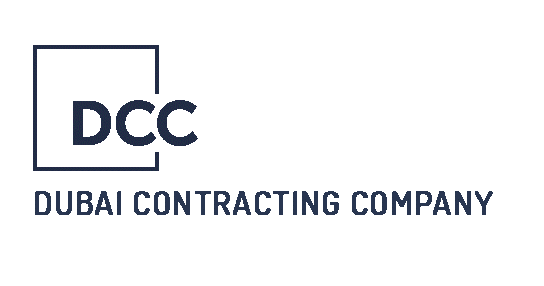 BEST FOR
Construction services and turnkey solutions
SERVICES
Building and construction

Design-build

Interior designs and furnishings

ADDRESS
Building No. 29, St. 13, Industrial Area 1, Ras Al Khor, PO Box 232, Dubai, UAE
CONTACT
Phone: +971-0-4- 333-7100

Fax: +971-0-4-333-0821

Email: [email protected]

WEBSITE
https://dcc-group.com/home/
In 1962, Dubai Contracting Company was established with the mission to provide the highest standards of construction services as demanded in the cutthroat competition in the industry. The company goes beyond the usual scope by also offering specialized designs for interiors and furnishings.
DCC is a family-operated business, spanning five decades and three generations of the Yabroudi family. It has access to a network of world-class names in engineering and architecture. Here are some of their completed projects:
Seddiqi Holding headquarters
Marquise Square (residential)
Four Seasons DIFC (hotel)
The Galleria (commercial)
Rolex Tower
O14 (offices)
8. Larch Landscaping
Larch Landscaping is a landscape architect and gardening design company that is devoted to providing clients quality work, devoted customer support, and excellent services. They offer personalised methods for decking, fire pits, outdoor kitchens, sitting areas, hard landscaping, landscape lighting, and jacuzzis.
Larch Landscaping is also recognised as one of the best landscaping companies in Dubai UAE. Some of their recognised projects are found in:
Jumeirah Park
Barsha and Barsha South
The Palm Jumeirah
Meydan
9. Global Branding Events and Exhibitions

Global Branding Events and Exhibitions is devoting to bringing their clients the best exhibition stand management services possible. They achieve maximum exposure and a lasting impression for their clients through creative exhibition stand designs. The company also offers custom made stands, modular stands, shell scheme supplies, and country pavilions.
Through the years, the company has worked in over 27 countries. Some of the projects of Global Branding Events and Exhibitions are:
Dubai Air Show 2019, Aviation France
ADIPEC Exhibitions 2019, Abu Dhabi
Solutrans Exhibtion, Lyon, France
Big 5 Exhibitions 2019, Dubai, UAE
China Fire Expo 2019, Beijing, China
Wood Tobacco Show, Surbaya, Indonesia
10. Rectangle Interiors
Rectangle Interiors was founded by Raj Khaneja with a vision for coming up with elegant and sophisticated interiors which mixes classic well with contemporary. The company has had over 17 years of experience in the industry, completing over 1,000 office optimisation and design, retail fit out, and other fit out projects. They believe the idea of refurbishing a space brings out quality change and better performance in any enterprise.
Since 2003, Rectangle Interiors has been devoted in rebuilding workplaces that attract quality performances. Some of their projects include:
The Skull Night Club
The Playhouse
The Executive Lounge – Business Center
Quantum Executive Business Center
11. Urooj Technical Services
Urooj Technical Services (UTS) is a well recognised company that provides all kinds of waterproofing, maintenance, re-roofing, and cleaning services. They are run by a group of professional site supervisors and craftsmen, ready to build long lasting relationships with clients. UTS has worked with projects all over Dubai and have successfully formed a strong nd united construction force.
UTS is also known for using state-of-the-art high end tools and equipment to be able to work on projects exceptionally.
12. Kalandoor Contracting LLC
Kalandoor Contracting LLC is the leading Fit-Out contractor in the country. We recommend them especially to those who want their space ready for occupation.
Over the years they have built a reputation for themselves. They take pride in providing first class turnkey services with highest regard to quality integrity of design, fit out, contracting and planning.
In comparison to other contractors, we believe that they deliver the best solutions that can meet the client's needs and standards. With this, they have completed more than 1500 projects and ahs over 200 returning custoemrs.
We think they are great sice their team is filled with well qualified Civil, interior Decoration, and Electro-mechanical contractors. Knowing this, you can now put your trust on them and wait until they blow you away with their work,
13. General Contractor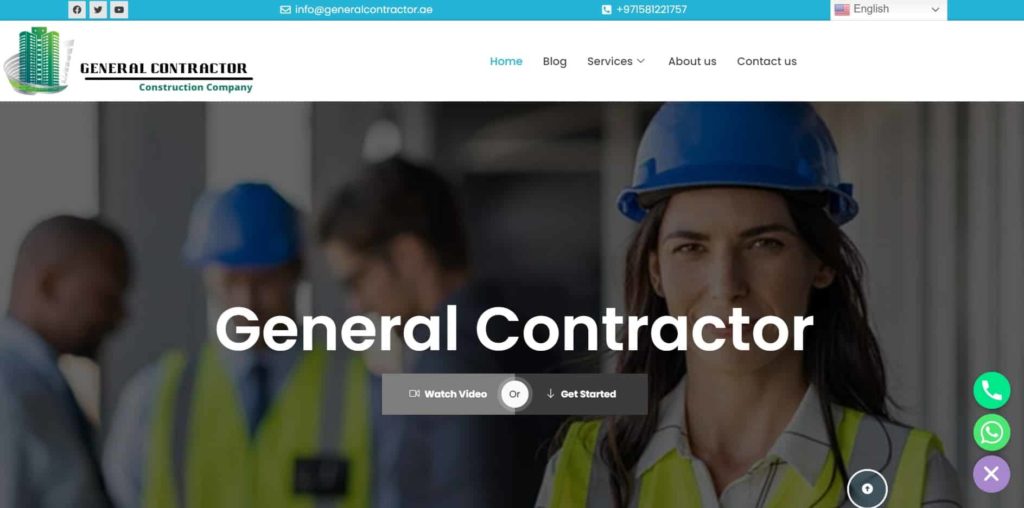 General Contractor is a company that provides various types of service like Construction, Renovation, Cleaning and all Maintenance services that is ideal just for any project size and nature. They are also ISO/ICV certified and have since then had a wide range of experiences in dealing with and managing commercial, industrial, and residential projects.
We like that they are able to employ an effective team of professionals that is able to help clients have a better and well-rounded review of their project and ensure its hands-on management.
Furthermore, they also make use of only quality construction materials with a long-lasting guarantee when it comes to labor to assure clients that their project will also be durable in the long run.
Note though that they do not have rates or packages readily available and clients may need to book a consultation with them beforehand.
Overall, Construction companies today have a hard time securing enough workers due to the increasing demand for specialized labor while keeping up with the high demand for general laborers. And so they're starting to turn to good quality workers as an alternative solution. You can hire this General Contractor company for your construction or renovation project.