Carpentry may sound easy if you have the proper tools and experience in doing such kind of work. But if you don't know how to cut wood or you easily get confused with measurements, then do yourself a favor and hire a carpenter for your project.
In Sydney, you'll find lots of carpenters willing to give you a hand. But when hiring one, you need to make sure that you're picking a legitimate expert so as to avoid getting substandard service or poor results. To save you from the headache of hiring the wrong people, we have listed here the 6 best options for carpenters in Sydney. Check them out and find the one that's best for your needs!
1.     Commercial Carpenters Sydney
Best For
Commercial Carpentry Work
Services Offered
Pergolas, eves & gutters, and doors

Wardrobes and cupboards

Garages and carports

Skirting, fencing, decking, and roofing

Shop and office fit-outs

Address
Level 40, 100 Millers Street North Sydney, NSW, 2060 PO Box 1995 North Sydney NSW 2059
Contact Information
0417 417 400
Website
http://commercialcarpenterssydney.com.au/
Quality work and affordable prices are what Commercial Carpenters Sydney offers, which you will hardly find in other companies. They excel in designing spaces and completing first-rate woodwork without delays. They have a huge team of experienced and skilled carpenters ready to take on any kind of project regardless if it involves your garage, roofing system, pergola, or wardrobes. To get in touch with them today, simply call at 0417 417 400.
2.     Ryox Carpentry and Building Solutions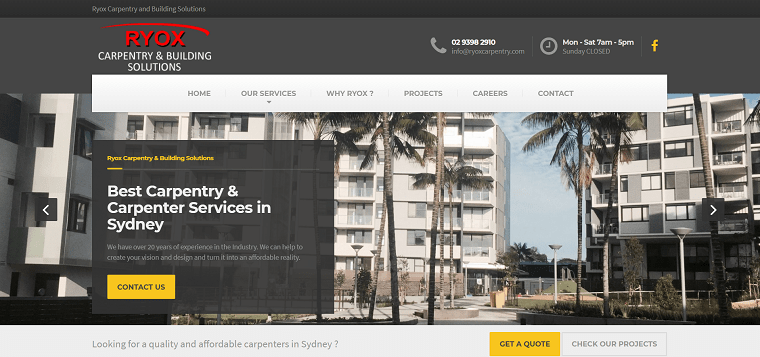 Best For
Commercial and Residential Carpentry
Services Offered
Residential carpentry

Commercial fit-outs

Hospitality and shop fit-outs

Decking

Address
1/2 Dudley Street Randwick, NSW 2031
Contact Information
02 9398 2910
Website
http://ryoxcarpentry.com/
Ryox Carpentry and Building Solutions was established over 20 years ago. They have become one of the most trusted carpenters in the area because of their passion at work, honesty, and commitment to improving the services they offer. They always strive to exceed all client expectations and this applies no matter what kind of carpentry job you have for them. From commercial fit-outs, domestic carpentry to decking work, their team will handle it all like a pro.
3.     M2 Carpentry

Best For
Residential and Commercial Carpentry
Services Offered
House renovations and extensions

Shop, retail, and office fit-outs

Heritage and remedial work

House framing and structural roofing

Cladding, decking, and flooring

Property maintenance

Address
26/32-38 Dutruc St, Randwick NSW 2031, Australia
Contact Information
0478 777 209
Website
http://m2carpentry.com.au/
M2 Carpentry is another great choice for commercial and residential carpentry projects as they aim to complete work in the most efficient way possible. They treat all projects equally, which means there are no too simple or too complex tasks for their team. They're also known for giving their 100% effort and using their complete skills to do the job right. If you're interested in the services they offer, you can learn more about them on this website: http://m2carpentry.com.au/.
4.     Advanced Craft Carpentry
Best For
Home Renovations
Services Offered
Doors and frames

Decking and handrails

Timber floors and stairs

Kitchen and bathroom renovations

Joinery and maintenance work

Address
Kensington NSW 2033
Contact Information
0420 313 844
Website
https://www.advancedcraftcarpentry.com.au/
You can never go wrong in choosing Advanced Craft Carpentry if you need help with a home renovation project. Their team has been dealing with this kind of work for a long time now and no matter how big or small the renovation work is, they turn up on time with a strong commitment to successfully complete the project and meet all of your needs. They can handle all jobs such as decking, bathroom and kitchen renovations, and construction project management, so you don't have to call anybody else.
5.     Barracuda Building

Best For
General Carpentry Work
Services Offered
Commercial, domestic, and retail carpentry

Upgrades and refurbishment

Address
PO Box 197 Oyster Bay, NSW 2225
Contact Information
0423 070 190
Website
https://barracudabuilding.com.au/
The secret of Barracuda Building to completing lots of residential and commercial projects are these: open communication, dedication at work, and professionalism. From the initial contact with their team, you will see their willingness to help, taking the time to understand your needs and visions. They will always do the work according to your specifications to make sure they will meet, if not exceed, your expectations. From the design up to the construction process, they're going to be with you all throughout.
6.     Mulberry Pty Ltd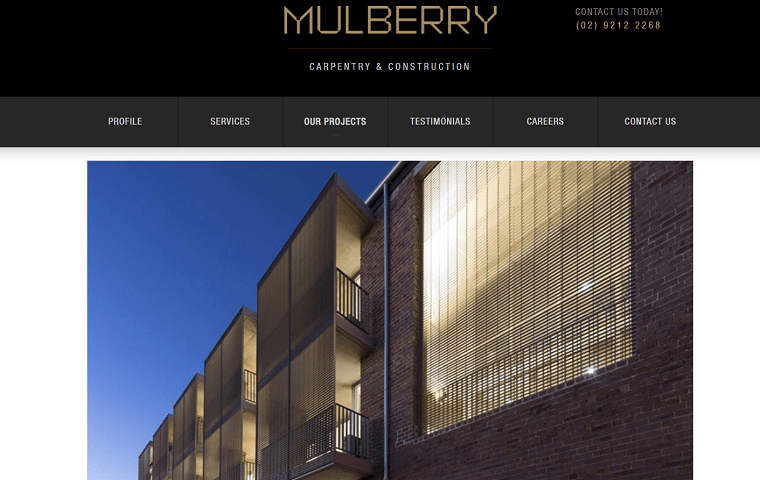 Best For
Bespoke Carpentry
Services Offered
Woodwork and joinery

Timber frames, doors, and flooring

Timber cladding, window installation, and fencing

Attic conversions

Extensions and renovations

Residential and commercial fit-outs

Address
23/17-21 Henderson Street, Turrella, NSW, 2205
Contact Information
(02) 9212 2268
Website
https://www.mulberrygroup.com.au/
Mulberry Pty Ltd is known as one of Sydney's leading bespoke carpenters. Whenever they handle commercial and residential projects, they always focus on aesthetics, functionality, and longevity to make sure that you have a space you can be proud of for many years to come. They consider all your needs and requirements before any work starts as they care a lot about delivering the results you desire. If you want to learn more about their work process, you can visit their website, https://www.mulberrygroup.com.au/, for complete details.