If you need ideas and information about the different paving stones before starting your new building project, we have you covered!
With many paving options out there differing in performance and style, picking one can be difficult. Thus, we wrote a beginner's guide to pavers: types, uses, and pros and cons here to help you select the best one for your needs and budget.
A Basic Guide to Paving Stones and Their Types, Uses, Pros & Cons
Without any further ado, we present to you our basic guide for various pavers or paving stones!
1) Concrete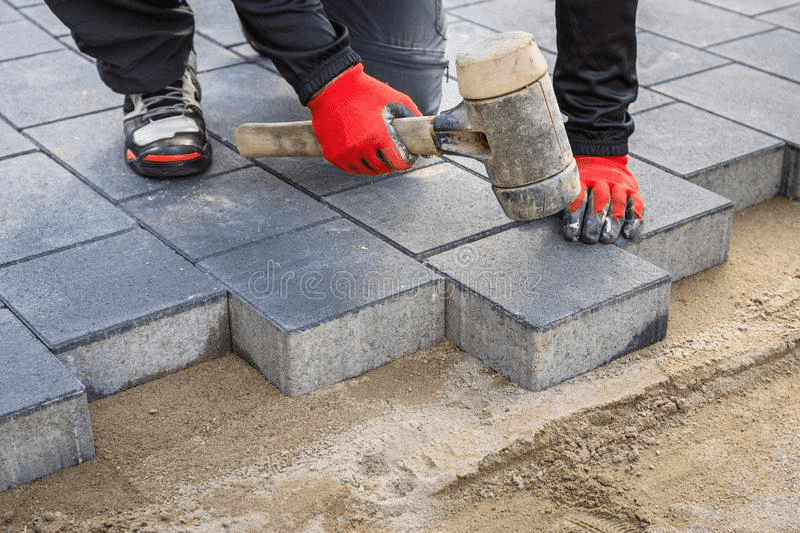 Concrete is one of the most common pavers for walkways, driveways, and patios. The reason for this is it gives a classic and clean finish and is an affordable paving option.
It's available in a broad range of styles and sizes for you to choose from for your home. Or, you can customize it to have the texture, pattern, and color of stone or brick pavers.
Having a simple and symmetric design also means that it's easy to install compared to other stones. However, regular maintenance is needed to prolong its life, including sealing it to retain its color.
It holds up well for mild weather and day-to-day use but may crack and fade in color under extreme weather conditions. Furthermore, soil pressure or freezing conditions may cause the concrete pavers to move out of their places.
Neat and classic finish
Very durable
Comes in a large variety of shapes, colors, textures, and depths
Easily cut into pieces and installed onto the ground
More affordable than brick pavers
Needs to be maintained often to extend its life
Those with artificial coloring can fade over time
May crack under extreme weather conditions
Weeds can grow in-between cracks
Can be slightly moved out of position due to freezing conditions or soil pressure
Best for: Parks, driveways, walkways, and patios
2) Brick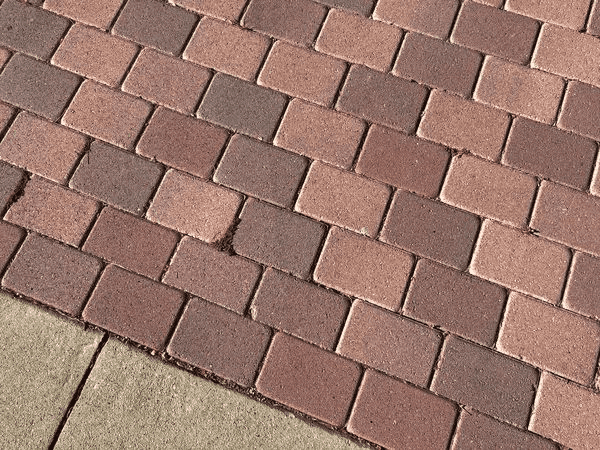 A great alternative to concrete, brick paving has been used by people for many centuries. Made out of baked molded clay, it is well appreciated for its rustic and timeless charm.
It's mostly used for driveways, pathways, and hotel entrances. Since it gives that luxurious touch, it's also very suitable for villa and courtyard settings in rural areas.
There are many riveting patterns and color schemes of brick pavers. You may be familiar with herringbone, basketweave, pinwheel, running bond pattern, or the like.
In terms of durability, brick pavers are somewhere in the middle because they can crack or chip easily, especially with a weak base. However, they can be resistant to staining and fading, the latter being possible through the use of sealants.
While they are less durable than concrete thanks to the sealant that prevents moisture from entering their joints, bricks are a lot easier to replace than them.
Most of all, brick is versatile as it can be laid with small gaps between each other. This allows the water from the rain or your exterior cleaning to independently flow through it down to the soil or drain line.
Rustic and timeless appeal
Excellent alternative to concrete
Great range of color palettes and patterns
Fade and stain-resistant
Can be used as a permeable paver system
Not as strong as concrete
Fragile pavers that can easily be cracked or chipped
Limited size and color
Requires frequent maintenance and foundation to last for a long time
Best for: Driveways, pathways, house or hotel entrances, and courtyards
3) Porcelain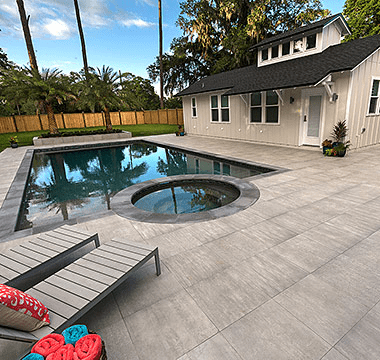 Like bricks, porcelain pavers are also made of clay and heated to intense temperatures. Their distinct features are having subtle and aesthetic textures, non-absorbent surfaces, and versatility.
Due to its non-porous finish, this paving fits swimming pool surrounds, nearby pool bar, and other areas that easily get wet. Since it takes in less moisture, there's less chance of molds and mildew developing on it.
It's very customizable and can be created to resemble marble, slate, or granite flooring. By doing so, you'll be able to save up compared to when buying true pavers of the kinds we just mentioned.
A disadvantage of this paving is it doesn't fit loftier areas or regions that experience frosty weather, because these can drastically damage it. Another is that it'll cost you more to buy or maintain it.
Wood and stone-like porcelain paver designs are available
Non-porous surface makes it ideal for wet areas
Prevents mold and mildew from forming since it takes in less moisture
Suitable for both indoor and outdoor areas
Costs less than those made from natural materials like marble, slate, and granite
Available in various patterns and colors
Higher material and installation cost
Not suitable for places with freezing temperatures
Best for: Pool decks, nearby pool bars, outdoor patios, walkways, and bathrooms
4) Plastic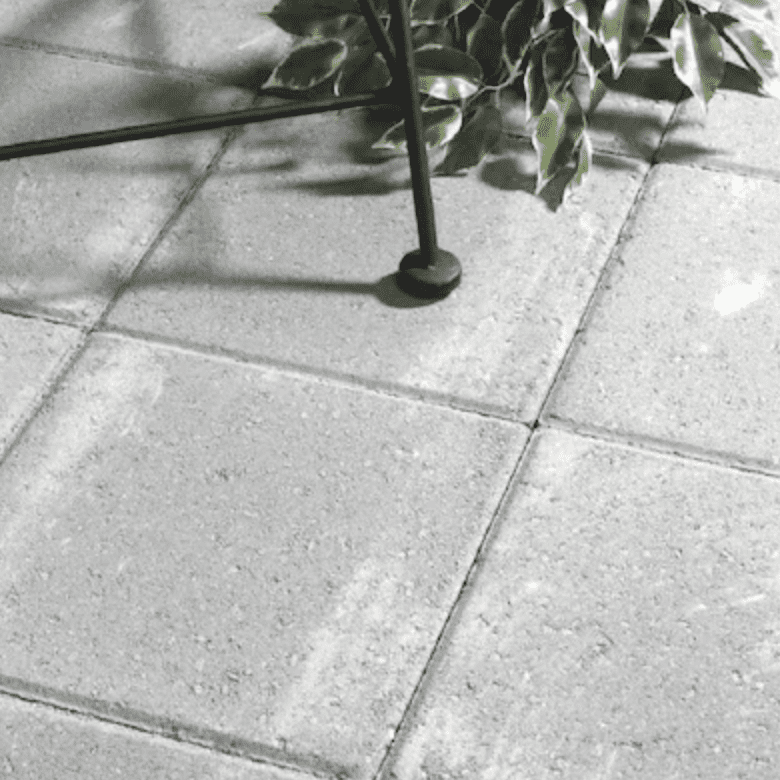 For over a decade, climate change has become the focus of more businesses and consumers. Somewhere along the way, it's a breakthrough that someone thought of using recycled plastic pavers to lessen waste heading to the landfills and oceans.
Plastic pavers are offered in varying styles and colors. They look very different from concrete, stone, and brick that we are so used to seeing every day, though they can be formed to mimic stone tiles.
Meanwhile, their durability depends on the product and manufacturer. Well-made plastic pavers can outlast asphalt and equal concrete pavers' longevity of 25 to 60 years and can have moderate heat resistance too.
Another con is that plastic paving material can be expensive to buy. That's since its fabrication involves recycling, mixing, and shaping it with the use of heavy-duty industrial equipment.
Eco-friendly plastic paver alternatives available
Can help reduce plastic wastes globally
A lot of designs and colors available
Can mimic stone-paved surfaces
Top-quality plastic pavers can last as long as 25 to 60 years
Can be less durable compared to concrete, brick, and stone
Expensive to produce as the process involves specialized industrial equipment
Best for: Gardens, bike paths, pedestrian paths, storerooms, and other indoor areas
5) Marble
If you're looking for a paving stone that will class up your home or business, then you could go for marble pavers.
Marble is an interesting material produced from limestone that's subjected to extreme levels of heat and pressure. This scatters around its crystal composition, which gives its trademark sheen and gray form and finish.
It's incredibly durable and long-lasting and often used indoors like living rooms, kitchen countertops, and walk-in closets; and outdoors on driveways, pathways, or as stepping stones. Its polished and honed versions, though, can be slippery when wet.
Adding to the negative aspect (or positive, depending on how you use it) of marble is it is a great heat conductor. It can scorch your bare foot if you step on an outside marble paving on a sunny afternoon. Another is that beverage and sauce stains can be hard to remove on its surface.
Other than that, marble is a fantastic paver with regard to aesthetics and durability. Plus, it can be cut and made to your preferred size and color to perfectly complement your home background.
Has a unique, classy, and gorgeous pattern
Can be cut to your preferred size and color
Resilient and long-lasting
Adds value when you sell your property
Gets very hot on a sunny day since it's a great heat conductor
Can be easily blemished or smeared by paint marks, sauces, and spills
Honed and polished marbles are slippery when wet
Not scratch-resistant
Best for: Both home and business indoor areas, driveways, walkways, patios, pool decks, and kitchen countertops
6) Travertine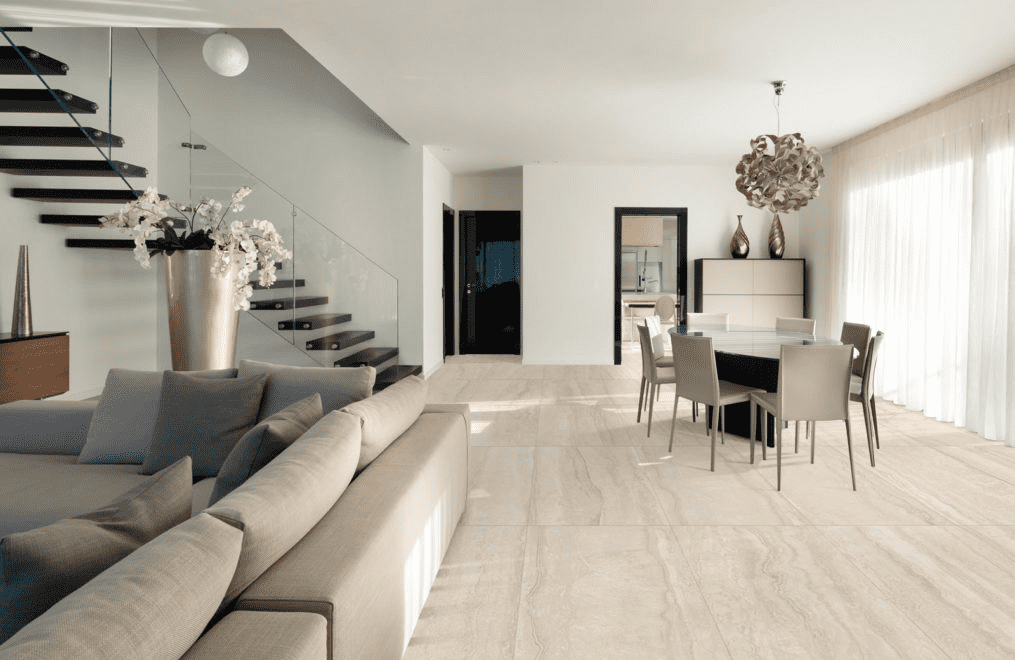 The sibling of marble pavers, travertine is an eco-friendly and elegant paver. They are also natural stones, in particular, sedimentary rocks that are pressured and heated in varying temperatures.
Travertine can be supplied in a wide array of laid-back colors such as cream, chocolate, white, silver, and much more. It is very durable and lasts through many years as well, and it isn't prone to staining and fading except when acidic food or chemicals are used or dropped on it.
As opposed to marble, it does not trap heat in the hottest season, and so it remains cool throughout the day. It's mostly used around pools, but be careful because it can get slippery when wet.
Laying each tile on the ground is more difficult due to its heavier weight. But, you won't need to source travertine stones with effort, since they're readily available in both local and international markets.
And the best bit is that travertine is more affordable than marble, making for an awesome alternative.
More affordable and advantageous than marble
Environmentally friendly paving stones
Durable and long-lasting
Easy to find travertine stones in both local and international markets
Does not stain or fade
Doesn't heat up under the sun or in hot temperatures
Heavier than other kinds of pavers
Acidic chemicals, like cleaning products, can leave a permanent stain on it
Slippery when wet
Best for: Kitchen countertops, patios, poolsides, and indoor flooring
7) Bluestone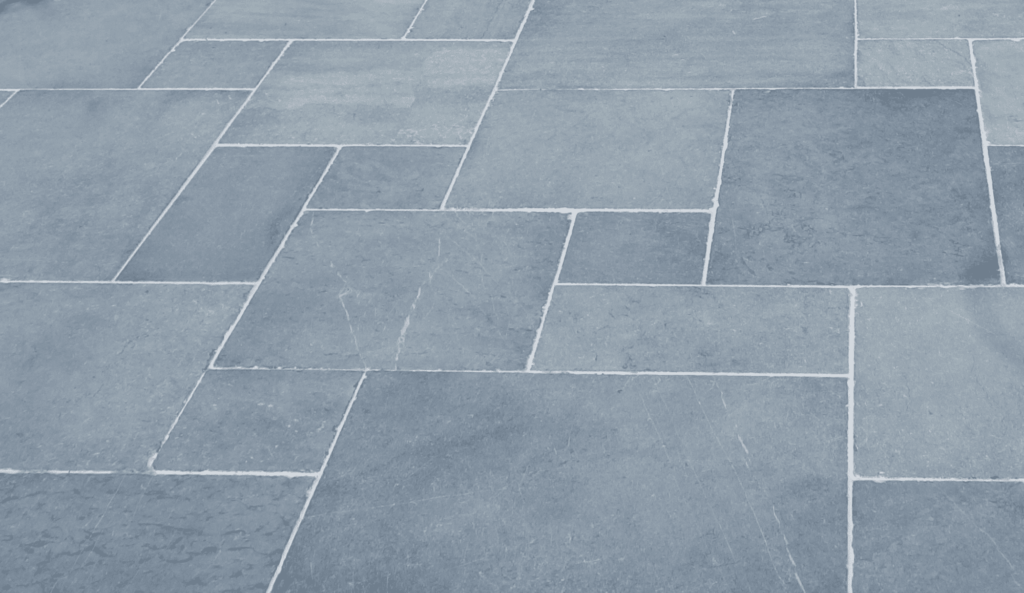 Bluestone is a stunning bluish paver made from sedimentary rocks. There are two main kinds of bluestones: Shenandoah bluestones and Pennsylvania bluestones.
Shenandoah is a variety of limestone composed of calcium carbonate. On the other hand, Pennsylvania bluestones are a form of sandstones with tiny grains all over them.
Bluestones can be incorporated in your home as long slabs, jagged stepping stones, or straight-cut stones. Uniformed bluestones are easier for the paver contractors to design and complete.
They are hardy materials, enduring all sorts of weather and temperature changes. But constant exposure to the sun can fade out their natural colors—for example, royal blue can turn into gray in the long run.
Since obtaining bluestone involves quarrying, it makes sense that it costs a lot more than brick or concrete pavers. It can be harder to obtain as well as other kinds of stones or pavers, which explains why lots of stores sell counterfeit bluestones without letting buyers know they aren't authentic.
So, if you want a magnificent and durable driveway, stepping stone, or pool paving for your property, you can give bluestones a go.
Stunning blue or bluish color
Clean and sustainable appearance
Comes in a range of sizes and designs
Durable paver that lasts for many years
Endures all weather and temperature fluctuations
More expensive than poured concrete and brick pavers
Color can fade over time from constant exposure to sunlight
Lots of counterfeit bluestones are offered by sellers or businesses
Best for: Driveways, stepping stones, and walking paths
8) Cobblestone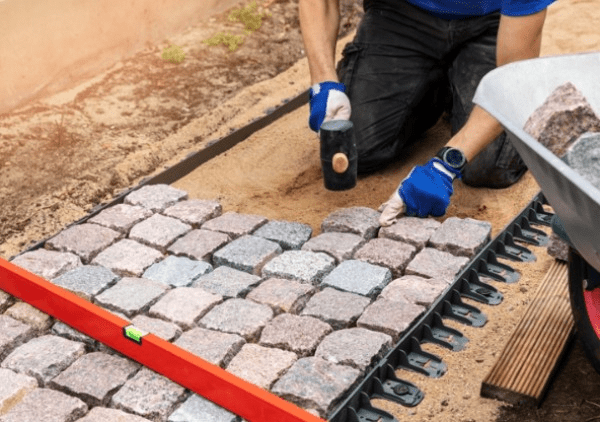 Cobblestones can be formed out of different types of stones like granite, basalt, limestone, or other kinds. However, be sure that when you get cobblestones that they're authentic and not a concrete paver made to look like these stones—just ask for 'true cobblestones.'
You'll be blown away by the many types out there. There are Old English cobblestones, Salt and Pepper cobblestones, St Louis cobblestones, pink cobblestones, and more, which as some of their names could hint differ in colour combinations and stone variety.
Generally, cobblestones make your driveway or walking paths vintage as they have been used for centuries. Amazingly, the paths and driveways made with them are still around to this day, suggesting the stones' superb and iron-clad durability.
As you may have experienced yourself, these stones can be painful on the feet to walk on, so you have to use comfortable footwear. And like the stones we've featured on this list, they can get very slippery whenever it rains.
Cobblestones are very expensive and warrant professional stone pavers so they can be installed stably and properly. You can use cobblestones for your exterior walkways and driveways, which can surely leave a great impression on your guests!
Vintage and beautiful look
Has an 'Old world' appeal
Available in many different colors and stones
Can last through centuries provided the cobblestones are installed well
High price point
Gets extremely slippery on rainy days
Can be difficult to traverse on
Lots of counterfeit cobblestones sold by manufacturers
Best for: Exterior paths and driveways
9) Limestone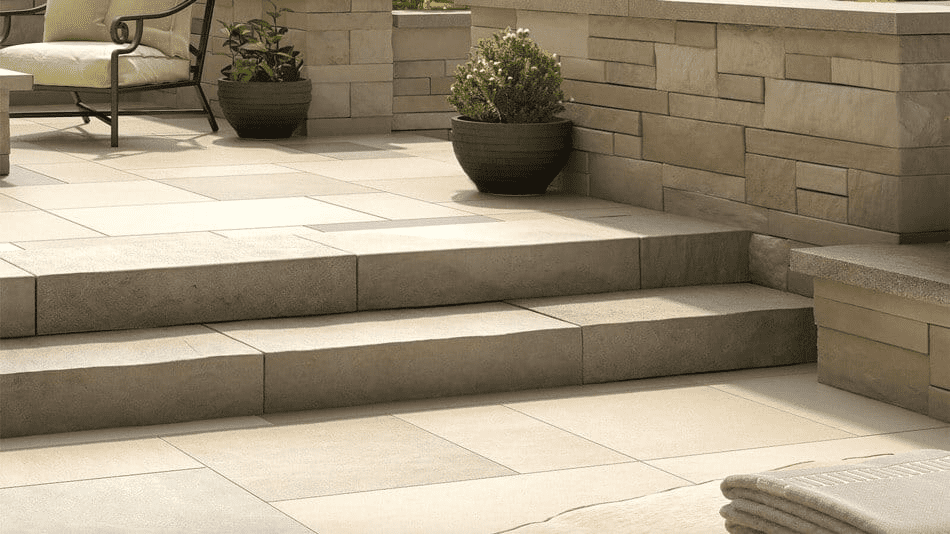 With its smooth texture and light color, limestone makes the landscape relaxing, elegant, and organized. It's also a natural and sustainable sedimentary rock created from marine organism remains or evaporation of water portions with calcium carbonate.
There's no problem with availability as limestone is sourced easily, making it one of the most common natural stones. Also, due to this, it's not that expensive to buy from suppliers.
Limestones have a heavy and dense structure that makes them last for a long time. No, it's not affected by inclement weather, so whether it rains or shines, it will endure them impressively.
You'll mostly find tan, grey, and white flagstones, but though rare, you could also find unusual black, red, and off-white colors, resulting from their chemical compositions.
Be careful, though, as light colors mean that the stones are susceptible to stains or liquid spills. And the slightest stain or mark can be noticeable and mar your house's landscaping.
What's more, limestone pavers are very easy to install and maintain. That said, if you leave them unmaintained for a long while, some irritating algae can grow between their joints.
Limestones are mostly installed in poolsides, patios, and gardens. We recommend getting a textured surface for them before laying around your pool to provide some degree of slip resistance.
Smooth and relaxing paver
Widespread availability
Heavy, dense, and resilient
Easy to install
Surface not affected by inclement weather
Doesn't have many color options
If left unmaintained, algae can grow in between the joints
Can be slippery when wet
More susceptible to stains than other paver types
Also prone to scratching and etching
Best for: Poolsides, gardens, and patios
10) Flagstone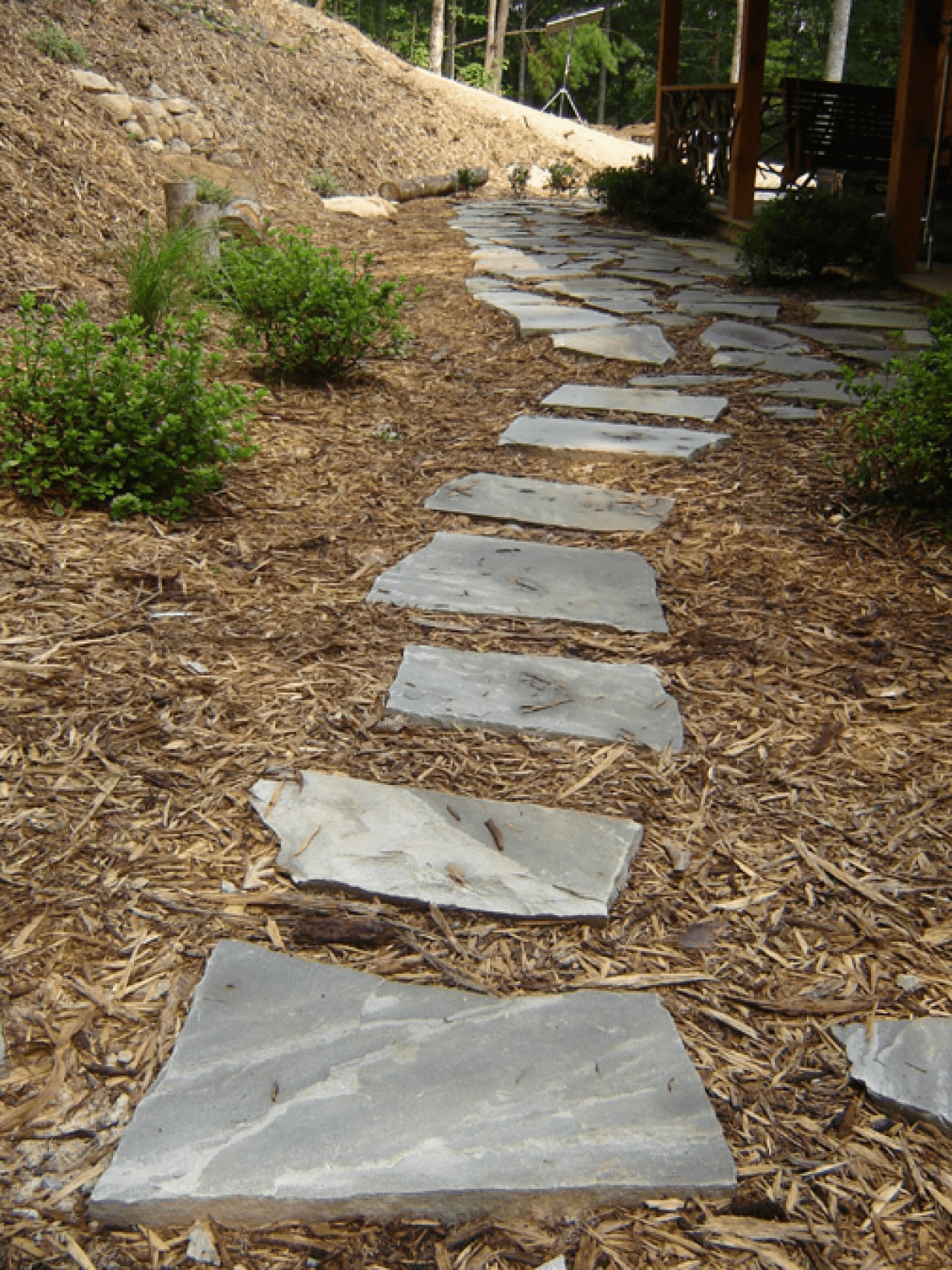 Flagstones add character to house patios, university building entrances, or forest trails. It is rustic and appealing and differs everywhere with stones closely spaced apart from each other.
They're made from sedimentary rocks and can be cut to any shape, size, or pattern you want. Some famous layouts are colored mosaic patterns, path-forming stones, and flat pavements, whereas the popular colors are light red and gray.
The stone gives the feet a good grip on it so long as there's no rain. And because the stone reflects the sun, stepping on it can feel hot for those wearing a thin pair of shoes or slippers.
Its upside is it can bear weather and temperature changes and won't shrink or contract. Moreover, its material is inherently more durable and longer-lasting than concrete pavers.
However, owing to their less dense plates, flagstones aren't suitable for driveways because they can crack or move under the crushing weight of a vehicle.
And being a natural stone, it needs to be obtained and transported from the quarry involving great effort, and as a result, it fetches a higher price than other types of pavers.
Hardier and longer-lasting than concrete
Non-slip surface
Available in a broad range of sizes, shapes, and colors
Great for customizing your landscaping
Adds home resale value
Not suitable for driveways due to its thinner plates
Slippery when wet
Reflects the sun so can feel hot underfoot
Costlier than other paver types since it has to be mined and transported from quarries
Best for: Patios, walk paths, entrances to swimming pools, and pavements
---
Related Articles about Pavers/Paving Stones