If you plan to install one or more chandeliers in your house, it helps to know its total cost. To help you out, we've crafted a detailed cost guide on chandelier installation, including tips on how to save money while you're at it.
How much does chandelier installation cost?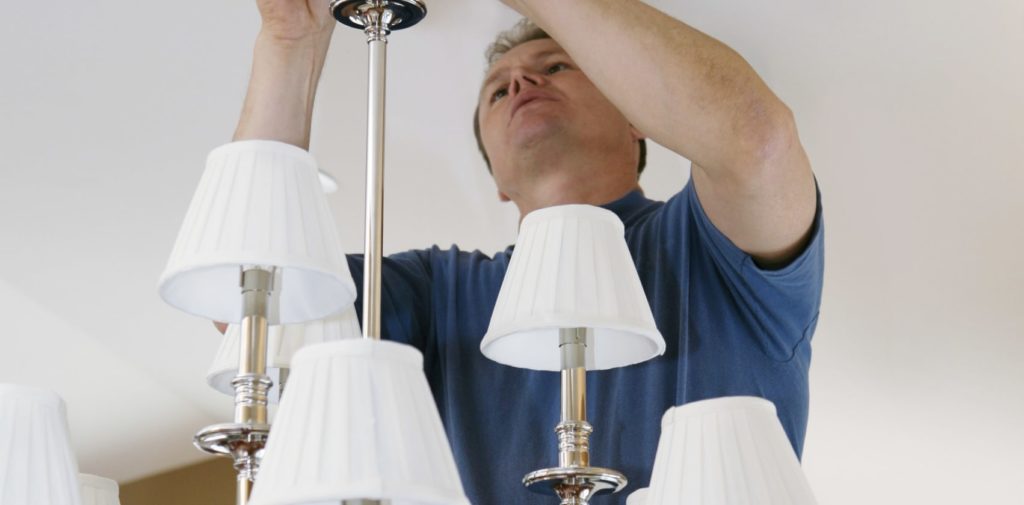 Installing a new chandelier may cost from $300 to $2,000, fixture and labor included.
The lower end of the range is for small chandeliers and easy-to-reach ceilings, and the higher end of the range is for large chandeliers and high ceilings.
Small chandeliers measure 17 to 20 inches wide, medium chandeliers measure 22 to 27 inches wide, and large chandeliers are 24 to 32 inches wide.
Furthermore, homes can have ceilings as high as 8 to 12 feet. An 8-foot ceiling is considered low and easy to reach, while a 10-foot ceiling that requires a ladder to reach is considered a high ceiling.
However, replacing an old chandelier can significantly cost less from $100 to $200, given that a standard good-quality chandelier is used and no other wiring work is needed.
What chandelier size should I get for my room?
Here are some reliable guidelines so you can find the correct chandelier size for your room:
Choose a chandelier between 17 and 20 inches wide for small rooms with sizes less than 10 x 10 feet.
Choose a chandelier between 22 and 27 inches wide for medium rooms that are roughly 12 x 12 feet.
Choose a chandelier between 24 and 32 inches wide for large rooms measuring 14 x 14 feet.
What factors affect chandelier installation rates?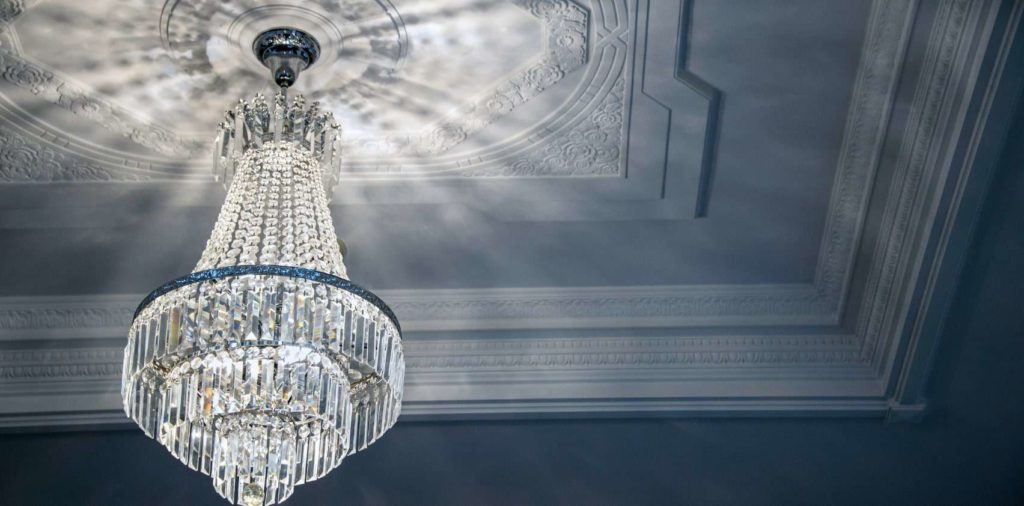 The factors that affect chandelier installation rates are
Type of chandelier
Ceiling height
Chandelier replacement or addition
New light fittings
General labor
1) Type of Chandelier
Chandeliers come in many types, sizes, and styles. Therefore, your chosen chandelier will have an impact on the final price.
Some popular chandelier types include
Candle Chandeliers
Modern Chandeliers
Crystal Chandeliers
Drum Chandeliers
Sputnik Chandeliers
Waterfall Chandeliers
Mini Chandeliers
Hybrid Chandeliers
Candle Chandeliers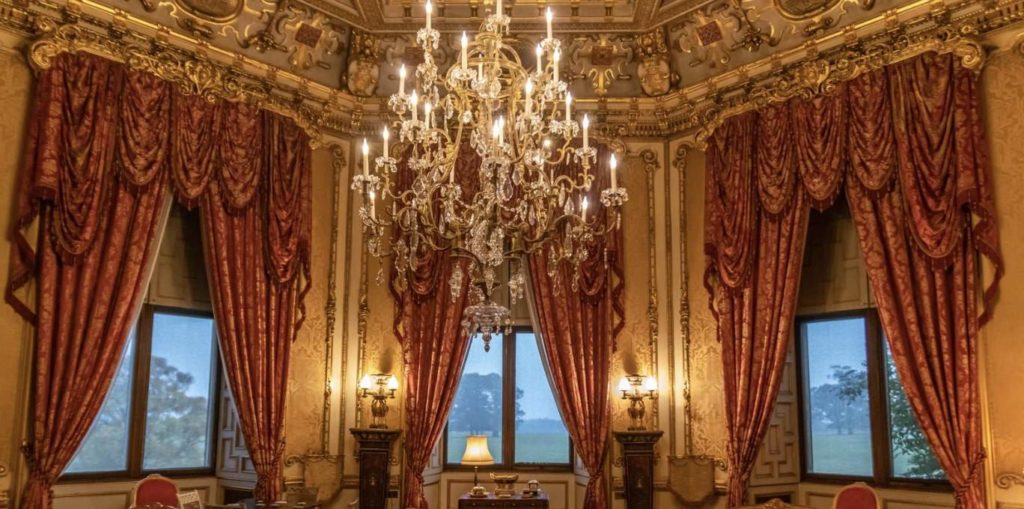 Candle chandeliers are vintage lighting fixtures first used by rich families in the Middle Ages. Back then each arm of the chandeliers held a real candle which was relit every time it was used.
Given the effort of using and maintaining them, they evolved into having candlelight bulbs on the extensions. The only difference now is that the chandeliers can be turned on with the flick of a switch.
Modern Chandeliers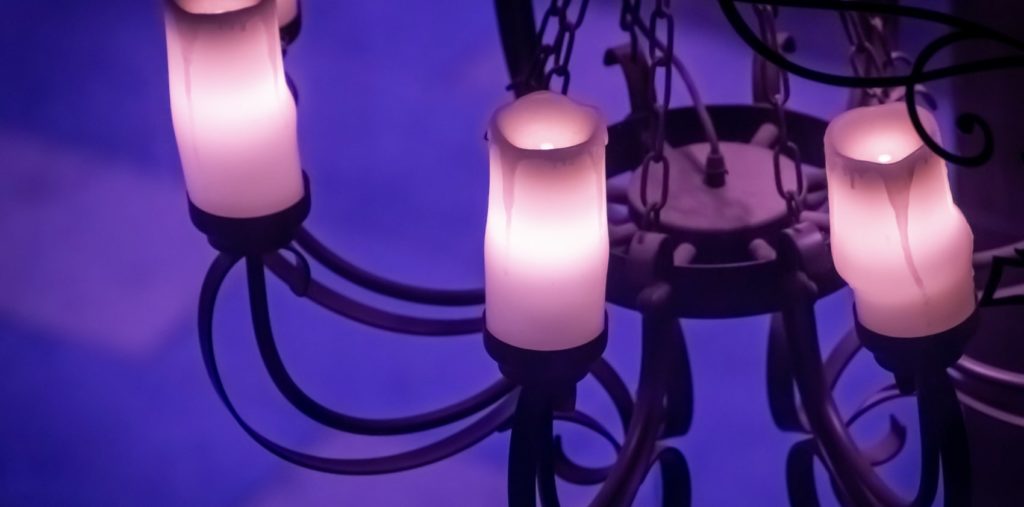 Modern chandeliers are trendy, minimalist, and relatively less expensive. They give bright light and elegance to a living or working space.
These light fixtures are called modern since they're well-suited to present homes, which are built to be smaller and more efficient.
Furthermore, simple modern chandeliers with five lights can cost as low as $100, but more elegant styles with five lights cost about $140.
Crystal Chandeliers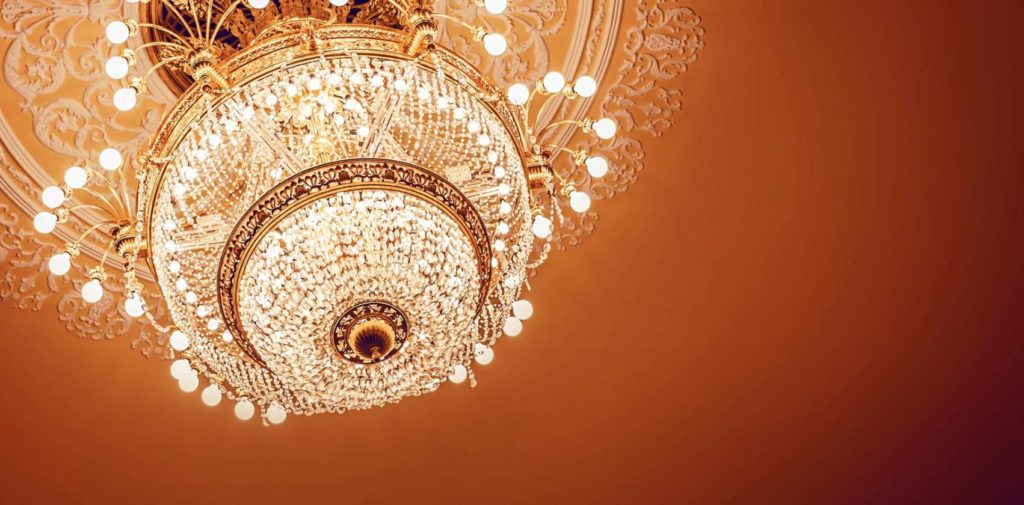 Crystal chandeliers are a more premium option due to the special lighting they use.
These hanging lights use crystals with lead oxide to give off a warm and ambient glow in a space.
And although this is a vintage style of chandelier, it is still preferred and used by many homes today.
Usually, a crystal chandelier with three lights costs $280 to install and one with five lights costs $500. An ornate or elaborate crystal chandelier, however, will likely cost $900 to $1,000 to set up.
Drum Chandeliers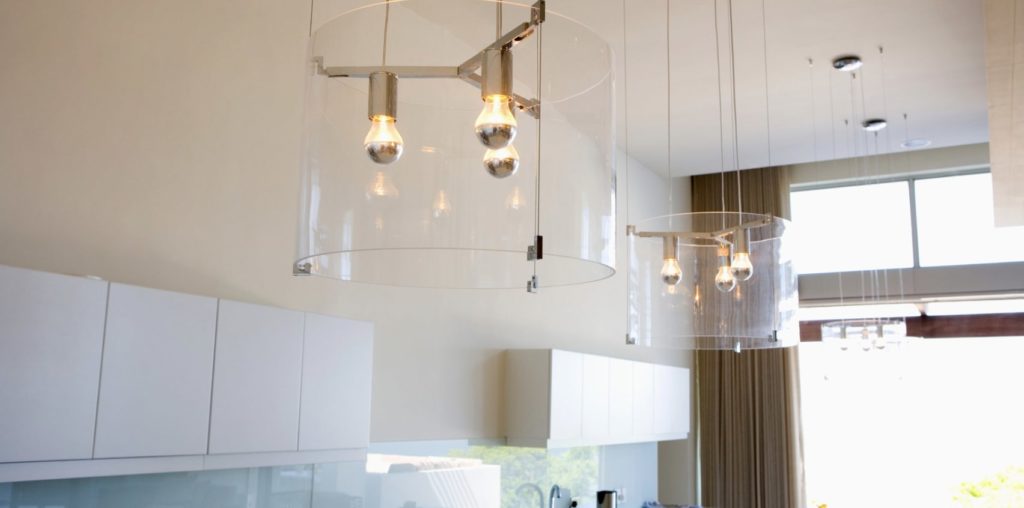 Like bedside lamps, drum chandeliers feature a round or oval shade that can be transparent or opaque.
Some drum chandeliers come with a separate shade for each bulb.
This chandelier type adds style to the room and directs all light to one location. Also, the shade can act as a cover to make the glow softer if the bulbs used emit stronger light.
On average, a four-shaded chandelier often costs $600 to install, while a nine-shaded chandelier costs about $1,500.
Sputnik Chandeliers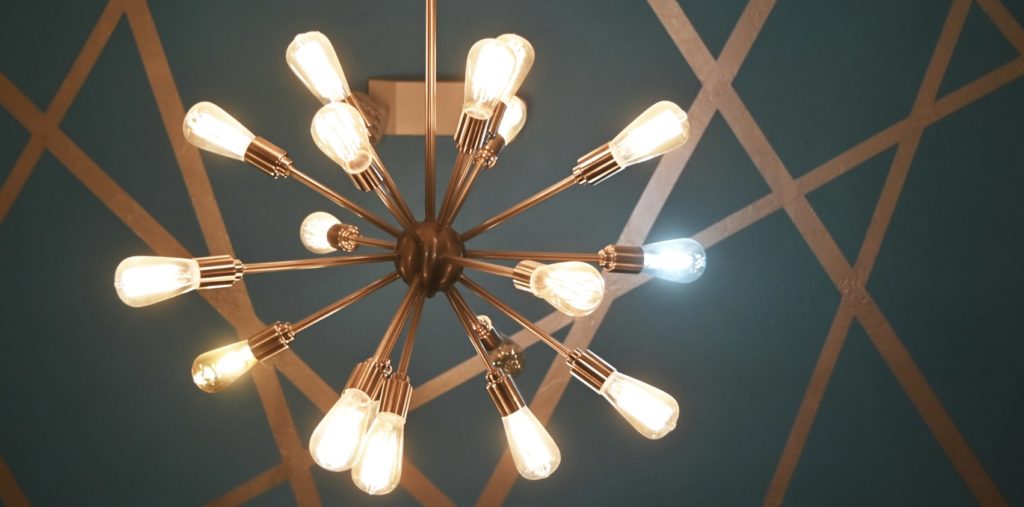 Sputnik chandeliers are simple, innovative, and minimalist light fixtures for your house or office.
They are a far cry from traditional chandeliers and have a variety of designs, shapes, colors, and sizes. For instance, this piece of light equipment can have sun or asterisk forms or have orb or star-shaped lights.
Waterfall Chandeliers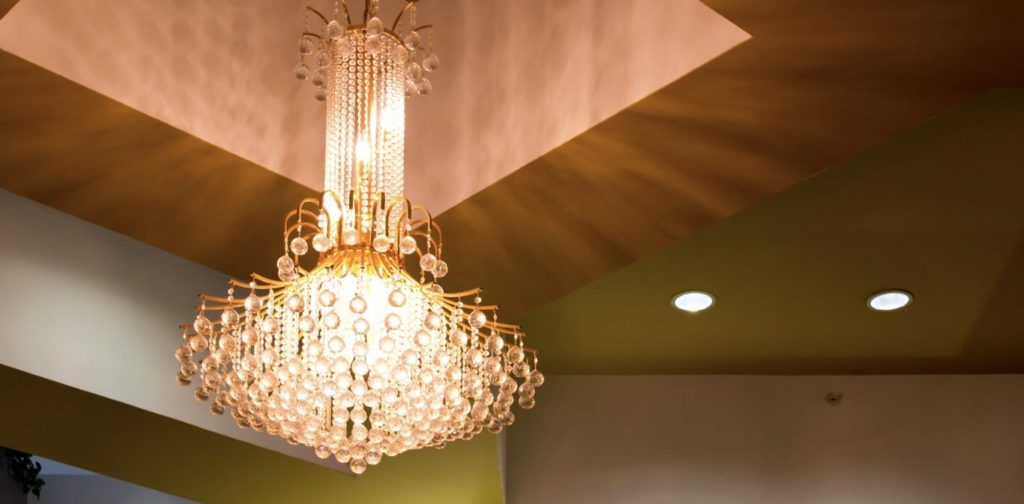 Waterfall chandeliers take the shape of falling water. The chandelier has a tapering form around which its glass lights are hung.
The glass lights may also be arranged in a triangular, round, or square form.
Unfortunately, these types of chandeliers consume a lot of vertical space and are suitable only for houses with high ceilings.
Mini Chandeliers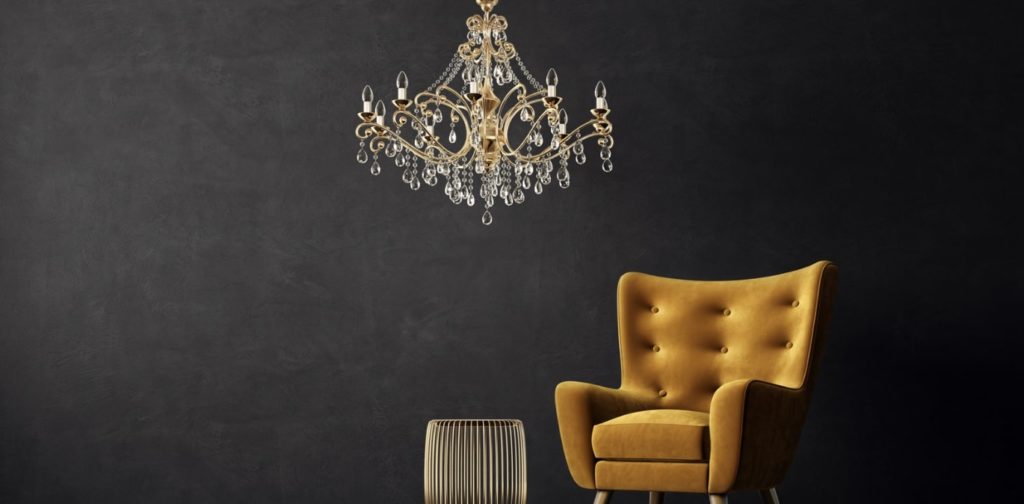 As the name suggests, mini chandeliers are smaller than conventional chandeliers, and they're fit for tight home areas like reading nooks, nurseries, and basements.
They can shine a comfortable bright light in the area and add style and glamor to it at the same time.
Because this kind of chandelier is small, it is more affordable. As such, more than one mini chandelier can be added to a space in order to achieve the desired decor and lighting.
Hybrid Chandeliers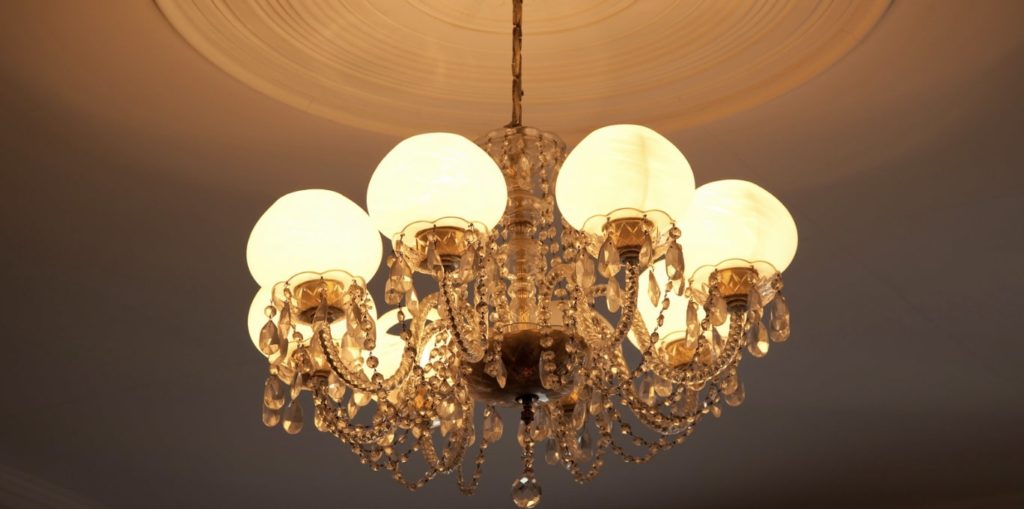 Hybrid chandeliers are simply a combination of different chandelier forms. For example, the fixture can have a round shade along with a bright, cascading series of lights.
This is the best option for homeowners that find it hard to pick a single chandelier style or who want to get the features of one or more chandelier types.
How much do chandeliers cost based on type?
Modern Chandeliers – $100 – $140+
Crystal Chandeliers – $280 – $1,000
Drum chandeliers – $600 – $1,500
2) Ceiling Height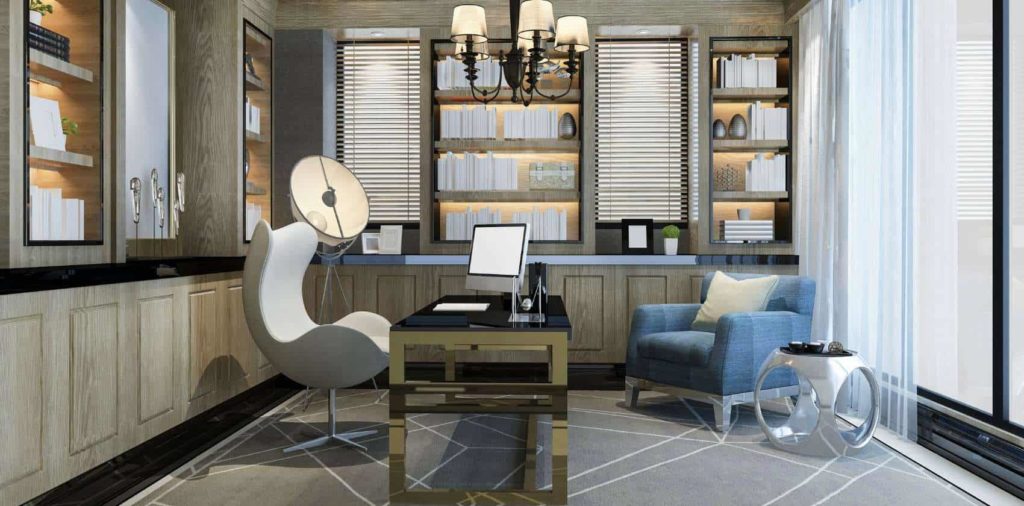 Basically, chandeliers are easier to install on lower ceilings because the electrician will be able to set them up easily.
On the other hand, chandelier installation on higher ceilings would require taller ladders and even lift systems to complete, such as the case in corporate and event venues.
Also, the contractor will need to exercise more caution and safety when working from a high spot. So all of these things will raise the price.
3) Chandelier Replacement or Addition
A large portion of the overall chandelier cost depends on whether chandelier replacement or new installation is needed on the property.
The reason why chandelier replacement is less expensive is electrical wiring has already been installed and the chandelier just needs to be successfully connected to it. With this, the project will be quicker to finish.
In contrast, if there had been no light fixtures in the area before, the electrician has to install and test the light wiring as well as add light or dimmer switches, which will translate to more work, thus, a higher price.
Chandelier replacement will only cost the client $100 to $200, and new chandelier installation can cost anywhere from $300 to $2,000.
Note that these rates are inclusive of the chandelier and labor. And the large price gap depends on the type of chandelier: small and regular chandeliers cost less, and premium ones cost higher, as explained earlier.
3) New Light Fittings
Along with chandeliers, some clients may hire an electrician to install another type of light. And so this will also push up your total service price.
Most install fluorescent, LED, or pendant lights in addition to chandeliers. And here's an overview of their costs.
| Type of light | Installation Costs |
| --- | --- |
| Fluorescent light | $90 - $215 |
| Pendant light | $95 - $250 |
| LED light | $200 - $250 |
4) General Labor
The labor cost of chandelier installation makes up about 40 to 50% of the total bill.
Labor costs will vary depending on the size and scope of the project. A project involving an ornate chandelier and a room that has no pre-existing wiring and light switch will cost higher.
But most licensed electricians charge $80 to $120 for this service, and those with a higher skill level and experience quote a higher rate than the said range.
With the costs involved, you might be thinking if installing the chandelier yourself is possible. Now there are some considerations to take for this decision.
Is it safe to install a chandelier myself?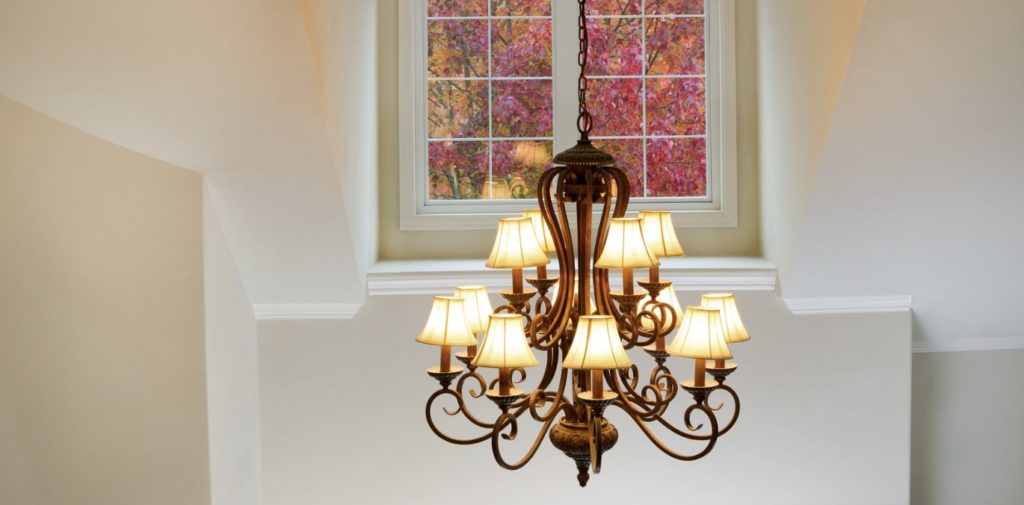 Unless you have some experience and training, installing a chandelier isn't safe, as it poses many risks such as falling, electrocution, or dropping the expensive fixture from a height.
So always rely on a professional and licensed electrician. This will ensure that the work is done as safely and efficiently as possible.
How do I save money on installing a chandelier?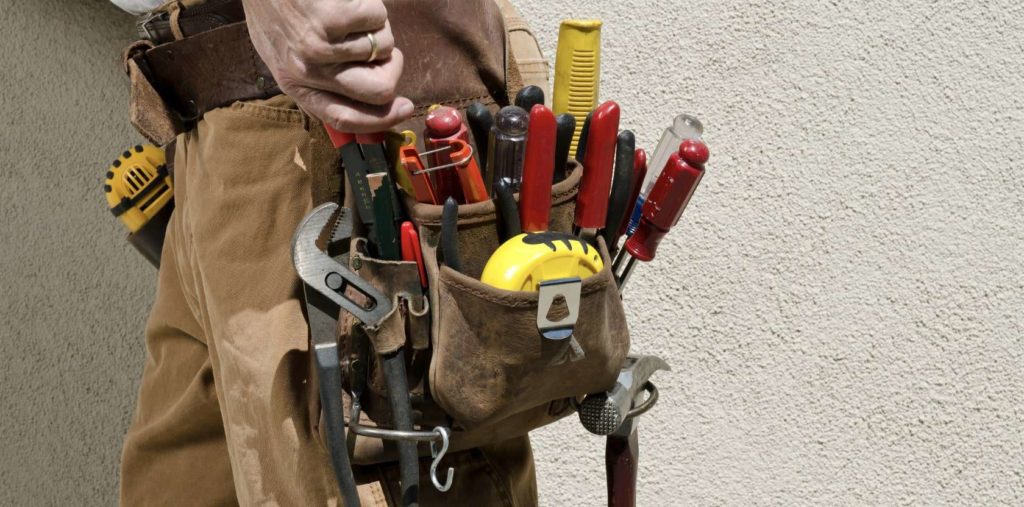 Follow the tips below so you can spend less on installing a new chandelier:
Reuse your old chandelier.
Rent the needed tools and equipment.
Hire a handyman.
1) Reuse your old chandelier
In the event you are selling the house or moving, you can disconnect, safely pack, and reuse the old working chandelier when you get to your new house.
By doing this, you can save hundreds of bucks to use for other home improvement needs.
2) Rent the needed tools and equipment
If you've set your mind to doing the chandelier work yourself, you will need several tools to complete it.
See if you can rent them from a home supply center or from your building's staff before deciding to buy these tools.
3) Hire a handyman
An economical alternative to hiring a master electrician to install your chandelier is to hire a handyman. Normally, they charge clients $60 to $125 per hour separate from travel and material expenses.
Some handymen are adept at setting up chandeliers and electrical wiring.
But should you decide to enlist a handyman's help, check his qualifications, licenses, and background first to see if they're the perfect fit for the job.
What are the risks of hiring a handyman?
The risk of hiring a handyman is that they can commit a mistake in installing a chandelier or wiring, thereby affecting the safety and comfort of you and your family at home.
As you may know, most handymen aren't licensed and insured to do electrical jobs.
As such, you must take full responsibility should you get them to set up the chandelier and its parts and wiring.
Plus, getting a licensed electrician to amend their faults would be harder and cost more expensive in the future.
Lists of Electricians
Need a qualified electrician to install your chandelier? If so, check out these lists on the website below: