Featured Image Source from Mammoth Restoration
Water damage can not only wreak havoc to your investment property and belongings, but it can also spur the growth of mold and mildew, which cause asthma attacks and allergic reactions.
For that reason, we rounded up here the best services for water damage restoration in Los Angeles. They're available 24/7 and more importantly can come to you within an hour or less!
But, before we show you our main list, we'll explore the rates of water restoration services. This will help you find the ideal specialist for the job afterward.
The Average Cost of Water Damage Restoration in Los Angeles
According to Service Master, the average cost of water damage restoration in Los Angeles is $2,500 depending on the water damage category of a home or commercial property.
Generally, there are three water damage classes as noted below:
Clean Water – refers to damages from uncontaminated water like burst pipes, faucets, water heaters, and sprinklers. This is the least costly of the bunch.
Gray Water – relates to damages from an overflowing washing machine or dryer. As their water contains a mixture of soap, it can encourage bacteria growth and so pose minor health risks at home.
Black Water – is the most expensive of the three since the water is very toxic and can cause severe illness or even death. This is brought on by sewage backups, storm surges, and floods with polluted water.
Water damage repair prices are expensive, especially if the damage came from floods or hurricanes. That's because your property will often need extensive repair and work.
Also, here's a table with some of the prices we mentioned earlier for easier comparison. Note that the rates already include labor, cleaning, materials, equipment, and surface preparation costs.
| | |
| --- | --- |
| Type of Water Damage Restoration Cost | Price |
| National average cost | $3,150 |
| Average cost in Los Angeles | $2,500 |
| Usual price range | $1,200 – $5,000 |
| Materials used to clean an area of the home | $12 per square foot |
The Best Water Damage Restoration Services in Los Angeles
Now that you have a general idea of the cost, let's go on to the best water damage restoration services in Los Angeles!
1) 411 Restoration

SERVICES
Water restoration
Fire damage and smoke restoration
Mold removal
Deep cleaning & disinfection services
Trauma & crime scene cleanup
Hoarders cleanup
Plumbing services
Emergency services
ADDRESS
324 S. Beverly Drive, Suite 933, Beverly Hills CA 90212, USA
CONTACT
310-729-7199


[email protected]

WEBSITE
https://411restoration.com
Having a water or flood emergency at your house is very stressful. If this is your situation, don't worry, as 411 Restoration can help.
You can call them as they have a 24/7 team and can be outside your home within 60 minutes or less.
Their IICRC-certified specialists offer some of the best water damage restoration services in Los Angeles. They can work on both residential and commercial properties from burst pipe repairs to post-flood rebuilds, including mold remediation, sewage backups, and appliance overflows.
Their work process is thorough and simple. First, they will inspect and determine the cause and extent of the damage at your home, then, they will remove the standing water, take out the damaged walls to let air in, and finally, rebuild your home to get it back to the way it was.
By the way, they also have Master Inspectors and Plumbers on their team so you can be sure that your house won't have any faults after the service. And while they don't provide any guarantee of some sort, they perform the work right the first time—as well as on-time and within budget.
You can give them a call round the clock all through the week. The team also gives free on-site estimates where you can decide whether to go with the project or think about it for now.
Aside from water damage restoration and mold removal, they also offer fire and smoke damage restoration, deep cleaning and sanitization service, trauma and crime scene cleanup, and hoarder's cleanup.
Based in Beverly Hills, CA, 411 Restoration serves domestic and business clients in and around Los Angeles. Also, they can very much assist clients who have their properties insured against flood or fire damage.
1-hour turnaround
IICRC-certified water damage technicians
24/7 live team support
Emergency services offered
No client satisfaction guarantee
Higher trip fees as they are based in Beverly Hills
Customer Reviews
The company was awarded 5/5 stars on both Google and Facebook. According to clients, its technicians performed an excellent water damage restoration job, came on time, and answered all the questions they had.
One client left this review on Google:
"I called 411 Restoration after our home was flooded while we was out of town. They was at my home in 19 minutes exactly, and did an excellent job. 5 stars doesn't express my family gratitude. Thank you 411."
Furthermore, Lupe gave this feedback:
"Please believe me when I tell you "411 restoration" is probably one of the most caring and hard-working, intelligent restoration companies out there. They completely removed mold and water damage from the property. Plus remodeled the kitchen, bathroom, family room and living room all within thirty days. That was remarkable. I truly recommend them."
2) Water Mold Fire Restoration

SERVICES
Water damage restoration
Mold remediation
Fire damage restoration
Air duct cleaning
Asbestos abatement
Board-up and tarp-over services
Trauma cleanup
Leak detection
Contents cleaning
ADDRESS
1347 S Bronson Ave, Los Angeles, CA, USA
CONTACT
323 999 2063


[email protected]

WEBSITE
https://watermoldfire.net/los-angeles-ca/
Formed in 2008, Water Mold Fire Restoration delivers impressive and prompt water restoration, fire damage repair, and mold remediation results in both personal and business premises.
With locations across the States, the company is ideal for commercial clients that have different properties such as in California and Arizona. Your project will be managed by a reliable project manager, who will be your single point of contact throughout the service.
Whether you have a leaking roof or a flooded basement, their accredited water damage professionals are available 24/7 and will come to you on short notice after you ring them.
Although WMF Restoration is a franchise company, they still strive to provide personal attention and quality workmanship to their clients. As many client reviews indicated, they have remained true to their word.
Also, they take pride in their capability to manage any kind of water damage, as they had dealt with damages caused by destructive hurricanes and floods before. And they helped clients cope through those hard times by drying out their property, removing the mold, and taking on the rebuilding work.
Compared to other companies, their edge is they also offer asbestos abatement services. Asbestos is a heat-resistant mineral used to build pipes, roofing, vinyl tiles, and other building materials.
If a flood or any damage causes them to release the mineral in the form of very thin fibers into the air (which can't be seen by the eye) and inhaled by the person for long periods, he is at an increased risk of developing serious health problems like lung cancer, mesothelioma, and asbestosis.
So having this service will mean that you won't have to call another contractor for the job if you have asbestos in your house.
1-hour response time
24/7 emergency services available
Economical rates
Has branches across America
Offers asbestos abatement services
No client satisfaction guarantee
Complaints about work quality and customer service
Customer Reviews
Most clients commended its professional, swift, and efficient team who completely removed the water and mold in their homes. One reviewer also liked that they gave economical quotes.
Here's what one client, Teresa, said of them:
"My experience with this company has been the best one so far. I have never dealt with a company whose workers are so friendly and skilled. The entire was very professional and well-trained. This was being reflected through their service."
Also, Emma wrote this 5-starred review:
"The fire damage cleaning services company and their team know their stuff. They have helped me a lot in getting me out of the emergency situation. For any kind of disaster cleanup services, I would highly recommend WMF as one of the best company in Los Angeles."
3) Water Damage Los Angeles

SERVICES
Home

Water damage
Basement flood
Mold & mildew
Fire damage
Storm damage
Cleanup

Commercial

Building fire & water
Offices
Hotel water damage
Factory flooding
Retail stores
ADDRESS
1152 S Olive Street, Los Angeles, CA 90015, USA
CONTACT
(323) 825-3485


[email protected]

WEBSITE
https://waterdamagelalosangeles.com
Even faster than the last two companies, Water Damage Los Angeles aims to arrive within 15 to 45 minutes of your call to remove and drain the standing water at your property.
The water damage technicians can take service calls at any time whether night or day. They have a friendly and knowledgeable staff who can assist you with your inquiries or needs.
The flood recovery team carries complete certifications of IICRC, SCRT, and RIA so you know you can trust them with the job. They can take on both big or small projects for homes, bars, restaurants, offices, hotels, stores, and more.
Are your rooms, walls, and floors flooded by dirty water? Don't worry, they have been doing this for over 30 years and can remove, dry, and sanitize everything for you as fast as possible.
They can also rid your home of allergen-producing mold and mildew and expertly assess the affected areas in your house using a moisture meter before leaving.
Also, what's great about them is that all their services are guaranteed. So if they failed your expectations in some way, just let them know and they will rectify the matter until you are satisfied.
Their only drawback is that they have fewer service offerings such as they don't have hoarder or crime scene cleanups. However, these are very minor and don't affect them one bit as one of the best water restoration services in LA.
In summary, if you want outstanding work, guaranteed service, and competitive rates, you should consider Water Damage Los Angeles.
15 – 45 minutes response time
IICRC-certified water removal experts
24/7 live team support
Guarantees their services
Competitive rates
Fewer service offerings compared to others
No coupon discounts or promos
Customer Reviews
The water damage restoration company garnered rave reviews from many clients. They said that the team arrived promptly, did a wonderful job, explained the process, and even gave great advice.
Here's the comment of one client, Sam, as posted on the website:
"WDLA is definitely one of the best companies I had the chance to work with, especially in the event of an emergency. The parking area in our building got flooded, and we needed to take care for it asap even though it was 2 AM. The team arrived within one hour despite the late hour and were able to address the issue."
Moreover, a restaurant owner client named Tom said this:
"Just wanted to let you guys know that your water damage repair has withstood the test of time despite the nasty fire sprinkler flood we had at the restaurant. We had to shut down for a few days but now we're back and we don't have to worry about any rot or mildew growth thanks to you."
4) Best & Fast Water Damage and Mold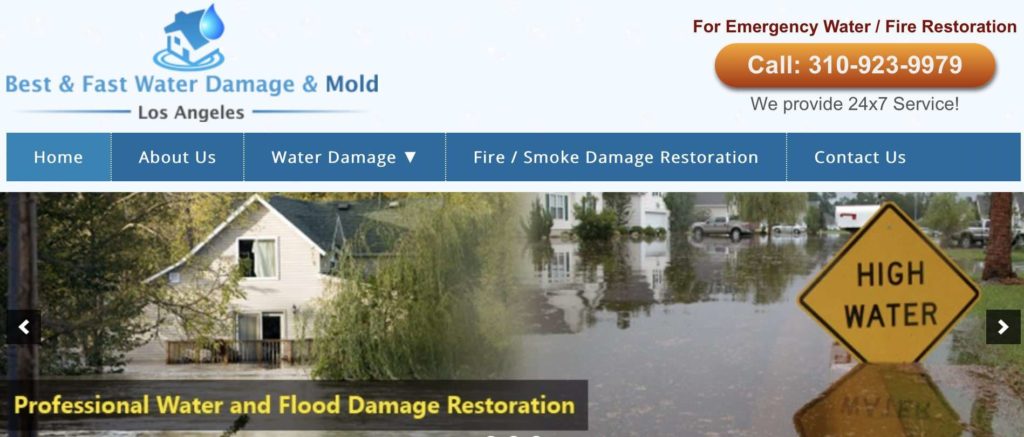 Based in the City of Angels, Best & Fast Water Damage & Mold is a family-owned and operated business that offers water, smoke, and fire damage restoration as well as mold removal services.
They are renowned for their acumen, honesty, and courtesy. One client shared that a technician removed his shoes and was respectful when working in his house—this small act goes a long way.
Their water damage professionals are qualified, insured, and bonded to give you high-quality work and peace of mind. They are equipped with heavy-duty water extraction equipment, dryers, and dehumidifiers to make your home clean, fresh, and bacteria-free.
They respond quickly though they don't make a promise whether they would come in thirty minutes or an hour. Despite this fact, they always come at the appointed time, knowing that their clients are in great need.
Whatever time of the day you call them out, they will be there even on weekends and public holidays. On top of that, you are backed up by a service guarantee in the unlikely event they didn't do the job well.
Once they've finished drying out your house or workplace, they can plan and conduct the room or basement restoration with you so that everything will be back to normal.
Although we don't see any special deals or perks on their site, it isn't that important since their quotes are reasonable and upfront. And the team will divulge to you the total price and won't upsell anything if you don't need it.
To get a quote, you can call them directly or fill in their contact form online. Very soon, one of their friendly staff will gladly assist you.
Bonded and insured team
Guarantees their services
Offers 24/7 service
Fair and upfront prices
No special deals or perks
Doesn't make a response-time promise
Customer Reviews
On Google, the water restoration service amassed 5 stars from many clients. They were all satisfied with their fast and complete work, honesty, and reliable and friendly team.
Here's a snippet from Alex's review on Google:
"Given this is a family owned business, everyone was just as professional with their work. The work area is covered air tight to keep the rest of the home clean and the way they operate around ones home by taking off their shoes and cleaning up after themselves was highly appreciated and this type of processional courtesy is hard to find. Don't be discouraged that this is a family owned business, as their attention to detail and integrity in their profession puts them beyond their competitors. I without hesitation would use them again over anyone else as they don't cut corners and get their work done in a timely manner. These guys will go above and beyond to get the job done and I would send anyone their way without a doubt."
Plus, another client, Devin, wrote this:
"The plumber our home warranty service sent said we needed to hire a restoration company before they would do the repair, even though the water was minimal. We called Best & Fast Water Damage & Mold Los Angeles and received a quick response. Their tech came out the same day, was respectful of our home (wore booties) and gave an honest assessment (didn't think there was enough water to warrant a restoration company). He promised a quote within a couple of hours and delivered as promised.
We opted to hire our regular plumber who is doing the repair without a restoration company. While we didn't use World Restoration, we appreciate the quick response, honest and great service. In the unfortunate event we do need a restoration service, we're calling Best & Fast Water Damage & Mold Los Angeles."
5) 24/7 Water Damage Restoration

SERVICES
Water Damage Restoration

Water damage cleanup
Flood damage cleanup
Basement flood cleanup
Hardwood floor drying
Washing machine flood cleanup
Moisture & leak detection

Mold Damage Restoration

Mold testing
Mold remediation
Mold inspection

Fire Damage Restoration

Soot and ash

Sewage Cleanup

Disaster response

Carpet Cleaning

Property Management

Industrial facilities
Hotels
Multi-level commercial buildings
Multi-tenant facilities
Small office buildings
Shopping malls
Apartment complexes
ADDRESS
Los Angeles, CA 90210, USA
CONTACT
1 (855) 888-3169


[email protected]

WEBSITE
https://247floodrestoration.com
Moving on with our best services for water damage restoration in LA, we have 24/7 Water Damage Restoration. As the name suggests, they are on call anytime when a water disaster strikes at your valued property.
But that's not what's special about them as other companies have it also. What sets them apart from the rest is that they offer a comprehensive range of services including carpet cleaning and rented property damage repair.
Not only can they remove the dirty standing water, but also unpleasant odors, vandalism, and clean the HVAC systems and air ducts, to restore the entire building interior to a like-new state.
Besides that, they can do insurance works. Some of the well-known insurance firms they work with include USAA, Travelers, Nationwide Insurance, StateFarm, Mercury Insurance Group, and others.
Their professional team can assist you with your claim for higher approval chances. For example, they can take pictures of your flooded home and give you valuable advice.
Now, when you call them, you will speak with a real person, not an answering machine or a third-party CS representative. The staff can book you an appointment or answer your questions 24/7.
The only cons we have for this company are that they don't offer a service guarantee and any special perks or discounts.
To sum it up, if you're a homeowner or property manager and need a thorough water damage restoration and deep cleaning, you can trust that this company will get the job done.
Rented property damage specialist
Licensed and insured water damage technicians
24/7 emergency services available
Offers deep and carpet cleaning services
No special deals or perks
Doesn't offer a workmanship guarantee
Customer Reviews
Everyone regarded this company highly thanks to its professional and responsive team. According to clients, the team provided incredible work and gave sensible quotes.
Let's hear McCormick's review of the technician:
"We had emergency water leak in our kitchen wall that spread into our kitchen cabinets, flooring and dry wall. Henry came out and was wonderful, reassuring us that everything would be alright again. He made a terrible situation bearable. Henry was very professional, extremely knowledgeable about water damage and restoration."
Also, Dorothy left this review on Google:
"We had a water damage in our studio recently. Henry has done a great job to restore it. He is responsive and knowledgeable. His quote is very reasonable."
FAQs about the Top Services for Water Damage Restoration in Los Angeles
---
And there you have it for the best services for water damage restoration in LA! With superb client ratings and quality service, you won't go wrong with enlisting them.
Have any questions or comments about this list? If you have one, kindly drop us a line and we'll get back to you first thing.
Does your garage door need some repair or tuning up? If so, you can also read about the best garage door repair services in Los Angeles to get it fixed like brand new in record time!